V. League 2021 suspended after players' indirect contact with suspected Covid-19 case
Round 13 of V. League 2021 has been suspended after several players were found to have made indirect contact with a woman positive for the novel coronavirus.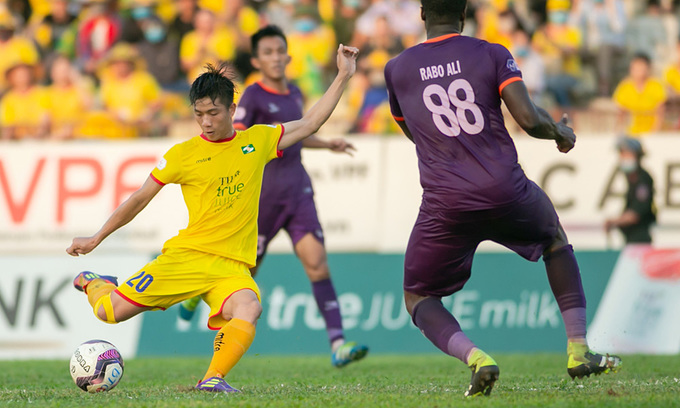 A player at the Song Lam Nghe An (yellow) plays in a V. League 2021 football match. Photo courtesy of the Vietnam Professional Football JSC (VPF).
It was revealed Thursday that several players of the Song Lam Nghe An (SLNA) club had come into contact with a man who had made contact with a woman, who has tested positive for the novel coronavirus, on a flight from Da Nang to Vinh, Nghe An's capital. The woman has not been confirmed a Covid-19 patient yet, pending further test results, Vnexpress reported.
The Vietnam Professional Football JSC (VPF) then suspended the Hanoi v. SLNA match that was to be played Friday afternoon.
Since all games of the round need to be conducted at the same time frame to ensure fairness, all the remaining six matches of Round 13 would be suspended as well, the VPF said.
Round 13, or the last round of the first leg of the top-flight V. League, is crucial as it will decide the top six and bottom eight. The top six teams from the first leg will compete for the title while the bottom eight will have to battle to avoid relegation.
A schedule for future matches is yet to be decided as the V. League would have to make room for the national football team to prepare for their World Cup 2022 qualifiers.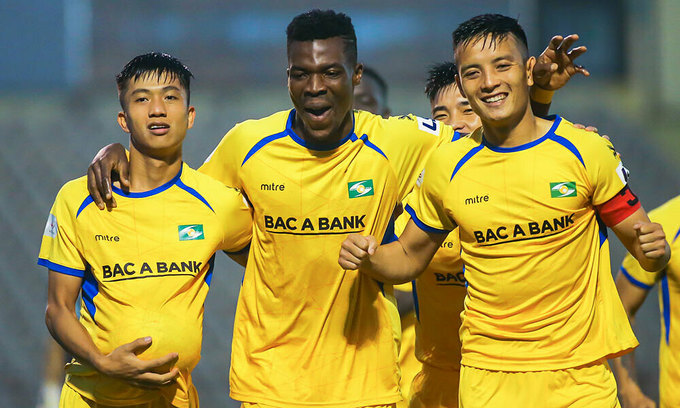 Photo: Vnexpress
According to the HCMC Center for Disease Control (CDC), those who have made indirect contact with a coronavirus case through someone else would need to self-isolate at home until test results confirm their infection status.
Meanwhile, Football's V. League 2 and Second Division have also been postponed following the start of a new Covid-19 wave in the country.
The decision to suspend them was made by the Vietnam Professional Football JSC and the Vietnam Football Federation.
The VPF said the pandemic situation is growing complicated in some localities, affecting the organization of games.
One COVID-19 infection was reported in the past 12 hours to 6am May 7, the Ministry of Health said on May 7.
The new patient, in the central province of Thanh Hoa, came into close contact with a group of Chinese experts who were found positive with the SARS-CoV-2 virus after completing quarantine period following arrival.
With the latest case in Thanh Hoa, Vietnam has logged 3,091 COVID-19 cases, including 1,691 local transmission cases with 121 COVID-19 infections since April 27.
The ministry's Department of Medical Examination and Treatment Department said the country has seen 2,560 recoveries so far.
A total 40,736 people who came in close contact with COVID-19 patients or arrived from pandemic-hit areas are under quarantine nationwide, including 560 at hospitals, 21,733 other quarantine sites, and 18,443 at home.
Among patients under treatment, 24 have tested negative for SARS-CoV-2 once, 12 twice, and 38 thrice.
A total of 747,827 frontline medical workers and members of community-based anti-COVID-19 groups in Vietnam had been injected with COVID-19 vaccine as of 4pm on May 6. The country began its COVID-19 inoculation campaign on March 8.
In a bid to live safely with the pandemic, people should strictly follow the Ministry of Health's 5K message: khau trang (facemask), khu khuan (disinfection), khoang cach (distance), khong tu tap (no gathering), and khai bao y te (health declaration).