The Seven Core Values Leading Tan Hiep Phat Through Pandemic Confusion
In the complicated pandemic, corporate culture was an important factor to lead the enterprise through difficulties, said Ngoc Bich Tran, Tan Hiep Phat Deputy CEO.
Ngoc Bich Tran, Tan Hiep Phat's Deputy CEO in charge of human resources and finance shared the group's key factors to overcome the pandemic at a seminar named "Post-pandemic breakthrough in business with corporate culture" held on September 25.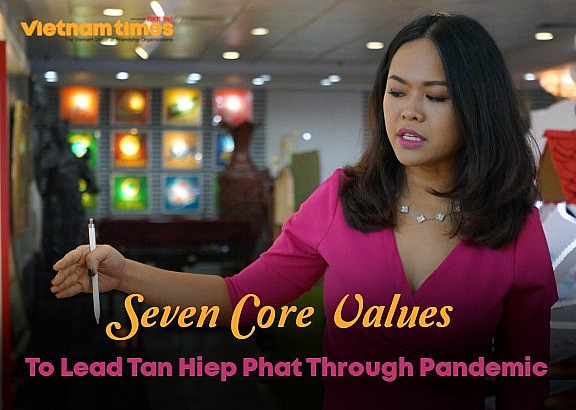 Ngoc Bich Tran, Tan Hiep Phat's Deputy CEO (Photo: Cong Luan)
Core values in corporate culture - compass to get through difficulties
According to Ngoc Bich Tran, Tan Hiep Phat was founded in 1994 with fewer advantages in capital, knowledge, and solutions. Due to the group's core value, it has step by step overcome hardships. Tan Hiep Phat's culture was built from the wish to contribute to solving problems. To achieve such a mission, the group wished to produce and provide Asian customers with healthy products with delicious flavors and international standards. Tan Hiep Phat also aimed to meet the existing and potential needs of customers to gradually become a preferred partner in business.
Over the past 2 years, the Covid-19 pandemic has seriously affected the production of all businesses. Even businesses that produce essential products are at risk of supply chain disruption. Facing those difficulties, many businesses have had solutions to both live with the pandemic and stabilize production activities.
At Tan Hiep Phat, everyone regardless of position is closely connected with each other and all heading towards a common goal. Tan Hiep Phat people's Individual attitude is also based on the group's core values.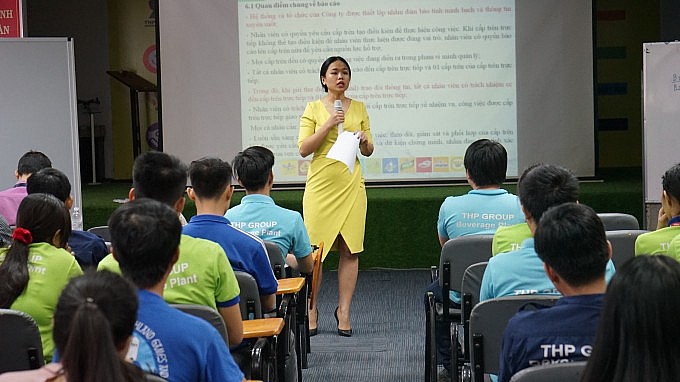 Ngoc Bich Tran at a seminar. (Photo: Cong Luan)
Tan Hiep Phat's seven core values
Since its establishment, Tan Hiep Phat has always been loyal to the desire of contributing to the prosperity and pride of Vietnamese people by developing into a leading enterprise in Asian food and beverage industry. To achieve the goal, Tan Hiep Phat has built seven core values, namely "satisfying customers", "international quality standards", "responsible with community and society", "nothing is impossible", "ownership of business", "today is better than yesterday but not as tomorrow."
These seven core values were not only general concepts but very specific behavioral instructions, thereby helping leaders and employees to orient their choices in daily work, said Ngoc Bich Tran. According to the Deputy CEO, these core values and orientations are set up by the group leaders from their own experiences and reality of solving problems and implemented, adjusted from observing employees.
"At Tan Hiep Phat, new solutions and highly feasible proposals are directly considered by the CEO to put into practice. Everyone can express their personal views and suggest better solutions for the business. This helps increase the closeness of employees with the business," said Ngoc Bich Tran. Ngoc Bich Tran is proud of the company's core values but even prouder when seeing Tan Hiep Phat people applying those in all aspects of life.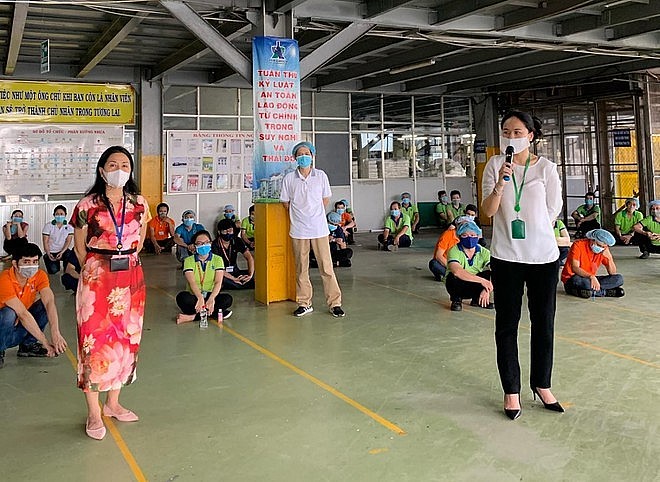 Tan Hiep Phat learns to live with the pandemic (Photo: An ninh Thu do)
"The implementation of core values helps evaluate business culture. Therefore, we are proud of our employees and leaders who can make the impossible possible. Thereby, we have built a disciplined and organized business," shared Bich.
Bich said that Tan Hiep Phat also paid recognition to outstanding members in implementing the core value sets. Every meeting room in Tan Hiep Phat has a print of the set, which is not only for display but for everyone to reflect on and comply with. In addition to communicating about corporate culture, a performance review is held every six months to acknowledge employees who achieve good results and encourage others to better perform in their jobs.
Ngoc Binh Tran told the story of a Tan Hiep Phat driver as an example. Besides accomplishing his duties of driving company leaders, the driver takes the initiative to build internal roads, grow trees in the company, improve trucks. He was honored for embodies the spirit of "nothing is impossible", "ownership of business" and "satisfying customers."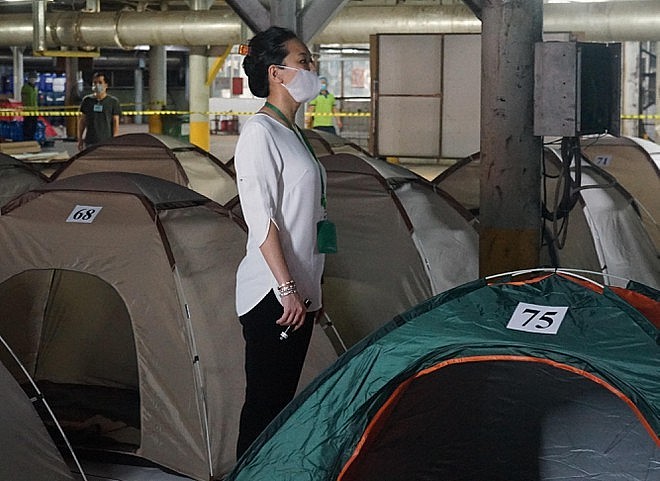 The company has implemented "three at place" model. (Photo: An ninh Thu do)
Covid-19 pandemic - a test for business core values
In the context of the complicated pandemic, Tan Hiep Phat's value sets once again shine in maintaining business culture, giving employees the courage to live with the pandemic, to devote for the society, to accept and overcome difficulties. Thanks to that, Tan Hiep Phat has achieved certain successes despite difficulties.
Ngoc Bich Tran said: "Thanks to maintaining the set of values, after 80 days applying the "three at place" production model, employees at Tan Hiep Phat can still maintain their work pace. Everyone is working hard. More than 2 million products have been delivered to the frontline force, and orders are also fulfilled on schedule."
"To achieve this, we always remind everyone that the pandemic is a challenge for Tan Hiep Phat to implement its core values. We see the pandemic as a long-term battle and the values will become a springboard for us to overcome the Covid," said the Deputy CEO, adding that the group has applied its "nothing is impossible" motto to activities during this period.
These days, despite facing many difficulties when having to "camp" at the factory, the leaders and employees of Tan Hiep Phat still constantly make efforts, creating positive energy to maintain production. Each employee always puts himself in an active and ready position to respond to changes and protect the "green zone" in the factory, maintain production, and be brave to live with the pandemic.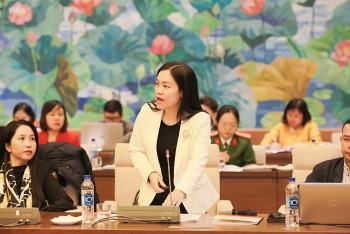 Friendship
Doan Thu Huyen, Vietnam Country Director for Campaign for Tobacco-Free Kids, made the statement at the "Child Downing Prevention" seminar.