The Stylish Life of Diego Chula: Spanish Fashion Designer & Friend of Vietnam
The death of Designer Diego Chula - a well-known fashion designer from Spain and founder of the Chula fashion brand at the age of 49 has left the fashion lover community speechless. Although Diego Chula passes away, his great legacy still remains.
In the recent week, the fashion industry, as well as many Vietnamese individuals, were startled and devastated by the death of Diego Chula, a Spanish fashion designer. Although he has passed, his strong love for Vietnam lives on through his designs, which bring the intense breath of both countries' cultures together.
Diego Chula
Diego Chula is a Spanish designer, owner of Chula fashion.
Designer Diego Chula's real name is Diego Del Valle Cortizas. He was born in Madrid on September 16, 1972; passing away in 2021, at the age of 49 years old.
Diego Chula and his wife, Laura, fell in love with Vietnam and the people in their visit in 2003. They decided permanently move to Vietnam in 2004 and to stay in Hanoi, starting a furniture business. And then, they made a turn to fashion designing after making a few gowns for Laura, to wear to a party.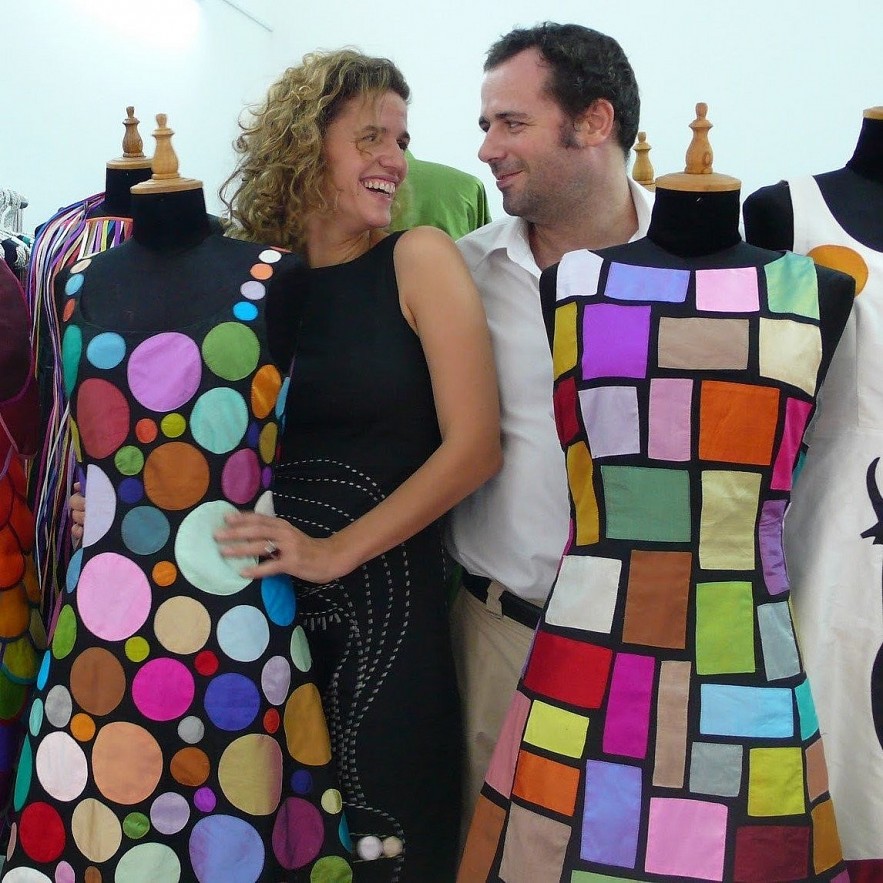 Diego Chula and wife, Laura. Photo: ChulaFashion.com
Diego Chula's passion
Diego did not study fashion. He studied architecture in Madrid, Spain. He has a strong passion for fashion. Although he did not pursue architecture, he seemed to be applied architectural art patterns as breakthroughs in fashion designs.
In 2004, Diego and his wife left Spain and moved to Vietnam to live. The couple started a fashion brand - Chula and it still exists to this day.
Since the early 2010s, his designs have been exhibited in the Vietnam Fashion Week on a regular basis, making him the international designer with the most shows. After over two decades in Vietnam, Diego has made Chula a globally recognized Made in Vietnam brand.
Chula's Design - Ao dai. Photo: ChulaFashion.com
Diego Chula's love for Vietnamese culture
Diego defines his dedication in his adoration for Vietnam as "Chula". Chula in Spanish, where Diego originated, means unique, different, special. The love for Vietnam has been presented and transmitted to everyone by each person who joins Chula. Overall, their love is really extraordinary, distinctive, and exceptional.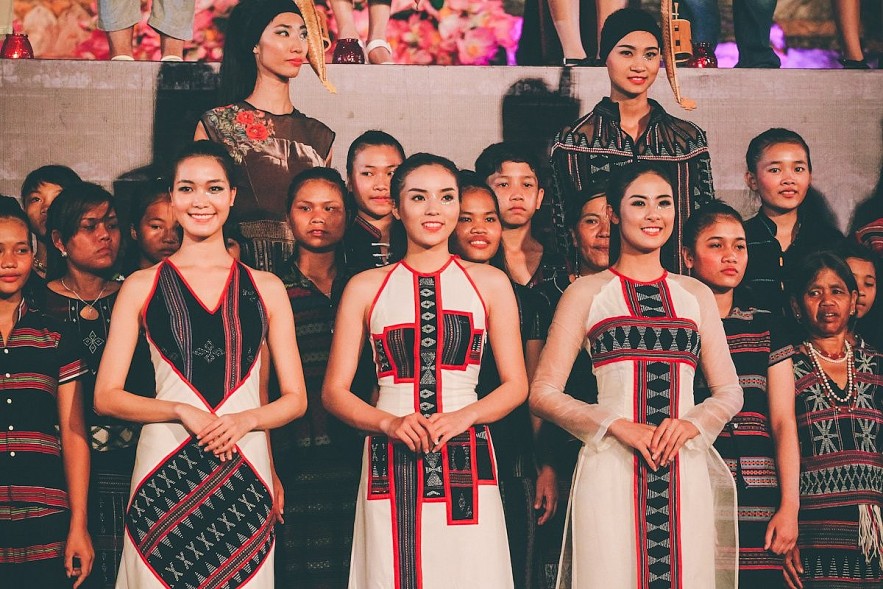 Chula's designs. Photo: ChulaFashion.com
Diego fell in love with Vietnamese cultural materials such as silk, brocade, which represent the culture of 54 Vietnamese ethnic groups. He once released a collection to commemorate the late singer David Bowie in 2016 - inspired by Vietnamese culture. In 2020, he launched a new collection inspired by brocade.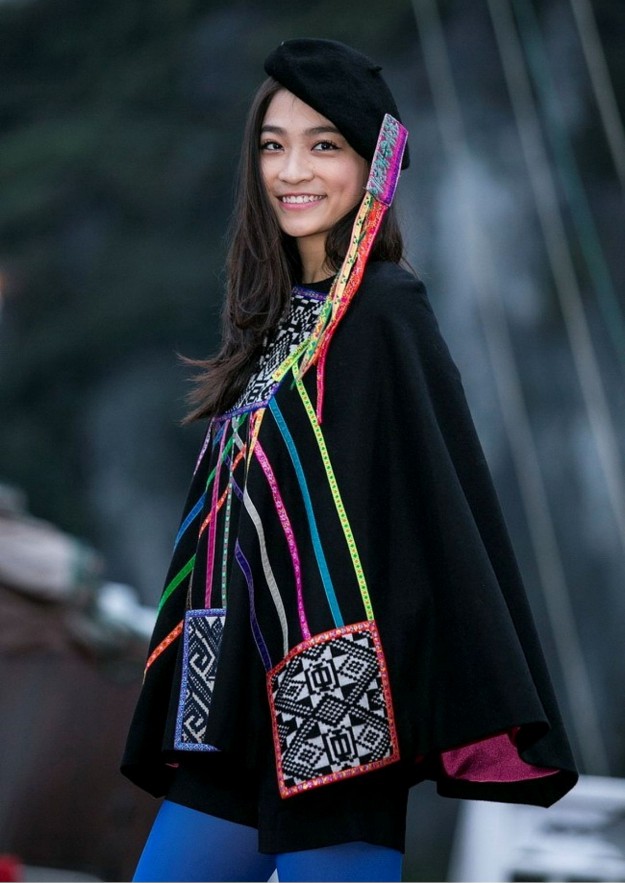 Halong Bay - 2017 Ethnic Urban Collection. Photo: ChulaFashion.com
Diego once that he always wanted to convey an optimistic message into his designs. For that reason, Diego's designs are always bright and vibrant.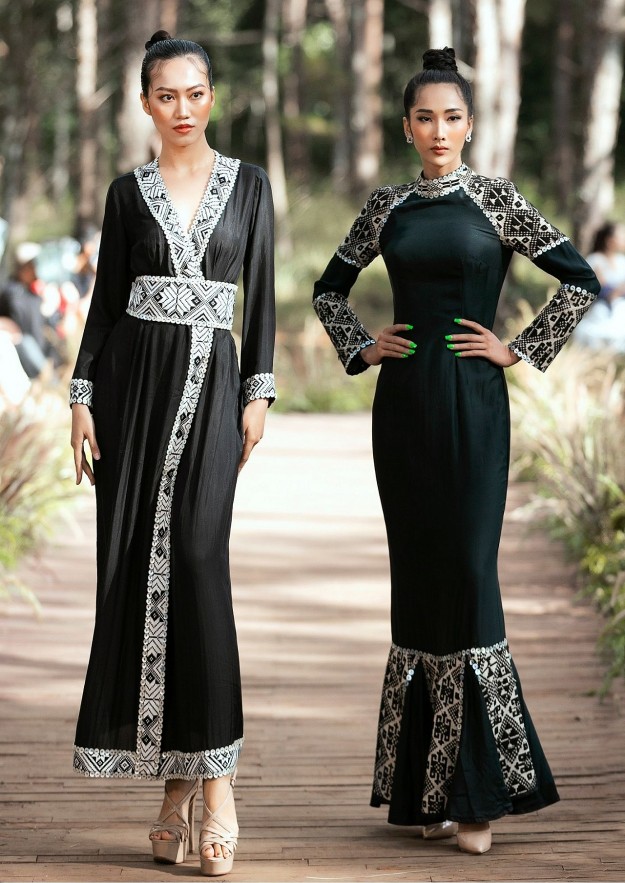 Dak Nong EcoPark - 2020 Dak Nong Collection. Photo: ChulaFashion.com
Diego Chula's support for local artists
For Diego Chula and the Chula fashion business, "fashion is just an excuse," to express his passionate love for Vietnam and its charming, rich culture. "We are not anthropologists or historians. We are strangers in love with this culture and every day we learn more about it, and then we share it like children do." Diego Chula shared in a video with Vietcetera. Diego Chula also hosted music nights and non-profit exhibitions at his studio, which helped many Vietnamese artists.
The business he has in Hanoi is the bridge to strengthen the connection and develop closer relations with Vietnam as he wished to connect with other local artists, artisans' teams with similar interests. Many people with impairments were aided by the Spanish designer, who gave them jobs and turned his fashion business into a second home for them.
Diego Chula's support for the local disabled
Remarkably said, Diego Chula's contribution to elevating the disabled workforce, as he mentioned " is one the best things to happen to us," in his video with Vietcetera. The main reasons for his meaningful actions are based on his wonderful perspective, that he felt "equally disabled, not speaking fluently", and most importantly, "not fully understand the culture."
Diego is also a proponent of utilizing the human resources of individuals with disabilities in order to create jobs for them. Harvesting the hidden potential in the disabled workers helps them realized the confidence within themselves at the same time, reminding them how valuable and special they are.
Living as a remarkable figure
In the eyes of his colleagues, Diego Chula is warm, friendly, enthusiastic, and creative. From Sweden, designer La Pham was shocked to hear that he had passed away. Designer Vu Viet Ha - Chula's long-time close friend - expressed grief over the loss: "He is very thoughtful, always generous to his friends. He is like a passionate Mozaic artist, with a talent for assembly pieces of brocade and silk fabrics into pictures on costumes."
Designer Duyen Huong said: "Chula is always loved by Vietnamese and international friends. He is cheerful and sociable, always turning his house into a place to organize art parties to exchange with people. is a great designer with a generous heart. May he rest in peace!", according to VNexpress.
Diego's love for Vietnamese culture remains a legacy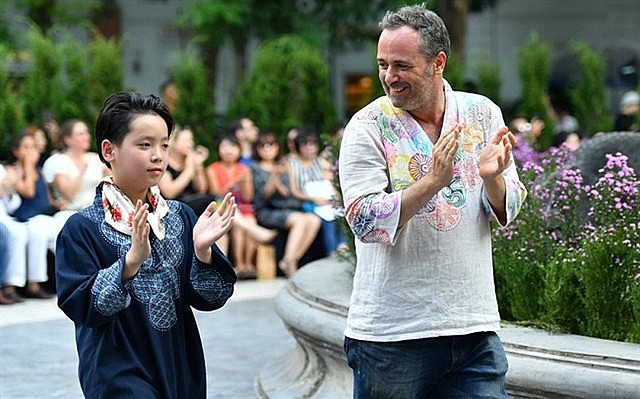 Designer Diego Chula (right) at a fashion show. Photo: VTV
Chula's Fashion is built upon 4 aspects: design and quality, social company, culture and ethical, according to Chula's fashion website.
The business has 29 employees, 80% suffer physical disabilities. Especially, the corporate language is sign language. Chula makes sure to promote the treasures and skills of its employees.
Diego believes fashion can have a real impact on maintaining traditions and displaying different cultures around around the World. And their collections are usually strongly linked to minorities or cultural symbols from Vietnam and around the World.
He appreciates Artisanal since company production follows artisan tailoring processes. It allows Chula to create custom-made products. Plus, the company trusts in sustainable fashion and zero waste.
In an interview with VOA, Diego once expressed that: "We love everything about Vietnam, the people, the food, the landscape. I think Vietnam has one of the best food in the world. We like a lot of Vietnamese dishes such as bun cha, chicken… The interesting thing is that each region of Vietnam has different dishes, food in Hue is different from food in Saigon, each place has its own taste. When I first came here, my wife Laura and I were still a married couple. But then our 3 children were born here one by one. That is also one of the reasons we feel attached and determined then decided to have a house in Vietnam."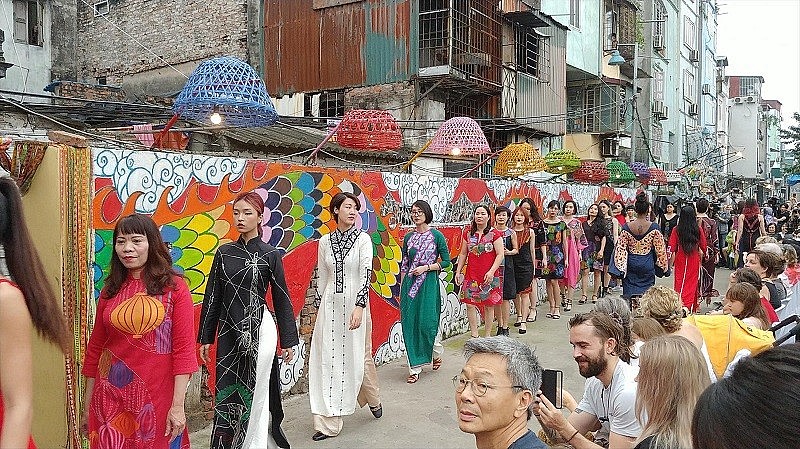 The performance of ao dai Chula at the new multi-functional community space at group No. 16, Phuc Tan Ward, Hoan Kiem District, Hanoi. Photo: The Son
Diego's appreciation of Vietnamese culture was translated into patterns and themes on the clothing he made as a fashion designer. Diego's design is interesting since it is mostly inspired by Vietnamese traditional daily life rather than academic art.
Although Diego's passing breaks our hearts, we can celebrate his legacies. The street art on Phuc Tan, created with paintings and one-of-a-kind lampshades created from chicken cages. He once was a part of a project to enhance the art with the material he came across on his grocery shopping at the market. Diego also enjoys listening to Trinh Cong Son's music and has written a Vietnamese song.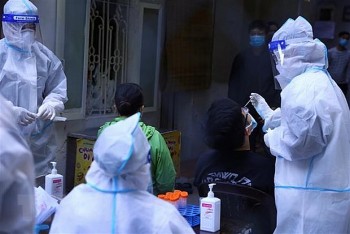 Focus
Vietnam's Covid-19 death toll is now 26,483, or 2 percent of total cases. More than 7,000 coronavirus patients nationwide are in serious condition, with 741 requiring invasive ventilation and 20 on life support.