Dolce & Gabbana's Milan Fashion Show: First Vietnamese Model To Walk The Runway
Phuong Oanh, known as Dahan Phuong Oanh, has become the first Vietnamese female to perform in the Italian luxury fashion house Dolce & Gabbana at Milan Fashion Week.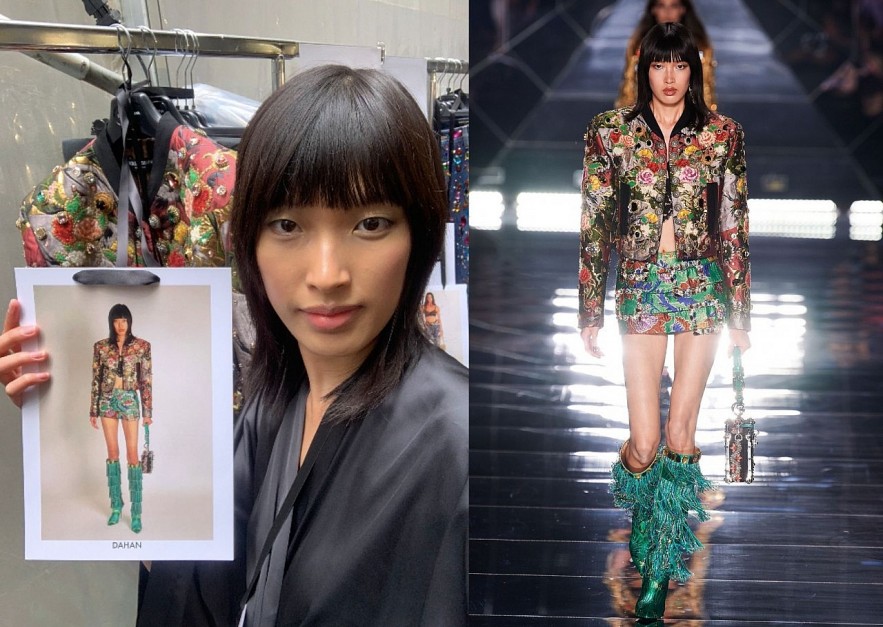 Phuong Oanh walks the Dolce & Gabbana runway in Milan, Sept. 25. Photo courtesy of Phuong Oanh
Overcome challenges in foreign land
Phuong Oanh has become the first Vietnamese model to walk the runway of Italian luxury fashion house Dolce & Gabbana at Milan Fashion Week. At the fashion show on Sept. 25 in Milan, Oanh glittered in a floral jacket, pleated skirt and colorful boots.
The Vietnamese model could not hide her happiness after passing three casting rounds and another two fitting sessions to represent one of the most renowned fashion houses in the world, vnexpress reported.
"On average, models in the show are 1.8 meters tall," Oanh said, adding Dolce & Gabbana pays a lot of attention to models' bodies and catwalk skills.
"I was excited and nervous, but I felt comfortable. Dolce & Gabbana's busy runway gives me more experience. For the first time, I performed in Milan with much calm, which was memorable."
The Dolce & Gabbana show was held in a disco-like atmosphere with glimmering mirrors as a backdrop, its lights and glitzy glamour a call to leave behind the darkness of the coronavirus pandemic, according to designers Domenico Dolce and Stefano Gabbana.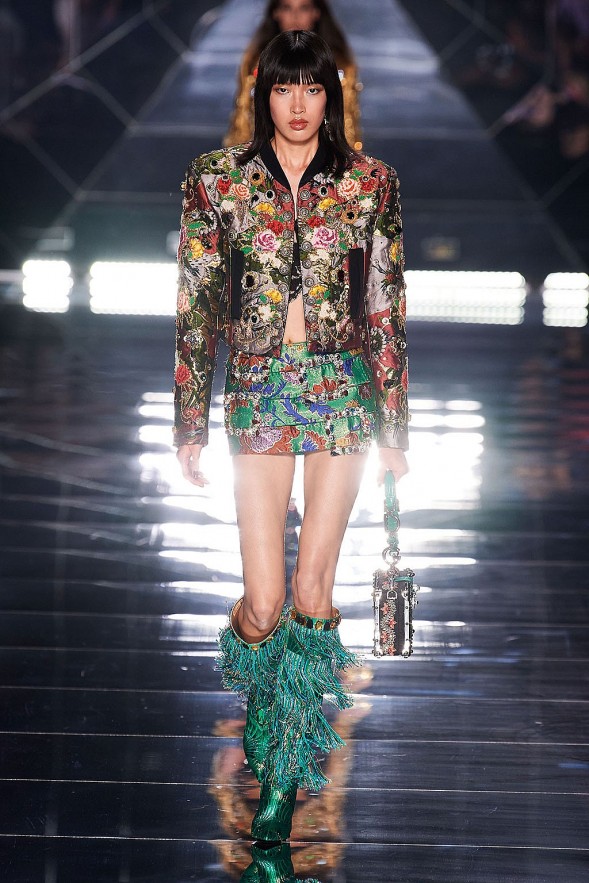 Photo: Dolce & Gabbana.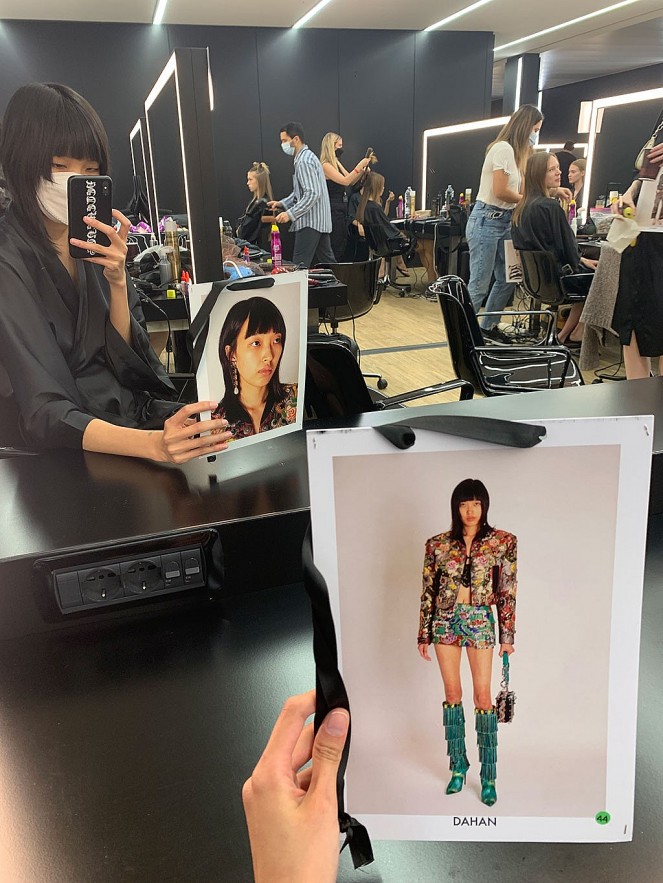 Phuong Oanh shows layout makeup. Photo: Taste Management.
Previously, Oanh, from the northern province of Dien Bien, also represented MM6 Maison Margiela in its new collection during Milan Fashion Week.
She will depart for Paris on Sept. 26 to join casting rounds for the upcoming Paris Fashion Week, taking place from Sept. 27 to Oct. 5.
Before Oanh, Fuji Nguyen was the first Vietnamese male model to walk the runway for Dolce & Gabbana in New York, 2018.
We knew Phuong Oanh through Vietnam's Next Top Model All Stars contest in 2017. The girl born in 1999 did not achieve great success in Vietnam's Next Top Model All Stars because of lacking experience when compared to other contestants.
Firstly, Dahan Phuong Oanh signed a contract with Taste Management, the managing agency in Vietnam. She spent two years training for necessary skills. When she was ready, Taste Management connected to bring Dahan Phuong Oanh into the international fashion market.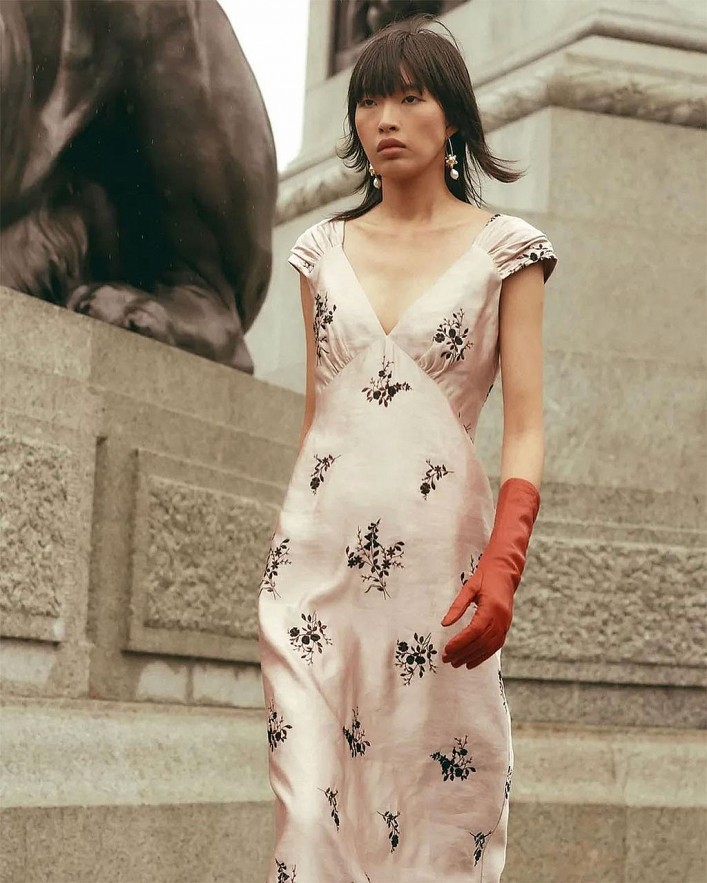 Dahan Phuong Oanh in the Erdem Pre-Spring 2022. Photo: Erdem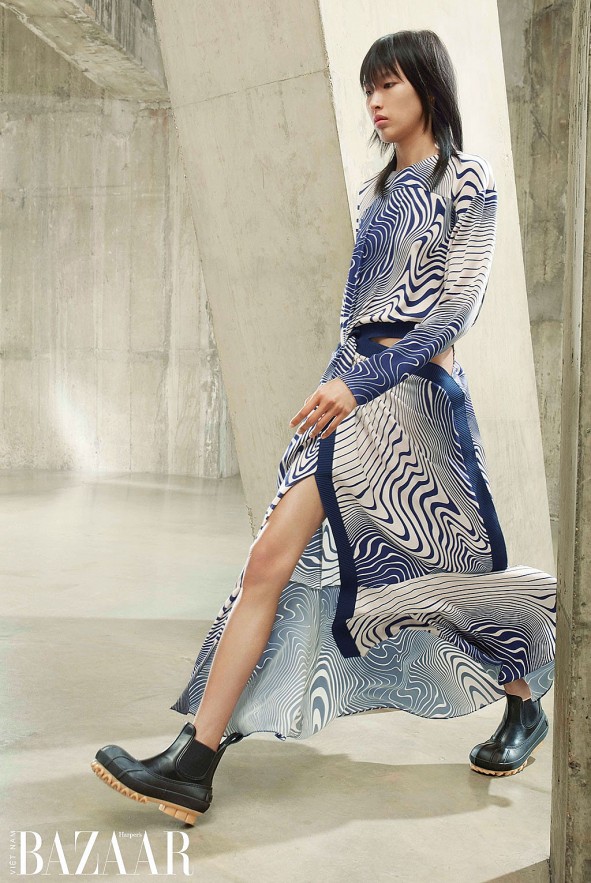 Dahan in the show Stella McCartney. Photo: ImaxTree.
Up to now, as bazaarvietnam reported, Dahan Phuong Oanh has worked with many famous brands such as: MM6 Maison Margiela, Erdem, Stella McCartney, Halpern, etc.
Fall-Winter 2021, Dahan Phuong Oanh was the only model to take a lookbook for Halpern, the British brand. In July 2021, she became a key model in the campaign to promote the Gucci Diana bag. Now, she is the first Vietnamese model female to perform on the runways of Dolce & Gabbana Spring Summer 2022 and MM6 Maison Margiela.
Another justification is that Dahan Phuong Oanh extremely works hard. Her characteristics and hard work have helped her to make impression with foreign teams. In Dolce & Gabbana's Spring Summer 2022 fashion show, Dahan Phuong Oanh performs confidently with the 44th design. Before that, she went through 2 casting rounds and 2 fitting rounds with strict measurements.
A call to leave behind the darkness of Covid-19 pandemic
Domenico Dolce and Stefano Gabbana aren't immune to the Y2K fever sweeping through fashion this season, and why should they be? The year 2000 was peak Dolce & Gabbana, a moment when the glorious excesses of their aesthetic were swinging the fashion pendulum from the minimalist '90s to the go-go early '00s. Dolce and Gabbana have picked up on the renewed interest in the era. Their young assistants are enthusiastic about that part of their archive, and on-the-rise Gen Z pop stars are requesting vintage pieces, too.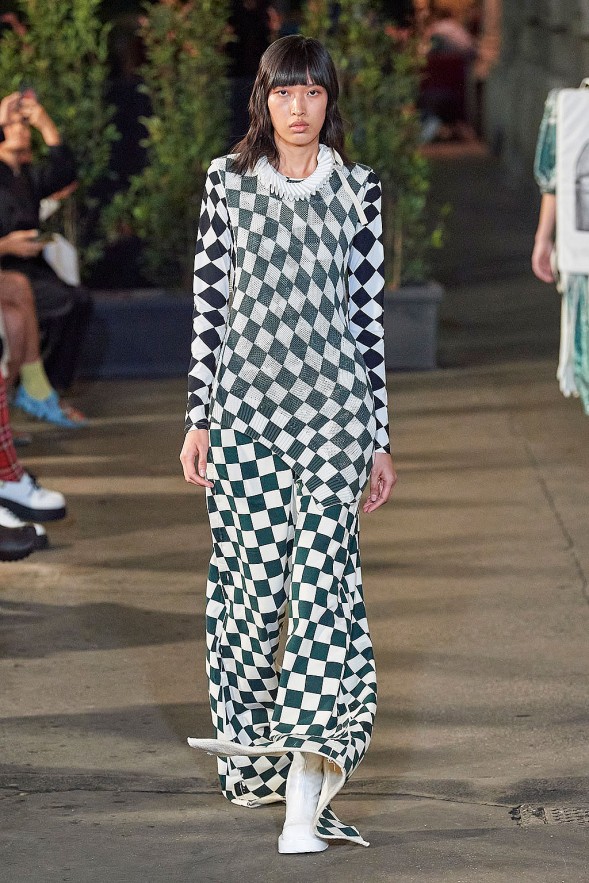 Photo: ImaxTree.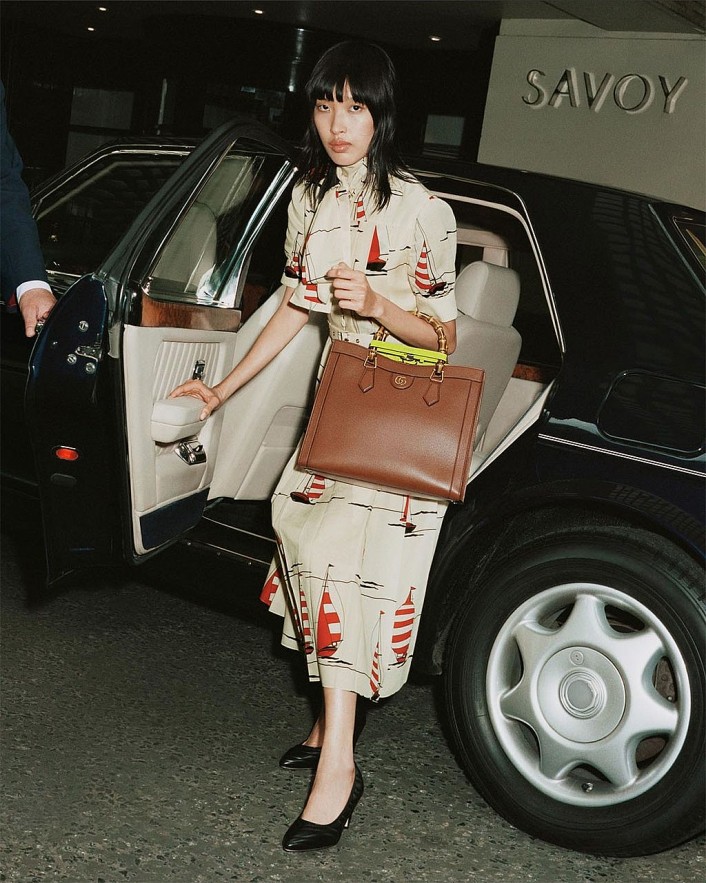 Photo: Gucci
Backstage Gabbana said, "We thought we'd do something not similar, but in the same mood as that 2000 collection. We're coming out of a dark time"—meaning the pandemic—"and we want to enjoy life. We want light." Their Metropol venue glinted like a diamond, with a mirrored runway, a faceted backdrop, and no fewer than 75 spotlights, but the set had nothing on the clothes and accessories themselves, which were tricked out in crystals by the kilo, even more than the men's collection they presented in June.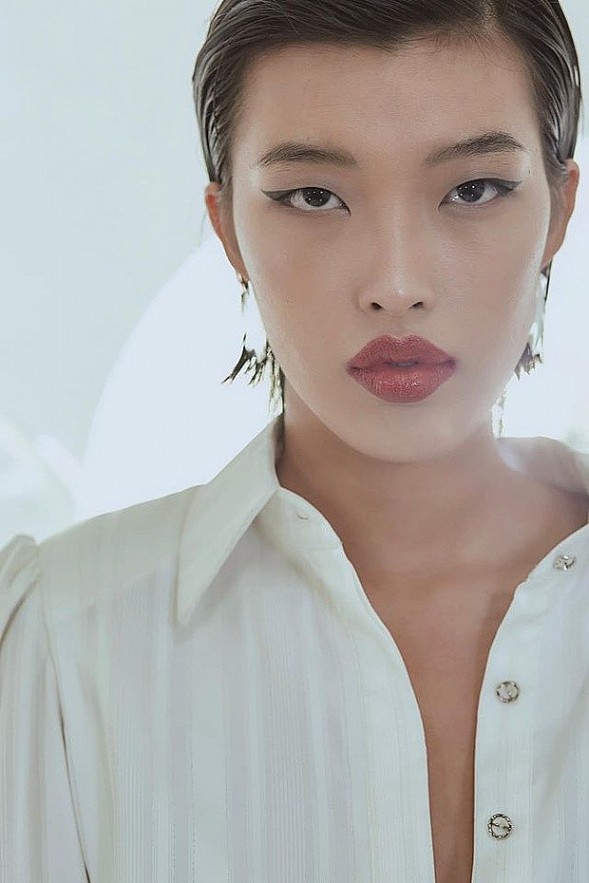 Dahan Phuong Oanh in models.com. Photo: T.L.
Clicking through their 21-year-old collection is to clock parallels between then and now: the pelmet mini and sheer shirt combos, the beaded fringe skirts, the exposed lingerie, and logo underwear. Jennifer Lopez starred on a couple of T-shirts here in what looked like D and G's tribute to another brand with staying power. But there were some other forward-thinking updates. Upcycling is also a trend they've picked up on, and they bought a stash of used militaria to deconstruct and remake to their liking. A camo jacket was lined in leopard and cargos were sliced off at the knee, with the cast-off scraps patch-worked into towering boots.
According to Vogue, one way the industry hasn't changed enough since the turn of the millennium is in its one-dimensional insistence on uniformly thin models. Dolce and Gabbana clearly have their eyes on the generation that's coming up. In fact, Gabbana reported enthusiastically that the average age of their shopper post-pandemic is going down. To really engage with that demographic, they could think about a wider range of body types. Sexy comes in all sizes.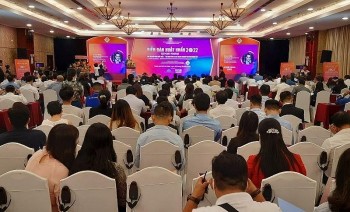 Focus
Vietnam News Today (Dec. 9): Vietnam - Singapore innovation centre helps firms transform production; HCM City among most searched destinations by travelers; Vietnamese digital technology industry's revenue estimated at 148 billion USD in 2022; Two Vietnamese films up for consideration at Oscars.