The Travel: Top 10 Hidden Gems In Vietnam
The Travel introduces Vietnam as a beautiful country with many famous destinations, and these 10 hidden gems can offer tourists many exciting experiences.
While Vietnam has world-renowned attractions like Ha Long Bay, famous for many incredible things, its hidden gems are worth visiting. Well, at least before they become touristy traps! Besides filling adventurers with a sense of awe, these off-the-beaten-path spots are best to learn more about the authentic side of Vietnam, according to The Travel.
Phong Nha Ke Bang National Park
The Phong Nha-Ke Bang National Park, inscribed on the World Heritage List in 2003, covered 85,754 hectares. With this extension, the site covers a total surface area of 123,326 hectares (a 46 % increase) and shares a boundary with the Hin Namno Nature Reserve in the Peoples Democratic Republic of Laos.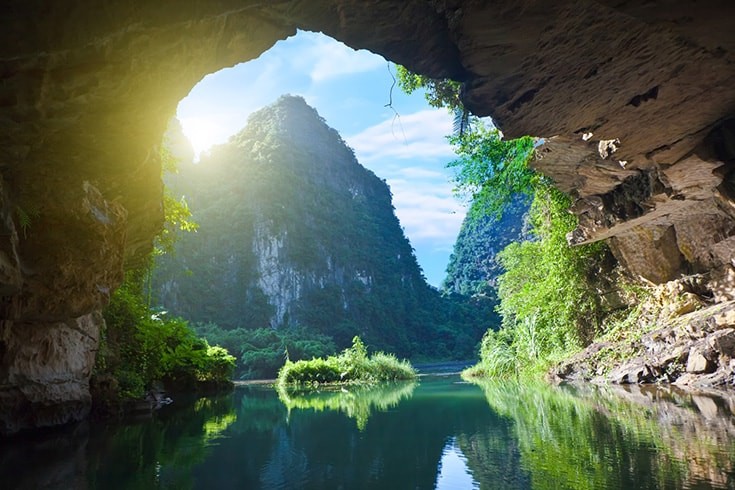 The gorgeous scenery of Phong Nha Ke Bang National Park. Photo: Vietnam Discovery Travel
The Park's landscape is formed by limestone plateaux and tropical forests. It features great geological diversity and offers spectacular phenomena, including a large number of caves and underground rivers. The site harbors a high level of biodiversity and many endemic species. The extension ensures a more coherent ecosystem while providing additional protection to the catchment areas that are of vital importance for the integrity of limestone landscapes.
Con Dao
A tiny archipelago off the southern coast, only a small number of travelers wind up in Con Dao. Though the trip requires extra effort, those who commit to the journey are rewarded with some of the country's most blissful beaches and best snorkeling. Much of the island is covered by the Con Dao National Park.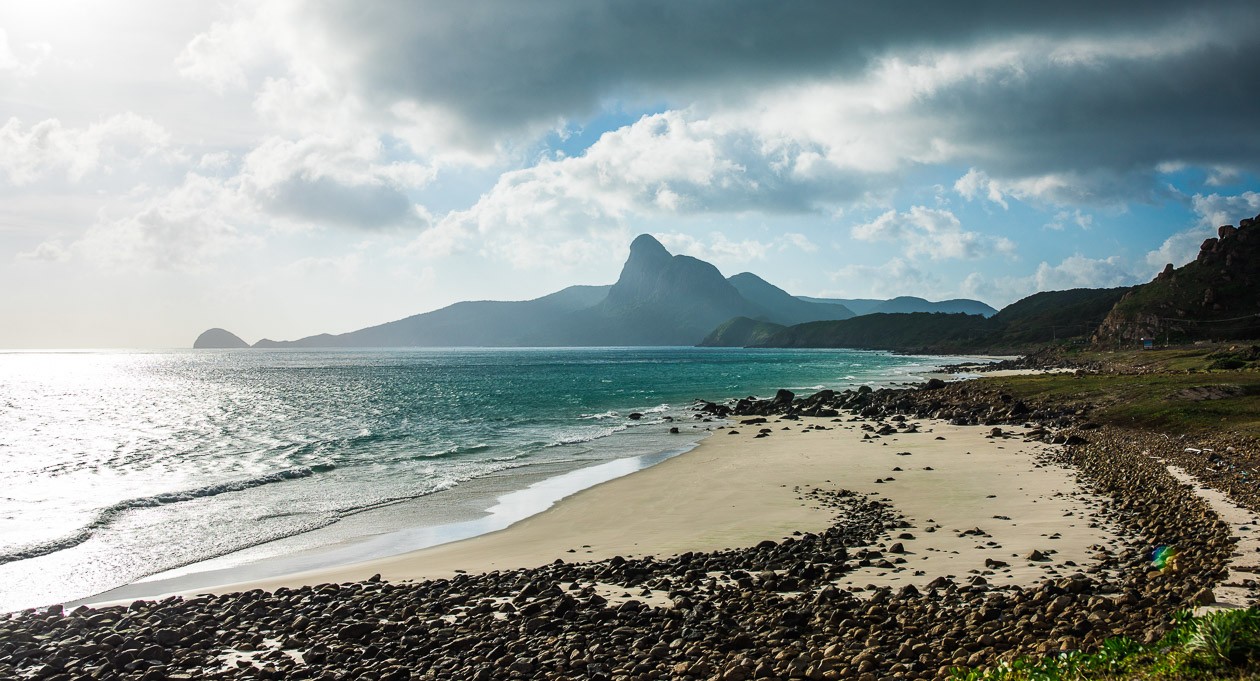 Photo: Vietnam Tourism Board
Con Dao travelers are spoiled for choice when it comes to secluded beaches. Take a hike to Bai Ong Dung, a stony coastal spot where they can snorkel close to shore, or head to Dam Trau Beach or Dat Doc Beach for sunbathing.
Lan Ha Bay
Lying to the south of Halong Bay off the northeastern coast of Vietnam, the 300-or-so karst islands and limestone outcrops of Lan Ha are just as beautiful as those of its superstar neighbor but feel more isolated and untouched. Lan Ha also has the additional attraction of numerous white-sand beaches, which aren't found in Halong.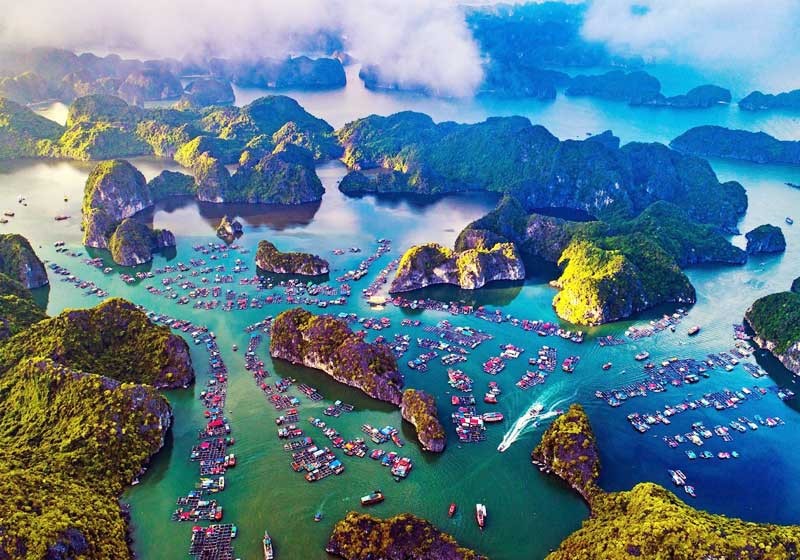 Lan Ha - a relaxing destination for a summer holiday. Photo: Good Morning Cat Ba
Geologically, Lan Ha is an extension of Halong Bay but sits in a different province. Around 200 species of fish, 500 species of mollusk, 400 species of arthropod (prawns, crabs), and numerous hard and soft corals live in the waters here, while larger marine animals in the area include seals and three species of dolphin.
Dong Van Karst Plateau
Dong Van Karst Plateau Geopark was recognized as one of the 77 geological parks in the world by UNESCO's Global Geoparks Network in 2010 and became Vietnam's first geological park. Located about 1,400 – 1,600 meters above sea level, Dong Van Rock Plateau is formed by narrow valleys alternating with rocky mountain ranges in the north of Viet Nam. Up to 80% of Dong Van Rock Plateau is covered by limestone which contains the fossils of thousands of prehistoric species from 400-600 million years ago.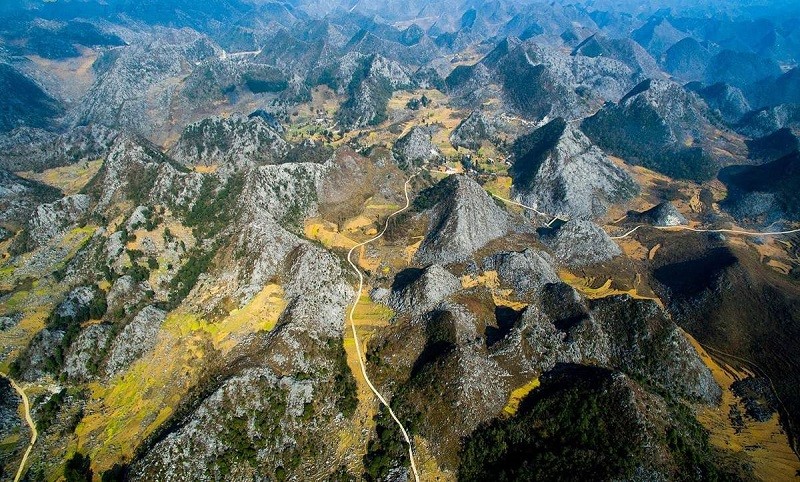 Photo: Vinpearl
The park spreads over 4 districts of Meo Vac, Dong Van, Yen Minh, and Quan Ba with a total area of 2,356 square kilometers. It is home to more than 250,000 people from 17 different ethnic minorities with diverse cultures and traditions. These ethnic minorities live on cultivating rice along the basins of the Nho Que River and corn on the rocky mountain slopes.
Turtle Tower
In Hanoi, Vietnam, there is a lake in the center of town that maintains special significance to the Vietnamese people. In the middle of that lake is a tiny island that holds a tower that commemorates the important victory achieved by a Vietnamese legend.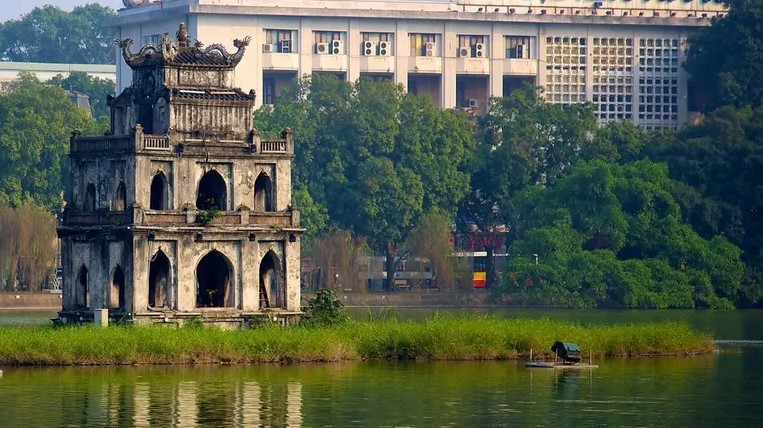 Photo: TinTravel
Turtle Tower, known to the Vietnamese people at Thap Rua, was built in 1886 on the same site where a Ta Vong Temple had been built during the 17th or 18th century. Somewhere between the Restored Le Dynasty and the Nguyen Dynasty that temple disappeared. The tower that stands there now was erected on the same site to commemorate a warrior and the impact he had on Vietnam.
Pongour Falls
Pongour Falls is located in Tan Nghia Hamlet, Ninh Gia Commune, Duc Trong District, Lam Dong Province. It is approximately 50 kilometers south of the city center of Dalat. This waterfall originates from the magnificent Da Nhim River, standing over 40 meters tall and spanning a width of up to 100 meters.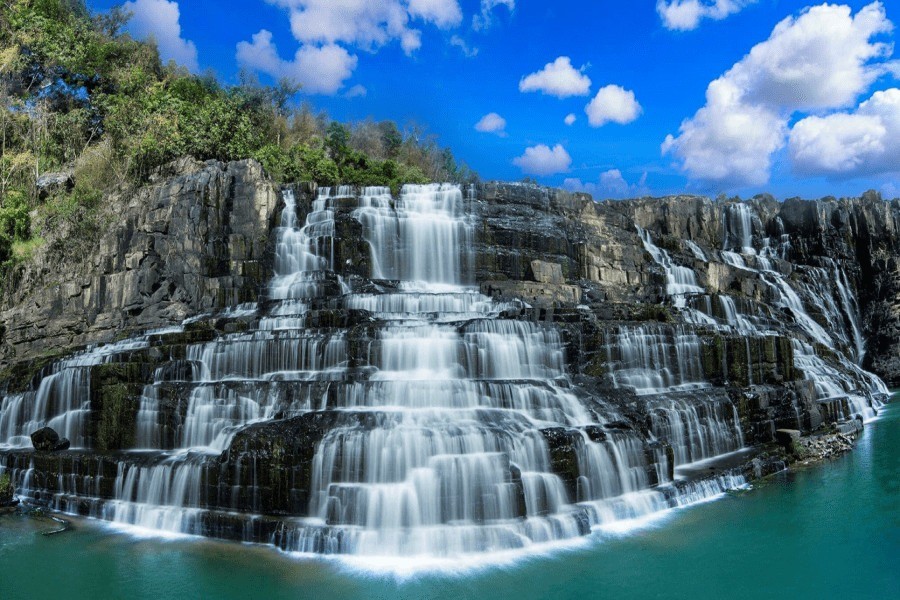 Photo: Culture Pham Travel
To reach this stunning waterfall, visitors can take either the gently sloping paths or descend down the stepping stone path. Upon reaching the falls, tourists will be mesmerized by its breathtaking grandeur. The cascading water rushes vigorously from above, creating a large water body that sprays white mist.
Huyen Khong Son Thuong pagoda
The pagoda, belonging to the Nam Tong sect (Hìnayàna), was built in 1989. It is about more than ten kilometers west of Hue City and is located in Dong Cham Village, Huong Ho Ward, Huong Tra Town.
Photo: Adventure Journey Vietnam
After about 15 minutes of going along the winding road leading to the middle of the mountain, Huyen Khong Son Thuong Pagoda will emerge in the middle of the vast pine forest. The space there is so quiet, with the magical landscape as beautiful as a watercolor painting. The pagoda space includes the main hall with a rustic architectural style, based on the architecture of Hue's Ruong houses. Its building materials are mainly wood, and fish scale tiles, imprinting the soul of Hue and the soul of Vietnam.
Cai Be Floating Market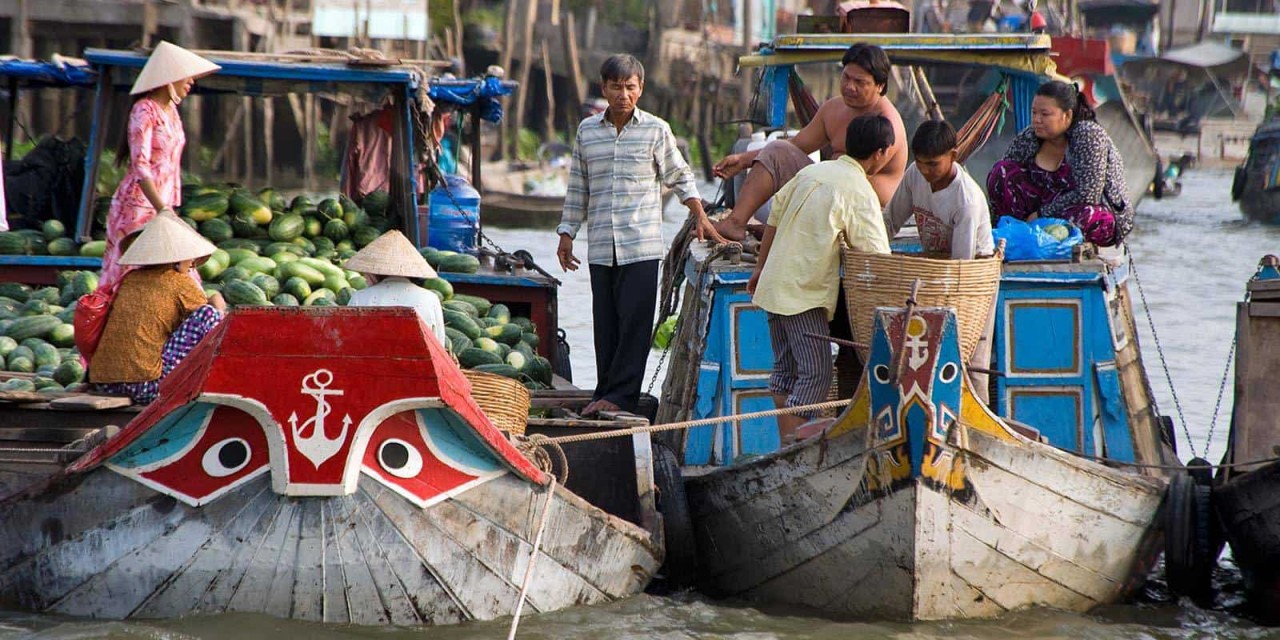 Photo: Vietnam Discovery Travel
Cai Be, Cai Rang, Phung Hiep, and Phong Dien Floating Market make the four largest and busiest markets in Mekong Delta. Cai Be market was said to originate from the early trading activities of residents from the Central of the country. They founded the land and settled down here in the 17th century. However, some might argue that Cai Be was established during the Nguyen Dynasty in the 19th century.
Muong Hoa Valley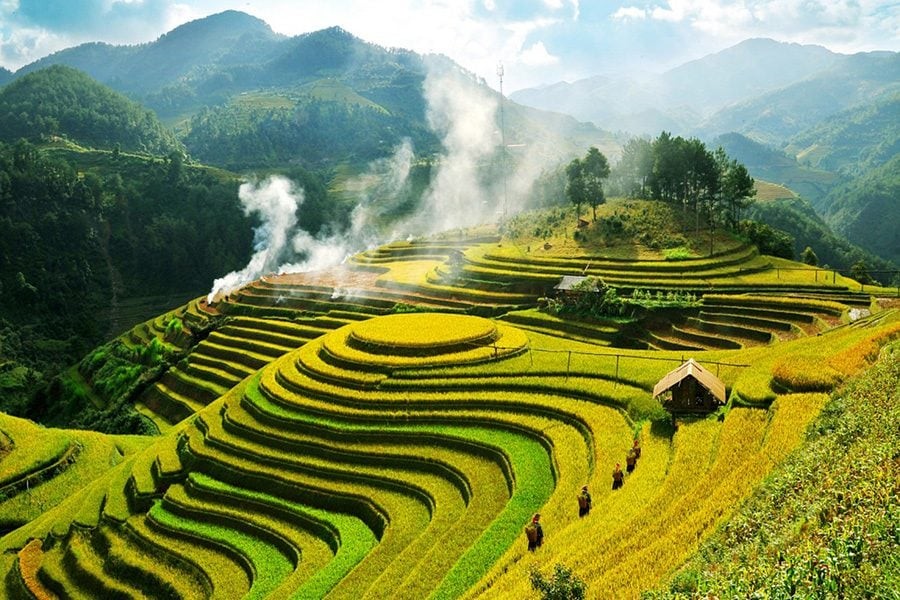 Photo: Vietnam Is Awesome
Muong Hoa Valley is surrounded by high mountains standing side by side in the Hoang Lien Son mountain range with craggy terrain and having Fansipan on the roof of Indochina; therefore, this land is not nearly under the impact of modernization and remains almost pristine beauty of nature. Highlights of the valley are the Hoa stream (flower stream) with a length of 15 kilometers and large terraced fields along the mountainsides. From above, that Hoa stream flows around terraced fields piled up like waves alternating small brown stilt houses creating such a poetic scene making a great impression on every tourist that terraced fields in Muong Hoa Valley are voted to be one of the most terraced fields all over the world.
Ba Be Lake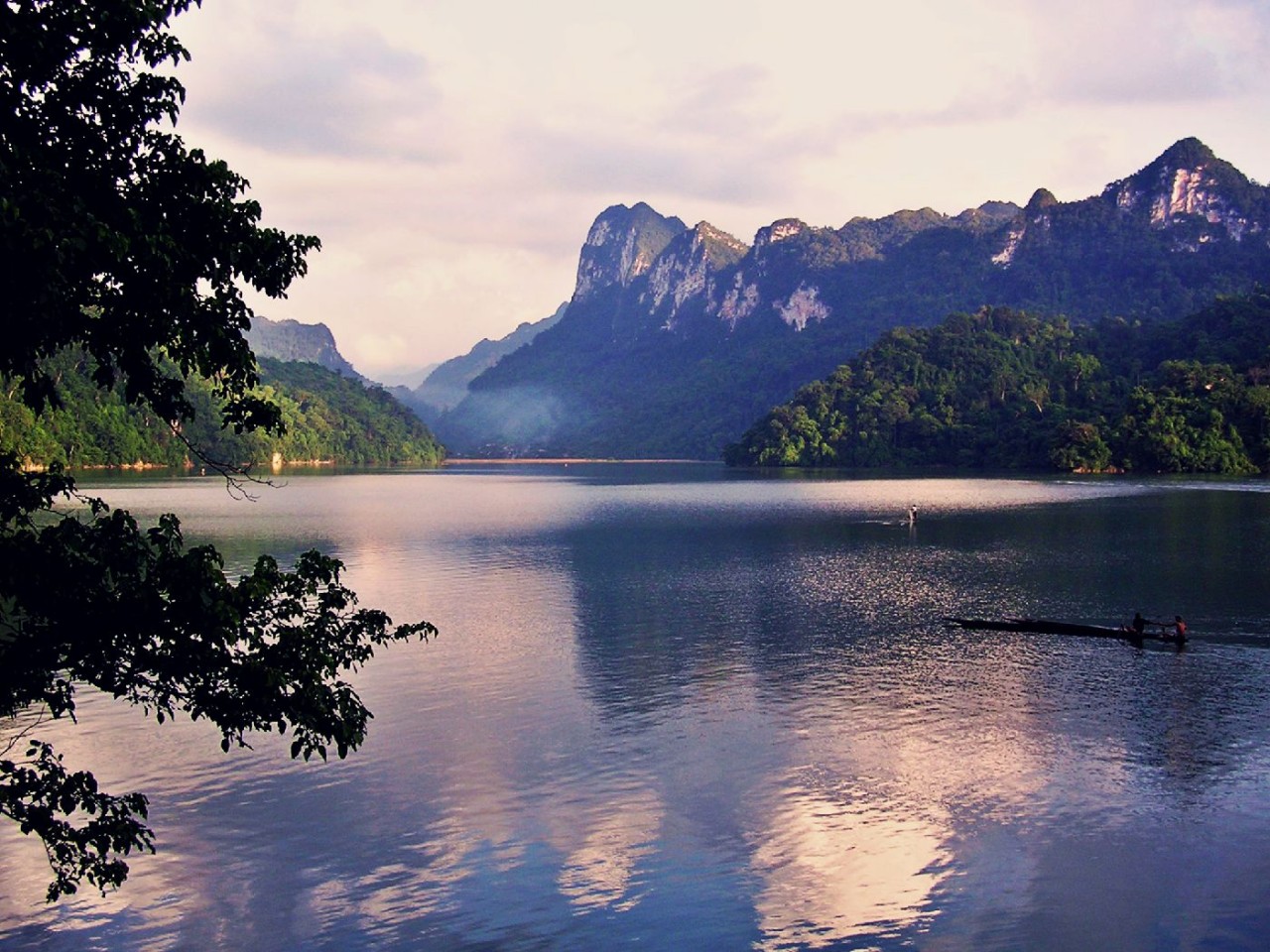 Photo: Asianway Travel
Lying north of Bac Kan Province, deep in the core zone of Ba Be National Park, the three freshwater lakes of Ba Be (Pe Lam, Pe Lu, Pe Leng) spread on a total area of 5 million sqkm with a depth of water reaching down to 35m deepest. The lakes are located at a height of 145m above sea level, with 8 kilometers of the lake covered with a cave and underground stream system. With this vast body of water and diversity in biology and geology, Ba Be Lake has important values in nature preservation in North Vietnam.