The Vietnamese woman who connects loving hearts to make miracle happen
"There are many kind-hearted people in this world, the most important thing is to bring them together. That's how we can make miracle happen…" says Nguyen Thi Thao Huong (Lisa Nguyen), founder of Children Are Innocent. Based in Singapore, the  mother of three has been putting tremendous efforts in supporting poor kids in the fight against critical illness.
The beginning of the journey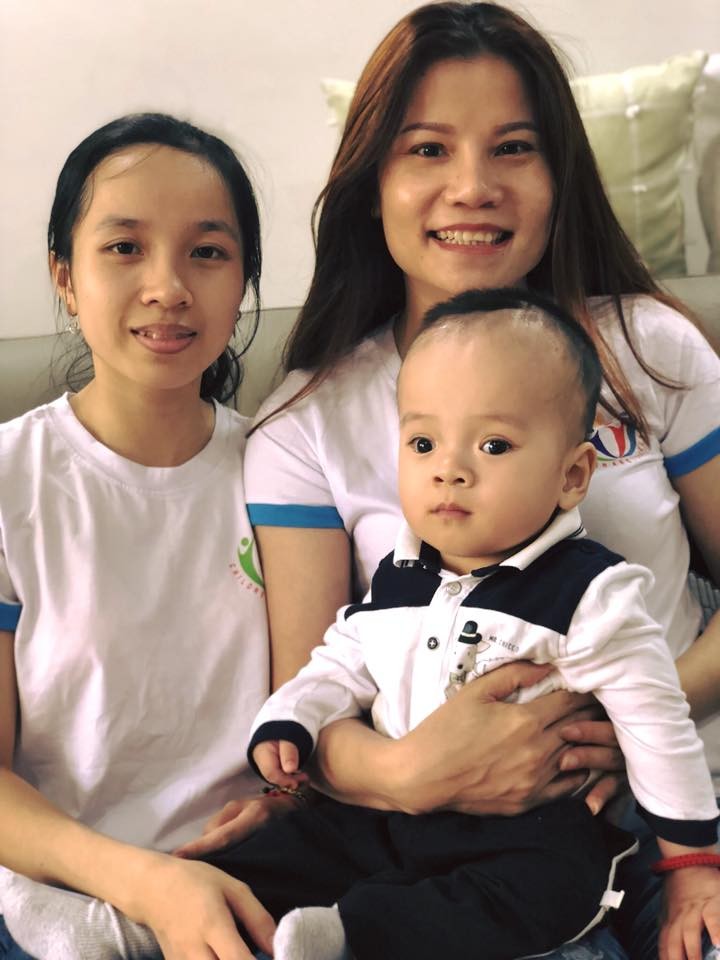 Lisa Nguyen (right) and baby Gia Bao, (2 years old). He was born with several health issues, including sepsis and meningitis, hydrocephalus. Thanks to the help of CAI, Gia Bao was brought to Singapore for treatment. Nowadays, his speech and mobility capability have improved significantly. Photo: CAI
Children Are Innocent (CAI) is only three-year-old, but Lisa's charitable journey actually started over 10 years ago, since she was still living in Vietnam. At that time, while taking care of her father at HCMC Oncological Hospital, Lisa was deeply moved by witnessing the struggles of cancer patients and their families, especially children. She, one of her siblings and some friends later decided to do something to share the burden with the needy. Cooking food for patients and families, bringing toys and clothes to orphanages were what they did in these early days.
Lisa's work for critically ill kids officially started in 2016, after getting married and relocated to Singapore.
"In late 2016, a family from Vietnam brought their son to Singapore to seek treatment. The boy got better, however, the family couldn't afford to continue the medication. I had taken part in the fundraising and helped hand the money to the family," she recalls.
The boy's name was Phuc, who was suffering from a rare skin condition.
"He looked so pitiful, as though he had burns all over his face and body. There was so much pain in my heart", Lisa says.
After Phuc, Lisa continued to support another infant in the similar way. Her next beneficiary was Tran Ngoc Hoang, a patient who needed a cornea transplant.
In order to increase the effectiveness and professionalism of the charitable work, Lisa and her husband established Children Are Innocent (CAI) foundation.
It would be a long list to complete a 'job description' of Lisa and CAI's volunteers in over the last three years. Each of them, from different walks of life, has been enthusiastically involving in every step of 'patients services', including providing transportation, finding accommodation, working as liaisons and translators between baby patients, parents and doctors, managing the fund and expense of each patient, which can go up to hundreds of thousands of USD. Specially, in over the last three years, all of these works have been carried out responsibly without getting paid.
For patients with financial constraints, Lisa and other volunteers will spend time on negotiating with hospitals and doctors on giving discount.
"We will try our best to help patient's family minimize hospitalization expenses. For instance, we can persuade the hospital to let the patient stay in a single room at the price of a four-bedded room. In other cases, we once requested and was approved by Gleneagles Hospital to let both the father and mother of a baby patient to spend the night in the hospital, so they can save the accommodation expense".
Sometimes, Lisa even doesn't mind letting some poor patient's family to stay in her own house. During the time they stay in Singapore, Lisa also plays a part in creating a home-away-from-home atmosphere for them by organizing birthday party, picnic, etc. These activities have tightened the bonds between these families, filling their tiring hearts with joys and relaxation.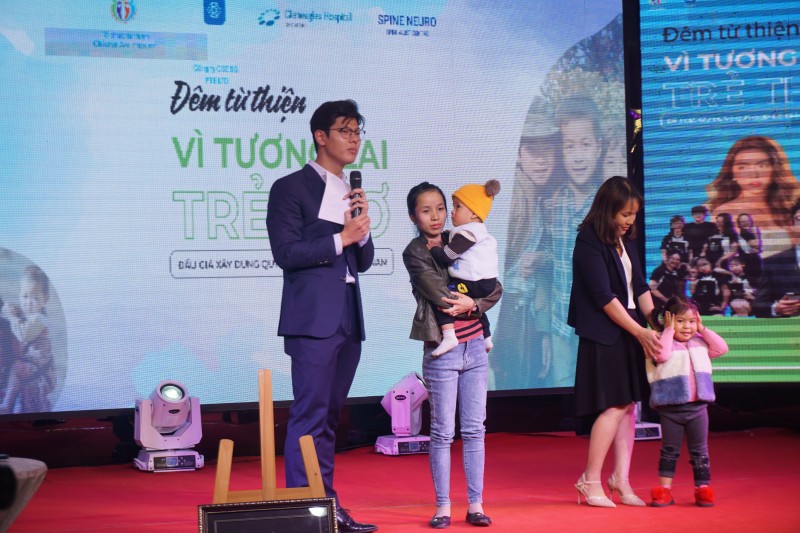 (Right to left) Two beneficiaries of CAI, Ha Phuong, Gia Bao, and their mothers in the charity auction gala night on December 7. Photo: P.Y
The Gala & Charity auction themed "For children's future" held on December 7 was a heartwarming gathering for beneficiaries of CAI. They were Trung Kien, Thu Phuong, Gia Bao, Ha Phuong and many other kids and their families. Most of them suffered from critical illness like hydrocephalus, infection, intracerebral hemorrhage, which cause horrible pains, difficulty in speech and mobility and even can be life-threatening. Thanks to the assistance of CAI, they had the chance to get treatment in Singapore and overcome illness with positive improvement. Nowadays, some of them have started going to school to strive toward their dream.
For many people, it's hard to understand why Lisa and her Samaritan fellows can devote such extraordinary efforts to helping strangers.
For Lisa, she never wants to glory herself as "What I do is nothing compared to the suffering of these children and their parents every day."
Nguyet Le, Head of a charity group who has been working closely with CAI explained it simply: "We are all mothers. What we do come naturally from the pure love a mom has for her own children".
Connecting kind hearts
After 3 years since its founding, CAI has received around VND 30 billion (~USD 1.3 million) from its sponsors and an amount of VND 60 billion (~USD 2.6 million) from fellow charity groups and individuals.
The fund has been used to pay for medical treatment for over 300 babies suffering from critical illness like sepsis and meningitis, hydrocephalus, caractact, of which 70 cases have been treated in Singapore. In addition, CAI also reaches its helping hands to other needy groups in Vietnam, through building charity houses, playground, libraries, donating warm clothes to children in disadvantaged areas.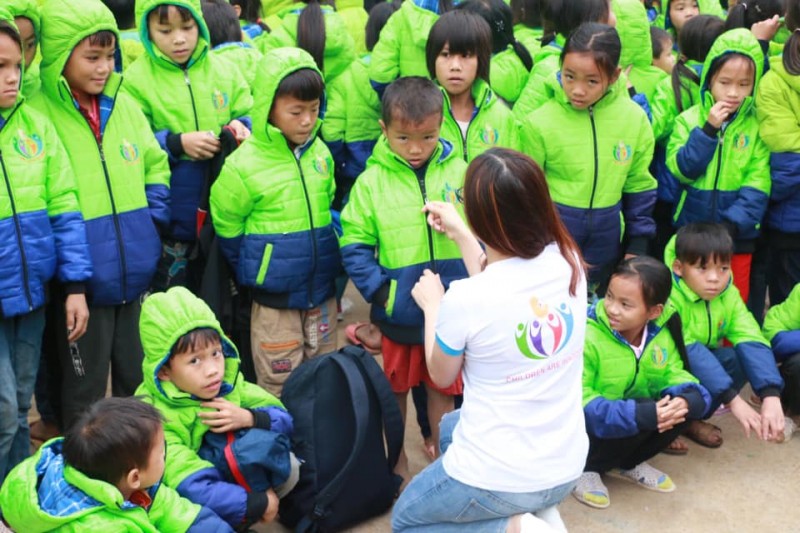 Bringing warm clothes to the mountainous areas, an act of kindness carried out by CAI in coordination with several charity groups. Photo: CAI
Lisa says, what CAI has done would not have been possible without the dedication of kind people like Master Tue Thanh (Trieu Son Tay temple, Hue), Ms. Thanh Tran, Ms. Ngoc Mai Phung, and many others who have been working relentlessly on fundraising and bookkeeping. Lisa is also grateful for Singaporean kind hearted friends like Doctor Rajendra Tiruchelvarayan (Spine Neuro), who just gave baby Quach Ngoc Long a free surgery last November.
To Lisa, most of the time, words are never enough to tell how grateful she feels about these people, as well as many other supporters of CAI. To express the heartfelt thank, Lisa chooses to work harder on CAI's charitable journey.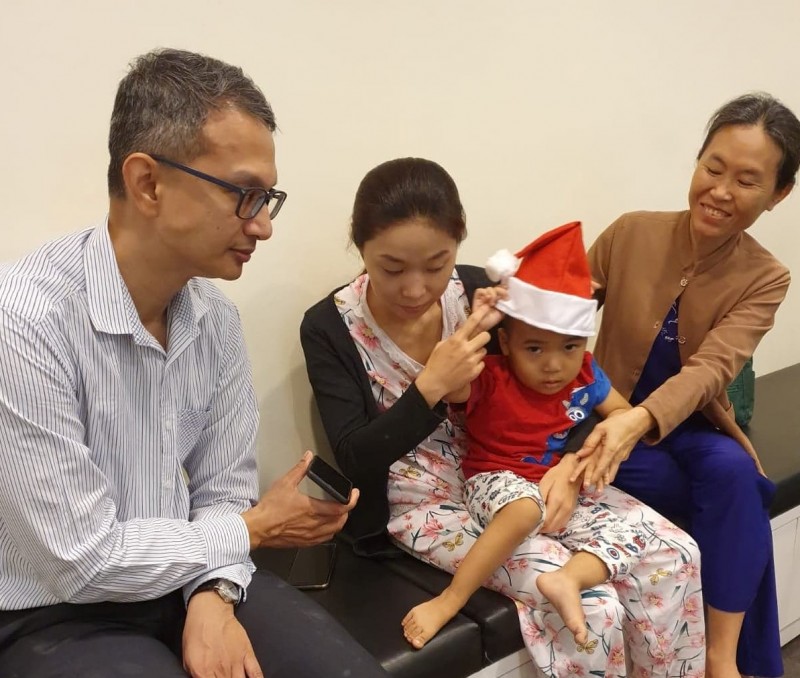 Doctor Rajendra Tiruchelvarayan (left) and baby Quach Ngoc Long's family. Photo: Courtesy of Dr.Rajendra
According to Lisa, "transparency" is always her top priority when doing charity. When receiving request for help, she and CAI volunteers will spend time on studying the case thoroughly. When CAI starts raising fund, Lisa will announce precisely the amount of donation needed for each case, providing daily update regarding the amount of money received (donors' name and amount of donation).
For cases that have received enough donation, CAI will notify donors to stop donating, or ask for permission to transfer the exceeding cash to other needy cases (with details regarding how much to be transferred, to which patients, etc.)
In addition, post-surgery condition of patients is also updated regularly.
The transparency and responsibility of CAI has earned the trust of the community. From being Fanpage followers (due to curiosity), step by step, they come closer to CAI, to become donors, volunteers, as part of the loving family.
CAI is now well-known in both Vietnam and Singapore. Lisa says, she didn't want to be featured on any kind of media or press.
"I am only an ordinary person, neither a celebrity nor entrepreneur". The increasing popularity of CAI will connect more Samaritans to CAI, and as a result, more needy people will be helped.
Loving supporters
Lisa is currently working as secretary of Lakshya Holding Pte. Ltd., Singapore. For a mother of three, balancing between charity work, office work and family is never an easy task. Fortunately, she always received tremendous supports from her husband, Mr.Adam Chua.
Just like his wife, the Singaporean businessman never cares about being credited for what he has been doing. For Adam, helping needy strangers and even foreign strangers is not anything special, because he simply believes "As human, we are all equal".
"I love children, and I just think that, there is no way a child cannot get access to proper medical care due to his or her poor background".
Adam therefore never complains when seeing his wife spends too much time on helping others, but always feels delighted to lend her wholehearted supports by taking care of the children or help manage the fund when she is too busy.
"I want Lisa's work to grow greater, so more children will be saved", he says.