The Weirdest Dishes You Can Try In Vietnam
Aside from famous dishes such as Pho or Banh mi, these least known and unusual plates can challenge the bravest foodie's heart.
Vietnamese cuisine offers delicious street food, but for people visiting for the first time, some dishes may seem like too much of a challenge for their palate. From the unusual balut to red jellyfish salad, these dishes are not anything that you have ever seen before, and they scare the boldest foodies for their looks, but actually taste delicious once you have the courage to take a bite. Here are the weirdest dishes that you can try once in Vietnam.
1. Fertilized duck egg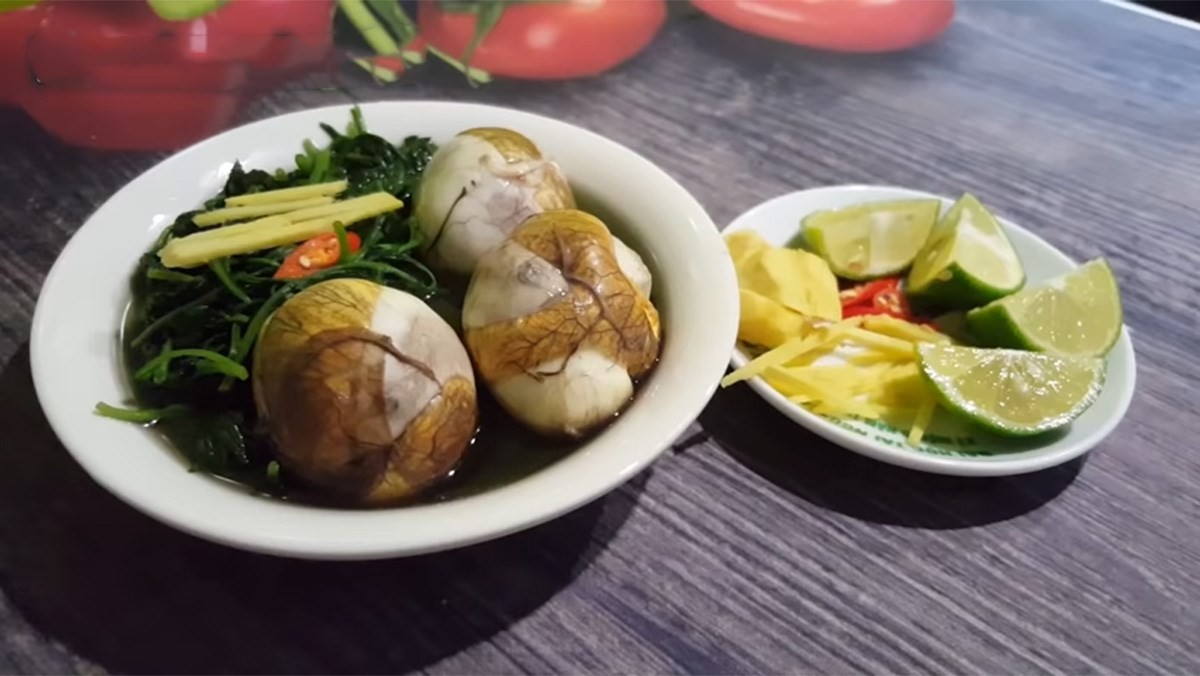 Photo: Foody
Fertilized duck embryo is a very popular type of street food in Asian countries, especially in the Philippines and Vietnam. The word Balut is originated in the Philippines, while balut in Vietnam is called Hot vit lon. A balut looks like a normal duck egg on the outside but has developing bird embryo inside for about 18 days.
There are 2 popular types of balut in Vietnam, one is of a duck egg and the other is of a squail egg. Rarely do people have chicken balut in Vietnam simply because chicken meat has a higher economic value than duck meat, and people tend to sell the chicken instead of selling the fertilized eggs. In addition, chicken eggs nowadays and mass-produced in industrialized factories, which means the chicken eggs are not fertilized. Many people prefer chicken eggs over duck eggs due to their versatility. Duck eggs are said to have a slightly stronger smell than chicken's, and as a result, people turn to selling fertilized duck embryo in Vietnam for a higher market value.
When you break the shell of a balut, you should be careful not to let the liquid ooze out. This liquid inside the balut tastes a bit like chicken soup but has a much stronger flavor. As a result, you need to hold your balut vertically when you crack it, some places will offer a small cup for you to hold the egg.
The egg yolk texture is very soft, quite similar to custard and the embryo is like a poached chicken - which frightens lots of first-time eaters. The white egg is much more firm than a hard-boiled egg, a bit rubbery but not unpleasant.
2. Tiet Canh (Blood Pudding)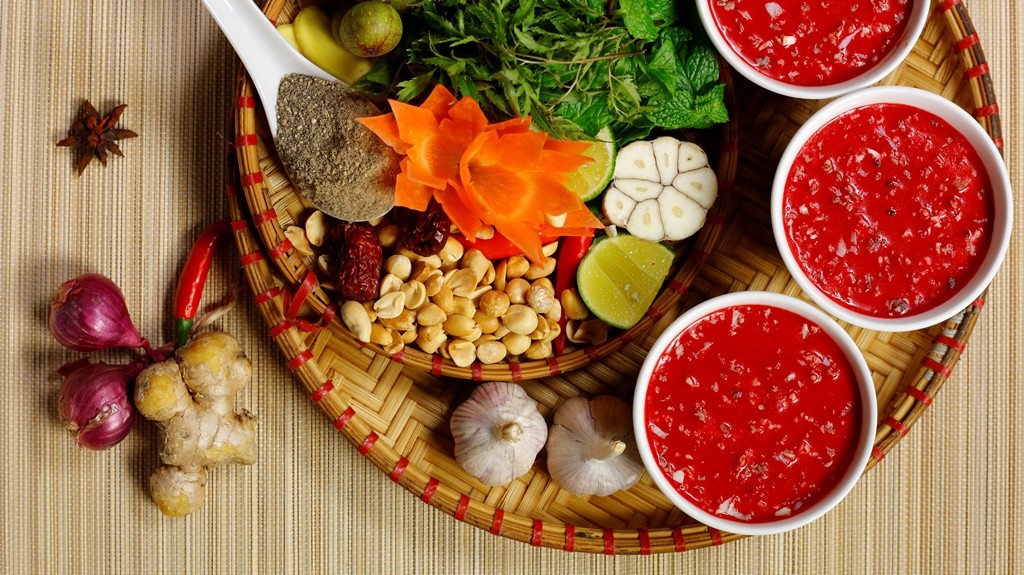 Photo: Cuisine of Vietnam
Duck blood (Tiet canh vit) is one of Vietnamese traditional food which has won the hearts of many dinners in the country. Vietnamese people don't throw away blood of animals and poultry but use blood as an ingredient for delicious dishes. They can boil or steam the blood to make Blood pudding used to top Hue noodle soup, Blood pudding with glutinous rice eaten with Soup cake or cook with rice to have Blood congee. Tiet canh vit is made from raw duck blood, minced boiled duck neck, boiled duck organ meats, herbs and spices. It's listed as one of Top 13 foods fear factor by Business Insider. However, its taste isn't like its look and name. The flavorful Duck blood is a perfect mix of tender duck blood, duck neck, crunchy gizzard, tough guts, buttery liver, crispy peanuts and sour lemon juice. According to Vietnamese people, the food has attractive smell from raw duck blood and herbs.
Duck blood is topped with boiled liver and crushed peanuts, lemon juice could be added to make the food tastier. The food is usually served with herbs. Dinner just uses a spoon to tuck in a spoonful of blood. Vietnamese people like to drink rice/glutinous rice wine while eating Tiet canh vit. Although it has been said to be bad for health, this food fear factor still is a favorite of many people in Vietnam.
3. Silkworms, river worms and other worm dishes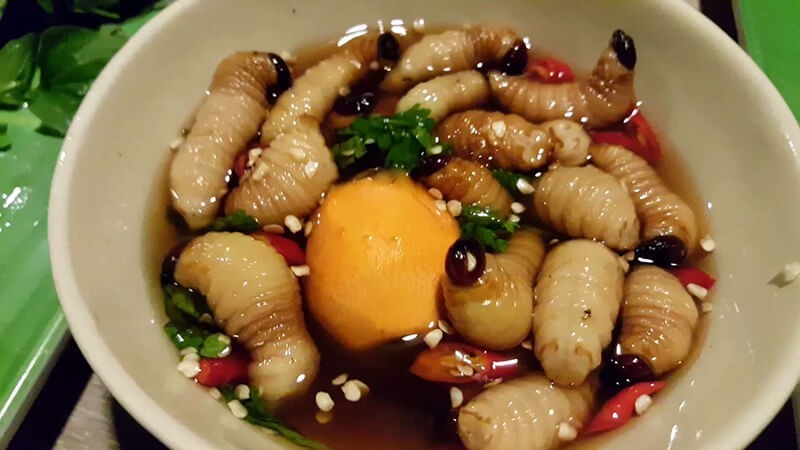 Photo: iTour Vietnam
Grilled silkworms nymphs (con nhong) are a very common street food find. They are valued for their protein and mineral qualities. In the north in particular, silkworms are bred on mulberry leaves in villages. When prepared for food, they are dried and mixed with salt in order to be fried with fish sauce. You can find them easily as a staple dish served in 'com binh dan', rice buffet places, so it's not difficult to find if you want to try it.
Another type of worm used in typical dishes is the river worm. It is prepared in a fried omelette, mixed with pork meat. This dish is called 'cha ruoi'. Why eat the river worm? It is said to be very nutritious and good for arthritis or physical aches. The worms are rather easy to find in markets, in the fresh fish and seafood section.
As we say, "one man's food is another man's poison". Don't judge local food habits when traveling: you might end up liking some of those dishes and if not, there are plenty of other food options in Vietnamese street food stalls, markets and restaurants, according to Lonely Planet.
4. Sa Sung (peanut worms)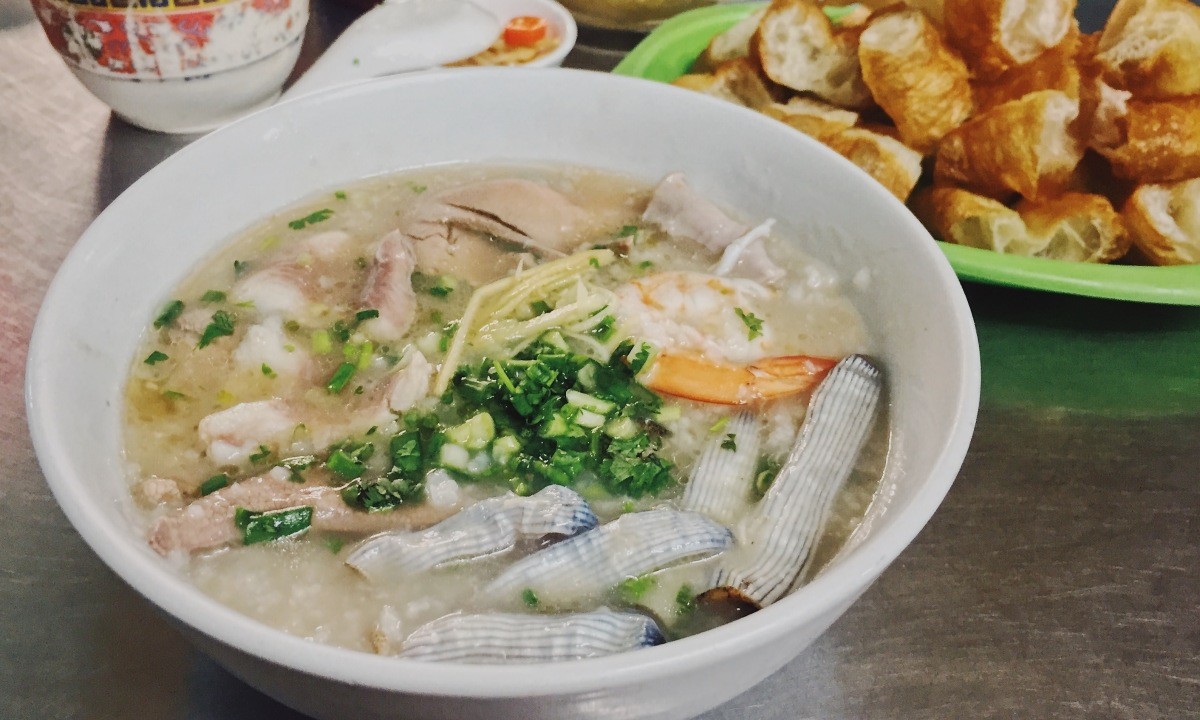 Photo: VnExpress
The peanut worm porridge, originally from China, is popular among Saigon food aficionados for both its taste and its health benefits.
The marine worm is found across Vietnam, especially in the central town of Nha Trang; Con Dao Island and provinces of Ben Tre and Bac Lieu in the south; and the northern province of Quang Ninh.
The worm was once used in making pho (rice noodle soup) to add to the flavor of the broth. A kilogram of fresh peanut worms costs around VND500,000 ($22), and dried ones cost VND1.8 - 2.5 million ($78-108).
Unlike other kinds of porridge that are cooked in advance, this dish is only made after the customer places an order, so the flesh is fresh and tender.
Each peanut worm porridge shop has its own recipe, using different herbs and spices to make the taste distinct. The porridge is usually served with garden chrysanthemum (also known as crown daisy) and sliced ginger. The herb blends well with the dish and adds to it health benefits.
Saigon has two old porridge shops, Tu Ky at No.3, Alley 338, Au Co Street, Tan Binh District, and Tieu at No.22B, Alley 104, Trinh Dinh Trong Street, Tan Phu District, that serve this dish.
You can either get a standard bowl with 15-20 worms, or a mixed bowl with 7-10 worms and other ingredients like fish, shrimp, meat, liver and kidney. Each bowl of porridge costs VND50,000 - 70,000 ($2.2-3).
5. Fermented Shrimp Paste Noodle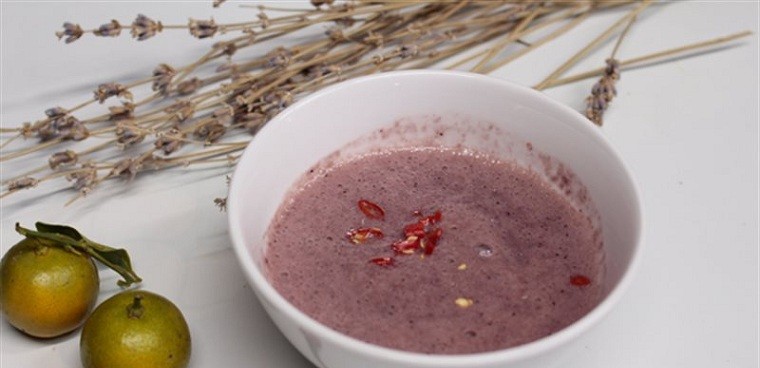 Photo: Dien may XANH
The original version of this unusual Vietnamese food consists of fried tofu, rice vermicelli, and shrimp paste. It is the simplicity of ingredients and the paste making the dish one of the most popular Vietnamese dishes. Until now, some locals still find the fermented shrimp paste's smell unpleasant, while the others quickly get addicted to the intense flavors pairing the tofu with the cut noodle. A food lover would add some drops of kumquat, some chili, and sugar, and mixed all together in the paste to a desired tase. The shrimp paste is salty, a little sweet and sour, and a bit spicy; all flavors in a small bowl of sauce!
In many restaurants and stalls these days, the noodles can be served with steamed pork belly, rice pork nuggets or grilled fish. Don't forget to pair Bun Dau Mam Tom with some Vietnamese herbs, such as mint leaves, perilla, sawtooth herb, and cucumber to thoroughly enjoy this delicious and unique Vietnamese food.
Shrimp paste can be used in marinade or added to many cooked dishes such as noodle soups or stir-fries. In Vietnam, it can also be used to make dipping sauce. After opening a shrimp paste jar, you should refrigerate it.
You can easily find shrimp paste (mam tom) at Asian grocery stores. It can sometimes be labeled as shrimp sauce. Make sure you check the Vietnamese translation on the label because another Vietnamese fermented condiment, mam ruoc, is also labeled as shrimp paste/sauce. They are two different things with different smell and taste, thus used in different recipes.
6. Fermented Bean Curd (Chao)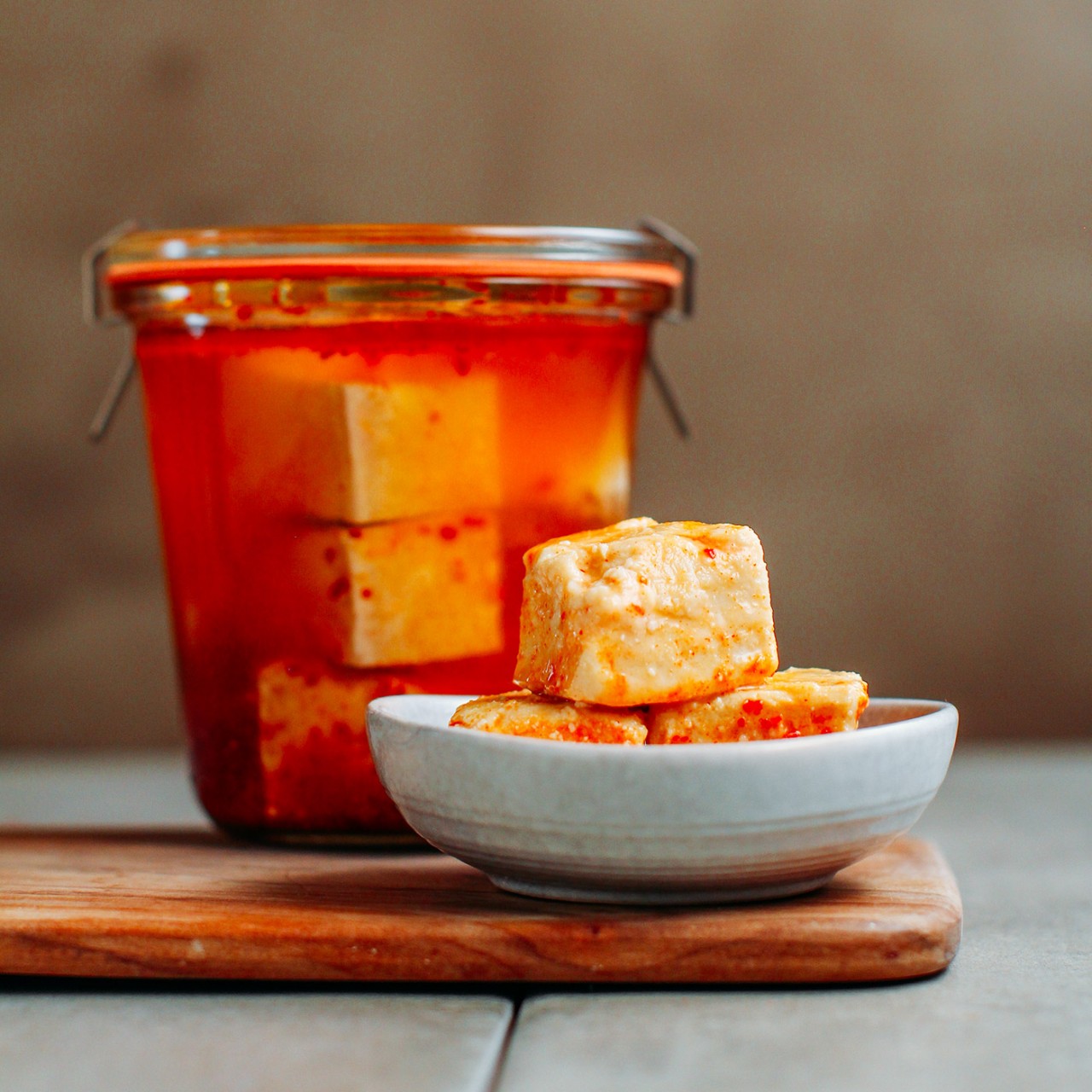 Photo: Full Of Plants
Fermented bean curd is popular in Vietnamese and Chinese cooking, and it is often used as an alternative to a type of sauce and to season various dishes to enhance the taste. Firm dried tofu is selected, then usually fermented with salt, chili, rice wine, and stored in jars of clay pots for up to a year. As one of the strange foods in Vietnam to try, this creamy fermented tofu is like soft bleu cheese with intense flavors. Chao is best served when used as a dipping sauce for boiled vegetables such as morning glory.
For local vegetarians in Ho Chi Minh City, a preferred food is enjoying fermented bean curd with hot rice. For tourists, it's challenging to find fermented bean curds as it mainly appears in homemade Vietnamese meals. You can eat another version of this bean curd served as a dipping sauce at authentic restaurants paired with other Vietnamese foods.
Chao is a favorite of both vegetarians and non-vegetarians in the country. Vietnamese people use this food as dipping sauce. They usually eat steamed rice with raw Chao or dip boiled vegetables in raw Chao. They can also cook raw Chao with spices (sugar, garlic, chili) for a few minutes to receive a Fermented tofu sauce. This kind of sauce is a good choice to dip boiled vegetables, grilled goat meat, hot pot with goat, salads with fish.
7. Jellyfish salad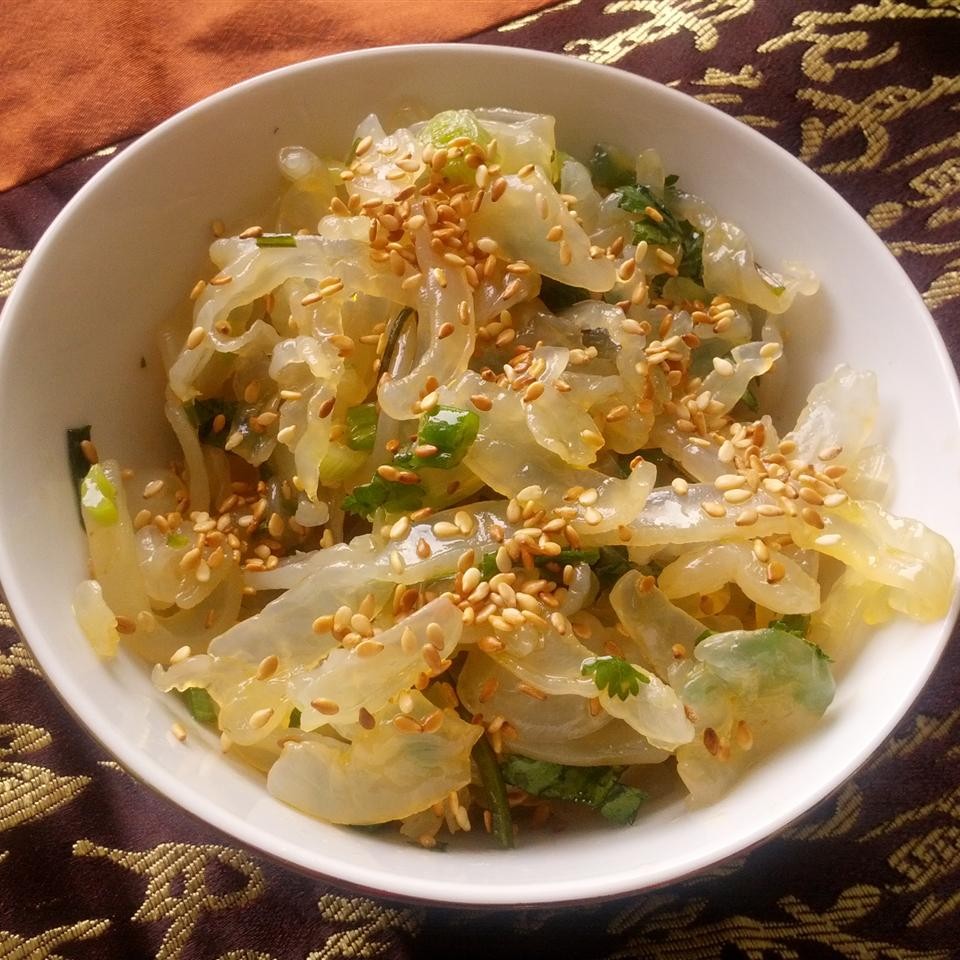 Photo: Allrecipes
Jellyfish salad is popular seafood and it is especially suitable in the summer. The taste is very delicious by the perfect combination between the crispy jellyfish and the spice that create the unforgettable taste.
In the summer, you will have an opportunity to enjoy the jellyfish salad. This is strange dish that is suitable in the hot season, just delicious and cheap. Jelly fish contains 95% of water.
To catch jellyfish, fishermen usually encircled it with a net and tugged them into the shoreline by using motorboat. Because jellyfish are usually cut into pieces as small as our ears, they are termed as ear jellyfish. The tentacles, entitled tentacle jellyfish, are cut into many small pieces. Ear jellyfish are clear, light blue and juicy while the tentacle jellyfish, more delicious and more expensive than ear one, is milky and like sinew and gristle.
After being cleaned in fresh water, the jellyfish are cut into small pieces, washed in cold boiled water, and then mixed with cooked chicken or thin slices of pork, boiled eggs, chili, unripe mango, ground peanuts and mints. Ear jellyfish salad must be prepared by skillful hands. They are put in a bowl in layers until dry. Then they are covered by ground peanuts, thin slices of plantain, unripe mangoes, chili, mint and savory leaves. Now we have a delicious jellyfish salad. Jelly fish salad can use with rice of "banh trang gao", ginger sauce and wine. Now, this dish has in the menu of some restaurant as specialty.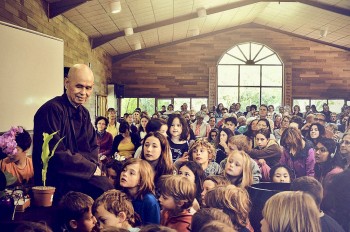 Viet's Home
The master of meditation "passed away peacefully" at the Tu Hieu Temple in Hue – where his spiritual journey began and Vietnam's Buddhist heartland, the Plum Village Community of Engaged Buddhism said.