The World's Most Popular Cuisine Revealed and Vietnamese Food Takes 8th Spot
Adventure holiday travel firm The Bucket List Company has looked at levels of engagement on social media platforms such as TikTok, Instagram and Reddit. The eventual ranking wasn't just based on the number of tags for each cuisine but the amount of positive interaction.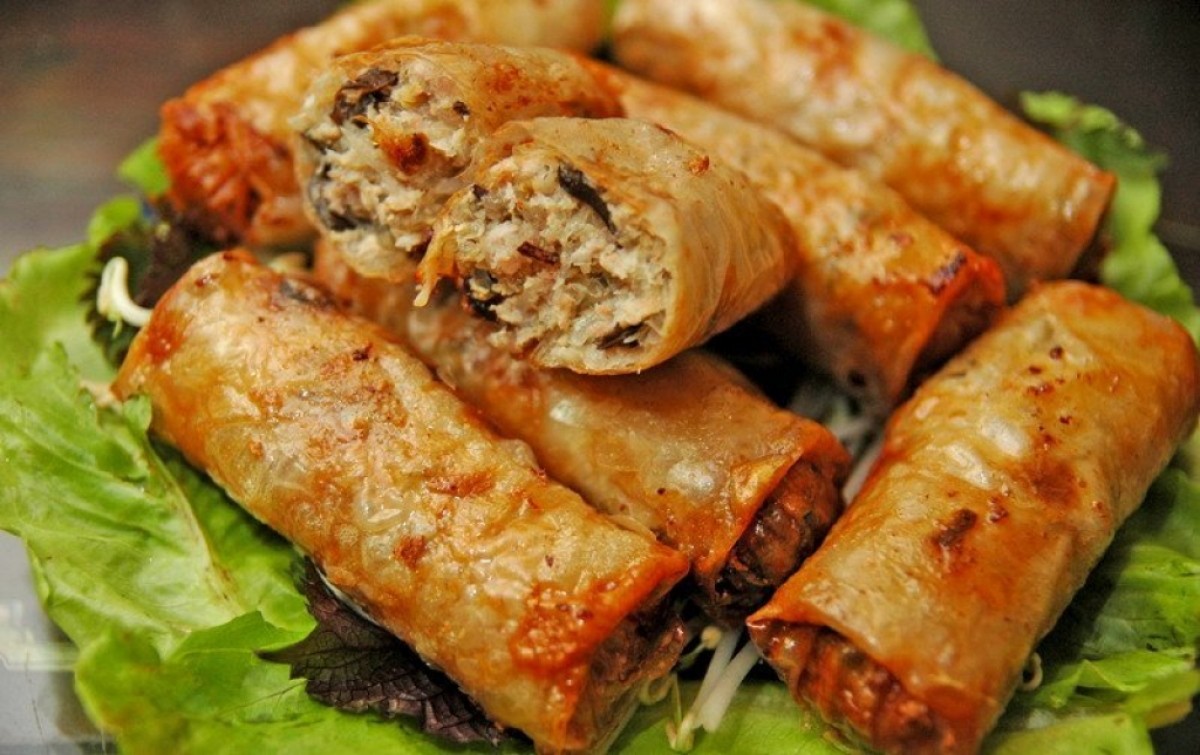 Spring roll is one of the most popular traditional Vietnamese foods served on big occasions such as major ceremonies and Lunar New Year.
The travel firm The Bucket List Company has ranked the world's culinary offerings by measuring social media engagement with posts tagged with various cuisines and Vietnamese food takes the 8th spot.
The results come from the adventure holiday travel company, The Bucket List Company, which looked at engagement across social media platforms such as TikTok, Instagram and Reddit.
The rankings were based on the number of tags for each cuisine, as well as the number of positive interactions from users.
With its bibimbap and kimchi, Korea was a worthy winner. And from the fermented delights of kimchi to the sweet spiciness of gochujang, it's difficult to argue with the fact that Korean cuisine is responsible for a wildly diverse – and wildly tasty – selection of dishes.
Second place was awarded to Italy, which predictably boasted a mind-blowing amount of monthly searches on social media, and Mexico, which balanced a high amount of total engagement with a lot of positive interaction, coming in at a third place.
Japan came in at fourth, while Indian food rounded off the top five. A firm comfort food favorite, Chinese, also made it into the top 10.
Vietnamese food takes the 8th spot in the list. Not only "pho" and spring rolls but also many other Vietnamese delicacies have caught the "green eyes" of gourmets around the world. Vietnam's rich and delicious cuisine has carved out a solid position among international friends in all four corners of the globe.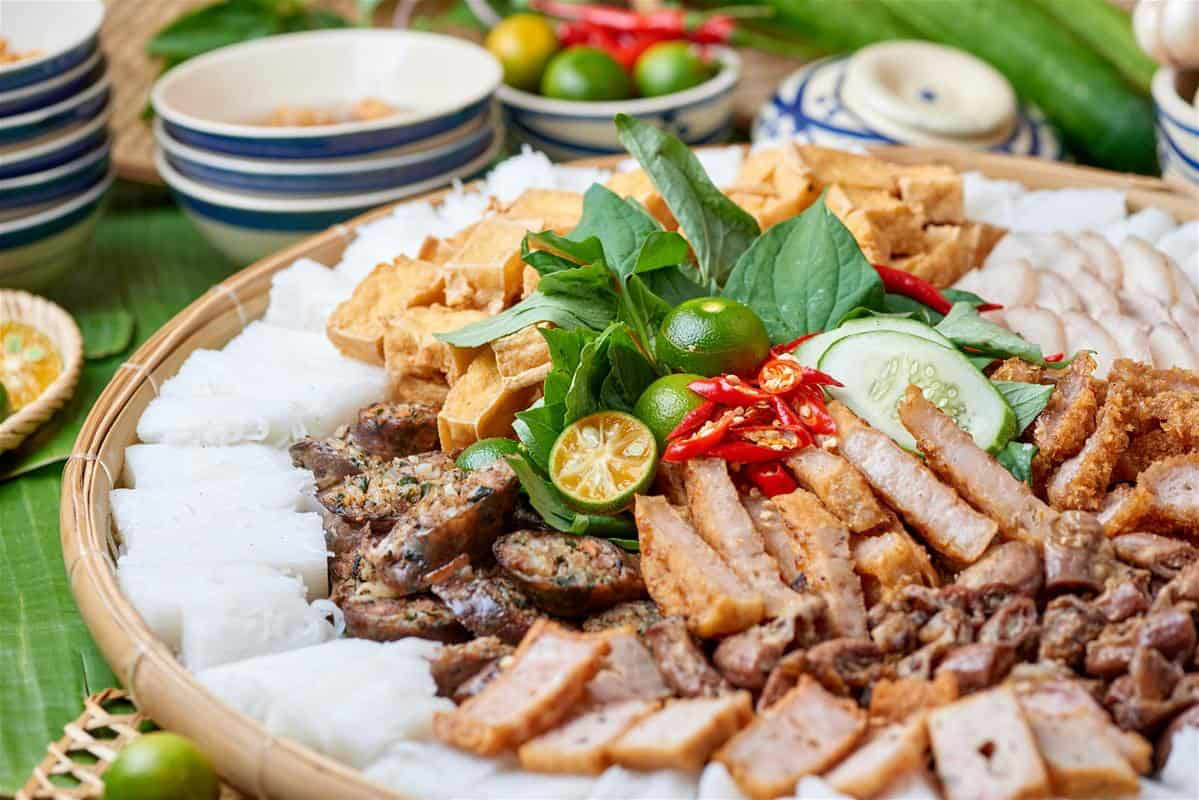 Bun Dau Mam Tom - a typical dish. Photo: Best price travel of Vietnamese cuisine.
Many international chefs and prestigious food magazines in recent years have praised Vietnamese cuisine.
In the list of 50 "much-loved street foods in Asia" announced by CNN in August 2022, Vietnam has three representatives: banh mi (bread), iced coffee, and pho.
Banh mi is a fusion of cold cuts and vegetables like coriander, cucumber, pickled carrots, and pickled daikon combined with condiments from French cuisine like pate and mayonnaise.
Ca phe da, iced coffee, has become an indispensable part of Vietnamese daily life in recent years – with millions starting their day with a cup of iced coffee in the morning, chatting with friends and loved ones on plastic stools strewn along the sidewalks as the city wakes and traffic takes over.
The Hanoi specialty Banh ran (a deep-fried sticky rice dessert) also is among the best dishes from Vietnam that CNN Travel suggests travelers try when visiting the capital in particular or the country in general.
Pho, a bowl of flat, soft rice noodles dipped in a fragrant beef or chicken broth flavored with condiments, is considered the premier national dish and can be found all over the country.
The US television channel praised Vietnam's pho as one of the 20 best soups in the world.
The famous international magazine Vogue also recommended 29 must-eat Vietnamese dishes when visiting the Southeast Asian nation.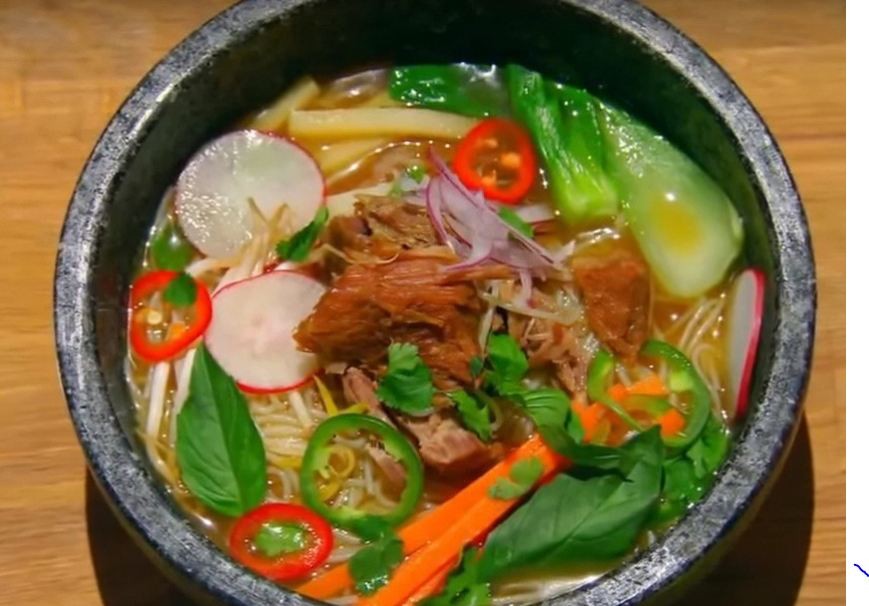 Gordon Ramsay has made it clear that Vietnamese cuisine is on the top of his list. His love was fully displayed in the Master Chef US 2013, where he tasked the final 5 contestants to prepare a bowl of hu tieu.
The oldest and largest French TV channel - TF1 – broadcasts a report on the success of world cuisine in France over the past 10 years, in which Vietnamese cuisine was honored as one of the three most loved by the French.
According to TF1, Vietnamese traditional fried spring rolls ranked third in the foreign cuisines most loved by French consumers.
Tasting Table, a famous website and newsletter for culinary enthusiasts, has posted two articles praising two local dishes, banh xeo (crispy Vietnamese pancakes) and nem lui (charcoal-grilled lemongrass pork skewers).
Culinary culture is one of the most vivid elements of Vietnam's cultural identity. More and more Vietnamese dishes have become famous worldwide, and its cuisine has become an effective tool in building a Vietnamese brand.
According to The Bucket List Company, here's the full list of the most popular cuisines in the world right now.
1. Korean
2. Italian
3. Mexican
4. Japanese
5. Indian
6. Chinese
7. Thai
8. Vietnamese
9. Filipino
10. Turkish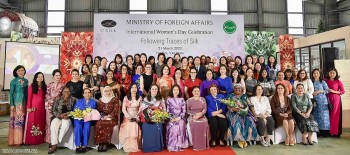 Friendship
Female ambassadors, representatives from diplomatic corps and international organizations, along with spouses of diplomats in Vietnam gathered together to find about more about silk weaving and silk products in Vietnam.