Three Romantic Fine Dining Ideas in Ho Chi Minh City
Light a new flame in your evening at a fraction of Western prices with these three restaurants.
If you think fine dining must cost a fortune, this list will change your mind. From romantic dining course to contemporary atmosphere of music live night, here are three outstanding gourmet restaurants for your information.
Saigon, as a culinary destination, is certainly going beyond the street food experience. Depending on how much foodies feel like spending, dinner may be tiny plastic stools streetside or a Michelin starred restaurant-gourmet paradise. There's room for a little bit of everything in this thriving foodtropolis.
1. The Ox Not Only Ox
First floor with open bar. Photo: The Ox Not Only Ox
Located in the heart of District 1, The Ox Not Only Ox has a capacity of 150 guests. The warm lighting at the entrance creates a romantic feeling like entering movies. This is a meeting place for foodies who love to discover what's new in culinary culture. With a cozy, luxurious space, dedicated service and a fushion-food menu, The Ox Not Only Ox has to be in the list of unique restaurants in HCMC.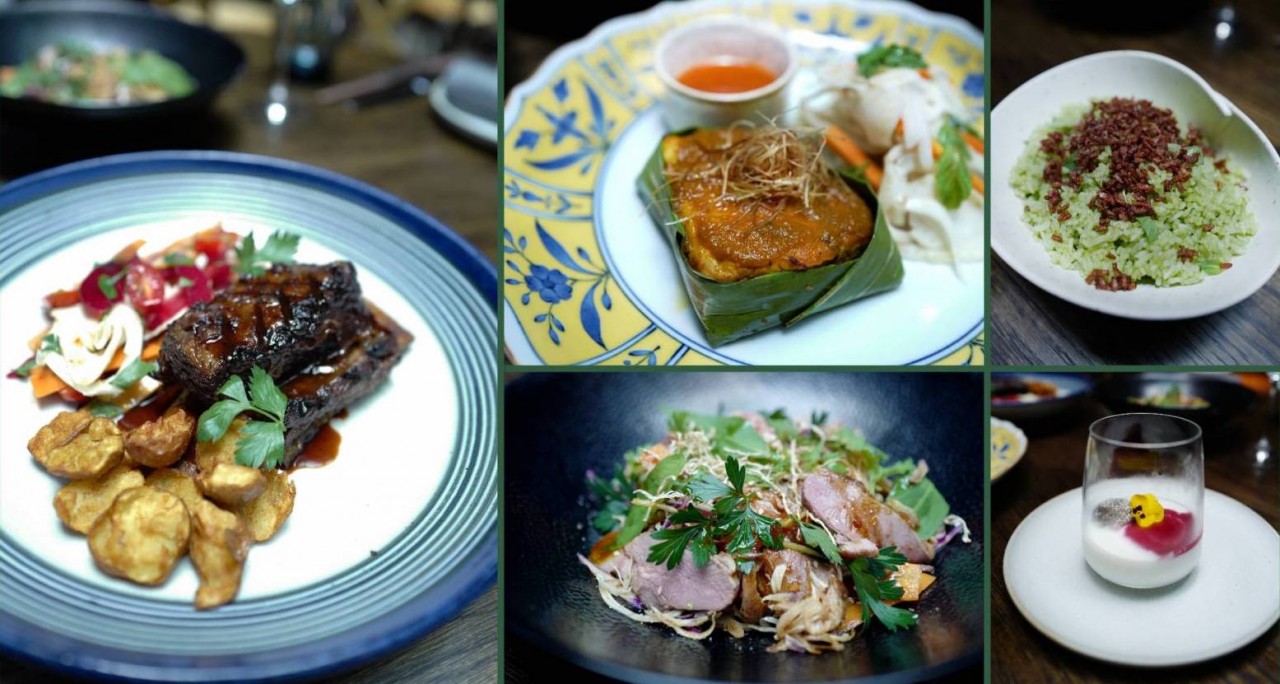 Fushion-food, a combination of the West and the East. Photo: The Ox Not Only Ox
Romantic dinner with music and wine. Photo: Luxuo
The bar with a diverse wine collection is located opposite the main door, so you won't miss it. On the second floor, diners can have a panoramic view of the ground floor. We also recommend this floor for diners who love intimate and private spaces.
This Friday night, besides delicious dishes from MasterChef Ngo Thanh Hoa that satisfy your stomach, The OX also brings to you a romantic Jazz performance. This can be the highlight of your romantic date night. Make your reservation now so you don't miss out!
Location: The Ox Not Only Ox, 24 Dong Du Street, Ben Nghe, District 1
Price range: VND 100,000 - 800,000 (US$ 4 - 35), Tax excluded
Must-try on the menu: Wagyu beef, Pomelo shrimp salad, tofu dessert.
2. Moo Beef Steak Prime
This restaurant franchise has three different locations for you to consider. We recommend Moo Beef Steak Prime at Ngo Duc Ke Street for the ultimate fine dining experience.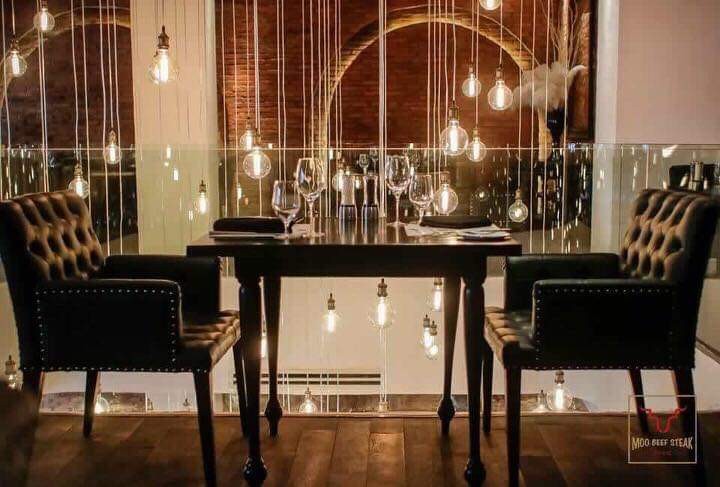 The warm setting for your romantic dinner at Moo Beef Steak Prime. Photo: Moo Beef Steak
You can already taste the juicy steak by the name - Moo Beef Steak. The American Wild West inspires Moo Beef Steak concept. The chef makes sure steak was cooked to perfection and melt in your mouth, succulent mouthwatering taste to your wishes. Also, the menu conveys some quintessential characteristics of Western and Asian cuisine to Vietnamese taste, thus ambience atmosphere and excellent service.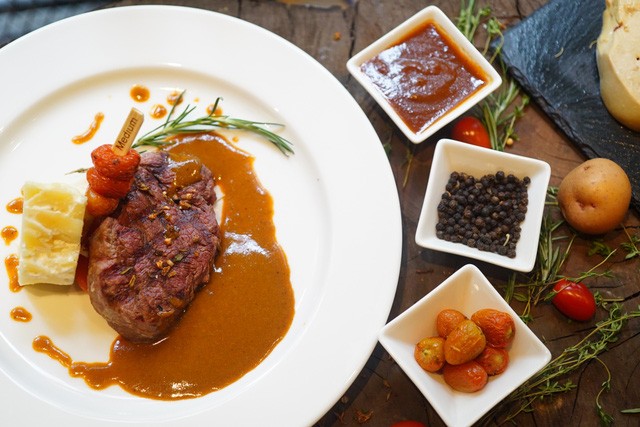 Must-try beef steak for dinner. Photo: Foody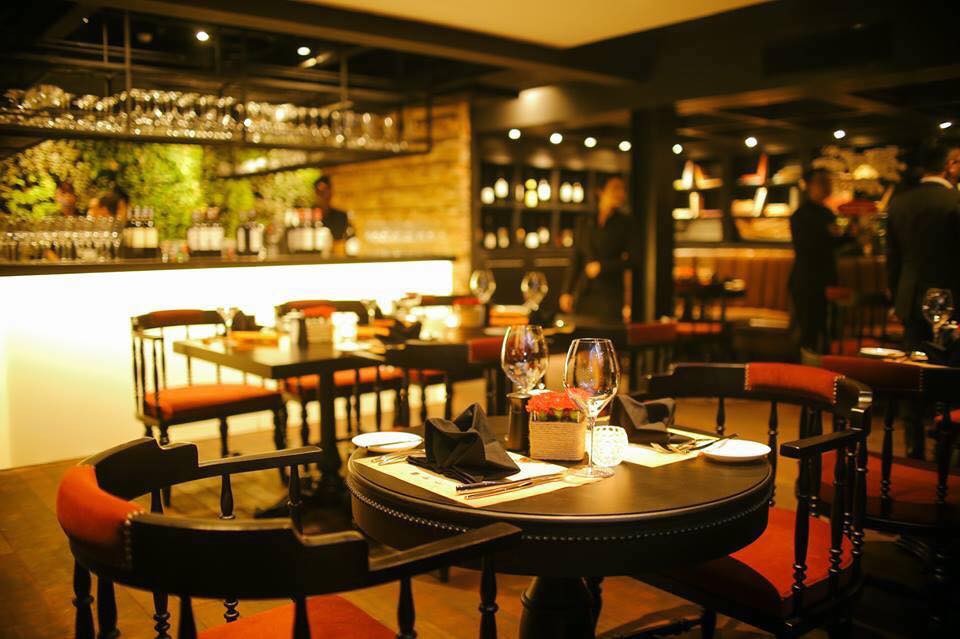 First floor with open bar. Photo: Guu
The restaurant has just reopened after months of lockdown, so make sure to make reservation and secure a good seat. There's discount on specific date, delivery, lunch menu so you can enjoy good steak at all times.
Location: Moo Beef Steak Prime, 35-37 Ngo Duc Ke Street, Ben Nghe, District 1
Price range: VND 200,000 - 1,000,000 (US$ 8 - 44), Tax excluded
Must-try on the menu: Ponzu salmon sashimi, seafood soup, Hitachi Wagyu A5 beef
3. Kokygyu
Japanese style BBQ. Photo: Nu Doanh Nhan
A BBQ party for two will change your idea of a romantic date. Located at the 14th floor of Akuruki Tower, this location offers an excellent night view of the city. The architect is Japanese-style, from seating arrangement to decoration, so it would feel like as if you are in a foreign town.
The food is not only eye-catching but also delicious. The high quality beef cut and the miso sauce brings out the best of Japanese BBQ experience. As you add food to the grilling stove, you can tell the freshness of meat and seafood by the mouthwatering smell and the sizzling sounds. All senses are fed with deliciousness. The night is completed with a variety of colorful cocktails and alcohol beverages.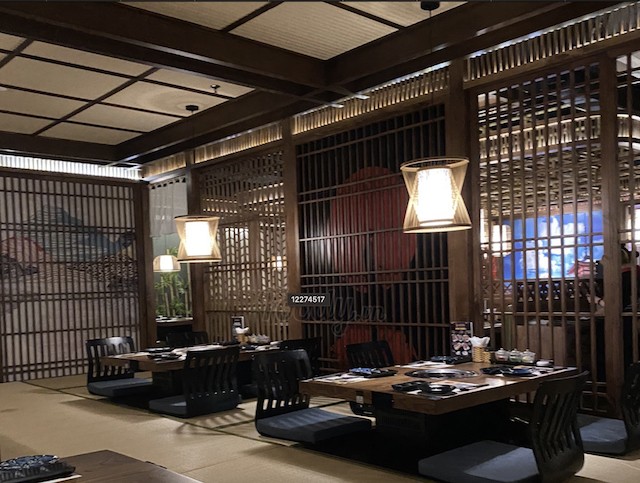 Private BBQ party. Photo: Foody
The restaurant only serves 50% of the table capacity. Since less people are dining in, you can have a private grill party with your loved ones. Online reservation is still recommended so you can have a table with a view.
Location: Kokugyu, the 14th Floor Akuruhi Tower, 124 Tran Quang Khai Street, Tan Dinh, District 1
Price range: VND 200,000 - 1,000,000 (US$ 8 - 44), Tax excluded
Must-try on the menu: BBQ set C, egg and seaweed soup, hot sake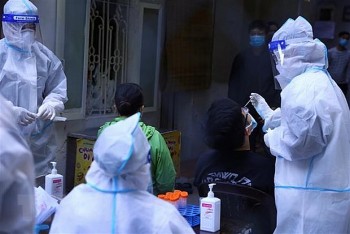 Focus
Vietnam's Covid-19 death toll is now 26,483, or 2 percent of total cases. More than 7,000 coronavirus patients nationwide are in serious condition, with 741 requiring invasive ventilation and 20 on life support.