Saigon Bar listed among world top's restaurant and bar
The Guardian lauds the complex of bar and restaurant in Ho Chi Minh City, the Deck Saigon as a top dining preference for locals and tourists due to its romantic setting, scenic locale, and superb pan-Asian cuisine.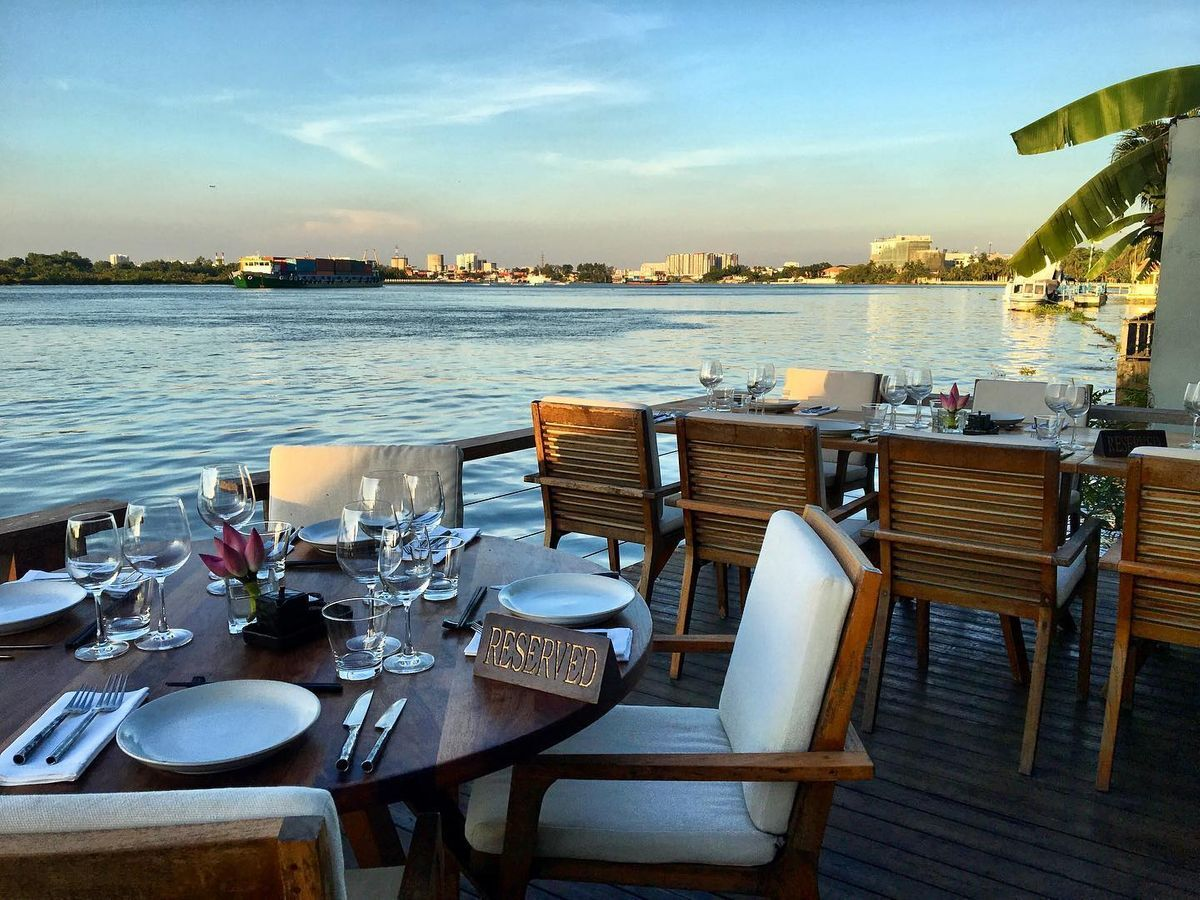 The magnificent view of The Dẹck Saigon (Photo: VNExpress)
Located on Nguyen U Di Street, District 2, Ho Chi Minh City, on the bank of Sai Gon River, the alfresco dining avenue is elegantly decorated with glass doors, warm lighting, and furnishings by top local designers as well as traditional wooden decks surrounded by bamboo trees.
The Deck Saigon's cuisine (Photo: The Deck Saigon)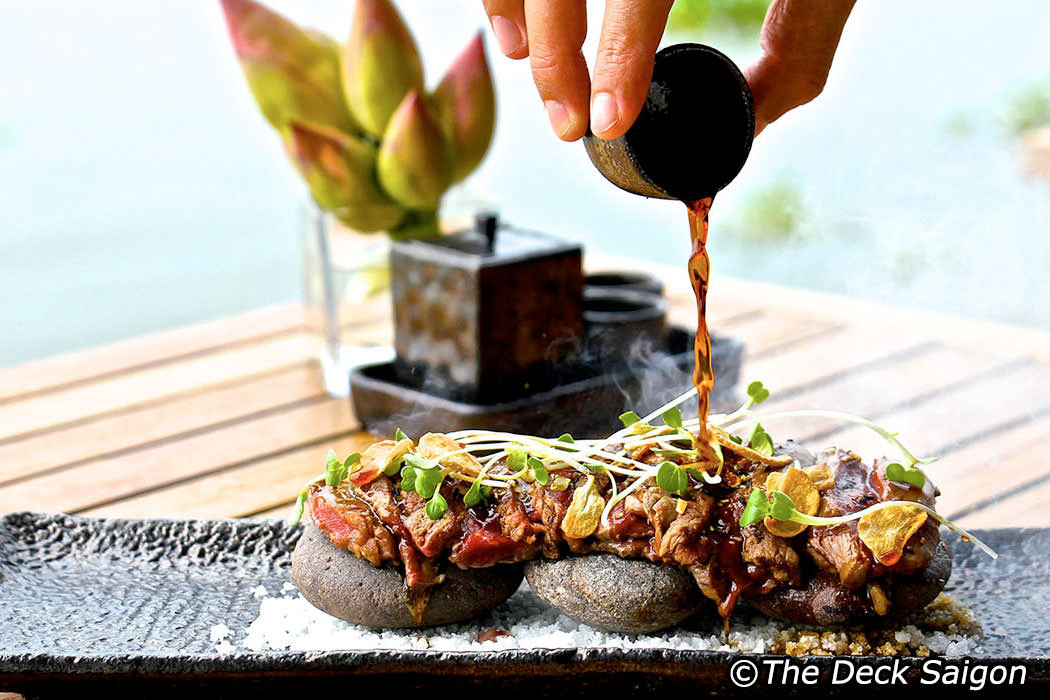 The Deck Saigon's cuisine (Photo: The Deck Saigon)
There is a wide range of excellent dishes served at The Deck Saigon ranging from Asian menu to western-style one such as Phu Quoc seafood, eggs benedict, homemade granola, fruit smoothies, pan-fried foie gras, etc. Besides, caring for health-conscious diners, the Deck Saigon also offers a vegetarian and gluten-free menu, for instance, marinated tuna spring rolls, sautéed Chinese vegetables with Udon noodles, and miso-marinated black cod.
Sunset in The Deck Saigon bar and restaurant (Photo: Vietnam Discovery)
Its reputation has been gained from the poetic and magnificent sunset view. Happy hour is between 16:00 and 18:00 daily. Tourists can take a sip of diverse kinds of drinks such as champagne, wine, and cocktails by a team of skilled bartenders. The Deck Saigon also provides river cruise tours with the price from 3,960,000 for two people, said the Vietnam discovery.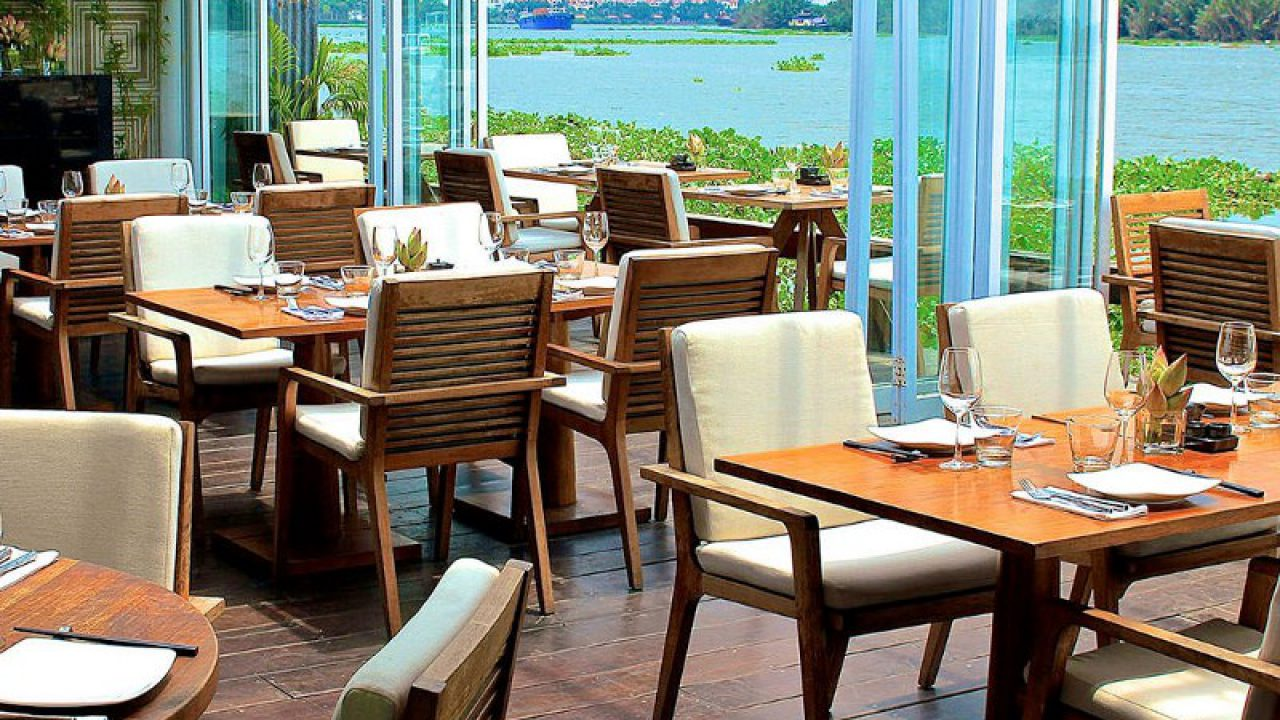 The romantic and classic setting of the Deck Saigon (Photo: Vietnam Guide)
The service quality is also a highlight point to retain customers of Deck Saigon. There is a total of 65 staff in Deck Saigon trained professionally and supervised by an experienced western management team with more than 50 years of experience working in luxurious restaurants, bars, and resorts; hence, the riverside restaurant is widely assessed as a five-star restaurant.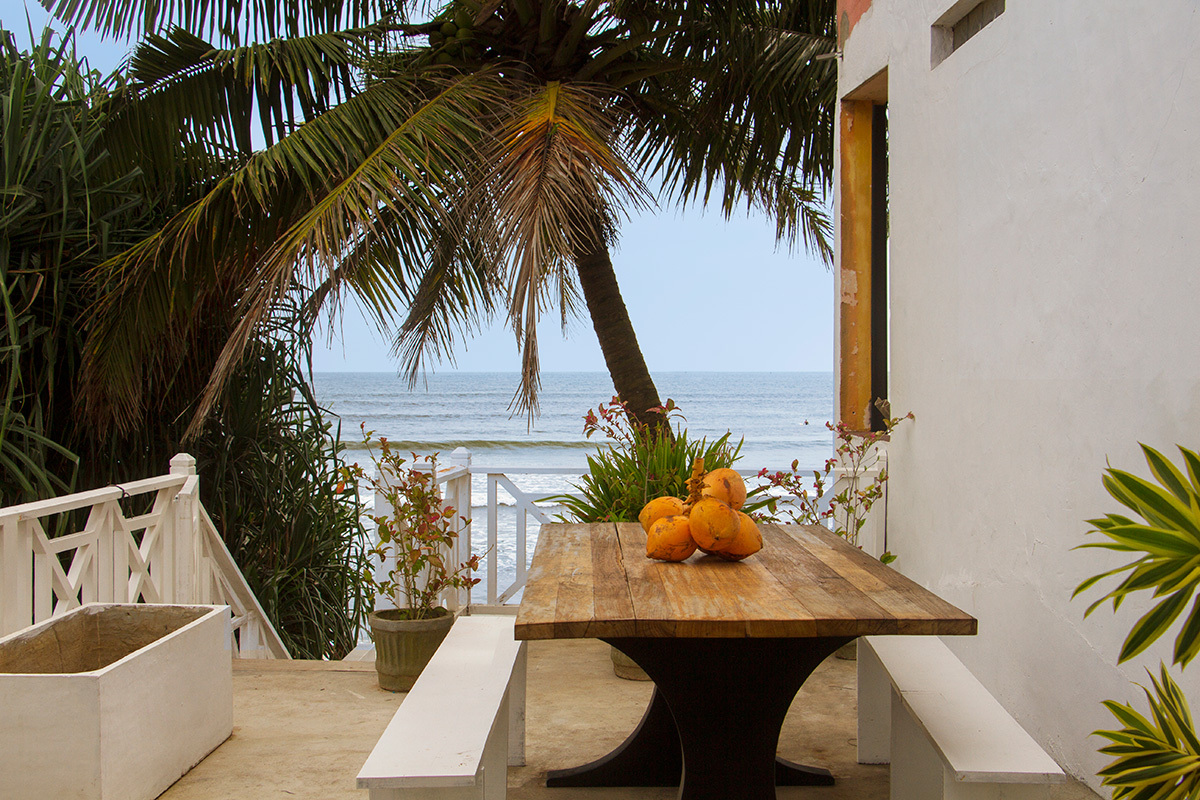 The Shack Beach Cafe in Galle City, Sri Lanka
The Shack Beach Cafe, Galle City, Sri Lanka, is the second representative named in the list. Looking out of Bonavista Bay, fortress, an old lighthouse, and the Unawunapen peninsula, the bar is an ideal place for relaxation with iced beer, cocktail, and pizza.
Surfing, fishing tour, motorbikes tours are also "must-try" activities when coming to the Shack Beach Café (Photo: The Shack Beach Café)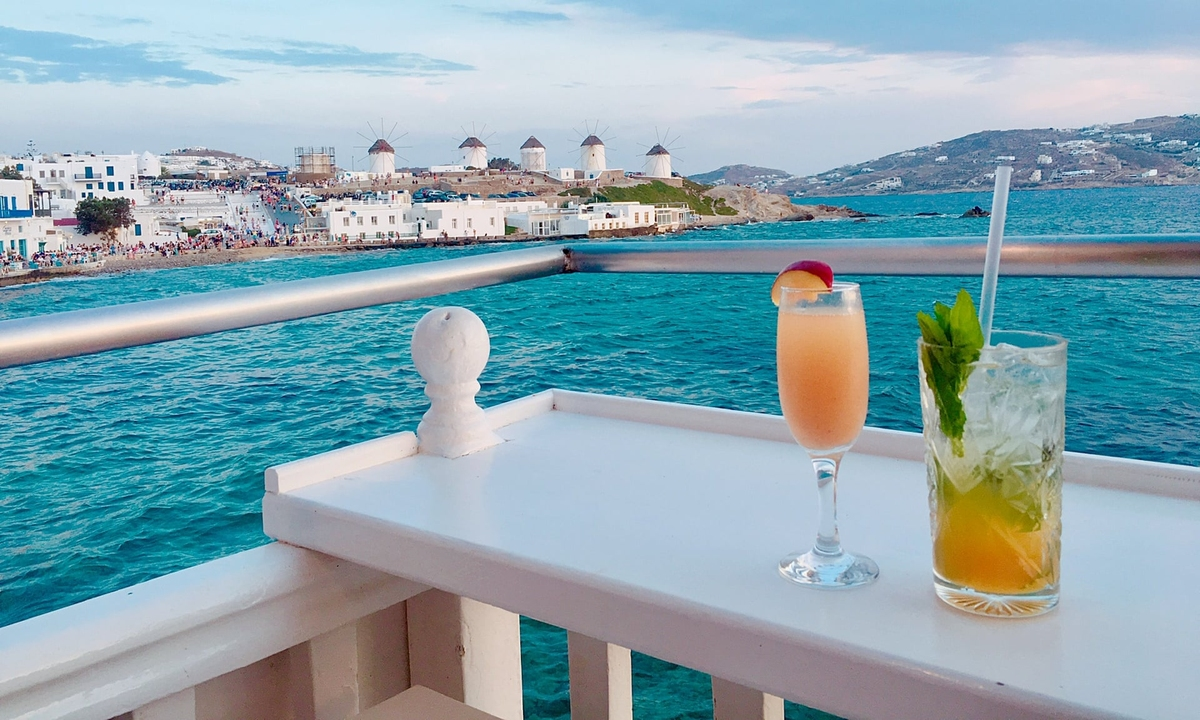 The view of Katerina bar and restaurant (Photo: Ruby)
Situated in Mykonos town, Greece, Katerina bar and restaurant attracts lots of visitors especially in the evening or at night. Resting on the balcony, tourists can watch turquoise water, stunning white and blue houses, and windmills off the distance, according to VNExpress.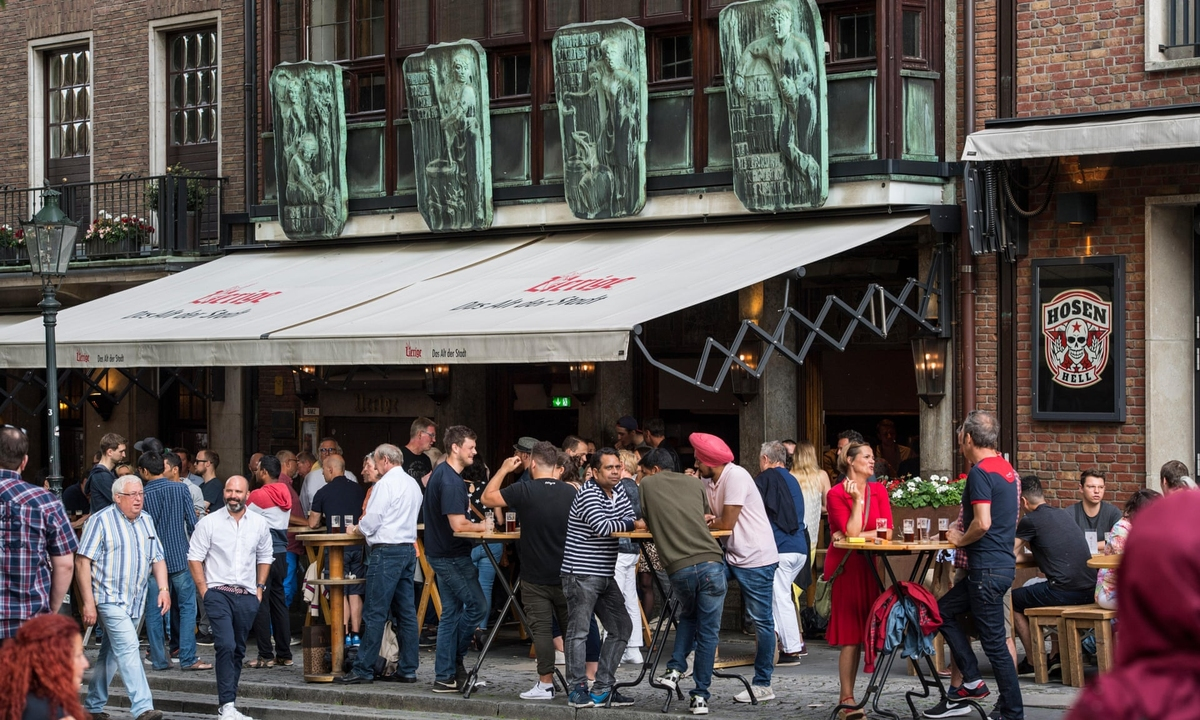 Uerige - one of the most well-known brasseries in the ancient town of Altstadt (Photo: Alamy)
Uerige is one of the most well-known brasseries in the ancient town of Altstadt, Dusseldorf, Germany. It is decorated with diverse styles from dark to bright colors inside. On the outside, travelers gather to enjoy ice-cold glasses of beers poured from large barrels.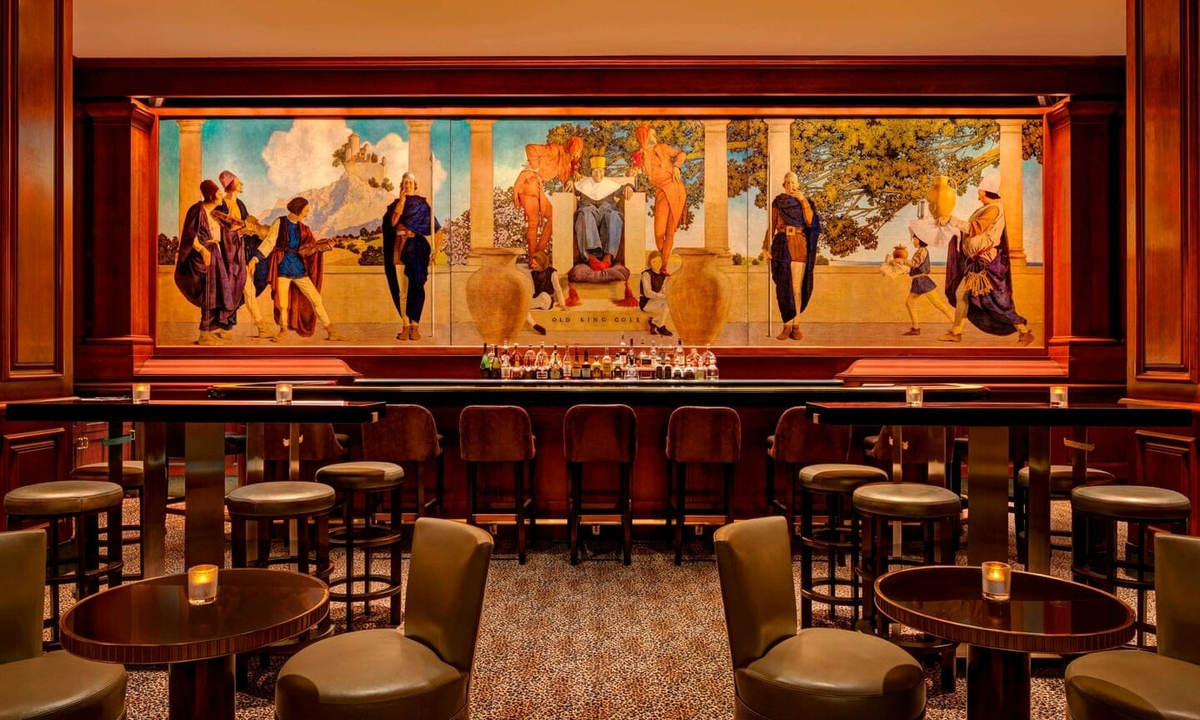 The King Cole Bar in Midtown Manhattan, New York (Photo: The King Cole Bar)
The King Cole Bar is an upscale cocktail lounge in The St. Regis Hotel in Midtown Manhattan, New York City. Its namesake is a massive mural that stretches behind the bar, painted by Maxfield Parrish in 1906. The clients of King Cole Bar are sophisticated business people and celebrities, according to Business Insider.
Other European bars introduced by the Guardian are Dulle Griet in Ghent, Belgium; De Zotte in Amsterdam, Netherlands and Take a chance in Barcelona, Spain.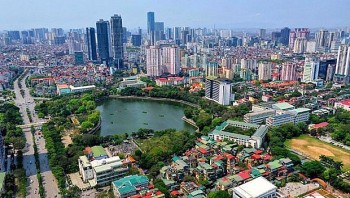 National
Vietnam News Today (Jan. 29): Quang Ninh: Cross-border trading with China resumed after Tet; Hanoi in the world's top three culinary destinations: Tripadvisor; Intertwined opportunities, challenges for Vietnam's economy in 2023; Supermarkets, traditonal markets gradually resume normal operations amid abundant supply.