Vietnamese Home Cooking Recipe: Lotus Seed Sweet Soup with Dried Longan
This dish a delicious dessert with many healthy benefits.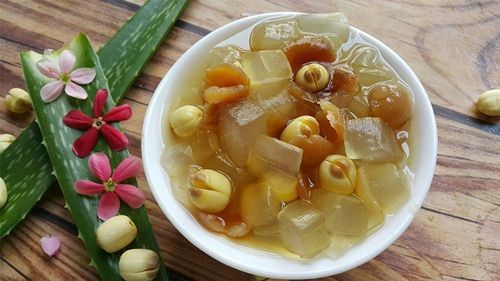 Lotus seed with longan sweet soup (Che hat sen long nhan) and vera aloe.
Lotus seed with longan sweet soup (Che hat sen long nhan) is a delicious Vietnamese summer dessert which has a pleasant aroma and sweetness, creating a relaxation taste. This is a typical Vietnamese dessert, with a deep sweet taste, rich lotus flavor, very suitable for cooling in the summer as well as beauty enhancement.
Summer is the time for colourful flowers to bloom in Hanoi, and the lotus – Vietnam's national flower – is one of the most beautiful. To Vietnamese people, however, the lotus is more than just a flower. Lotus, despite being nurtured in mud, still grows up to be pure and glowing, like morning dew from early morning or water in springtime. It is also the symbol of purity, commitment, and optimism for the future. The elegance of the lotus is often cited in the Vietnamese folk songs and poems.
In addition to its delicate beauty, lotus plants also play various roles in Vietnamese cuisine. Many delicious and nutritious dishes from lotus parts are put on the menu such as lotus petal spring rolls, lotus leaf steamed chicken, lotus seeds sweet soup and lotus tea.
Lotus seed is very nutritious that help anti-aging and good for those suffering from heart disease, high blood pressure, etc. There are many ways to consume lotus seed as make a lotus seed with longan sweet soups as a dessert for your family in summer.
Dried longan (long nhãn or nhãn nhục) is simply dried fresh longan fruit that has been shelled and pitted. It has a deep brown color and a sweet taste, somewhat like dates. This lotus seed dessert soup can actually be made with either dried or fresh longan.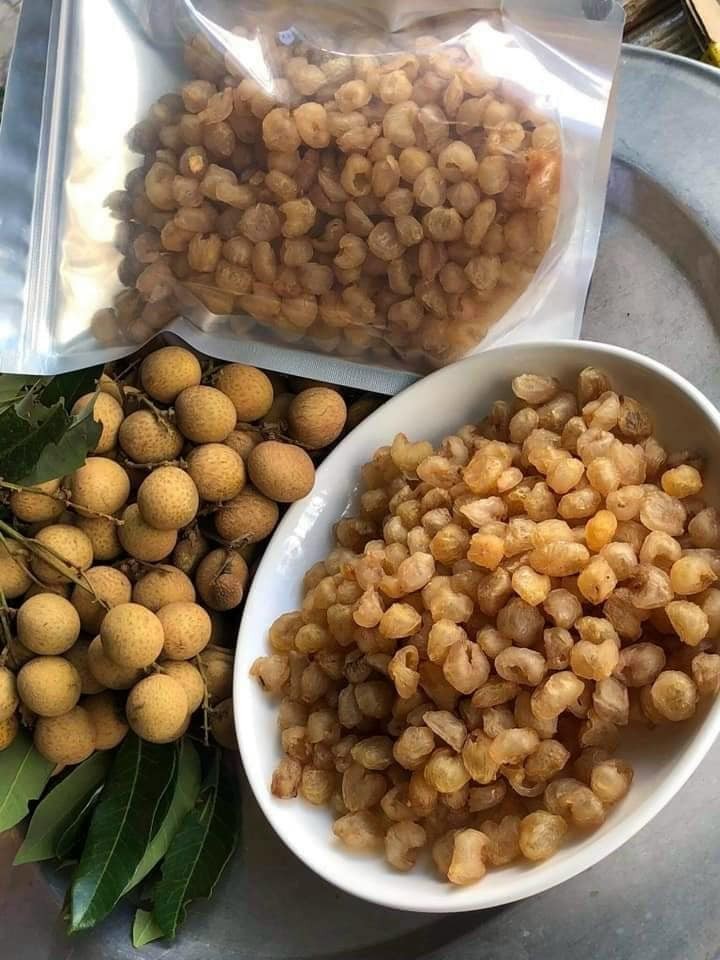 Longan fruit is yellow-brown skin that grows hanging clusters. The fruit tastes mildly sweet and juice similar to litchi, rambutan, guarana... Once cooked, they will have a deep caramel color quite like dates.
Ingredients
-200gr dried lotus seeds
-150gr dried longans
-400 ml water
-70gr palm sugar or light brown sugar (to taste)
-Some other ingredients like tapioca pearls, coconut jelly, grass jelly and vera aloe (optional)
Instruction
To make che hat sen nhan nhuc, you will need to cook lotus seed and dried longan separately since they have different cooking time.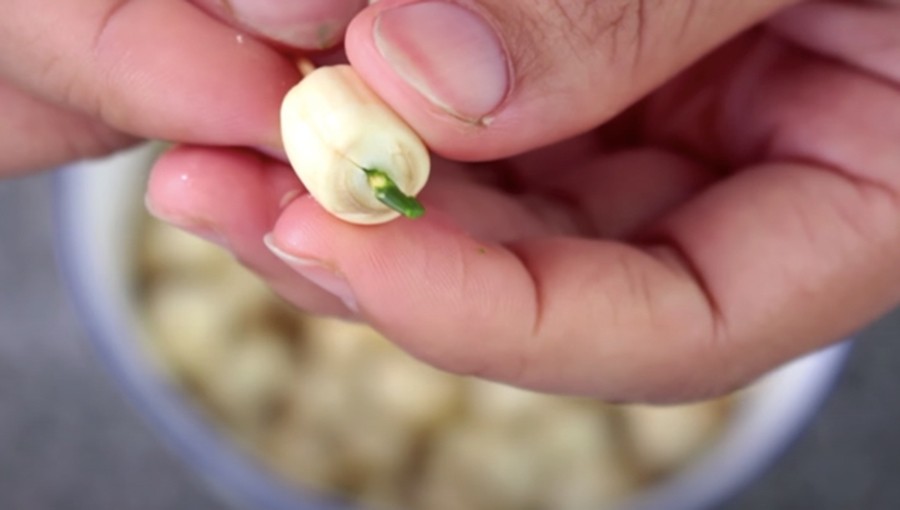 Use a needle or a toothpick to remove the green bitter tasting germ from the lotus seeds.
-Use a needle or a toothpick to remove the green bitter tasting germ from the lotus seeds before cooking. If you use dried lotus seeds, you should soak them in hot water to soften them before cooking, then drain and rinse well.
Boil water and pour dried lotus seeds into pot. Use spoon to scoop out any dirty looking bubbles.
Cook until the lotus seeds are soft, then add palm sugar and cook on low heat. Add more sugar to taste.
-With the dried longans, give them a quick rinse. Soak in 1/2 cup of water for several minutes. While steaming lotus seeds, place a small saucepan over medium heat. Add longans with the soaking water plus another 1/2 cup of water. Bring to a boil, then lower to a simmer. Add light brown sugar (to taste), stir to combine and simmer for 8-10 minutes until dried longans are plump. Transfer to a bowl to cool.
-Leave the sweet soup at room temperature for a few minutes before put it into the refrigerator.
-When serving, divide lotus seed soup among serving bowls then top with longan soup and some crushed ice.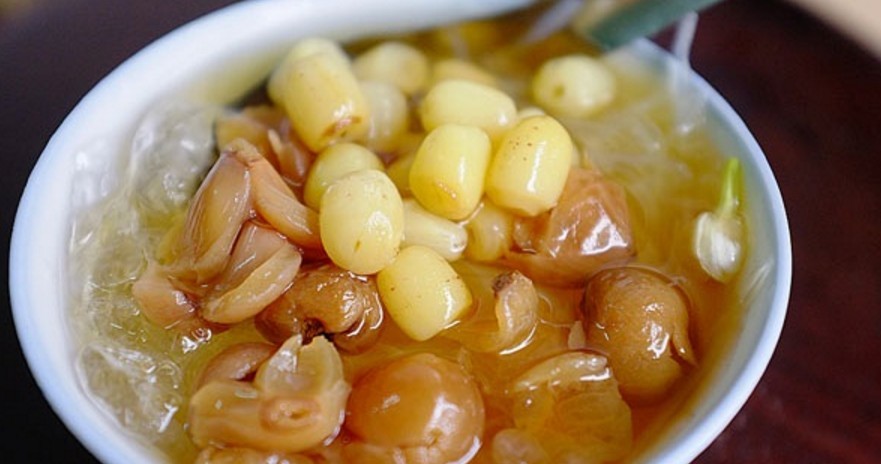 A favorite treat for summer to beat the heat.
Note:
-Some people like to steam the lotus seeds first before cooking them in water. If we simmer them in water for a long time, some parts may get really soft and mushy, and then broken into pieces. As a result, the soup will not look clear. But it is okay to take the shortcut which is just simmering the seeds in water right away.
-In Vietnam, we also love to infuse the lotus seed with jasmine flowers which give it a sweet and relaxing fragrance. If you can't find jasmine flowers, you can use vanilla extract instead. Even without jasmine flowers or vanilla extract, the soup is still tasty and fragrant.
-If you want to add tapioca pearls, boil soaked dried tapioca pearls for 15-20 minutes. The pearls turn translucent and taste chewy. After boiling, put the pearls right away into cold water, soak it in cold water for 10 minutes to make the pearls do not stick together.
-Many people enjoy this dessert cold with ice and a few drops of grapefruit flower oil, but it's also delicious served warm or at room temperature.
-For condensed version, they often add some tapioca flour. It is ideal to enjoy this kind of sweet soup in winter. Meanwhile, the washy soup does not need any kind of flour and are best enjoyed in summer.