Top 10 Best Things To Do Travelling in Vietnam
Vietnam is one of the most beautiful places to discover in Southeast Asia, with wonderful nature, mountains, rivers and historical sites. Here is 10 best things you can do while enjoying your trip in Vietnam.
Despite its tumultuous history, Vietnam has bounced back to become a big-hitter on the Southeast Asian travel circuit. Unsurprisingly, from a country so long and skinny, there's plenty of variety on offer: emerald paddy fields and white-sand beaches, full-tilt cities and venerable pagodas, limestone islands looming dramatically out of the sea, vast caves, craggy mountains, and friendly minority communities – with their elaborate tribal costumes and age-old customs. Travel to Vietnam and you'll be met with warmth and curiosity. Add to that, some of the region's most nuanced cuisine, and you're onto a winner.
1. Light a lantern in Hoi An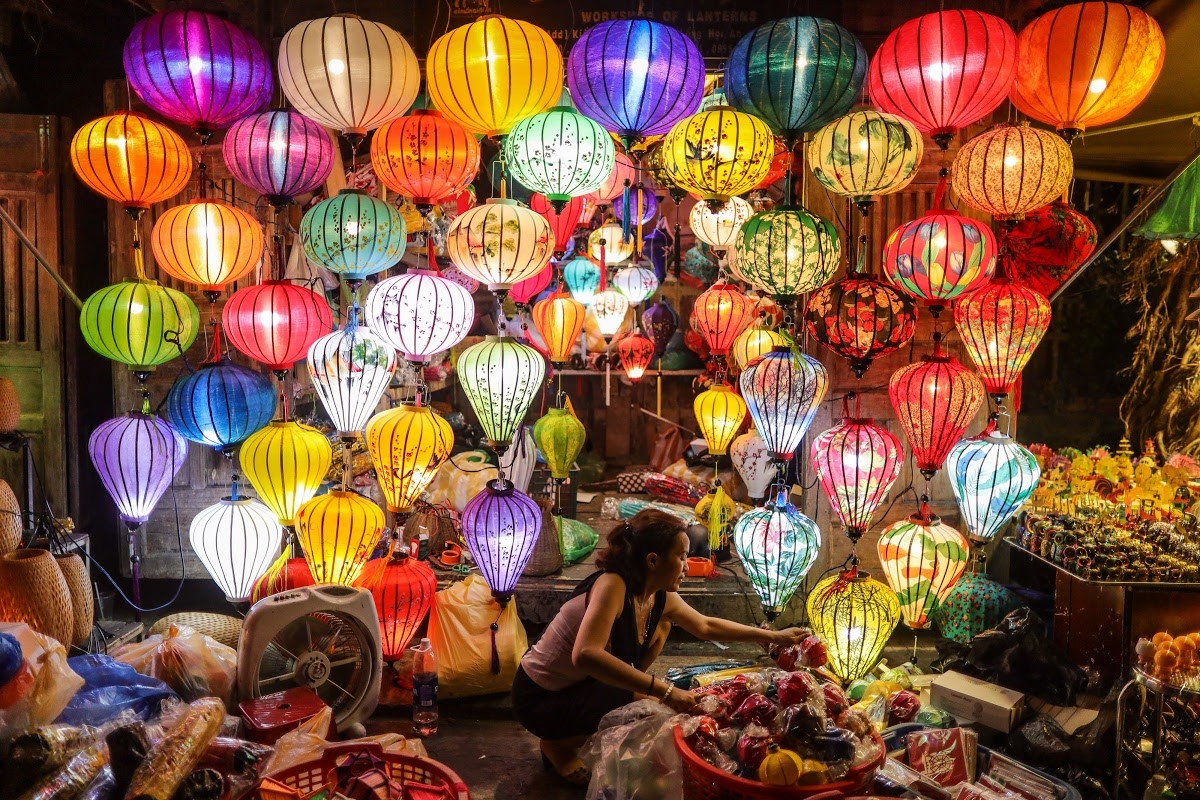 Google Arts & Culture
In the 21st century, Hoi An Vietnam maintains the features of traditional architectures; and becomes more and more popular for travelers. It is famous for beautiful view, local cuisine and full of Hoi An lanterns which is the reason why Hoi An is called "City of lights".
Hoi An is a small city located in Central Vietnam. It's known as a peaceful city which seems frozen in time with no airport, no train station, a number of Chinese Assembly Halls; such as like Tan Ky Assembly Hall, Quang Dong Assembly Hall, Fukian Assembly Hall, etc. There are also Buddhist shrines, French colonial houses, art galleries and old canals. In addition, this old town offers travelers a great chance to explore an ancient architecture which is hardly found in almost anywhere else in Vietnam. Especially, Hoi An Town keeps you to stay away from the hustle and bustle of the big city.
The most glamorous Hoi An's moment is in the evening; when it turns to dark, all the beautiful silk lanterns light up, which makes a charming hectic old town. It's such a popular events that if you can't visit on the full moon date, you still have other chance to join in the glamorous of Hoi An lanterns. If the magical scene is what you're looking for, you won't be disappointed. At about 8 pm, they turn off the electricity in all houses and restaurants located within here to make the lights from the colorful silk lantern stand out. Most of the streets and alleys are decorated by colorful lanterns and the river is covered by many painted wooden boats. All of this bring you back in time to the bustling trade port in 17th, 18th century.
2. Visit Halong Bay and its equally spectacular neighbour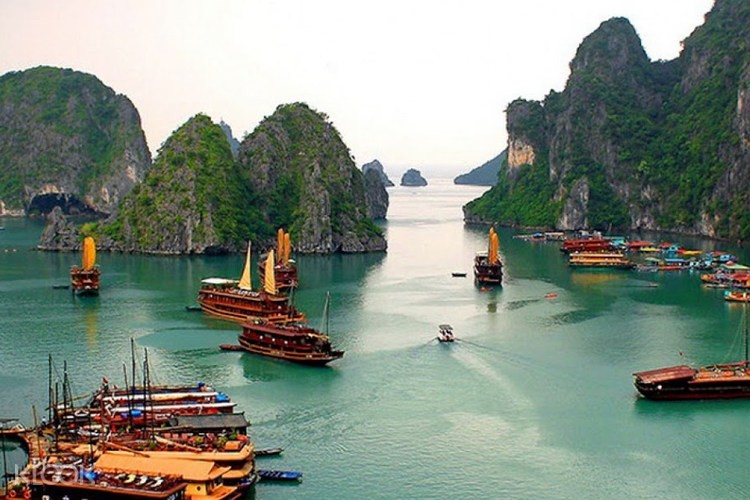 Klook
Towering limestone pillars and tiny islets topped by forest rise from the emerald waters of the Gulf of Tonkin. Designated a World Heritage Site in 1994, Halong Bay's scatter of islands, dotted with wind- and wave-eroded grottoes, is a vision of ethereal beauty and, unsurprisingly, northern Vietnam's number one-tourism hub.
Sprawling Halong City (also known as Bai Chay) is the bay's main gateway, but its high-rises are a disappointing doorstep to this site. Most visitors opt for cruise tours that include sleeping on board within the bay, while a growing number are deciding to eschew the main bay completely, heading straight for Cat Ba Island from where trips to less-visited but equally alluring Lan Ha Bay are easily set up.
All visitors must purchase entry tickets for the national park (40,000d) and there are also separate admission tickets for attractions in the bay, such as caves and fishing villages (30,000d to 50,000d).
3. Cruise the Mekong Delta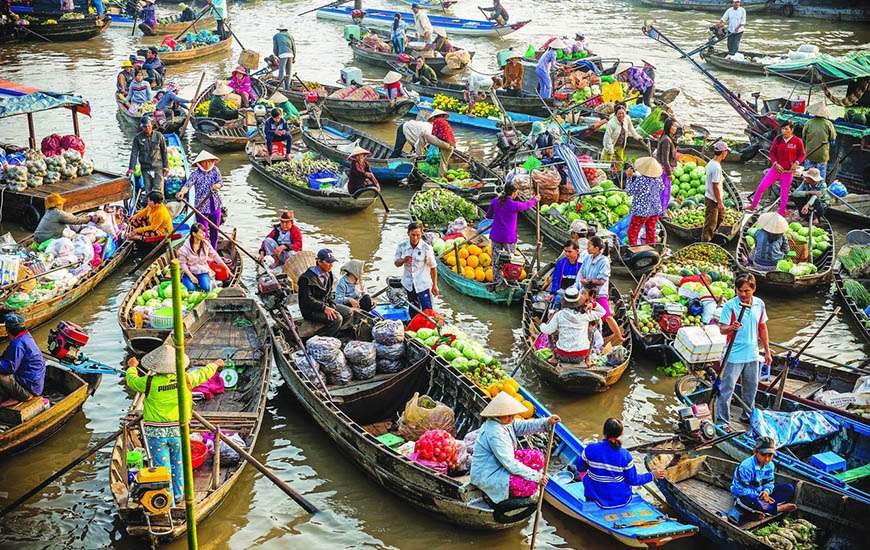 Mr Linh's Adventures
From its lofty source in the Tibetan Himalayas, the mighty Mekong River tumbles down through China's Yunnan province, squeezes between Thailand and Laos, then slides through Cambodia before reaching Vietnam. Here, in a flat, comma-shaped delta protruding from the south of the country, the river fragments and spreads out into innumerable tributaries and rivulets, all meandering slowly seawards.
It's in and around the delta's myriad waterways that you'll find some of Vietnam's most iconic images: shimmering emerald paddy fields, endless horizons punctuated by coconut trees, cone-hatted farmers hauling fruit and sugar cane from the ground, and markets run from colourfully painted boats. It is no surprise that the delta was voted as one of the 10 most beautiful places in Vietnam.
Keep an eye out and you'll also see children riding on the backs of water buffalo, bright yellow incense sticks drying at the roadside, and locals scampering over monkey bridges or rowing boats on the delta's maze of channels. Given the region's seasonal flooding, the best time to visit the Mekong Delta is, predictably enough, in the dry season, which runs from December to May.
4. Drop into the world's largest cave in Phong Nha National Park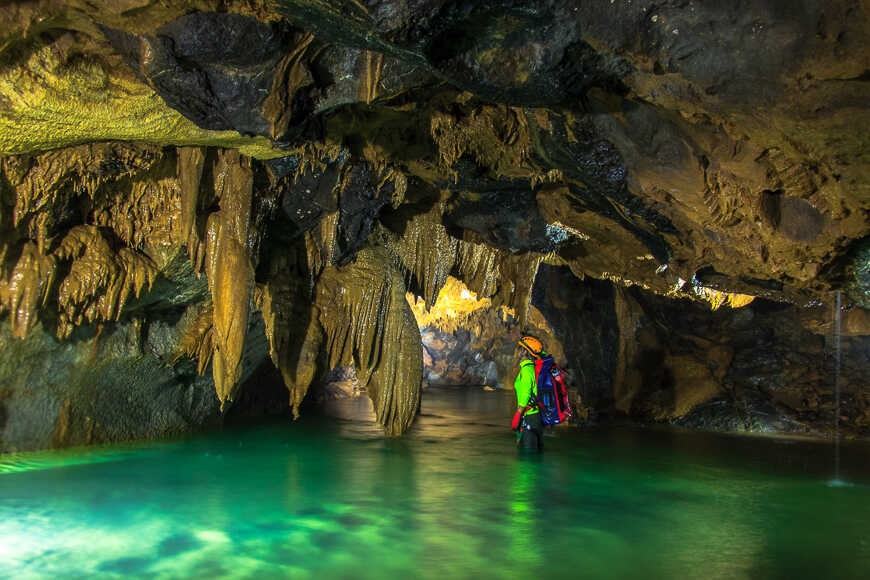 Vietnam Tourism
Phong Nha Cave Among the number of scenic spots of Vietnam, Phong Nha cave is distinguished by its magical beauty. Phong Nha cave is acknowledged one of the cultural heritage sites of the world with an unsurpassed wonder of nature. It takes you only 40 minutes by boat on the Son river to Phong Nha entrance.
This park has been recognized as a world natural heritage site by the United Nations Educational, Scientific and Cultural Organization (UNESCO) at its 27th general assembly session being held in Paris from June 30-July 5. The area is considered a paradise for researchers and explorers of grottoes and caves, and Vietnamese and British scientists have so far surveyed 20 with a total length of 70km. Of them, 17 are in the Phong Nha area and three in the Ke Bang area.
Phong Nha Cave was formed by tectonic happening in the heart of Ke Bang limestone mountains hundreds of millions of years ago. Traces the writing carved on the rock by ancient Cham language that Phong Nha Cham was found from time immemorial.
Populations of cave in Phong Nha-Ke Bang is considered "First wonders", is one of the world's most beautiful landscapes characterized as the longest underground rivers, caves and height widest, the sand in the cave is the longest and most beautiful stalactites ….. This can also be regarded as a paradise for the discipline of caves and cave tourism.
5. Visit the coffee-making heartland, Buon Ma Thuot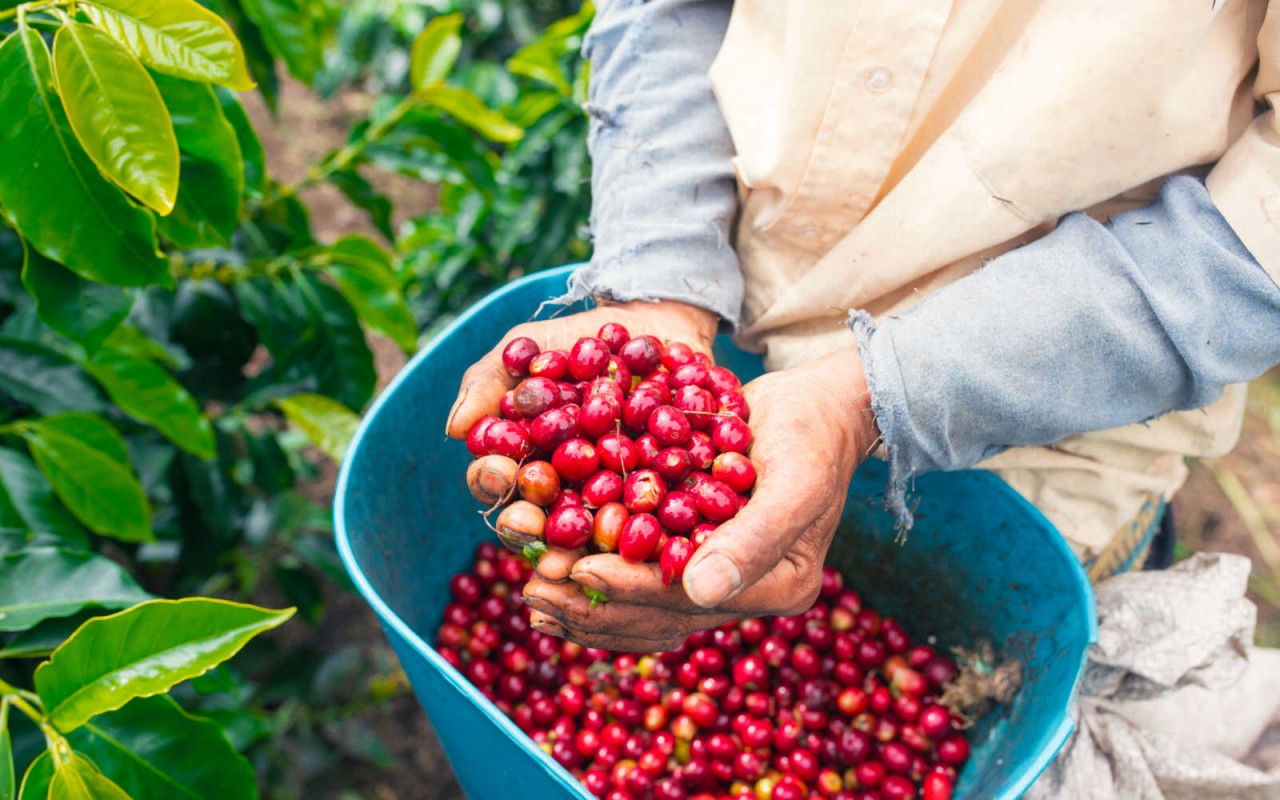 Evaneos
Buon Ma Thuot used to be the most important part of Central Highlands. With the biggest population, the most luxurious markets, the city was the administrative, cultural, and economic center of the whole region. Buon Ma Thuot is the center where all the roads connecting different provinces in Tay Nguyen converge. The roads also do a great job linking Dak Lak with Dalat City (through National Road 27), Khanh Hoa, Ninh Hoa (through National Road 26) and Ho Chi Minh City (through National Road 14), etc.
Buon Ma Thuot is famous for many types of fruits, vegetables and especially coffee! Buon Ma Thuot coffee has been monopolized Vietnam Market for a long time; and not surprisingly, it has yet to find any rival.
Tourists coming to Buon Ma Thuot can visit the spectacular waterfalls: Dray Sap, Dray Anour, Dray H'ling – to name just a few. They can totally enjoy the trips to the villages of the E-de and M'nong ethnic groups to experience the essences of the Gong Festival, ride the elephant during a hunt in the mysterious forests, or simply sit still on a piragua and breath in the air of the Asian wilderness.
6. Search for Vietnam's best pho in Hanoi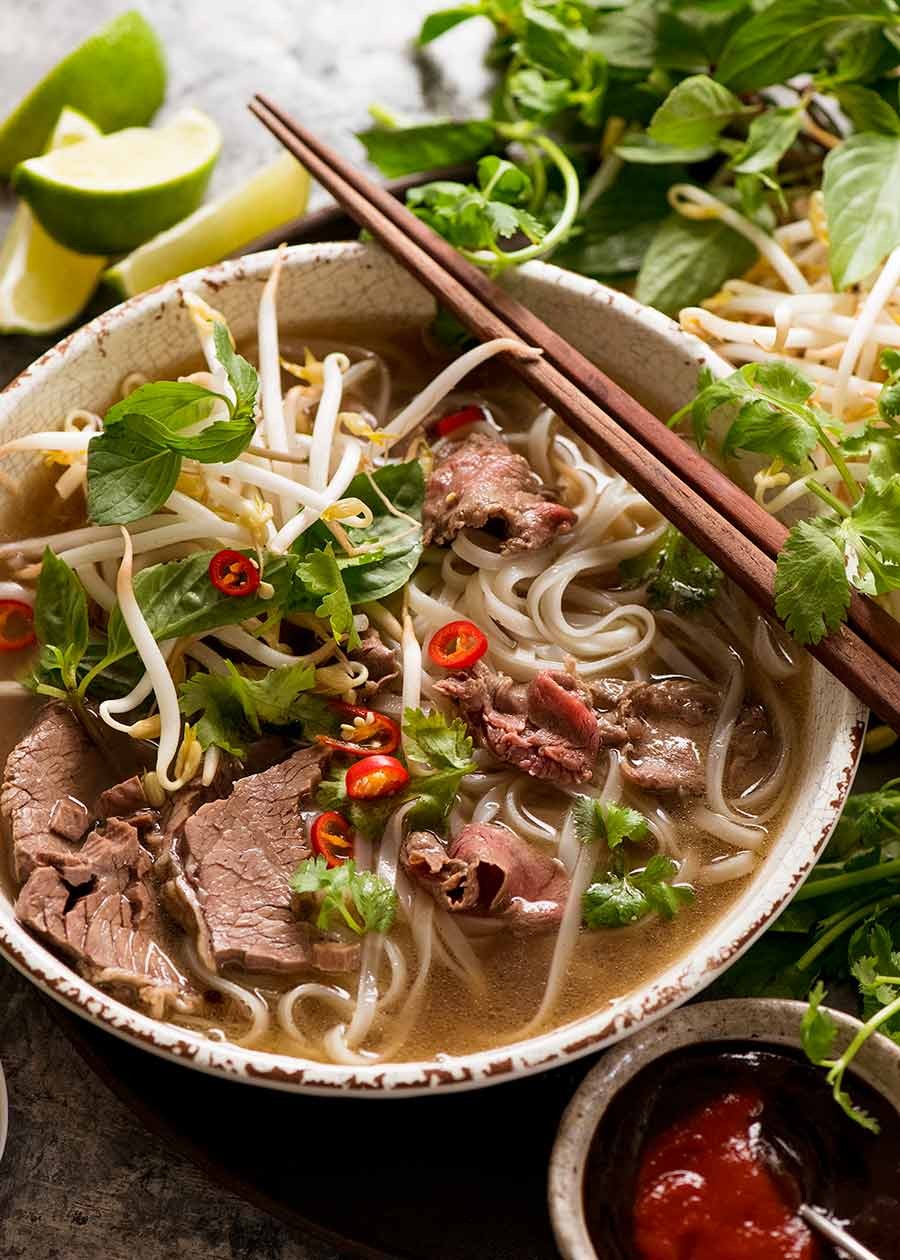 RecipeTin Eats
Pho is a Vietnamese staple – a quick, tasty meal made from four simple ingredients: clear stock, boiled beef, rice noodles and herbs or green onions. In Vietnam, you'll find it served on street corners and in upscale restaurants, as well as in every family home.
Hanoi has gained a reputation as the pho capital of Vietnam. Every restaurant here boasts a secret recipe. Take your time searching for the best – that's part of the fun! But if you want our advice? Head to Lo Duc in the French Quarter and sit yourself down at Pho Thin.
This unassuming pho house, with wooden benches and laminated tables, does things a little differently – such as stir-frying the beef in garlic before adding it to the soup. Local foodies insist it gives the pho an unusual smokiness, one you won't found in other restaurants. Pho Thin is always packed, but once you're inside, you'll know it was worth the wait.
7. Cycle around Hue
Viet Vision Travel
An ancient city like Hue city always attracts tourists by its quietness and antiquity. When travelling in Hue, many people often choose cyclos and motorbikes to be their main vehicles. However, to have a new and different experience about the people and sights in Hue as well as to feel the most natural thing of Hue, I recommend you to explore Hue with a bicycle.
With most of the closed destinations within 10km, discovering the ancient capital of Hue with a bicycle will be an interesting option for many people. Not being noisy and busy like other famous tourist cities in Vietnam, Hue is beautiful, charming, and peaceful, which is suitable for a cycling trip.
With the advantage of being a tourist city, Hue city is the place where you can easily hire a bike with suitable and affordable prices. Local bike rentals are mainly focused on Hung Vuong Street and Le Loi Street.
Of course, with a bicycle, you can not visit Bach ma national park, Lang Co beach, or Elephant Springs because they are too far from the city center. However, you can totally visit all the places which you often see in the program of many Hue tours especially Hue city tour such as the Citadel, royal tombs including Minh Mang tomb, Khai Dinh tomb, Tu Duc Tomb, Thien Mu pagoda, Thanh Toan bridge, Dong ba market, … Most of these places are located along the Perfume river, so it's not difficult for you to find the way. If you take part in a Tour in Hue which transfers mainly by car or bus, you not only have to follow its itinerary but also do not have a chance to look around the scene on the way and watch the daily life of local people and talk with them. In contrast, if riding a bicycle, you are free and not limited about time and places to visit. Traveling by bike allows you to discover all the fascinating attractions of a new land. You will have the opportunity to enjoy many beautiful scenes on both sides of the street, learn the traditional culture of the indigenous uniqueness easily which you may not experience when traveling by other means. Cheap, good for health, convenient for traveling, easy to explore new destinations … are compelling reasons worth planning for a cycling journey.
8. Sail past the Tam Coc rice fields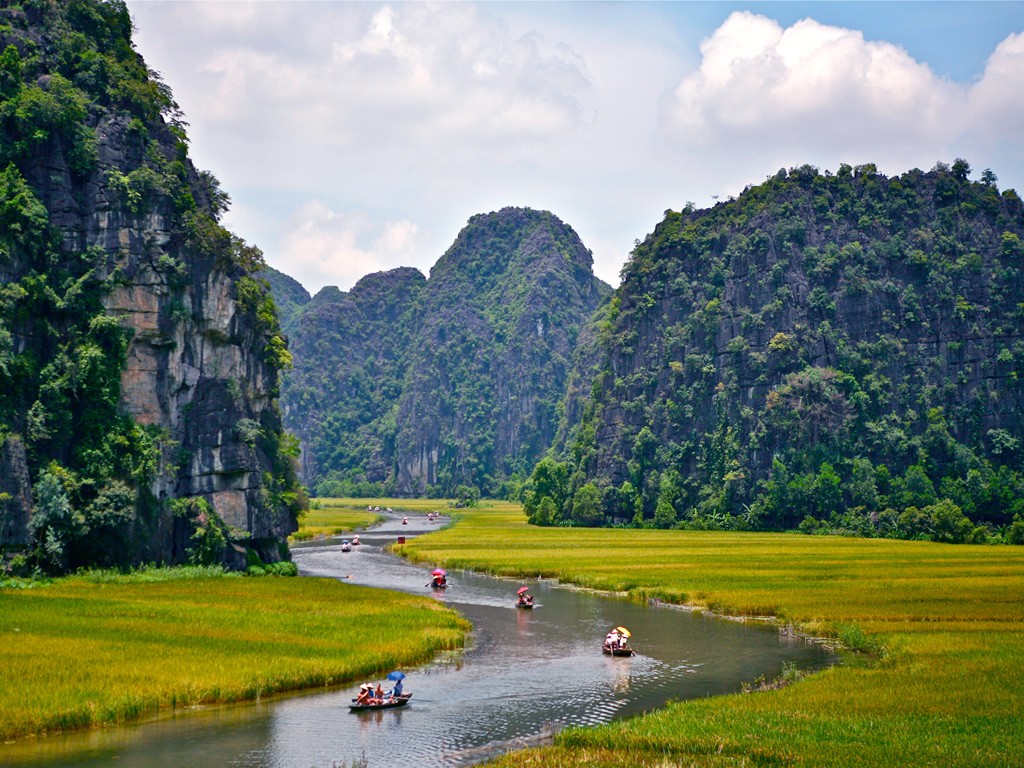 Tours in Hanoi
Tam Coc is a small town located in Ninh Binh Province. The name Tam Coc, literally translates as 'three caves,' referring to Hang Ca, Hang Hai, and Hang Ba. It is part of the wider UNESCO World Heritage site of Trang An Scenic Landscape Complex. Stunning rainforest-covered mountains, enormous valleys, waterways, and limestone cliffs are just a few of the incredible things that make this a UNESCO site.
Tam Coc is often compared to Halong Bay on land. Additionally, there is a unique union between nature and spirituality here seen in the birds skimming the water, against a backdrop of ancient mountain-top temples.
Tam Coc is the perfect place to base yourself for a few days to explore all the things to do in the Ninh Binh area. Take your days slowly absorbing the beauty of the scenery. Rowing along the river by boat, or cycling along the quiet lanes through the rice paddies, is the perfect way to explore. Whether it's seeing countless species of wildlife, discovering ancient temples, or faraway floating villages, there are plenty of things to do in Tam Coc.
9. Spot rare primates in Cat Tien National Park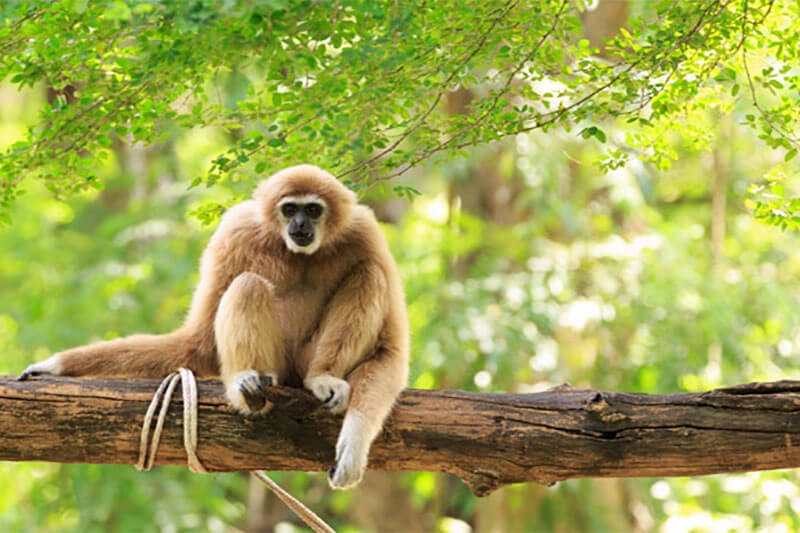 Saigon Local Tour
Cat Tien National Park in southern Vietnam is a wildlife lover's dream: a 720 sq km biosphere reserve, comprised of botanical gardens and lowland forest, offering an abundance of rare creatures and birdlife, all kept safe and sheltered in a number of sanctuaries and rescue centres.
Golden-cheeked gibbons, silvered langurs and native pygmy lorsies are among the rare primates to be spotted in Dao Tien Endangered Primate Species Centre. Cat Tien Bear Sanctuary homes tens of sun bears.
Asian elephants and clouded leopards are also among the rare sightings wildlife watchers have recorded in Cat Tien. Birders will have their hands full, too, with Asian barred owlet, blue-rumped and bar-bellied pittas, and orange-necked partridge sightings - just to name a few - very possible.
Some of the park's animal residents come alive when the sky goes dark, so if you're hoping for a unique wildlife encounter in Vietnam, consider staying the night in one of Cat Tien's homestays or hotel accommodation, and embark on a nighttime drive.
An added bonus? Those on a day trip will be zipping back to Ho Chi Minh City by then, which is approximately three hours and 30 minutes away by car, so you'll have more of the park to yourself.
10. Marvel at Ban Gioc Waterfall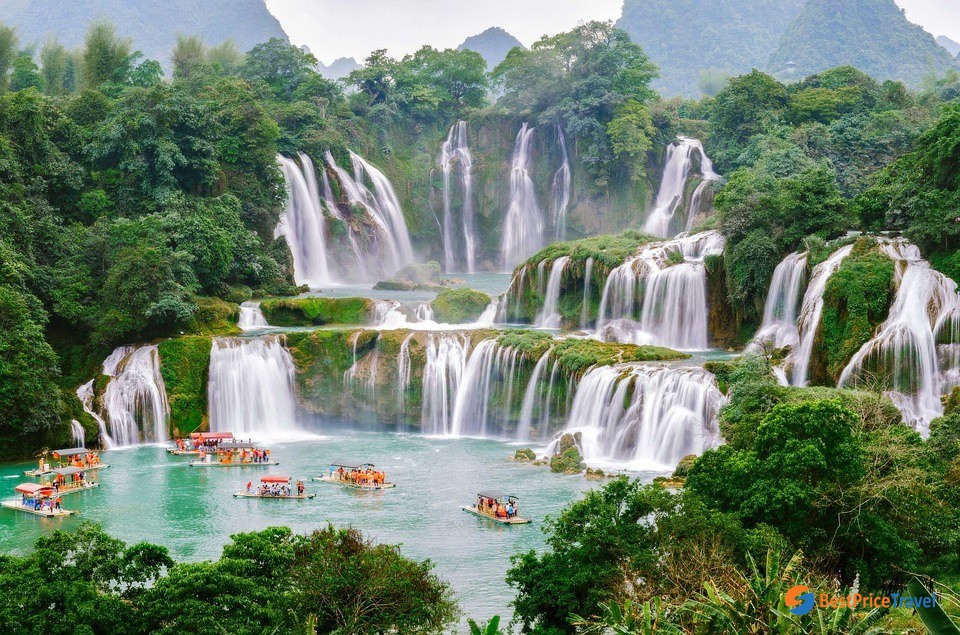 BestPrice Travel
Ban Gioc is one of the most remote attractions in Vietnam. It shares a border with China and is 50 miles (80 km) or more from any large towns. Many visitors make this trek by motorbike, while others enjoy the comfort of a private minivan. However you decide to arrive, the journey is well worth it.
The falls stand at 98 feet (30 m) high and an incredible 984 feet (300 m) across, a cascade of the Quay Son river. They are the widest falls in Vietnam yet still seem to be relatively unknown. Outside of weekends and public holidays you may find you have the falls almost to yourself. The lack of crowds makes these majestic falls even more impressive; the tiny bamboo boats that ferry tourists look tiny in comparison.
You will also see the falls from afar as you approach the ticket entrance. A billowing cloud of spray rushes up to meet the neighbouring rugged mountains, hinting at the size and power of this natural wonder. Take a short walk through the picturesque countryside to the falls.
Most people will visit Ban Gioc while traveling around the northern hill tribe villages in Ha Giang and Cao Bang, or as an add-on trip from Ba Be National Park. Aside from Ban Gioc, you can also visit Nguom Ngao caves and a hilltop temple nearby. The countryside surrounding the falls is a beautiful place to explore.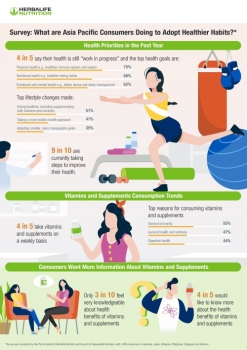 Economy
HONG KONG SAR - Media OutReach - 28 October 2021 - A new survey examining the awareness and usage of nutritional supplements in the Asia Pacific region revealed that four out of five consumers in believe their health is a "work in progress," and 86% have been taking steps to improve their health in the past year.