Top 10 Best Waterfalls in Vietnam To Visit in Holidays
Vietnam is a land of natural beauty and famous tourism spots. Here is 10 most beautiful waterfalls in Vietnam for you to have a visit in your summer holidays.
Vietnam is not only famous for its charming coastal line but also the home of numerous stunning and beautiful waterfalls. From north to south, wherever you go, there is always at least one place to see. It is hard to deny a visit to see waterfalls with their pristine natural beauty. If you've never come to see one of these waterfalls before, you will regret. If you have limited time, then a wide selection of waterfalls may puzzle you. Read on to know what top 10 best waterfalls in Vietnam are!
1. Ban Gioc Waterfall, Cao Bang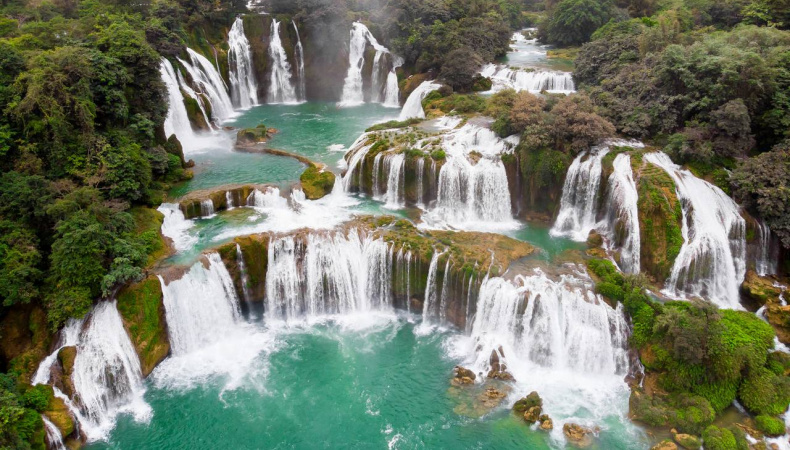 Photo: Journey on Air
Ban Gioc has gained a name for being one of the 4 largest cross-border waterfalls of the world generally, and particularly among the most famous in Vietnam. For the last few years, there has been a surge of tourists who cross the globe to observe its uniquely exotic, natural beauty.
Located in Dam Thuy Commune (Cao Bang City) which is 335km away from Hanoi, Ban Gioc Waterfall shares part of its border with Quang Tay Province (China) – the western side belongs to Vietnam, while China affirms their ownership of the eastern side. Therefore, the Ban Gioc Waterfall area achieves a rich diversity of cultural patterns from indigenous ethnic minorities.
Both countries are committed to deriving substantial benefits from the site in terms of tourism and economic profits. What makes Ban Gioc Waterfall scene captivating is its extraordinary flow of water running dazzlingly along stair-like moulds, which looks like a giant doorstep of mother nature. This seductive charm is undoubtedly a major factor that attracts tourists from all over the world.
2. Mu Waterfall, Hoa Binh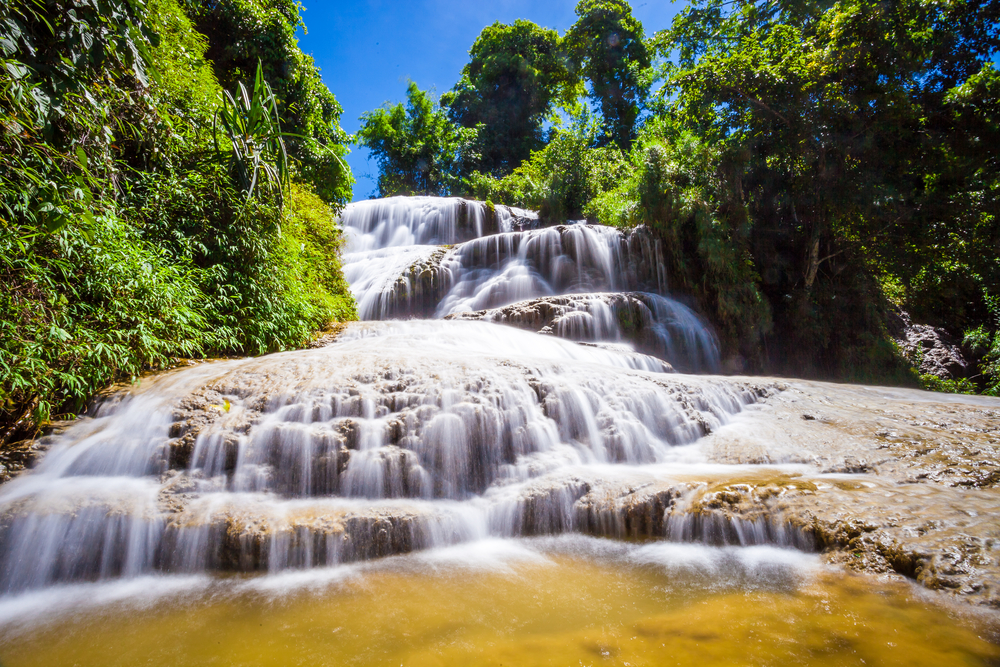 Photo: Culture Trip
The second waterfall in the north of Vietnam that you should not miss is Mu waterfall. Just only 140km (approximately 87 miles) from Hanoi, you can see a stunning waterfalls among wild ruins and fig-scented woodlands.
Although you haven't seen the falls, you can still hear the sound of water from afar. Climbing down some stone steps, Mu waterfalls appears like a beautiful and graceful woman with white water foam descending over a series of rock steps.
Located at an altitude of over 1,000m in the first stretch of the majestic Truong Son range, the waterfalls are charmed with blue water and huge cool down rocks into floors. At the foot of the waterfall, there is a natural lake which is ideal for swimmers. The segment of the waterfall's foot is 100m high due to water flows after years.
You may be glazed by the murky forest canopy along the waterfalls from downstream to upstream. Though the road to Mu waterfalls is quite small and difficult to travel because of hard rocks, the scene of Mu waterfall won't disappoint you.
Best time to visit: There are two seasons in this place: dry and clear seasons. It is best to visit Mu Waterfall from May to September; however, most foreigners prefer to go to Mu waterfall in the dry season (October to April).
3. Tac Tinh Waterfall, Lai Chau
"Tác Tình" Waterfall also known as Love waterfall, located in Binh Lu commune, Tam Duong District, Lai Chau province. This is one of the attractive landscape of Lai Chau province, attracting many visitors prefer to explore the natural beauty.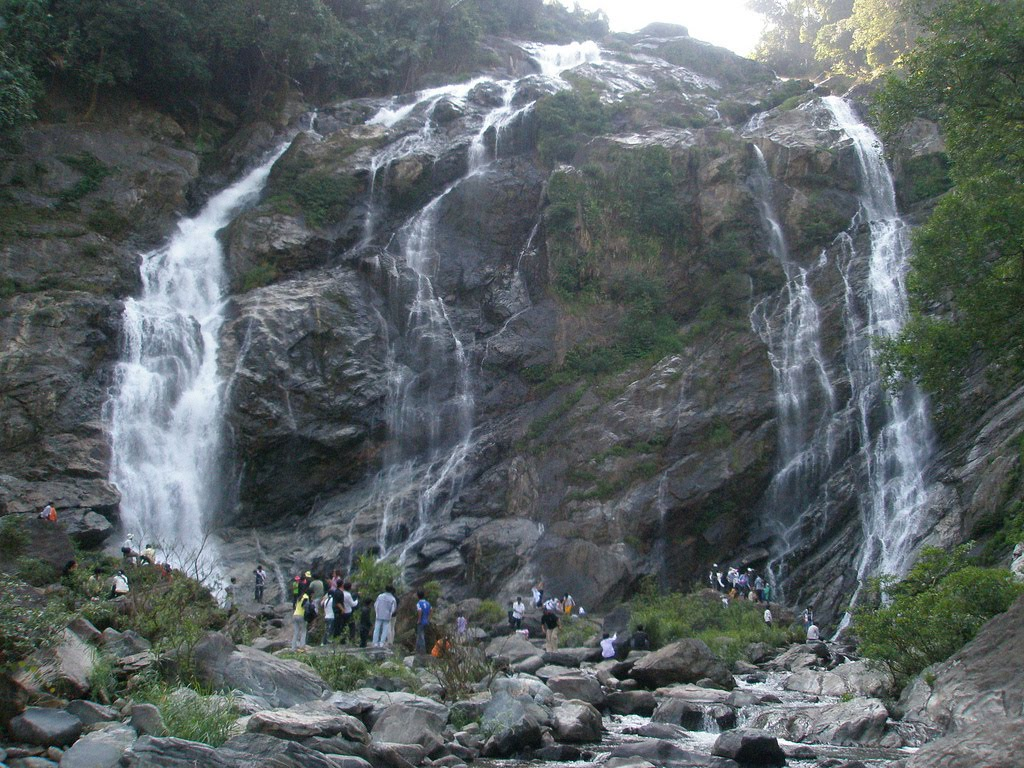 Photo: Vietnam Tourism
"Tac Tinh" Waterfall lies between a huge mountain area, from the far distance it likes a soft silk range are left itself in the immense space of majestic mountains. For long time ago, when the life of the Dao and local residents have been inextricably linked with the waterfall, cooling water source, following from year to another. The waterfall is key factor for the agricultural production and life of locals here.
Love Waterfall is so beautiful waterfall, but few people know the behind the stunning beauty that is a sad love story. The story tell that for long time ago, in a Dao ethnic at the foot of the waterfall there was a beautiful Lo Lan girl, her beauty is such as orchids flower . She fell in love with a guy in the same village and they had happy time together. But happiness was not long before the disaster has occured with two people, their love has faced with many obstacles. In order to fulfill all their love and loyalty vows between two people, she left herself into Lo Lan waterfall. Impressed by the action of the young girl, locals here named it- Love waterfall to honor her with the desire to protect for the love story of two people.
With pristine natural scenery of northwestern mountains and intense love story, loyalty of the couple has created a waterfall just brought back the glamor has captivated mystery hearts.
Time goes by, the waterfall still remains the pristine beauty, tourists in Vietnam travel come to this place remains the impression will not fade away for waterfall of love.
4. May Waterfall, Thanh Hoa
100 km far from Hanoi Capital and 10 km far from Ho Chi Minh trail, right at the border with Cuc Phuong National Park lies the most magnificent waterfall of Thanh Hoa Province – the waterfall of May (cloud in Vietnamese). Thac May (Cloud Waterfall) is less-known by foreign travelers but always bring you the exceptional experiences among the untouched nature.
And though, Thac May (Cloud Waterfall) in Thanh Hoa province is less-known by foreign travelers but it is one of top 10 amazing waterfalls in Vietnam.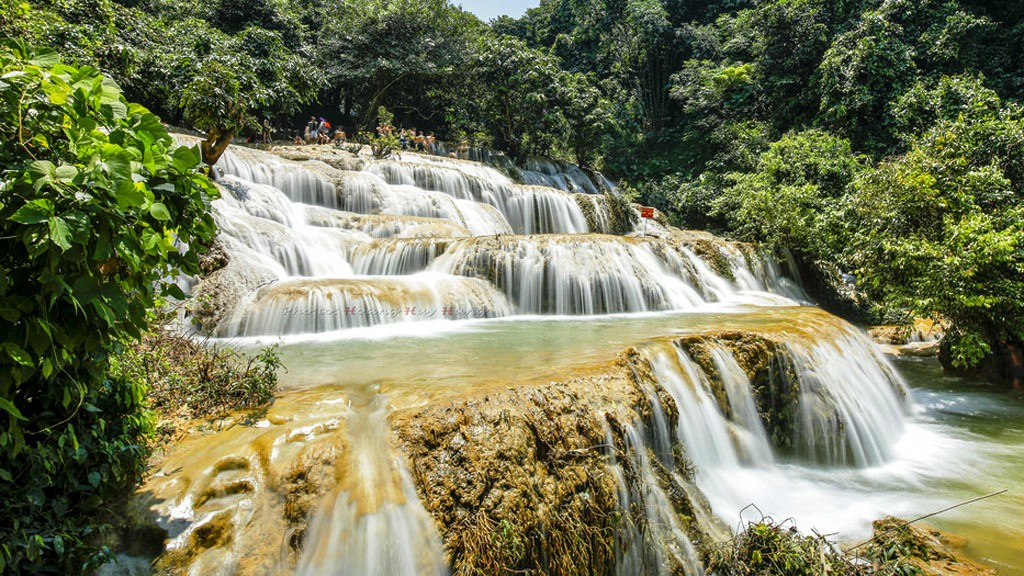 Photo: Thanh Nien
It is also called "nine steps of Love" thanks to its glorious nine levers of waters, an ideal place for couples to enjoy nature together.
Nine levels of water are said to be the tracks of nine ferries after they returned to the sky according to a local legend. It is a wild, mysterious and magnificent travel address for adventurers to explore in Vietnam.
It has more than ten cascades, that naturally form a terraced paddy field of over 400m. As implied in its name, the waterfall looks like wearing a cloudy hat of mist and evergreen coat of surrounding trees. The ideal time to see the May Waterfall is around August when it is sunny. The neighbouring waterfall of Voi (elephant) is most impressive in September and October. You can camp by the waterfall or stay with local inhabitants to have the full experience of this site.
Best time to visit: From August onward is the most ideal time to visit this magnificent waterfall.
5. Yang Bay Waterfall, Khanh Hoa
The location has three waterfalls including Yang Bay, Yang Khang, and Hocho. However, Yang Bay is the main waterfall with two parts: Yang Bay 1 and Yang Bay 2 with total height of 80m and length of 2000m. Yang Bay 1 has two small lakes and one large lake.
From afar, tourists can see the white foam water flowing down into a green lake. The grandiose falls are surrounded by dense primeval forests. This wonderful waterfall is a tourist attraction. Although being turned into an ecotourism area, Yang Bay still keeps it pristine nature.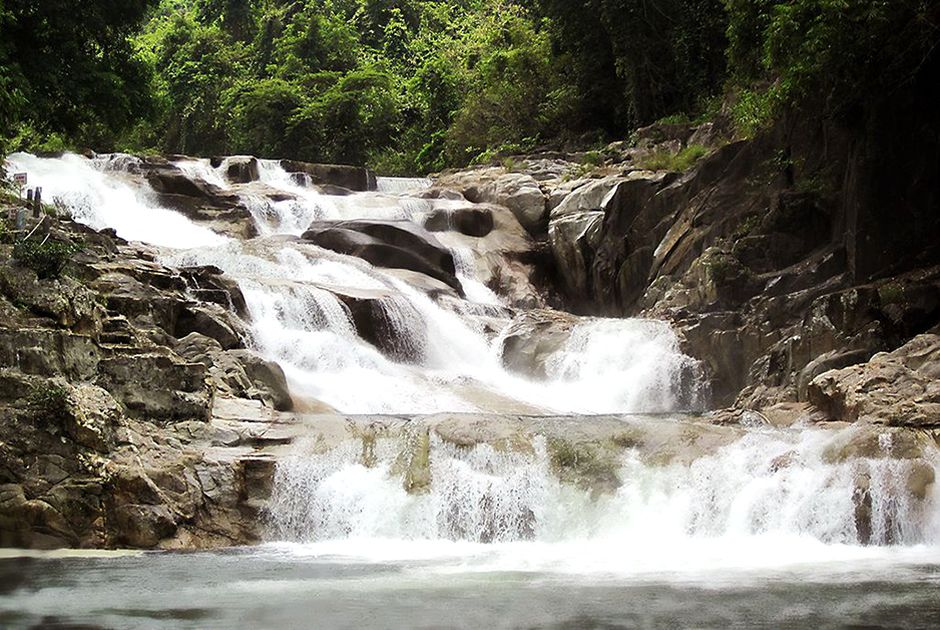 Photo: Yeudulich
Tucked away in the place, tourists do not only view Yang Bay waterfall but also enjoy a beautiful romantic sight of thick jungles, innumerable tropical insects, colored-multi butterflies, wooden bridge, orchids, cherry blossoms and horticultural canopy. There are many small boats to transfer tourists for sightseeing in 100m wide lake. Coming to Yang Bay waterfall, you should not fail to enjoy the nearby small caves which were used as a shelter for revolutionary soldiers during the war.
According to ethnic people, Yang Bay is also called Thac Troi which means "the waterfall from the sky". Many large stones at the place are flat like the chess boards. Therefore, it has been speculated that the emperor and fairies once went down to roam and opened the first spring here.
Lying in mountain ranges, the climate here is cool around the year. Thus, this is really a wonderful place for nature lovers to enjoy fresh air and charming scenery.
6. Suoi Tranh Waterfall, Kien Giang
Suoi Tranh Waterfall is a four-metre-tall waterfall within the Ham Ninh Mountains that's surrounded by lush greenery, natural caves, and rock pools. A 10-minute drive from Duong Dong, this natural attraction is ideal for those looking to escape the bustling town centre.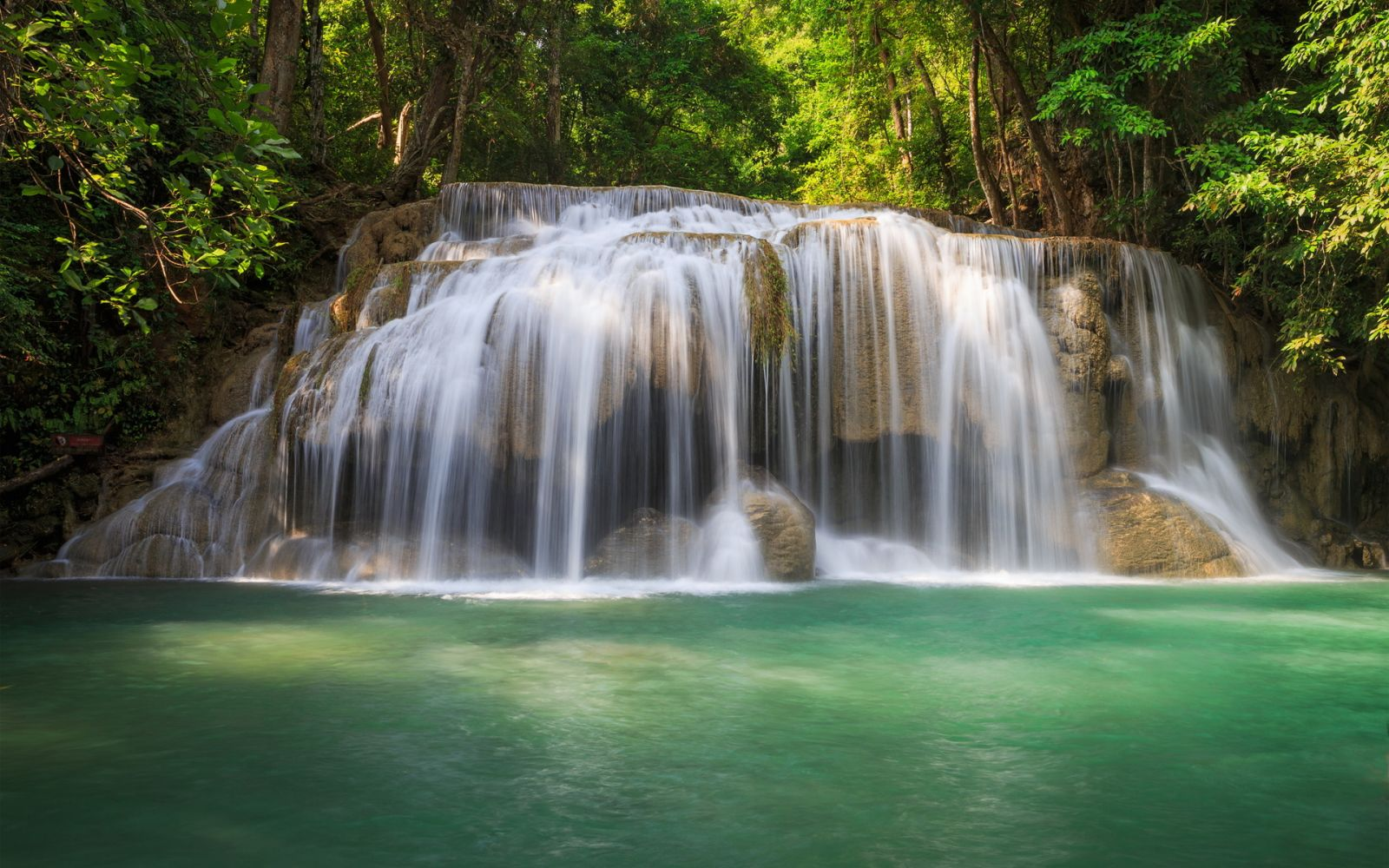 Photo: Asianway Travel
Nature-lovers can enjoy recreational activities such as picnicking, camping and bird-watching, with small walking paths available for those who prefer a leisurely hike through the jungle. Various flora and fauna such as shrimps, birds, orchids, ginseng and mushrooms can be found here.
If you're feeling adventurous, you can hike further up from the main waterfall site, following the 15-kilometre stream to reach Hang Doi (Grotto of Bats), which measures 200 metres in height and houses unique stalactites. Suoi Tranh Waterfall is also located near Hamn Ninh Fishing Village, where you can experience the daily life of the local fishermen and enjoy authentic regional specialities.
Due to its close proximity to the main town, Suoi Tranh Waterfall is usually packed with locals during weekends and national holidays, so we highly recommend heading there early to get the best picnicking spot.
7. Pongour Waterfall, Lam Dong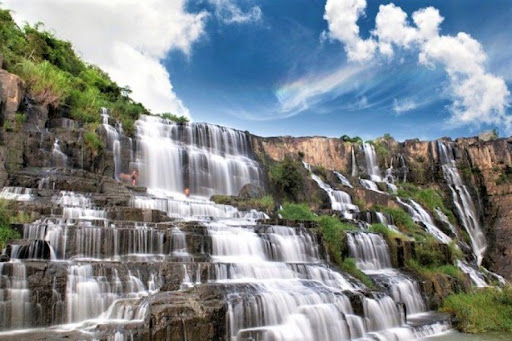 Photo: Dalat Tours
Pongour is one of the most famous waterfalls in the province. It's much loved and much visited by Vietnamese of all ages. As a result, the falls are developed to cater to large amounts of visitors, but, unlike other popular waterfalls, Pongour is tastefully done. Wide gravel pathways and steps lead through lush, landscaped gardens (no concrete animals here!) to the gaping valley below. There are two routes to the waterfall: a gentle dirt path and some steps, or a steep, long staircase. It makes sense to take the latter down and the former up. At the bottom there are dozens of rather unattractive trinket stalls and food outlets, but you'll be glad that drinks are available here because it gets exceptionally hot and humid in this craterous valley. Beyond the trees, that provide shade for the stalls, is a wide and exposed, rocky basin. This enormous chasm was once filled by the torrent of the Đa Nhim River. These days, however, its flow is controlled by the Đa Nhim dam, which you can see from Highway 20, about 10km east of Pongour falls. Unfortunately, this has also affected the majesty and might of the waterfall. What water there is gushes over a wall of rock, 100 metres wide and 40 metres high, and flows down across seven separate levels of terraced rock to the big placid pool at the bottom.
The waterfall is still very, very pretty, but the reduced flow robs it of its gravity and grandeur. Instead of being 'impressive' I would call these falls 'poetic' – there's a light and playful quality to them; one gets the impression that Pongour is a somehow benevolent waterfall, as opposed to Elephant falls, for example, which is brutal, raw and powerful. One of the myths surrounding Pongour likens the heroine's hair to moving water which, given the fine and flowing nature of Vietnamese hair, seems a fitting and beautiful poetic metaphor for the gentle cascade of these falls.
8. Dambri Waterfall, Lam Dong
Despite being turned into a famous tourist attraction, Dambri waterfall still offers a dramatic and majestic sight with its natural beauty. Before reaching the falls in Dambri resort, visitors have to walk a long distance under the blue sky and white clouds.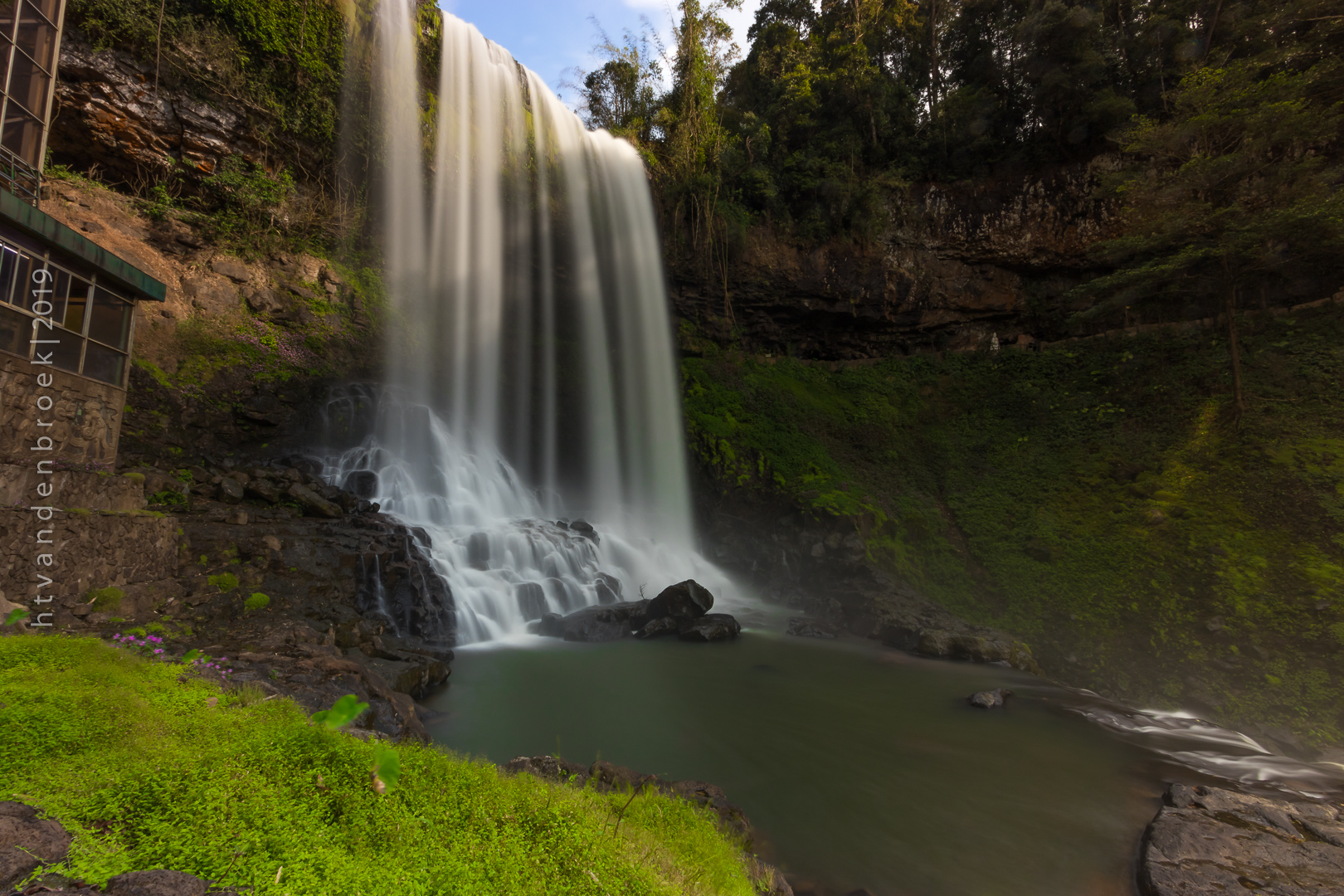 Photo: Locationscout
There are three ways to conquer the waterfall. The first way is climbing 138 stairs, the second way is taking the elevator and the third way is the most thrilling with the use of roller coasters. What is most enjoyable is relaxing in a tranquil nature, hearing the sound of pouring water and watching it spilling over a rocky escarpment and falling down into a large pool before gurgling down the valley with a series of terraced cascades.
Dambri waterfall looks the most beautifully in sunny days. During these days, you can see more clearly the surrounding mist that is created by pouring water. If you are lucky, you can even see the rainbow. The green of dense forest, white foam of water, and colorful rainbow will create a picturesque and breathtaking sight of the waterfall. It looks like you are getting lost in a fairy jungle. Furthermore, nature has also endowed this place with primeval forest full of tomentose plants and giant tropical trees. Thus, this is a wonderful place for those who want to explore nature. Especially, there is a fossil plant cave under the third floor of the waterfall. In order not to slip, be careful of the moss when you walk.
The name "Dambri" is inextricably linked with a legendary love story that happened long ago. A beautiful girl, namely Bri fell in love with Kdam – brave boy but they could not get married to each other because of the difference and conflicts between the two tribes where they live. Kdam was so sad because he could not marry his girl, then he left his village and went to a forest. Shortly afterwards, Bri also left her home and started her journey to look for her boyfriend. Unfortunately, although Bri spent months passing through many forests and streams, she could not find him. She came back to the forest near her village with the hope that Kdam would come back to see her. However, there was no news from Kdam. He never came back. Bri kept waiting and crying a lot until she died. Her body was turned into rock and her endless tears kept pouring down strongly over the rocks. The place formed a waterfall and was named Dambri (the combination of the names of two people) to memorize them. Dambri also means "waiting" in K'Ho language. The people from the two hill tribes were deeply touched by their truthful love and felt regretful. They reconciled with each other and allow their children to get married whoever they want.
9. Dray Nur Waterfall, Dak Lak
Photo: Yeudulich
Dray Nur waterfall in Kuop Village is about 25 km south of Buon Ma Thuot City. The waterfall, which is 250m long and 30m high, is the most beautiful and largest of the three waterfalls on the Serepok River. From afar, Dray Nur offers a spectacular panorama. Dray Nur is renowned for its purity and for its incredible legends. Dray Nur in the local language, means Female or Wife Waterfall. According to one legend, a beautiful E De girl and her boyfriend were sitting on a big rock, when a monster appeared in a column of water and drove the young man away. When he returned, he discovered that his girlfriend had been taken by the monster. The rocky bank beside the waterfall is the place where the young couple sat and the waterfall is the column of water where the monster appeared.
The sound of the waterfall, according to the locals, is the sound of whispers telling the story. The mysterious beauty of the waterfall inspires all visitors, who are usually curious about the legend behind it. Nguyen Quang An is a photographer from Ho Chi Minh City: "The Central Highlands is spectacularly beautiful with magnificent mountains and waterfalls. There are mysterious Rong communal houses in the central highlands. The nature here is fantastic and the people are wonderful".
The magnificence of Dray Nur might make some feel dizzy but for adventure lovers, visiting the waterfall is an impressive experience. Quang Quy is a tour guide: "Dray Nur consists of three levels creating three lakes. You can swim in the first lake because the water is shallow. In the second lake, you must be careful because the rocks are very sharp. In the third lake, the water is quite deep, between 8 and 10m. From this lake, walking along the rock bank, you can enter a cave. Also from here, there is a panoramic view of the waterfall".
The cave extends more than 3,000 square meters. Stalactites and stalagmites in the cave create an extraordinary scene that delights visitors. It is also possible to hike forest trails and contemplate centuries-old trees whose roots embrace the rock or admire bats flying at sunset.
10. Thuy Tien Waterfall, Dak Lak
Coming to this place, visitors can immerse themselves in nature; listen to the sound of spring in a wide majestic forest. Atop the waterfall, water falls down onto rocky terraces, creating much white spume, which make the waterfall looks like a lively picture, fanciful scenery of mountain landscape of the Central Highlands.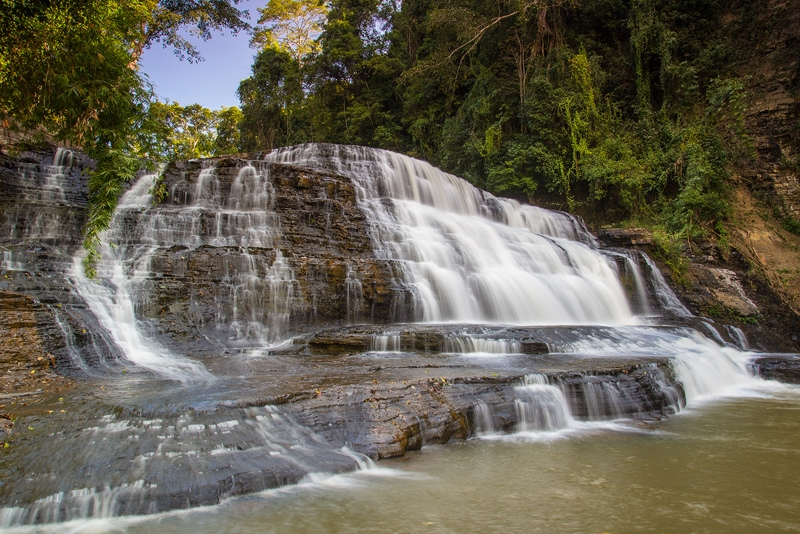 Photo: Lendang
The waterfall consists of three layers. The first one has a low slope with steps; the spring is narrow, flowing gently through foliages of green leaves like flower trellis. Trees' roots fall down look like swinging hammocks. The second layer has rocky tiers. Here, the water creates various small and shallow lakes, where tourists can take a bath. From a far, the water looks like white flowers blossom under the sunshine of the Central Highlands.
At the third layer, water falls vertically to the ground, creating a deep lake, from which water flows gently, snaking its way through the tranquil jungles.
Together with other waterfalls such as Dray Sap, Trinh Nu, or Krong Kmar, Thuy Tien Waterfall is one of the places of interest for tourists. Thuy Tien Waterfall is a fairy hidden in the green jungle of Tay Nguyen, inviting tourists near and far come to enjoy its poetic beauty.