Top 10 Most Beautiful Temples To See In Vietnam
Vietnam is the land of beautiful architectures and sacred temples, where you can find peace of mind, quietness, and a better understanding of Vietnam culture. Here is top 10 most beautiful temples to see in Vietnam.
If you want to go to a Buddhist temple to pray for peace or find a peaceful place to calm the mind and soul, don't miss these following best temples in Vietnam. Vietnam is a gathering place for spiritual tourism with many beautiful and sacred temples. Let's discover more information about these temples in Vietnam.
1. Tran Quoc Pagoda, Hanoi
Located on a small peninsula on the East side of Hanoi West Lake, Tran Quoc Pagoda is regarded as the most ancient pagoda in Hanoi with its history line dating back to more than 1,500 years.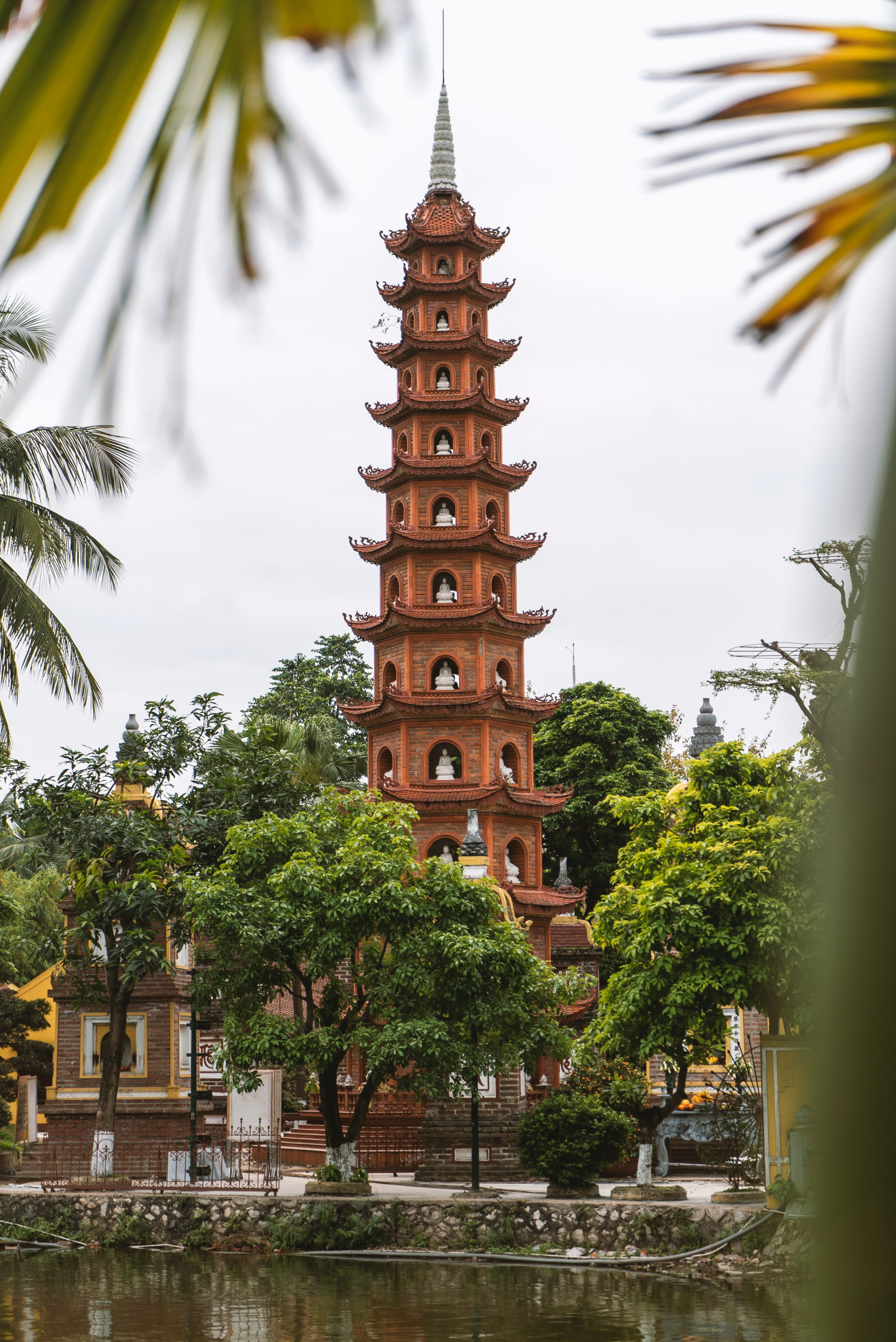 Photo by David Emrich on Unsplash
The architecture of this Buddhist center is a subtle combination between the solemn and beautiful landscape on the peaceful and quiet ambiance of West Lake's surface. Thanks to these historical and architectural values, Tran Quoc Pagoda attracts many tourists to pay a visit, both inside and outside of Hanoi.
Tran Quoc Pagoda was first named "Khai Quoc" (Opening a country) during King Ly Nam De Dynasty, between year 544 and 548 on the bark of Red River (approximately within Yen Phu Ward, Tay Ho District now). Till the 15th century, during King Le Thai Tong reign, it was renamed to "An Quoc", which means a peaceful country.
In 1915, due to a serious landslide ingrained into the pagoda's foundation that made the incumbent government and people to move the whole construction to Kim Ngư Island on the East of West Lake, and this is Tran Quoc Pagoda's current location that you can witness in this day and age.
The renaming process didn't stop until it was changed to the name "Tran Quoc Pagoda", meaning protecting the country, during King Le Huy Tong dynasty (1681-1705). Through each name of the pagoda, we can see a milestone of the country as well as the wishes of its people attached to this holy sanctuary.
Famous for stunning scenery and sacred sanctuary, Tran Quoc Pagoda used to be a favorite sightseeing place of many kings and lords of Vietnam, especially during festivals, full moon days or Tet. Up until now, the pagoda can still preserve its fame although the landscape has been affected by urbanization.
2. Bai Dinh Pagoda, Ninh Binh
Bai Dinh Pagoda is a religious complex covering a total area of 539 hectare, with both the ancient and the newly renovated Bai Dinh pagoda, parks, car parking and lake system.
The pagoda belongs to Ninh Binh province, known as the ancient capital of Vietnam. It takes around 2 hours from Hanoi center to get to Bai Dinh.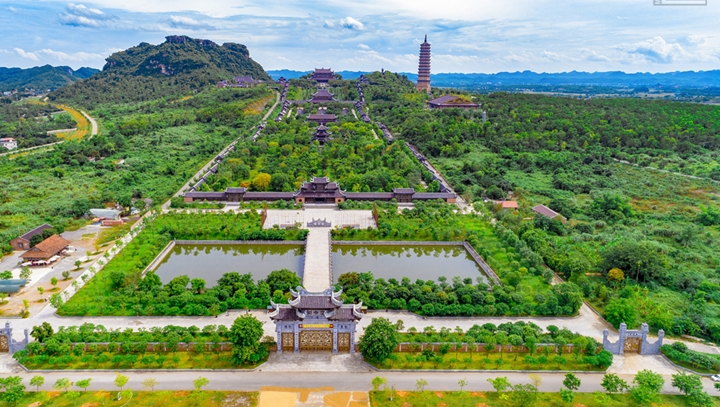 Photo: dulich.ninhbinh.vn
The old Bai Dinh pagoda is located on the western slope of Dinh mountain and nestles in quiet forest. The pagoda houses an ancestor-worshipping house in the centre, Bright cave on the right hand side which worships the Buddha , the small temple worshipping Genie Cao Son. In addition, on the left hand side of the pagoda is another temple worshipping Saint Nguyen and next to it is Dark cave which worships the Fairy. With fanciful scenery and quiet atmosphere , the pagoda will make visitors feel likely to live in fairy land and they find peace in their minds.
Besides, visitors can explore many other grottoes and caves like Fairy cave with seven smaller ones or cave of Ba Chua Thuong Ngan( The goddess of forests). In these caves and grottoes, there are a large variety of magnificent stalactites and stalagmites with various strange shapes and sizes that will invoke the imagination of visitors.
On the other side of Dinh Moutain is new Bai Dinh pagoda. This pagoda has been built since 2003 and covers a 80 ha area. The Bai Dinh pagoda possesses many parts such as Tam The Temple, Phap chu Temple, Quan Am temple( Bodhisattva Temple), Bao Thap, Bell Tower and dormitory area for Buddhist monks.
All materials are collected from local area and neighbouring provinces. To build the pagoda requires about five hundred craftsmen and many groups of workers from famous traditional craft villages such as Phu Loc wood making village, Ninh Van stone carving village, Y Yen bronze casting village, Van Lam embroidery village and so on. Such people used Vietnamese materials for instance, green stone of Ninh Binh or ceramic tiles of Bat Trang to create Vietnamese features for the architecture of Bai Dinh pagoda.
3. Temple of Literature, Hanoi
The Temple of Literature is about 10 minutes away from Hoan Kiem Lake and a must visit for first time visitors.
The grand complex was constructed in 1070 under Ly Thanh Tong's dynasty, first to honor Confucius and nowadays to celebrate the doctorates and high rank scholars of Vietnam. In 1076, King Ly Nhan Tong continued the work and built Quoc Tu Giam as the first university of Vietnam.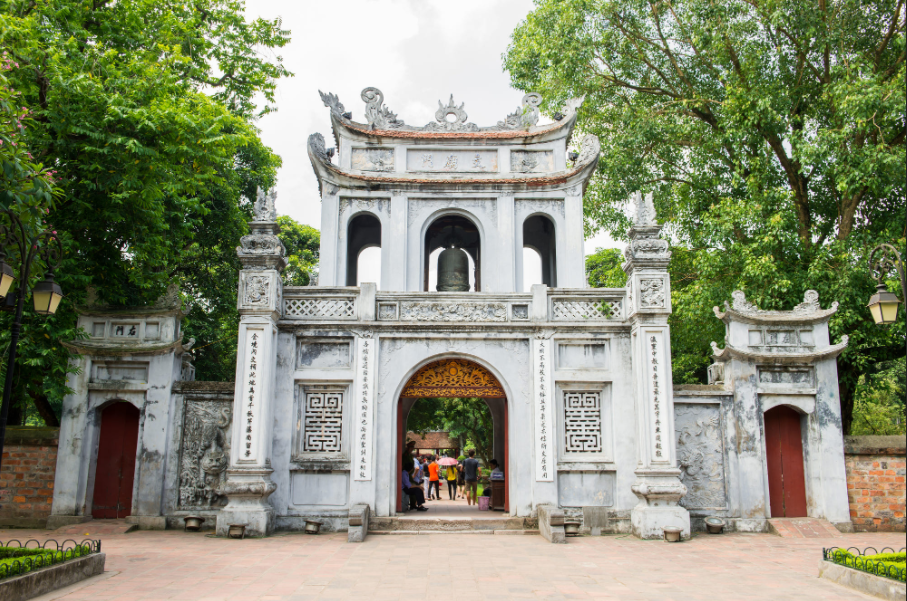 Photo by @huytuan
The temple is divided into five court yard, each with its own significance and history. The first courtyard stretches from the main gate to Dai Trung gate; the second stands out with Khue Van Cac pavilion. If you notice well, you will find the pavilion symbol on all street signs of Hanoi. The third courtyard is where doctor names was listed on a tombstone above tortoise backs.
There are a total of 82 tombstones, with names and origins of 1307 doctors, corresponding to 82 examination courses from 1442 to 1779. If you visit the temple at the beginning of the year or in May when many important examinations take place, you will catch sights of numerous students who come and rub the tortoise head. Such an act is believed to bring them luck to pass the test.
The fourth courtyard is dedicated for Confucius and his 72 honoured students, as well as Chu Van An- a famous teachers known for his devotion to teaching. This is also where local authorities choose to cherish brilliant students in Hanoi, like those with top entrance results to university or top graduation outcomes. The last and also furthest courtyard is Thai Hoc house, which used to be Quoc Tu Giam- the first university of Vietnam. Thai Hoc house holds a small collection of old time costumes for students and mandarins, as well as explaining the process of taking and passing the national examination.
If you are keen on architecture, Temple of literature has one of the most typical architecture style for centuries in Vietnam, composed of wood and tiles. Along the pass way is hundred-year-old trees that have witnessed ups and downs of history.
4. Thien Mu Pagoda, Hue
Photo: Huedaytour.vn
The name "Thien Mu" means "heavenly lady". It has another name: "Linh Mu" or "holy lady", which was given by Emperor Thieu Tri because he was afraid that the word "Thien" in "Thien Mu" (meaning "heavenly") would profane heaven. Now the locals refer to this pagoda by both names.
Legend has it that when Lord Nguyen Hoang was seeking a place to settle down, he came across Ha Khe mountain, which looked like a dragon turning its head back (in Vietnam, the dragon represents the monarch). The locals there told him that every night, a woman dressed in red blouse and green pants would say that a true Lord would build a pagoda here and make his country more powerful. The Lord was stoked by the prediction and ordered to build Thien Mu Pagoda where it is nowadays.
Thien Mu Pagoda was also a hotbed for anti-government protests during the summer of 1963. It was often the organizing point and location for Buddhist movement, hunger strikes, barricades and protests against President Ngo Dinh Diem's rule.
The best time to visit Hue, in general, is January - February since the weather is the coolest, though during the summer, especially May - June, you can see the flaming blooms of flamboyant trees around this pagoda.
Local tip: Visit in the early morning for cooler weather and fewer crowds.
5. Jade Emperor Pagoda, Ho Chi Minh City
Built in 1909 in honour of the supreme Taoist god (the Jade Emperor or King of Heaven, Ngoc Hoang), this is one of the most atmospheric temples in Ho Chi Minh City, stuffed with statues of phantasmal divinities and grotesque heroes.
The pungent smoke of incense (huong) fills the air, obscuring the exquisite woodcarvings. Its roof is encrusted with elaborate tile work, and the temple's statues, depicting characters from both Buddhist and Taoist lore, are made from reinforced papier mâché.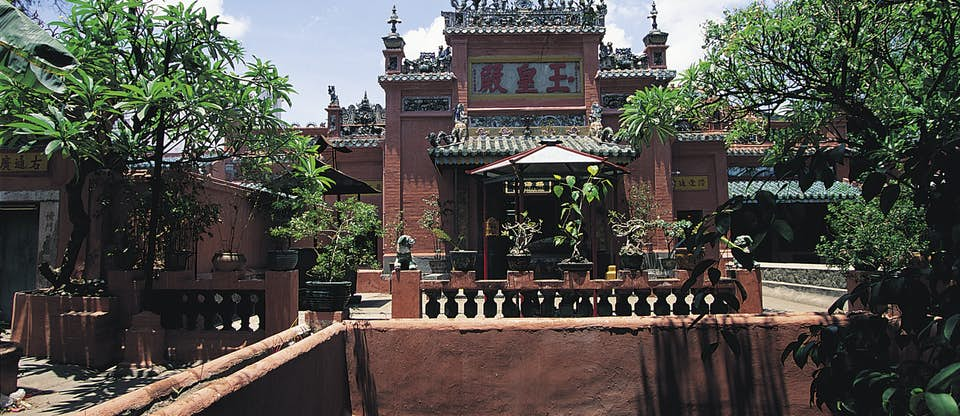 mage by Digital Vision / Getty Images
The multifaith nature of the temple is echoed in the shrine's alternative name Phuoc Hai Tu (福海寺; Sea of Blessing Temple), whose message is clearly Buddhist. Similarly, the Chinese characters (佛光普照; Phat Quang Pho Chieu) in the main temple hall mean 'The light of Buddha shines on all'.
Inside the main building are two especially fierce and menacing Taoist figures. On the right (as you face the altar) is a 4m-high statue of the general who defeated the Green Dragon (depicted underfoot). On the left is the general who defeated the White Tiger, which is also being stepped on.
Worshippers mass before the ineffable Jade Emperor, who presides – draped in luxurious robes and shrouded in a dense fug of incense smoke – over the main sanctuary. He is flanked by his guardians, the Four Big Diamonds (Tu Dai Kim Cuong), so named because they are said to be as hard as diamonds.
Out the door on the left-hand side of the Jade Emperor's chamber is another room. The semi-enclosed area to the right (as you enter) is presided over by Thanh Hoang, the Chief of Hell; to the left is his red horse. Other figures here represent the gods who dispense punishments for evil acts and rewards for good deeds.
The room also contains the famous Hall of the Ten Hells, carved wooden panels illustrating the varied torments awaiting evil people in each of the Ten Regions of Hell. Women queue up at the seated effigy of the City God, who wears a hat inscribed with Chinese characters that announce 'At one glance, money is given'. In a mesmerising ritual, worshippers first put money into a box, then rub a piece of red paper against his hand before circling it around a candle flame.
On the other side of the wall is a fascinating little room in which the ceramic figures of 12 women, overrun with children and wearing colourful clothes, sit in two rows of six. Each of the women exemplifies a human characteristic, either good or bad (as in the case of the woman drinking alcohol from a jug). Each figure represents a year in the 12-year Chinese astrological calendar. Presiding over the room is Kim Hoa Thanh Mau, the Chief of All Women. Upstairs is a hall to Quan Am, the Goddess of Mercy, opposite a portrait of Dat Ma, the bearded Indian founder of Zen Buddhism.
7. Perfume Pagoda, Hanoi
Huong (Perfume) pagoda is well-known as not only a religious site, but also a great sight-seeing spot in the country. During its festival, the nation's most elaborate one, which lasts from the beginning of January to the end of March of the lunar calendar, the pagoda attracts millions of pilgrims and visitors.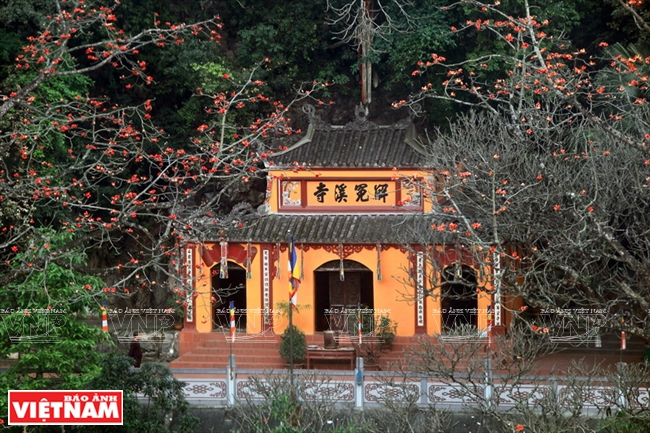 Flowers blossom at Huong Pagoda. Photo: Cong Dat/Tat Son/Thanh Giang/VNP
Huong pagoda is located in Huong Son commune, My Duc district, about 60km southwest of Hanoi. It is one of the largest and most unique religious sites in Hanoi with a complex of pagodas, shrines and communal houses scattered on Huong Son (Perfume mountain). The most sacred and important place of the complex is Huong Tich (Traces of perfume) pagoda or Chua Trong (Inner pagoda) which is located inside Huong Tich grotto.
During the three-month festival, many rites and artistic performances are held to commemorate the Bodhisattva Kwan Yin who, according to legend, reached enlightenment at Huong Pagoda. It attracts thousands of pilgrims and tourists, including many foreign travelers who made their way up the Huong Son mountain range to recapture the serenity that has inspired generations of poets, including one of the Trinh warlords, to extol the area's celestial beauty.
It takes around two hours to get to the starting point of the pilgrimage – Duc wharf where there are hundreds of boats to serve tourists. From this point, tourists start the journey with a one-hour boat ride on the scenic Yen stream to get to the site. Boat riding on the stream is actually the highlight of the trip because tourists have a chance to enjoy the gentle wind and stunning, peaceful scenery formed by immense green rice paddies studded with jagged limestone mountains and red Gao (Bombaxceiba) blossoms on the two banks of the stream.
The first stop before climbing up to Huong Tich pagoda, tourists stop at Den Trinh (Registering shrine) before visiting ThienTru (Heaven kitchen) pagoda, also known as Chua Ngoai (Outer pagoda) which was built in the reign of King Le Thanh Tong (1460-1497). Form here, tourists can get to HuongTich grotto by the cable car system recently put into operation as an alternative to climbing up hundreds of stone steps. However, most pilgrims if they are able to, including many old women over 80 years of age, will choose to walk as they believe that taking the challenging path up is a way of expressing their sincerity to Buddha.
Huong Tich pagoda is inside the great natural grotto which looks like the open mouth of a dragon and the stalactites and stalagmites inside lead many to believe they are in a miniature pavilion. Above the entrance to the cave, 18th century poet and warlord Trinh Sam inscribed "Nam thien de nhat dong" (the most beautiful cave under the southern sky).There is a statue of the Goddess of Mercy which was made from a whole blue stone in the Tay Son dynasty (1778-1802). According to legend, Huong Son is home to many traces left by Kwan Yin who is believed to bless pilgrims with happiness and prosperity.
8. Giac Lam Pagoda, Ho Chi Minh City
Despite being constructed in 1744 by a Chinese settler named Ly Thuy Long, it was only in 1772 that it was converted into a Buddhist temple under the management of the first abbot Thich Vien Quang.
Being nearly 300 years old, Giac Lam pagoda is one of the oldest Buddhist temples in Ho Chi Minh City and is the place that preserves valuable antiques and holds important cultural, historical and architectural values.The temple is located in District 11, which is around 20 minutes away from the city centre.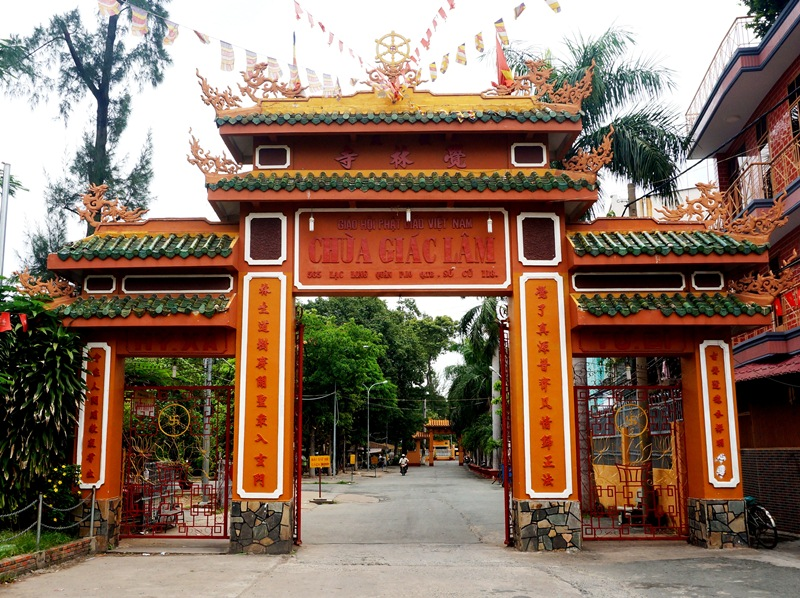 Photo: guidevietnam.org
Those who are not familiar with the city streets are advised to get there by taxi.
This temple's grand hall encompasses many traditional Asian elements, reflecting Taoism and Buddhism's astronomy, such as the Bagua ceiling.
There are up to 113 statues, the majority of which are made from wood and only eight are made from bronze. Since this is a Theravada Buddhist temple, Bodhisattva and the Eighteen Arhats are also venerated here.
Besides, Goddesses in Vietnam's folk religion are worshipped in this temple. Despite the heterogeneous religious practices, the main focus of veneration is still placed on Buddha.
Like any other Buddhist temple, there is a multi-storey stupa, in which Buddhist relics are venerated, in this Giac Lam Pagoda. Do not forget to climb to the 7th floor to receive blessings from those relics when you have the chance to visit this 300-year-old temple.
You can reach Giac Lam Pagoda in many ways: by taxi, by motorbike or by bus (see guide to Ho Chi Minh City Bus). If you travel by bus, all you need to do is catching bus No.27 at Ben Thanh Bus Station and then get off at the crossroad Lac Long Quan – Au Co. Then you can find the way to Giac Lam Pagoda.
9. One Pillar Pagoda, Hanoi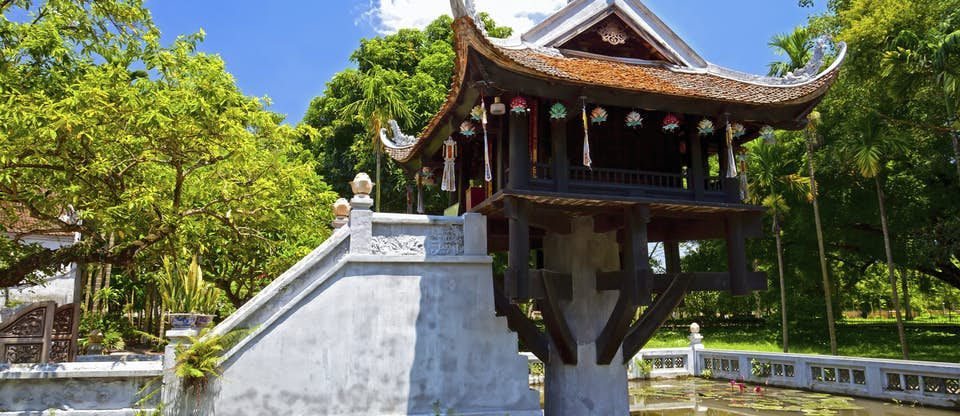 Image by fototrav / Getty Images
The One Pillar Pagoda was originally built by the Emperor Ly Thai Tong who ruled from 1028 to 1054. According to the annals, the heirless emperor dreamed that he met Quan The Am Bo Tat, the Goddess of Mercy, who handed him a male child. Ly Thai Tong then married a young peasant girl and had a son and heir by her. As a way of expressing his gratitude for this event, he constructed a pagoda here in 1049.
Built of wood on a single stone pillar, the pagoda is designed to resemble a lotus blossom, the symbol of purity, rising out of a sea of sorrow. One of the last acts of the French before quitting Hanoi in 1954 was to destroy the original One Pillar Pagoda; the structure was rebuilt by the new government.
10. Keo Pagoda, Thai Binh Province
Keo pagoda is located in Duy Nhat commune, Vu Thu district, 15 km from Thai Binh city. According to researchers, the pagoda now comprises 128 rooms arranged with those for worshiping the Buddha in the front and those for worshiping Genies in the back. The pagoda has 3 lakes around it, one in the front and two at both sides, creating a beautiful surrounding.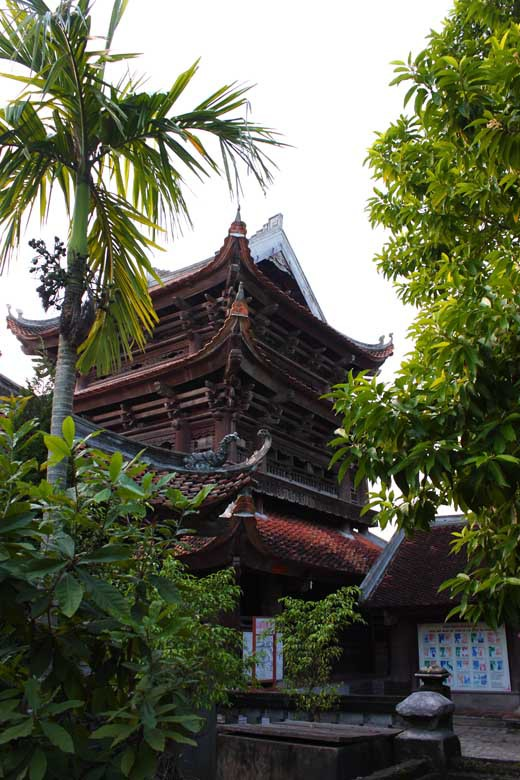 Photo: VOV
Visitors to Keo pagoda area amazed at its front gate which is 2 meters high and 2.6 meters wide and is engraved with dragons that embrace the aesthetic style that came after the Le dynasty (1428-1789). Le Phuong Dung is a local tour guide:"Under the Le dynasty from the 15th to 18th century, dragons appeared in groups with a mother and baby dragons. The mother dragon has a fierce and strong appearance and is covered by cloud of fire."
The section worshiping Buddha has nearly 100 statues. Behind is the area for worshiping Monk Khong Lo of the Ly dynasty (1010-1226). Next to the section for worshiping genies is a well built on 36 rock barrels, which, according to legend, were used for grinding rice for those who built the pagoda.
The bell tower is the most outstanding feature of the Keo pagoda. It is 11.04 meters high and has a three-layered roof. On the first floor of the tower, there is a 1.2 meter-high stone plaque. On the second floor, there is a bronze bell casted in 1686 which is 1.30 meters high and 1 m in diameter. There are 2 smaller bells on the third and the upper floor which are 0.62 meters high and 0.69 in diameter. Both of them were casted in 1796. Nguyen Van Nam is a visitor: "The bell tower is really high. I can't imagine how they could place such heavy bells atop the tower without cranes or a pulley. As far as I can tell, our grandparents made a high earth mould to hang the bell and then leveled down the mould to hang the other bells. To do this, they needed a lot of earth. Next to the bell tower, there is a very beautiful lake".
Keo pagoda also offers local specialties. The pagoda yard is the place where local people display their farm produce like maize, beans, and nuts. Pham Thi Nga is a visitor: "Local farm produce include beans, soya beans, black beans, mung beans, and glutinous rice. There are also "Cay" cakes and peanut candies. These local specialties are the gifts that we buy when we visit the pagoda."
After more than 400 years, Keo pagoda still retains its architectural value. The Keo pagoda festival is held annually attracting a large number of visitors. Pham Thi Nga, a Thai Binh local, says Keo pagoda is a must-visit spiritual destination for visitors to Thai Binh province: "There are two festivals a year at the pagoda but the main festival in September is less crowded than during the early days of the year. There are a lot of pilgrims and visitors during January, February, and March. The main day of the spring festival falls on the 14th day of the first lunar month. But on the 14th and the full-moon day, there are singing performances and rice cooking competitions."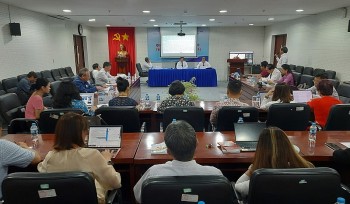 Friendship
The Vietnam - India Friendship Association's Ho Chi Minh City branch, the Ho Chi Minh City Union of Friendship Organizations (HUFO) and the Southern Institute of Social Sciences on March 21 held a scientific seminar themed "Vietnam - India relationship: tradition and present".