Top Six Discovered Places For Trekking In Vietnam
Trekking is a great experience when you go travelling, and Vietnam has some of the best routes for you to discover with your friends and family.
Are you an adventure seeker? If so, you may love trekking in Vietnam. The country offers excellent trekking with remarkable sceneries. And, you may get an unforgettable trip with the images of soaring limestone mountains, tiers of rice fields and plunging highland valleys, etc. Read on this quick guide about tips and best places for trekking in Vietnam in Vietnam!
Take the following tips for consideration so that you can have the best experience when it comes to trekking in Vietnam.
1. Sapa (Lao Cai)
The town of Sapa is about 200 miles north of Hanoi. You can either hire a driver, which will be pricey, take a bus (which we recommend), or take a sleeper train. Sapa Express is by far the best bus operator as it has clean, comfortable buses with safe drivers and they generally leave right on time. It's super easy to book your bus or train tickets ahead of time on Bookaway!
You can choose the 7:00am bus with spacious seats (called the "Limousine Bus") or the later times that offer beds. We found the seated option to be far more comfortable than the beds, especially for people who are tall or who have mobility issues.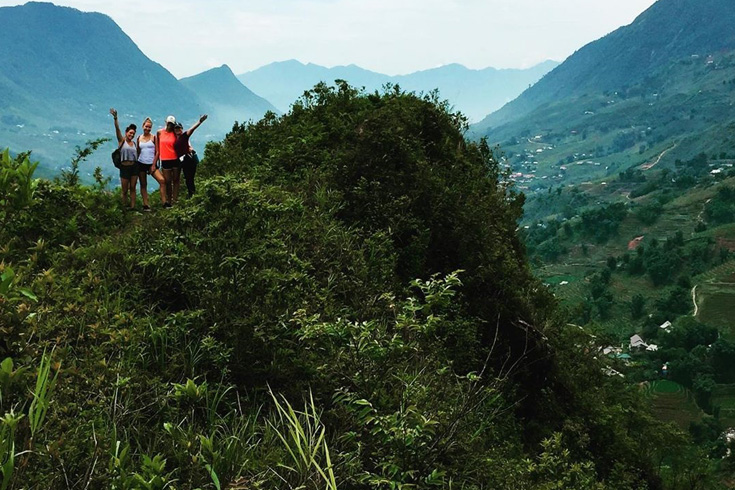 Photo: @suguidestrekking
As soon as you get off the bus in the center of town you will be bombarded by Hmong women wanting to sell you their wares or offer you a trekking tour to their village. So you don't necessarily need to book a trekking tour ahead of time unless you really want to.
The weather in the Sapa region varies widely by season. In the summer months it is considered subtropical and often experiences heavy rainfall. The weather in the winter is moderate, even chilly, and can even snow high in the mountains. July and August are the warmest months, and also the rainiest. The coldest months are December and January.
The wet season is from May to September, and although it can be rainy and miserable at times, this is when the rice paddies are their brightest green.
There are countless stores in Sapa town (and all over Vietnam) hawking knock-off trekking gear. You can find anything and everything you'll need for a trekking excursion. The only issue with relying on this gear is that it isn't necessarily good quality. You don't want to end up with a soleless hiking boot mid-hike!
2. Mai Chau (Hoa Binh)
Trekking in Mai Chau is the best way to discover Vietnam rural hamlets, and to experience the rich ethnic culture. This page is about Mai Chau trekking, Mai Chau trekking map, Mai Chau Vietnam trekking, Mai Chau trekking tours, Mai Chau valley trekking, Mai Chau trek, Mai Chau day trek, Mai Chau trek Vietnam.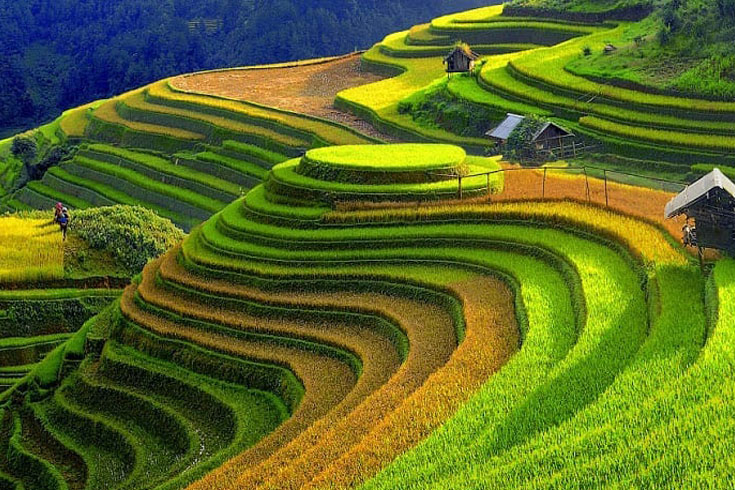 Photo: @traveltoasia.xyz
Mai Chau is located in Hoa Binh province, approximately 135 km from Hanoi and 60 km from Hoa Binh. Mai Chau valley is surrounded by Thai villages scatting on the hill sides. Travelers come to Mai Chau for spending a night in a local stilt house, and to experience the real life of the Thai people.
Lac village and Pom Coong village were the two first villages offering accommodation, homestay service. There are now dozen of villages that are equipped with good facilities for lodging tourists.
Booking a guided trek is highly recommended, especially when you do a multi-day hike in Mai Chau region where local people don't speak English. You will follow off the beaten path trails, walking through paddy fields, from one village to another. A local guide is necessary.
Late September, October, early November, February, March, April, and early May are the best months to hike in Mai Chau. In December, January and sometimes February, the weather can get pretty chilly. However, the stilt houses have no shortage of fluffy blankets to keep you warm at night; staying cool in the summer, however, is more of an issue. The stilt houses usually have fans but even then so they can get uncomfortably hot between June and September. In addition, these months are the rainiest, which makes outdoor exploring more problematic.
There is a market on Sundays which brings together different minority groups from the surrounding area, but given the higher numbers of weekend tourists this is not necessarily a reason to time your visit for a Sunday.
3. Ha Giang
Ha Giang trekking is the best way to discover Vietnam off the beaten path places and to experience the rich culture of Vietnamese ethnic groups in the northeast region of Vietnam.
Ha Giang Province is located in the northern mountainous area of Vietnam, sharing its borders with China in the north, Tuyen Quang province in the south, Cao Bang province in the east, and Yen Bai province, and and Lao Cai province in the west.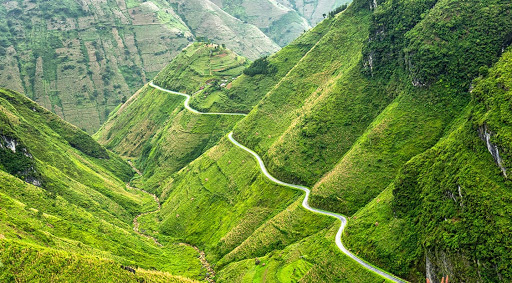 Photo: Asia Master Tours
The mountainous and hilly terrain causes difficulties for travel and transport of goods, but in return it bestows beautiful travel sites with dozens of rivers and streams, fascinating caves and grottos, historic and cultural relics and a treasure of traditional cultures of the ethnic groups, which all enchant the visitors.
At Hiking Vietnam we provide a wide selection of off the beaten path treks in Ha Giang province, offering you the chance to visit beautiful scenery and to experience the rich ethnic culture.
The climate is divided into two distinct seasons in Ha Giang including the rainy and dry season. Depending on the altitude, climate will change. The province is good to visit throughout the year.
September to November and March to May are when the temperature is most pleasurable, in their mid 20's. December and a bit into February the temperature falls, especially in the mountains so carry some good clothing. December and January are the two coldest months. There are years when snow has been falling over Ha Giang.
October and November is peak season for local Vietnamese tourists. It is the time when the buckwheat is flowering and expect that hotels, hostels and motorbike rentals can be very busy. It is a very good idea to book your stay and activities in advance during these months.
It is a great time to hike in Ha Giang after the Tet Holidays which happens around late January or in February. At this time, the scenery is quite pleasant and serene. The magnificent mountain tops that are hidden behind the clouds and the fragrance of the wild peach flowers will influence and soothe your senses.
4. Cat Ba National Park (Cat Ba Island)
Cat Ba National Park is located near the northeastern shore of Vietnam on Cat Ba Island which is the largest of the 367 islands and they represent the Bat Ba Archipelago. The national park covers an area of 102 square miles (263 sq km), of which, 35 square miles (90 sq km) of that is inshore water.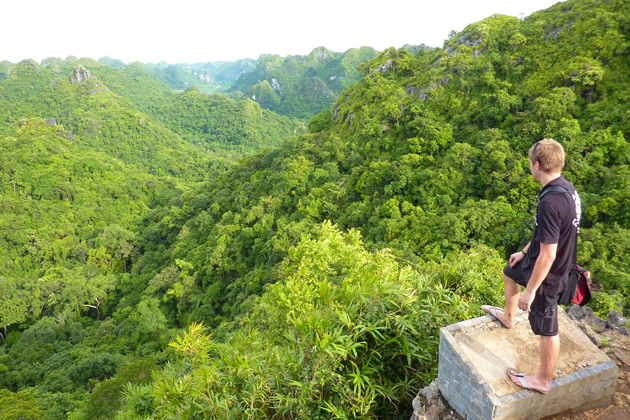 Photo: Viet Vision Travel
The majority of the island is accounted for by the national park. Cat Ba features limestone-based rugged hills with peaks reaching heights around 1,600 feet (600 m) with both the valleys and hills covered in forests. The forest is comprised of primary, secondary, and mangrove.
The narrow valleys are surrounded by jagged hills that are blanketed with vegetation. The hills neighboring the narrow valleys reach heights of 1,600 feet (500 m) although most are shorter reaching heights around 660 feet (200 m).
Trekking through the jungle is a treat itself, however, experiencing some of the wildlife enhances the experience. There are 32 species of mammals with the white-headed langur being a prized sighting. It is the rarest primate in the world.
Cat Ba National Park is a World Heritage Site that represents some of the most stunning limestone karst landscapes. The island is a stunning representation of Ha Long Bay.
5. Cao Bang
Cao Bang is Vietnam's northeasternmost province near the border with China, and makes a fine alternative destination for adventurous travellers who want to avoid the crowds in Sapa. This is one of the ultimate frontier regions that offers beautiful elements for a wonderful trek. From rugged mountains to secluded hamlets, from least touched jungles to cascading waterfall, Cao Bang trekking adventure offers you a very distinct experience about nature and people in northern Vietnam.
Photo: Ethnic Voyage
Cao Bang is divided into two distinct seasons: the rainy season lasts from April to September and the dry season is from October to March.
- If you intend to admire the beauty of Ban Gioc waterfall, the most suitable time is around August - September
- If you like to trekking Cao Bang to see flowers, you can go at the end of the year, around November, this is the Trichet flowers season (equivalent to the Trichet flower season in Ha Giang)
- If you like watching the snow, you should go in winter (last year to early next year), this time in the Pia Oac forest, the temperature is lowered, so this phenomenon is likely.
Hotels, motels in Cao Bang pretty much do not worry about the status of room, but before you go should also make reservations in advance to avoid expensive rental price. Room rates in Cao Bang range from 150,000 – 500,000VND depending on area and type of room. In addition, some locations in Cao Bang permit for camping. You can bring your sleeping tent to overnight. This is also an impressive and unforgettable experience in your trip.
6. Cuc Phuong National Park (Ninh Binh)
Cuc Phuong National Park is the centerpiece of Vietnam's conservation efforts and one of the most accessible parks in Vietnam. The park is located about 120km from downtown Hanoi, and the car trip takes about 2-3 hours.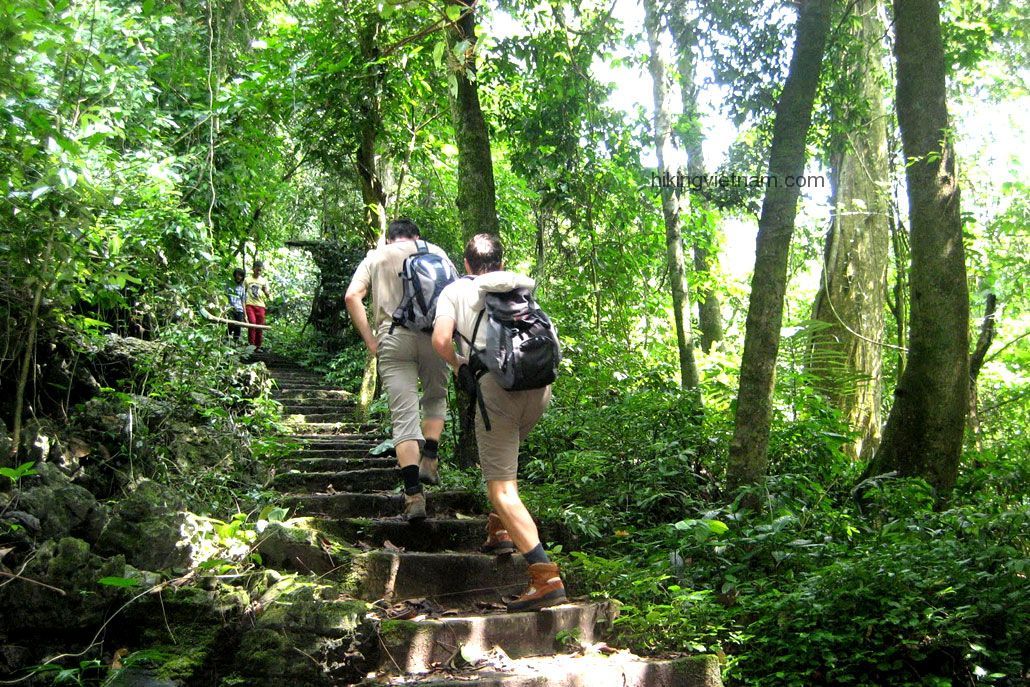 Photo: Hiking Vietnam
Cuc Phuong National Park can be visited from Hanoi as a day trip or you can stay at the park's guesthouse for a longer stay. Visiting the park is a good opportunity to get a close look at Vietnam's nature and fees generated from tourism help protect the parks wildlife and improve the local economy.
If you rent a private car with driver from Hanoi, on the highway No1, you pass the Gian Khau bridge then turn right and follow the big asphalted road on the dike along the Boi river to Bai Dinh Pagoda. From Bai Dinh follow the concrete road with 26 km to the park.
Local buses leave Giap Bat Bus station for Nho Quan (nearest town) at 8:00 a.m., 9:00 a.m., noon, 13:00 p.m., 15:00 pm, 16:00pm, and leaves Nho Quan for Hanoi at 7am, 8am, 11am, noon, 1pm, 2pm, 3pm. Tickets are available at the counter. From Nho Quan to park headquarters, you can either take a taxi or motorbike taxi (Xe Om).
The best time of year to visit the park is in the dry months from November to February of the following year.
From April to June it becomes increasingly hot, wet and muddy, and from July to October the rains arrive, bringing lots of leeches.
Visitors in April and May might see some of the millions of butterflies that breed here. Weekends can be busy with Vietnamese tourists.