Top 10 Must-visit Places in Southeast Asia
The countries that fall in the Southeast Asia region have so much going for them, it's almost impossible to keep them off anybody's bucket list. From the white soft beaches to major cities to the rich history and culture and the must-try food, this part of the world has something for everybody.
Angkor Wat, Cambodia
Located in northwestern Cambodia, the city is best known for being the gateway to the Angkor region–but Siem Reap has much to offer on its own. A mix of Chinese and colonial architecture gives the city a unique vibe, where countryside residents and old motorbikes blend with a vibrant café culture and a modern club scene, according to Planet Ware.
Siem Reap is home to two important museums: The Cambodia Landmine Museum and Relief Center, which offers a chance to learn more about landmines and their ongoing impact on Cambodia and other Asian countries, and the War Museum, which covers the involvement of Cambodia in several wars.
There are also a number of massive markets in the city, including Psah Chas, which caters to both locals and tourists with a variety of souvenirs, fresh food, and more.
Angkor Wat, the largest religious monument and one of the top World Heritage Sites, lies less than six kilometers north of Siem Reap. The ruins of this 12th-century temple complex cover a space of over 162 hectares, with hundreds of structures built using sandstone blocks. There are a number of other temples, also built in Khmer style, in the area, including Angkor Thom, Ta Prohm, and Pre Rup.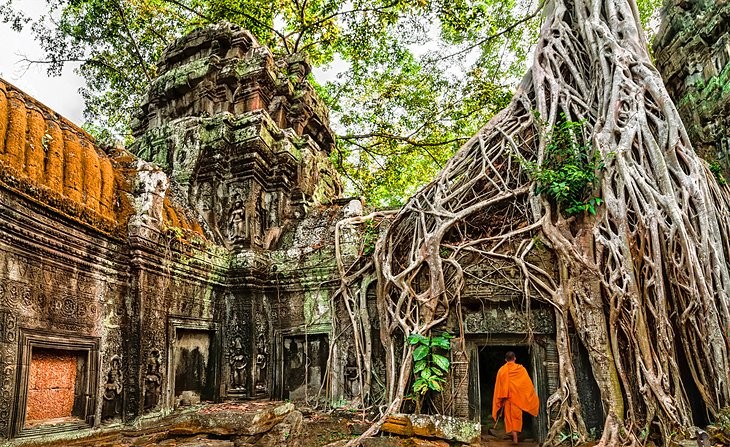 Buddhist monk in Angkor Wat. Photo: Planet Ware.
Ha Long Bay, Vietnam
Ha Long Bay consists of a group of islands and limestone karsts that have been declared a UNESCO World Heritage Site. Many of the islands are actually tall monolithic cliffs that cannot be walked on, covered in green, lush jungle. Some of these are hollow and house beautiful caves–Dau Go Cave (Wooden Stake Cave) is a good example, a massive cave with three main chambers, multicolored stalagmites, and rock paintings. Many of the islands also have their own enclosed lakes.
Of the almost 2,000 islands here, less than 40 have permanent residents, often in the form of small communities that live in floating houses and fishing villages.
Ha Long Bay's largest island, Cat Ba, is the most common overnight stop for tourists coming to Ha Long Bay for cruises and tours. Kayaking the turquoise-green waters of the bay is a popular activity here, as well as cruising the bay in traditional junk boats.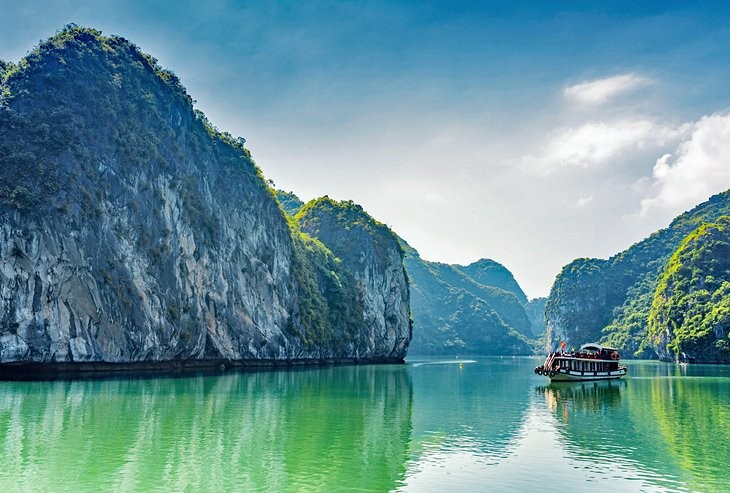 Photo: Planet Ware.
Ninh Binh, Vietnam
Ninh Binh, about 93 km south of Hanoi, was selected as a primary shooting site for Kong: Skull Island – the famous Hollywood movie. It possesses striking limestone karsts, record-breaking temples and pagodas, amazingly vast rice paddies, making the place exposed to the foreign travel market as well as international travelers, as reported by Vietnam Discovery.
The province of Ninh Binh also has a rich diversifies tourist potential with a lot of world heritage sites. Surrounded by stunning landscapes like Tam Coc-Bich Dong, Trang An tourism complex, Bai Dinh pagoda – the biggest pagoda in Vietnam, Cuc Phuong National Park, Van Long Nature Reserve, Hoa Lu Ancient Temple,…, Ninh Binh has so much to offer tourists.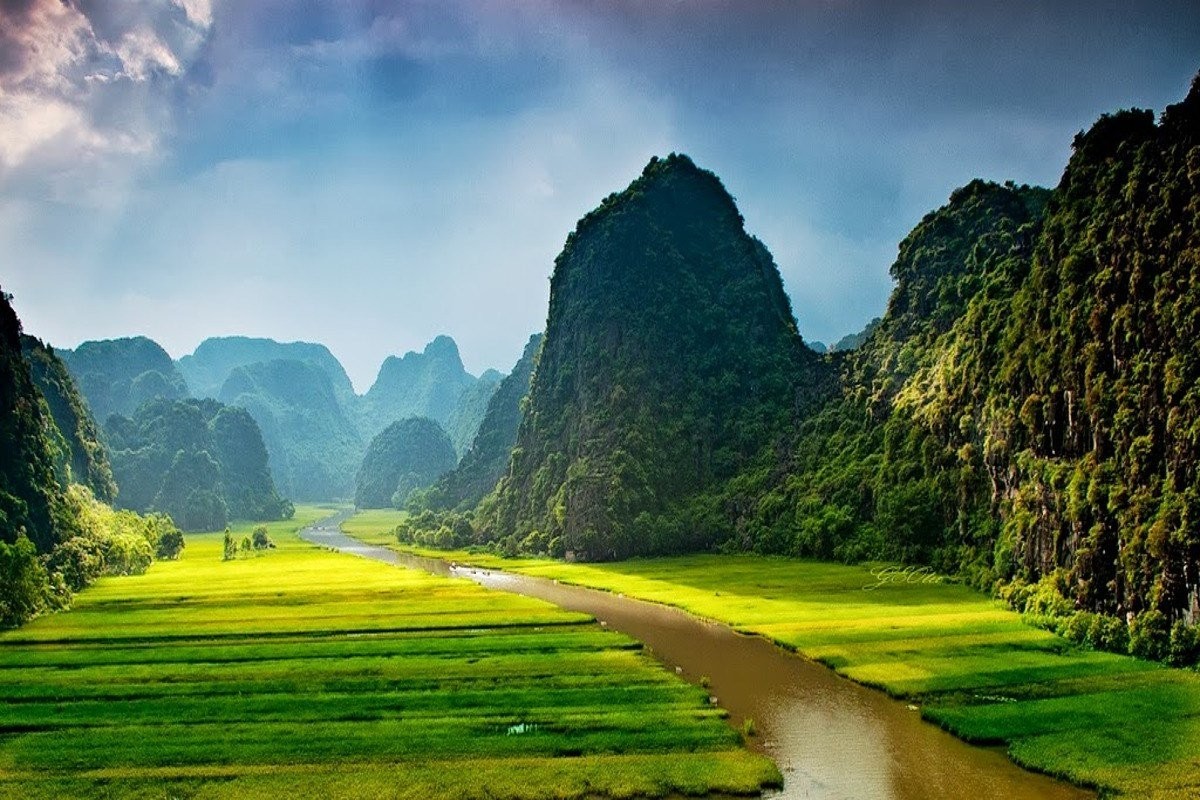 Photo: Motogo
Koh Samui, Thailand
While Koh Samui has always been a beloved destination for sun worshippers and snorkelers, the crowd the island attracts has changed over the years.
Once a favorite of backpackers, Koh Samui has undergone a remarkable transformation–it now boasts high-end resorts, posh spas, and some of the whitest palm-fringed beaches in Thailand. Chaweng and Lamai beaches attract the bulk of the travelers and are well developed, clean, and full of activities, including opportunities to sail, scuba dive, and swim.
While most visitors come here for the beach, there's much more to see and do in Koh Samui. Take time to explore the mangroves and hidden lakes of Ang Thong Marine National Park; the 12-meter-tall golden Buddha at the hilltop Big Buddha shrine; and the Na Muang waterfalls, reached after a trek uphill through thick tropical forest.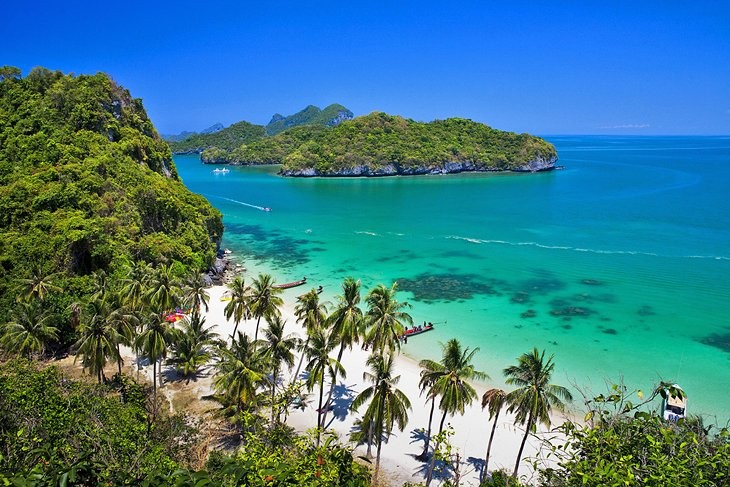 Photo: Planet Ware.
Boracay, Philippines
The tiny island of Boracay is just across the water from Panay Island, one of the Philippines' largest islands. Despite being only 10 square kilometers in size, Boracay attracts thousands of visitors a year, who come here for the four-kilometer-long beach and its powdery white sands that wash right into the turquoise waters and the sailboats rocking away on the waves.
In addition to scuba diving and snorkeling, Boracay is well-known for its parasailing, kiteboarding, and swimming–and, perhaps more unexpectedly, its cliff diving. Diving boards ranging from three to 15 meters high over the water are placed on certain parts of the island, with lifeguards waiting and watching as divers fly up in the air over the mirror-like waters below.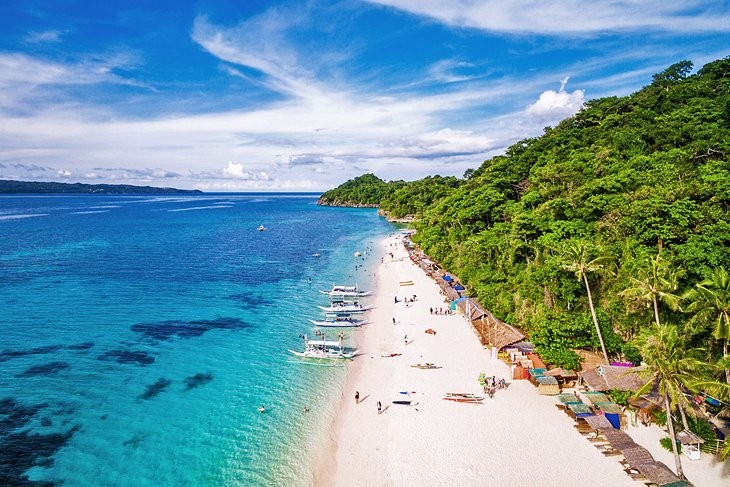 Photo: Planet Ware.
Bagan, Myanmar
A UNESCO World Heritage Site, the ancient city of Bagan was once the capital of the first kingdom of Myanmar. Between the 11th and 13th century, over 10,000 pagodas and Buddhist temples were built here. Over 3,500 still stand today in the area known as the Bagan Archaeological Zone, which spreads over 41 square kilometers.
One of the most famous temples in Bagan is the Ananda Temple, a Buddhist temple built in a unique fusion of Mon and Indian styles. Dhammayangyi Temple, the largest religious structure in Bagan, is visible from all corners of the city and is famous for its mysterious bricked up interior.
The Bagan Archaeological Museum, located within the Archaeological Zone, is home to artifacts recovered from the area, such as stucco works, lots of lacquer and metal artifacts, and stone sculptures, including a Rosetta Stone dating back 1,000 years.
Just outside the Bagan Archeological Zone sits the sleepy village of Myinkaba, famous for the ancient art of lacquerware. Visitors can stop by workshops to see items being painted by hand, and then grab some souvenirs at the many shops around.
For the most famous sunset-viewing spot in town, head to the white Shwesandaw Paya pagoda. Here, you can climb part of the building to catch the 360-degree views over the hills and other temples around.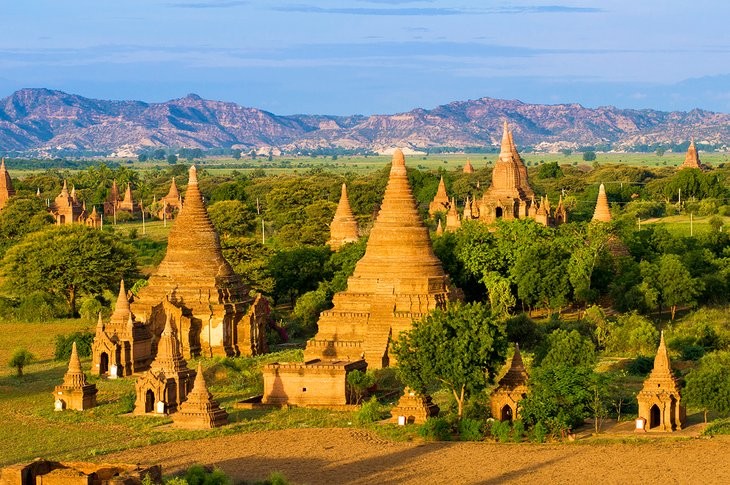 Photo: Planet Ware.
Kuala Lumpur, Malaysia
Malaysia's capital is a city of contrasts: the cultural and financial heart of the nation, with magnificent skyscrapers and three of the world's largest shopping centers–but also a great example of colonial architecture, Malay Islamic details, and old Chinese shophouses. Walking through the city is a great way to appreciate the eclectic look of this relatively new Asian capital and see the different cultures and styles melting into each other.
KL is home to the tallest twin buildings in the world, the Petronas–architectural marvels of steel and glass that stand 452 meters tall. The towers are surrounded by a large urban park and are home to a massive shopping center with over 350 stores, a theater housing the Malaysian Philharmonic Orchestra, and even an underwater aquarium.
KL is a very green city, with many parks, gardens, and open spaces everywhere you go. The 92-hectare Lake Gardens is a major urban park that contains a butterfly park, the world's largest aviary bird park, and an orchid garden. You'll also find three forest reserves within the city, perfect for trekking and catching sight of rare fauna.
The limestone Batu Caves (which contain several Hindu shrines); the Cameron Highlands with its tea plantations; and the colorful town of Malacca, established by Portuguese settlers, are all great day-trip destinations from Kuala Lumpur.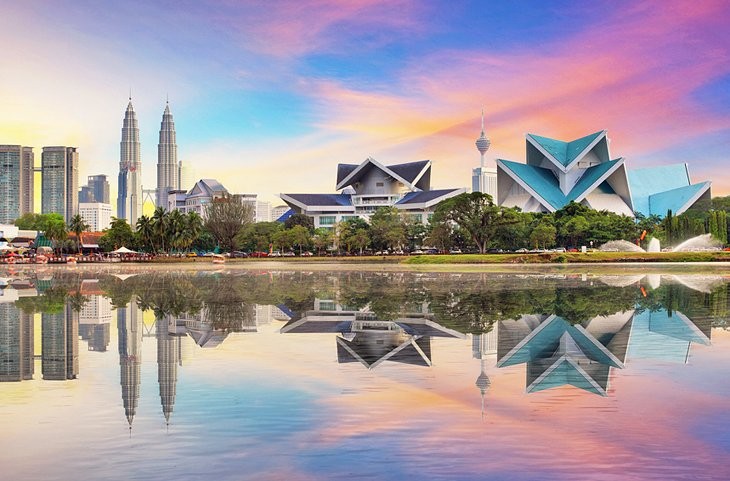 Photo: Planet Ware.
Bangkok, Thailand
Thailand's capital has lots going for it–not only is this the main gateway for all major destinations within the country, but this cosmopolitan city also has much to offer on its own. With over 24 million visitors arriving here every year, this is also one of the top cities in the world to visit.
Sitting right on the Chao Phraya River and full of stunning skyscrapers that share the sidewalk with major Buddhist temples and popular cafés and hangouts, Bangkok's multi-faceted sights will please a wide range of visitors –those looking for excitement and shopping opportunities, as well as those wanting to dive into cultural and historical landmarks.
Even tourists who are only here briefly on their way to the islands should make time to visit the Grand Palace, a former royal residence converted into a museum. For those with more time in the capital city, the royal Vimanmek Mansion (the largest teak building in the world) and the Jim Thompson House, a museum dedicated to the American businessman who revolutionized the local silk industry, are also worth a visit.
For a completely different view of the city, get on a classic tuk-tuk taxi or jump on a water bus.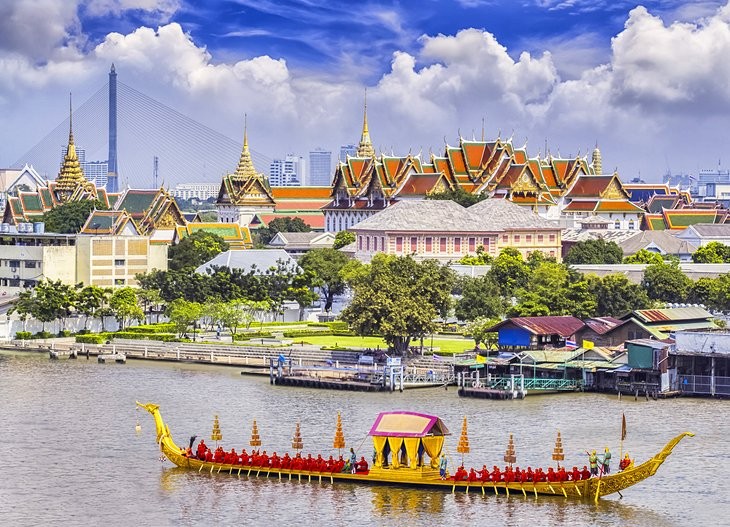 Photo: Planet Ware.
Singapore
Singapore is a unique spot in Southeast Asia. This island-city state is modern and cosmopolitan, a place where multi-story shopping centers mix with stunning and unexpected natural attractions.
The Marina Bay Sands, an integrated resort, is a good example of that–it offers not only a hotel, but also a museum, art-science exhibits, and the best terraced views over the city and bay from the infinity pool set on their roof.
Sentosa Island is another example, an entertainment complex that includes everything from a two-kilometer-long beach and a restored coastal fort to Southeast Asia's first 4D theater, a Butterfly Park and Insect Kingdom, and even a Universal Studios Singapore theme park.
Singapore's airport has been named the best in the world, and it's an attraction all in itself, home to the world's tallest indoor waterfall, a five-story tall indoor garden, a mirror and haze maze, and a massive butterfly garden with over 1,000 species flying free in tropical greenery.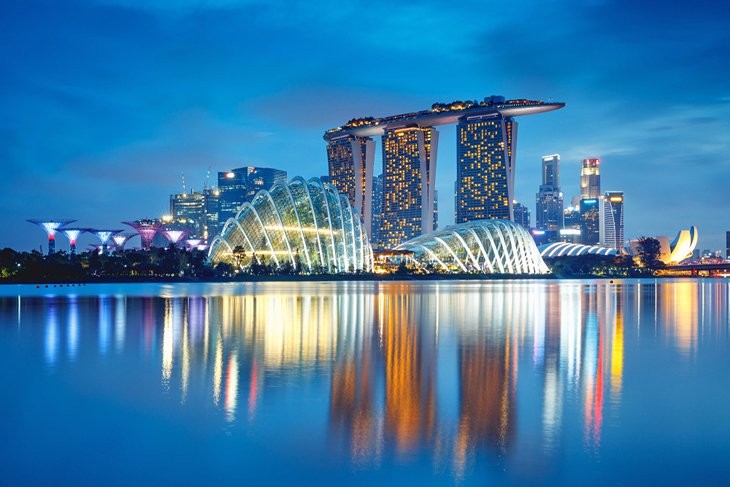 Photo: Planet Ware.
Yangon, Myanmar
Up until 2011, Myanmar offered only limited access to tourists because of the five-decade-long military dictatorship that commanded the country–so now that it's finally possible to visit, and before it becomes crazy busy with tourists, you definitely should see this fascinating destination.
Yangon was the capital of Myanmar (or Burma) until 2006, when the military government moved it somewhere else. Since the country was under military dictatorship for so long, the city suffered a lot of issues and still boasts a lot of buildings in decay and with inadequate infrastructure.
Still, Yangon is full of beautiful architecture in the form of colonial-era buildings centered around the 2,600-year-old Sule Pagoda. It is the gilded Shwedagon Pagoda (also known as the Golden Pagoda) that dominates the skyline of the city, however–the most sacred Buddhist pagoda in the country, believed to contain relics of the last four Buddhas.
Visitors should make time to visit the Bogyoke Aung San Market, where stalls sell everything from antiques and local handicrafts to Burmese jade, local delicacies, and even natural medicine products. Another great must-do is the Yangon Circular Train, which runs on a 46-kilometer-long loop around Yangon, offering a unique insight into the real daily life of Burmese people.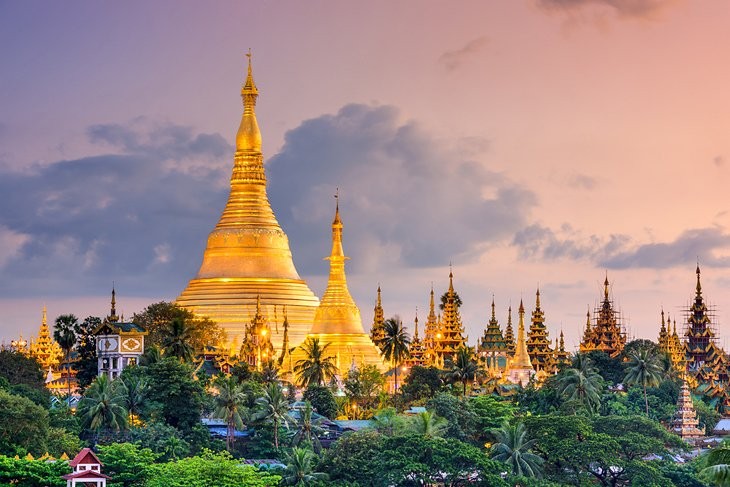 Photo: Planet Ware.