Mini Octopus: Special Local Food of Ha Long
Ha Long Bay is famous for not only the amazing scene, but also the wealth of seafood dishes from the very 'top'.
Ruoc is actually a type of octopus but under smaller size which live in the little holes in the bay.
Coming to Ha Long Bay in the northern province of Quang Ninh, you can not only see the beautiful scenery, overwhelmed by the stunning beauty of thousands of islands with different shapes but also enjoy many delicious dishes, specialties of Ha Long cuisine. Tourists in Ha Long can name many typical dishes such as: Fried rice noodles, Tien Yen hill chicken, nodding cake, and Ha Long hole with many kinds of seafood such as crab, clam, oyster and so on.
Perhaps not everyone knows this dish, even hearing the name is strange. Ruốc lỗ or mini octopus (Octopus dollfusi) is specie of octopus. These "mini octopuses" living nestled under the mangrove forest are arrested for food producing by local people as well as tasty and can't-miss dishes for visitors.
Referring to Ha Long, people think of spring rolls made from cuttle-fish, fried "sa sung", crab or king-crab dishes. Besides, mini octopus is emerging as a special food that not everyone knows.
The octopus dollfusi found in Quang Ninh province is far fresher and more delicious than those found in other localities.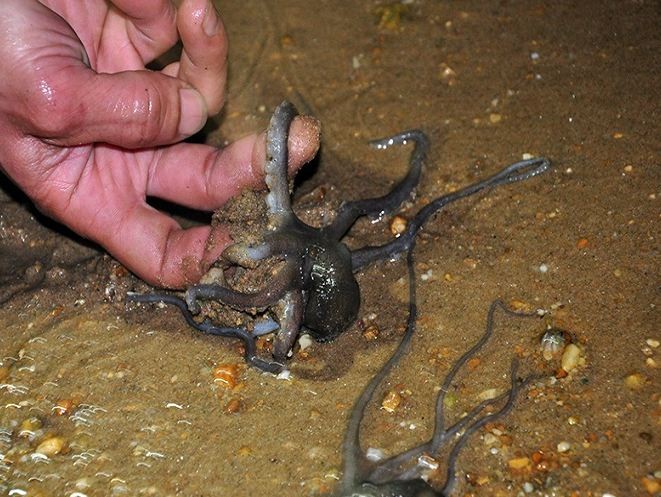 Local people of Quang Ninh province often call it as "ruoc" because their shape looks like a thumb. From July to October, the octopus dollfusi is easily caught and its meat is far more delicious during this period.
The sea in Quang Ninh, less salty than others, is home to an ocean of fresh "ruoc", a kind of octopus. Local people often call it as "ruoc" because their shape looks like a thumb.
The average weight of an octopus dollfusi is between 0.8 grams and 120 grams. Some octopus dollfusi can weigh up to 200 grams. Despite a possessing a small head, the legs of an octopus dollfusi can reach up to 20cm in length.
The time for good mini octopus is from July to October according to lunar calendar. The octopus dollfusi has a special taste and different characteristics depending on the period its caught. From July to October, the octopus dollfusi is easily caught and its meat is far more delicious during this period.
To catch mini octopus, we need use eight-sign cage – a fisherman's fishing tackle. The price for baby octupus is from VND 300,000 to VND 400,000 (US$13-18) per kilo. During peak seasons such as the Lunar New Year festival (Tet), the price of this delicacy can be up to VND 800,000 per kilo.
There are many ways to cook ruoc and boiled ones are the most traditional dish. The chef always chooses alive ruoc for cooking and then they use salt and water to clean those ruoc.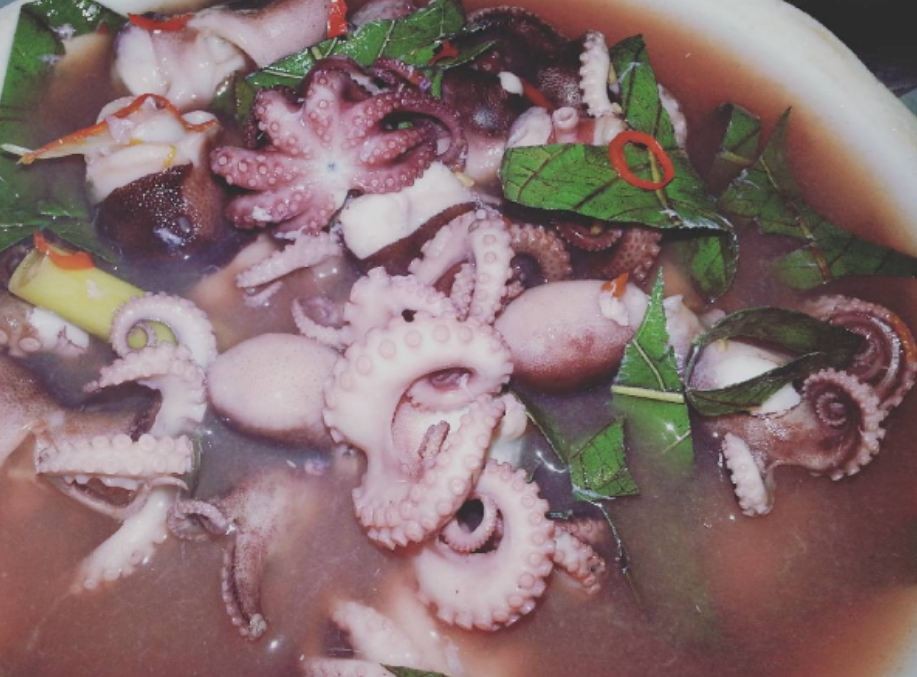 Local people often boiled ruoc with chili, garlic and lemon in daily meals.
Ruoc can be boiled with guava leaves, sorrel leaves and dotted with shrimp sauce, served with lentils nails, leaves apricots and unripe banana. The dish is great to enjoy with beer or wine.
Before heating mini octopus, the chef will pour clean mini octopus and water over mulberry leaves layer at the bottom of the pot. At the first time of boiling, the chef will shake once time in order to mix mulberry leaves and mini octopus together.
When mini octopus's color gradually change into pink tentacles curl backwards into small circles, that means mini octopus is good for eating.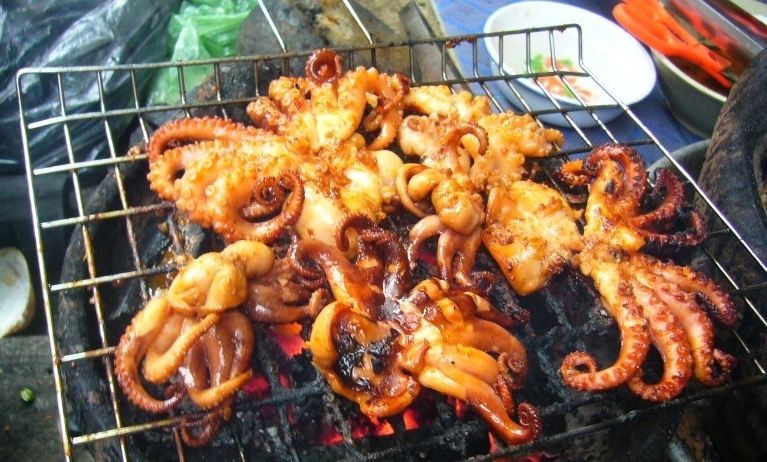 People are able to cook a variety of dishes from these octopus.
This dish will not be delicious without fish sauce with mix of shrimp, chili, garlic and lemon. It is more wonderful to have a little beer or other drinks if you are gourmet. In addition, sour star fruit, green banana and a glass of wine will enhance the flavor of mini octopus.
Unlike sea salt, Ha Long beach with less salty water compared to other beaches boast to have such mini octopus.
You can always taste mini octopus whenever you travel Ha Long Bay all year round. However, the best time for enjoying is from July to October.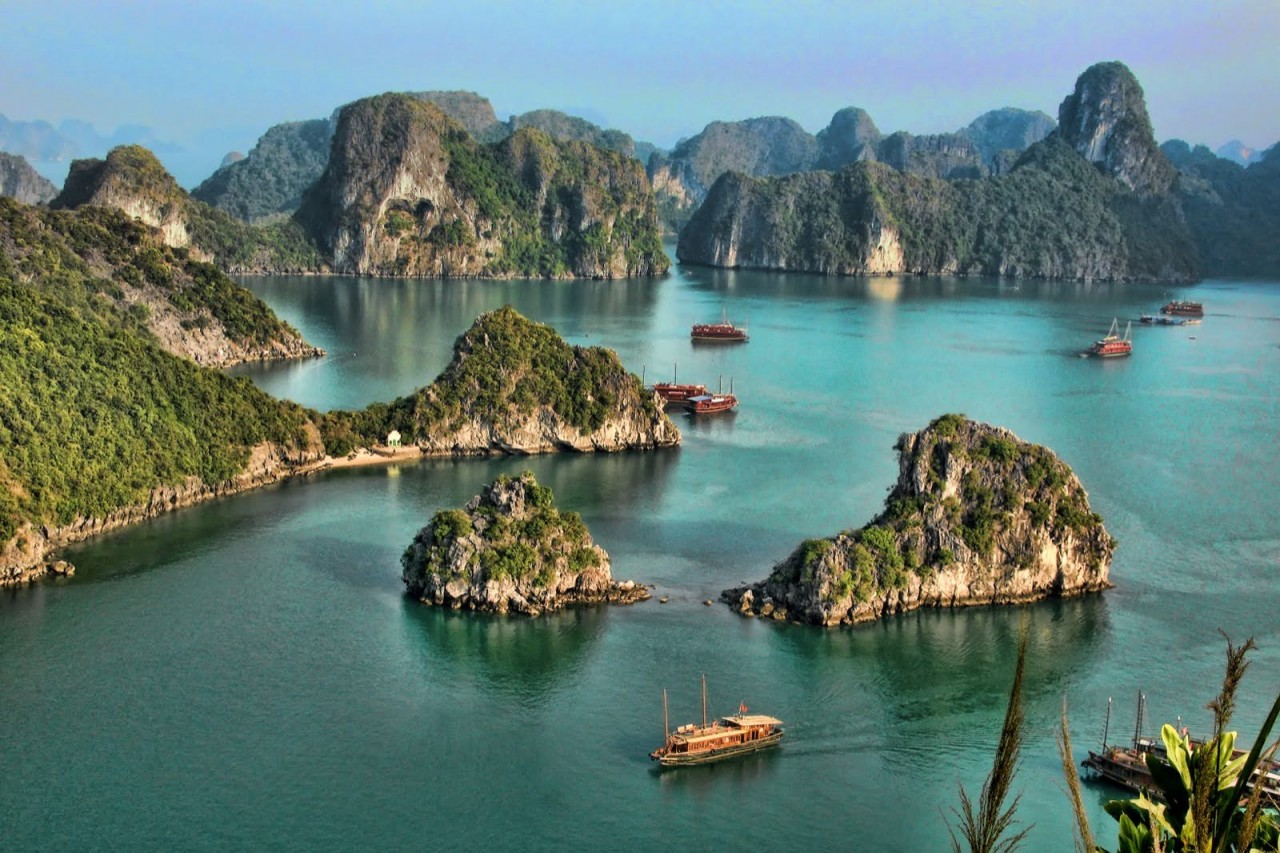 Ha Long Bay. Photo: lonelyplanet
Hạ Long Bay or Halong Bay is a UNESCO World Heritage Site and popular travel destination in Quảng Ninh Province, Vietnam. The name Hạ Long means "descending dragon".
Administratively, the bay belongs to Ha Long City, Cam Pha City, and is a part of Van Don District. The bay features thousands of limestone karsts and isles in various shapes and sizes. Ha Long Bay is a center of a larger zone which includes Bai Tu Long Bay to the northeast, and Cat Ba Island to the southwest. These larger zones share a similar geological, geographical, geomorphological, climate, and cultural characters.
Hạ Long Bay has an area of around 1,553 km2 (600 sq mi), including 1,960–2,000 islets, most of which are limestone. The core of the bay has an area of 334 km2 (129 sq mi) with a high density of 775 islets. The limestone in this bay has gone through 500 million years of formation in different conditions and environments. The evolution of the karst in this bay has taken 20 million years under the impact of the tropical wet climate.
The geo-diversity of the environment in the area has created biodiversity, including a tropical evergreen biosystem, oceanic and sea shore biosystem. Ha Long Bay is home to 14 endemic floral species and 60 endemic faunal species.
Historical research surveys have shown the presence of prehistoric human beings in this area tens of thousands years ago. The successive ancient cultures are the Soi Nhu culture around 18,000–7000 BC, the Cai Beo culture 7000–5000 BC and the Hạ Long culture 5,000–3,500 years ago. Ha Long Bay also marked important events in the history of Vietnam with many artifacts found in Bai Tho Mountain, Dau Go Cave, Bai Chay.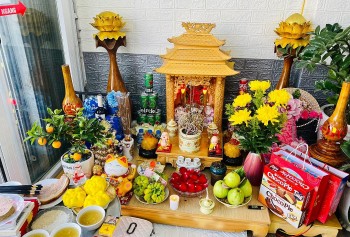 Handbook
Learn more about an ancient Vietnamese tradition that may bring you good fortune!