Top 10 Safest Cities In The World
The Economist Intelligence Unit, sponsored by NEC, has released the Safe Cities Index 2021. Here are top 10 safest cities in the world.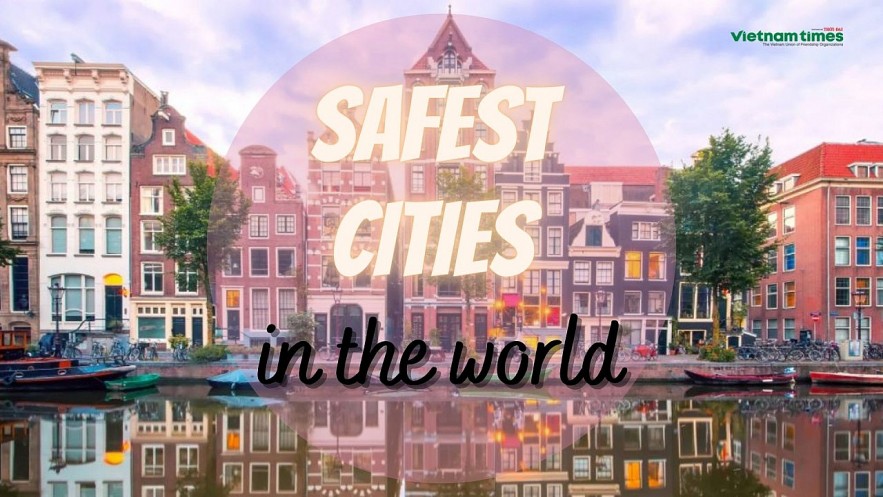 Top Safest Cities In The World. Photo: VNT.
According to the list revealed by The Economist Intelligence Unit, there are 10 safest cities in the world which are analyzed based on five categories of security: digital, health, infrastructure, personal and environmental.
This is the first time Copenhagen has taken the crown. Usually the likes of Osaka, Amsterdam and Melbourne feature high on the list – but these cities are further down this time around, metro reported.
So next year, it could be anyone's game. It's worth pointing out that Copenhagen is not only a safe place to live, but it's also one of the most affordable European cities for first-time buyers. Although, Vaduz, the capital of Liechtenstein, claimed the top spot overall earlier this year.
1. Copenhagen
Copenhagen has been named the world's safest city in a new wide-reaching study from the Economist Intelligence Unit (EIU). The Danish capital surpassed former frontrunners like Tokyo, Singapore and Osaka in the fourth edition of the EIU's biennial Safe Cities Index, which for the first time included environmental security metrics.
In a study of five pillars of urban security — digital, health, infrastructure, personal and environmental — Copenhagen topped the charts, scoring 82.4 points out of 100. The Danish capital has electric buses, recycling-crazy citizens, clean harbors and shops selling clothes made from organic bamboo.
A full 64% of the city's hotel rooms are certified as eco-friendly. Three-quarters of the food served in public institutions is organic. Next year, Copenhagen will be the 2014 European Green Capital, an award that recognizes cities with consistently high environmental standards.
This is only the beginning: By 2025, Copenhagen plans to be the world's first carbon-neutral capital. The holidays are when Copenhagen is in full festive mood -- and of course it's all done very tastefully. The Danes prefer white lights on their Christmas trees, rather than gaudy colors, and the Christmas markets, which start in mid-November, aren't as tacky or commercial as elsewhere.
Alongside the expected designer candle holders and licorice candies (a national obsession), you'll find stalls selling wholesome gifts such as Inuit jewelry, high-tech kitchen utensils and sensible wooden toys. A white Christmas isn't guaranteed, but snow, ice and sub-zero temperatures are a winter staple.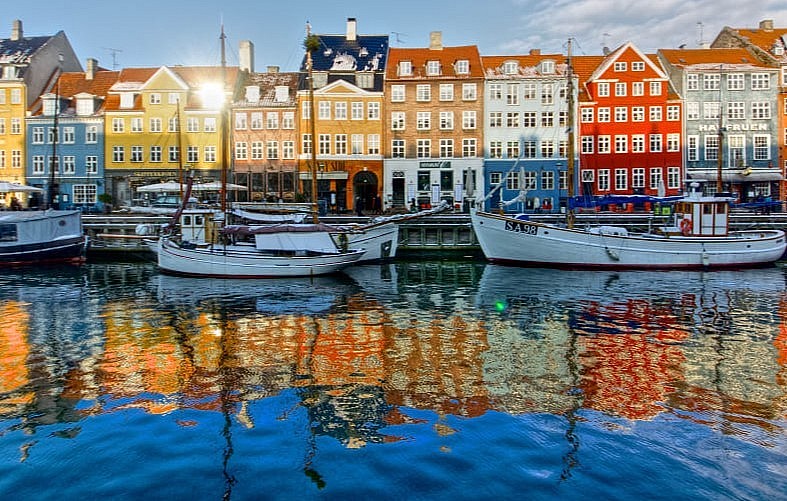 Photo: Kateryna Negoda/Flickr RF/Getty images.
2. Toronto
It may come as a shock to anyone who uses a crosswalk at a busy intersection (Queen and Boulton I'm looking at you), or who braves a bike ride to the Bluffs on the weekend, but Toronto is apparently the second safest city in the world.
The Economist Intelligence Unit (EIU) has released its Safe Cities Index 2021 — the fourth edition of the report — and the City of Toronto has ranked second.
With a score of 82.2 out of 100, Toronto came in just behind Copenhagen's 82.4. Rounding out the top five safest cities are Singapore, Sydney, and Tokyo, respectively.
Toronto's second place ranking is a noticeable bump from the Safe Cities Index 2019, in which the city placed sixth. The EIU noted that the move couldn't be chalked up solely to particular improvements made over the last two years but to "long-term success in making residents secure" as well.
Mayor John Tory said there are several factors that make Toronto safe, including support systems, like strong public education and an increasing "whole-of-city" approach to safety. "It starts with mutual respect and a shared fundamental set of values around that within the city, including things like a strong pushback against racism or prejudice of any kind," Tory said. "I think if you start there, everyone is more likely to want to create an environment that is safe in a broader context."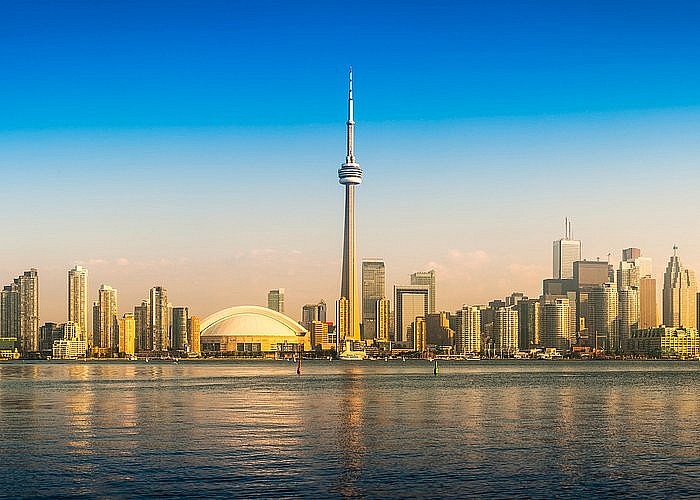 Photo: tripadvisor.
3. Singapore
You and your family can live in Singapore with the confidence that your personal safety is always in good hands. Singapore is widely regarded as one of the safest countries in the world, with consistently low crime rates, a transparent legal system, and a reliable police force supported by proactive citizens.
Singapore is an extremely safe and clean city. You can travel to any parts of Singapore alone anytime of the year, regardless of gender. However, do keep a lookout for foreigners in Singapore, the locals are safe. It used to be known as a Garden City and is on the verge to become a city in a garden. Practically all Singaporeans speak English except for a very small number of very senior citizens who are illiterate. You can ask road directions from any local anywhere in the city. Toilets, food restaurants and shops are everywhere and are clean to a very high standard. Smoking within 15 metres of any covered walkway is illegal. Justice in Singapore can be swift and harsh. This is especially important to note, because even relatively minor violations (such as spitting on the sidewalk) are considered offenses. And there are fines issued for just about any offense including smoking in public places, jaywalking, littering and even chewing gum on the MRT. It cannot be help because it is a very small country with 5 million people. To give you an idea of how big Singapore is, it is about 45 mins drive from East to West.
Taxis are inexpensive and cab drivers are honest as there are no hidden fares; what you see on the meter is what you pay, and you have every right to refuse to pay more than the displayed amount in the highly unlikely event the cab driver asks for more. The law is very harsh on them if there is a complaint against them. All speak English and their own ethnic language ie. Chinese, Malay or Tamil. You can get onto a taxi and sleep and be assured you will always reach your destination safely, as reported by Tripadvisor.
Penalties for drug offenses include the death penalty. Even shoplifting is considered a rather serious offense in Singapore, with penalties that include a few months prison time. Other punishment may also be imposed for other lesser offenses. However, the beauty is there is hardly any policeman or soldiers on the road and you must be very lucky to see a policeman or a soldier. It is not because there are many plainclothes police. There are almost none. This place is unlike Moscow where you feel intimidated by the presence of police and soldiers who look at your with great suspicions.
It should be noted that homosexual acts are illegal in Singapore and penalties can also include imprisonment. It is noticeable that not all prostitutes are ladies but may include transsexuals or transvestites. As an Asian country, homosexuality is still being frowned upon.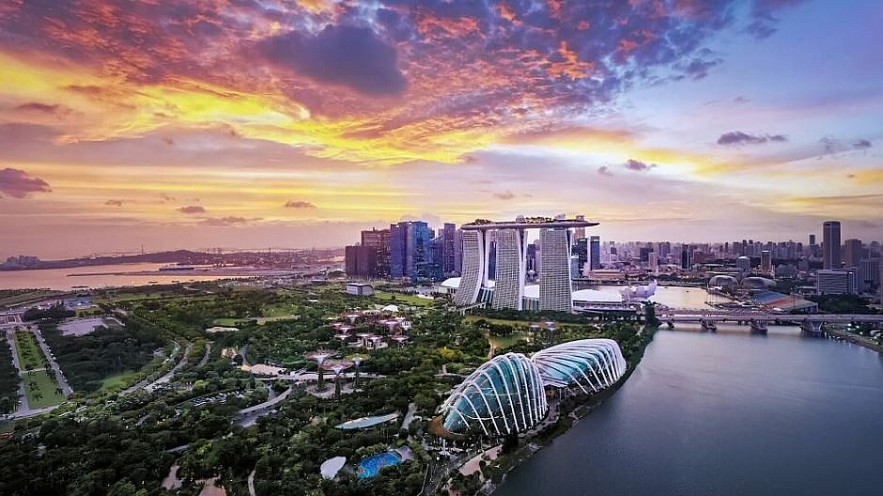 Photo: PCMA
These sometimes harsh punishments make Singapore one of the safest large cities in the world to visit. Even when visiting alone a woman can generally feel comfortable, but as with any dark street at night caution should be observed. This is because the crimes, if any, are committed by foreigners who come to Singapore on social visit passes. They are usually caught and sent to prison to serve their time.
4. Sydney
In general, Sydney is a very safe city in which to visit or live. As with any major city, there can be issues surrounding assaults, drug use, and crimes of opportunity in and around the central business district / nightclub precinct after midnight. Consider personal safety and exercise heightened situational awareness in these areas, especially after dark.
As OSAC reported, authorities strictly enforce speed limits via cameras and police patrols. Holiday weekends typically see a rise in roadside fatalities, as many drive long distances to popular beach destinations. Police conduct roadside alcohol and illegal drug tests frequently; they are not optional according to Australian law. Be prepared to submit to random breathalyzer testing. A driver is in violation of the law if driving with a blood alcohol content (BAC) of .05% or greater – a level lower than that of many U.S. states. At the checkpoints, police from Random Breath Testing Units test a sample of your breath to determine the Prescribed Concentration of Alcohol (PCA), and may additionally take a saliva swab to determine if you are driving under the Influence (DUI) of an illicit drug. Avoid consuming alcohol before driving. In the event of a motor vehicle accident, stop and give assistance to injured persons. Each party must provide their name, address, and registration details to the other parties involved. This includes the owner of property damaged or injured person (or a person representing them).
Traffic operates on the left side of the road, and all vehicles use right-hand drive. Seat belt use by drivers and all passengers is mandatory, and fines apply for not wearing them. Motorcyclists must wear helmets. Texting or holding your phone while driving is against the law in Australia, but you can use a hands-free system to communicate while driving. Roads and streets are frequently narrower and less graded than U.S. highways. Outside major metropolitan areas, most highways are two-lane roads with significant distances between destinations. If driving in rural areas, be alert to free-roaming animals, such as kangaroos, and "road-trains" (several semi-truck trailers connected together). Passing road-trains is dangerous; pull over to allow on-coming road-trains to pass to avoid being sideswiped. Exercise common-sense when driving in the outback.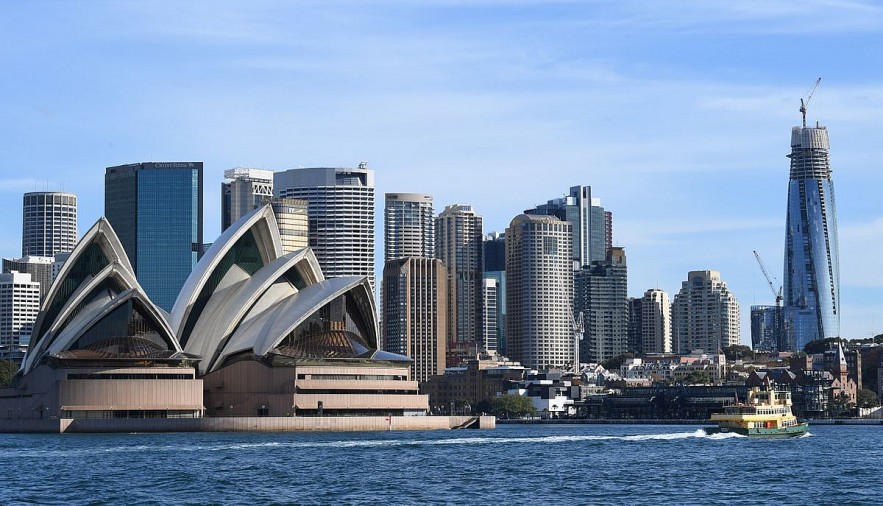 Photo: Getty.
Greater Sydney has an extensive underground and aboveground train network, a large bus network, a small-scale light rail project underway in the Chinatown area of downtown Sydney, and regular ferry services to points around the Harbor. These public transportation options are generally efficient, reliable, and safe. Services run more frequently during peak demand periods, including weekday rush hour periods. Taxi and ride-share services are also reliable and safe, but may be difficult to find during periods of high demand. Be mindful that many taxi services video passengers during the trip; recording starts as soon as the front or rear passenger door opens.
5. Tokyo
It's a megalopolis of truly epic proportions. It isn't so much one city as a collection of different cities all rolled into one. Ikebukuro, Ginza, Shinjuku, Harajuku, Shibuya, Ueno… Each with a million and one things to do. It's awesome!
And Tokyo is definitely one of the safest cities worldwide. But that doesn't mean that it's always safe. Like many cities in the world, there are sketchy areas that you want to avoid (more on that later).
There's also reason to be concerned about the many natural disasters that plague Japan as a whole. We're talking earthquakes. That's a legitimate concern for anybody travelling to Tokyo. Typhoons can also hit – and hit HARD. Dangerous stuff in Tokyo doesn't usually come in the form of people – it's Mother Nature you're going to have to worry about.
However, you were probably already thinking that Tokyo was safe. And you would be right if you were. All of Tokyo's areas and neighborhoods are safe to visit right now. It's super safe, in fact. Loads of other people think so, too.
Tokyo itself played host to an estimated 51% of all international tourists to Japan. Some people never even make it out of Tokyo. And there's a good reason for that: it's AMAZING.
And when it comes to crime in Tokyo there's a funny thing you're about to learn: it's often said there are too many police, not enough criminals. You may have heard anecdotal stories about Tokyo's top-rated safety as well as the many good Samaritans that walk the streets.
Part of Japanese culture is based on a high level of respect for other people's persons and belongings. This means that if you leave your wallet on a park bench, your phone on the subway, or your purse in a shop, you will likely be able to get it back fully intact. It is an everyday occurrence that someone is able to retrieve a misplaced valuable within the following day, none the worse for wear.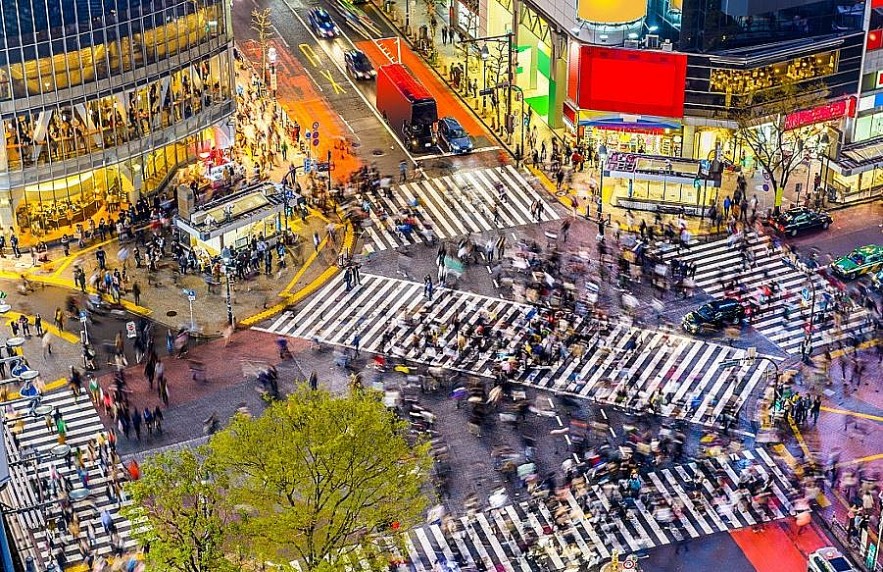 Photo: shutterstock.
For those who are forgetful and leave an item on the train (only to realize moments later as the train pulls away) you can talk with an attendant at the gates to have the train staff retrieve the item for you at a later stop where you can then pick it up.
If you lose something in public, there is a greater chance than on a train that your item may be forever misplaced though the chances are still much higher than the majority of other countries in getting it back. When this happens go to your nearest police station or police box to report the missing item.
Very often, a well-meaning passerby will have picked up your lost belonging and dropped it off. An important thing to know is that the Tokyo police have to keep all lost and found items for around 6 months and there's a Lost and Found Center maintained by the Tokyo Metropolitan Police that you can contact at 03-3814-4151. With any luck, you will find what you're looking for!
6. Amsterdam
Amsterdam, the capital of the Netherlands, is a city with a pleasant atmosphere that will make you soon feel at home. Recently, it was ranked as one of the safest cities worldwide.
It represents the country's largest city and its financial and cultural center, also known as Venice of the North due to the canals that criss-cross the city and more than 1,500 bridges. The city has something for each taste, amazing architecture, culture and history, vivid nightlife and plenty of events and activities to enjoy. With a lot of charming venues and fascinating museums, the city offers an abundance of opportunities to discover real Dutch culture. Famous festivals and events in Amsterdam are Koningsdag, the Holland Festival for the performing arts and the yearly Prinsengrachtconcert.
Amsterdam was listed as one of the top six safest cities worldwide in the Safe cities list of The Economist. In this index, Amsterdam scored highly for both infrastructure and personal safety. Students also indicate that they view Amsterdam as a safe place to live. In the pan-European 'International Student Barometer 2018', 96% of students polled were satisfied with safety.
A common sight in Amsterdam, particularly around busier public spaces, train stations and in public transport, municipal enforcement officials (handhavers) represent the City of Amsterdam and are a visual presence on the streets, working to help make the city a safe and secure place. These enforcement officers are recognisable in their blue uniforms, with 'Handhaving' clearly written across the back and a reflective strip across the chest showing a black-and-white chequered design commonly associated with law enforcement (see the photo above).
The municipal enforcement officials are always happy to stop and assist locals and tourists on the streets of Amsterdam, be it to help with directions or questions about specific municipal matters.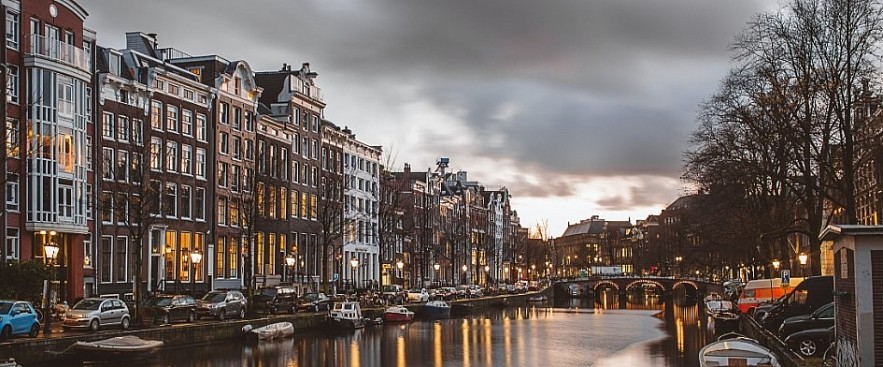 Photo: Credit: Unsplash/Azhar J.
Amsterdam has always been a city that attracted many people, and nowadays it is the city with the most different nationalities in the world. Even though Amsterdam is a relatively safe city, normal precautions against pickpockets should be applied. The police are doing their best to remove beggars from the streets and protect tourists from possible bag snatching risk.
When in Amsterdam's streets you need to be watchful as a pedestrian, as well as a traveler in public transport or taxi. All in all, as travelsafe reported, Amsterdam is a very safe city which should be visited for sure, and you should not worry about your safety as long as you practice common sense, which is necessary in any large city in the world.
7. Wellington
Home to the Beehive, Peter Jackson, and a fountain made of buckets, Wellington is the perfect mix of modern innovation and eclectic spaces, places, and people. Not only is Wellington the best city in the world to live, it also one of the safest. Wellington's strength lay in its personal safety for residents and visitors. That was thanks, in part, to the city's spread of closed-circuit televisions, technologies and data analytics to complement police capabilities.
New Zealand in general is loved for its natural beauty and access to outdoor activities, and Wellington is no exception. There are over 100 parks and playgrounds in Wellington city alone, and the area is surrounded by lakes, mountains, beaches, and walking and mountain bike tracks aplenty. It's easy to escape the city to postcard-perfect seclusion.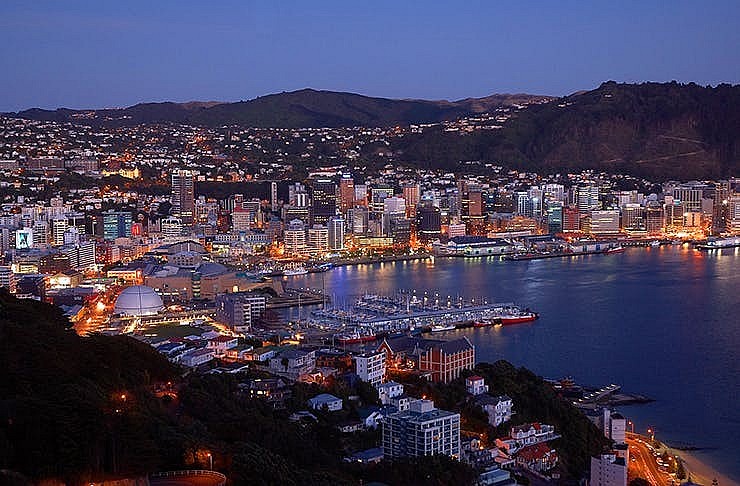 Photo: theurbanlist
It turns out Wellington is the most expensive city to rent in New Zealand. If affordability is a key deal-breaker for you, you might want to consider looking at Auckland or Christchurch. Wellington claims to have more cafés, bars and restaurants per head than New York, and the most coffee roasters per head worldwide, so residents are never far from a good flat white. Those who prefer something stronger can sample craft beer at the two-day Beervana festival in August, while the annual Wellington on a Plate festival, in the same month, serves up more than 100 food and drink events.
Nature is close at hand: Zealandia, a sanctuary in the suburbs of Wellington, features some of the country's rarest native species, while the Kapiti Island reserve, 5km off the coast (a 45-minute drive north of the city plus a boat ride from Paraparumu Beach), is known for its birds.
8. Hong Kong
Hong Kong is often ranked as one of the safest place in the world. We can't recall when we ever feel in danger in Hong Kong. Feel free to leave your phone and wallet on a table at a restaurant and no one will even look at it. You lost something in the taxi, chances are that you will easily find it back and the taxi driver will keep everything for you. So if safety is one of your concern, Hong Kong definitely ticks that box 100%.
There are so many cities in the world where people are literally fighting each second just to survive and here we are in one of the safest cities in the world…nestled in pure comfort and security? How can we possibly complain? How can we not be in absolute gratitude over such a blessing? Hong Kong is ranked one of the safest big cities in the entire world,now that's quite an accomplishing in itself don't you think? Compared to the current state of US cities, Europe, Mainland China, and other parts of Southeast Asia, we are blessed to be in such a safe haven where we can still enjoy our day to day lives without worrying for our the safety of our lives.
The local culture in Hong Kong is very family-oriented. There are very low reports of crime, violence and overall destruction. A woman can walk around late at night by herself and still feel very safe. How many other cities can we say that about? It doesn't matter where you are at what time of the day or night - you can feel entirely safe and secure. Whereas in cities like Los Angeles, New York, Paris, and London, you are not always capable of feeling the same sense of confidence, especially if you are a woman, teenager, child or elderly. The Hong Kong police force are very friendly, accommodating and free of violence. We often hear about civilians being shot to death by police in the US, but these things would never happen in Hong Kong. Nobody gets beaten up or murdered from racial profiling, as reported by engelvoelkers.
You might not know that, but Hong Kong has one of the best nightlife in Asia. It may not have the same reputation as Tokyo or the craziness of Bangkok, but you will have lots of fun during your time! There is a decent amount of entertainment to keep you going into the night till early morning.
Lan Kwai Fong is the heart of the city's nightlife and comes alive pretty much every night. After work, the neighborhood transforms into a large open-air bar, with doors open and loud music from each bar. If you want something different, head to one of the best rooftops bar in the world, such as OZONE the highest bar in the world.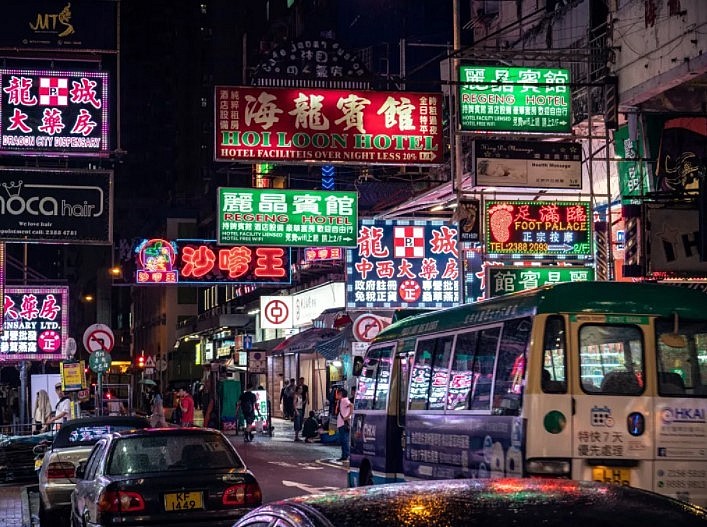 Photo: afuncouple.
Hong Kong is the perfect example where East meets West. Meaning, it's the perfect blends of Western culture mixed with Asian culture. You can find extremely modern buildings or restaurants, right next to street food and traditional market. Hong Kong is where the skyscrapers coexist with the old-fashioned charm of the former British territory. This contrast all over the city is so fascinating to see and makes Hong Kong so unique.
If you've never lived abroad before, Hong Kong can be the perfect start for an expat experience. You will find all the modern comfort from home while still being immersed in a completely different culture with deep traditions.
9. Melbourne
There are a few reasons why Melbourne is considered such a great place to live: there are multiple public transport options, relatively low crime rates, and plenty of jobs. Plus, it offers an awesome arts and culture scene, first-rate universities and easy lifestyle.
Melbourne is a melting pot of communities and is home to many different cultural celebrations. The Antipodes Festival, Melbourne Italian Festa, Chinese New Year, TET Festival, the Melbourne Fringe Festival and the Melbourne Queer Film Festival are just some of the options on offer. Plus, make sure to check out the neighbourhoods that sit around the CBD. You'll find many different communities from all around the world in each one.
According to insiderguides, Melbourne is very academic, with several of its universities sitting within the top-ranked universities of the world. As a creative city home to world-class academics and an exciting entrepreneurial spirit, if you study in Melbourne you'll soon be thinking outside the box (and around it, above it and below it, too).
Melbourne's winding alleyways are magical; they'll probably make you feel as though you've stepped into a real-life Wonderland. The city is well-known across Australia for its vibrant laneway culture, which is brimming with bustling shopping arcades, wandering musicians, live music, quiet street-side book cafes… and the occasional secret street party!
If you're in search of good food, take a wander down the colourful Centre Place, where you'll find plenty of places to eat. For anyone into street art, a walk down the paint-splashed Hosier Lane will definitely inspire. And don't forget your camera!
Photo: Getty.
10. Stockholm
Stockholm has a lot to shout about: a world-renowned work-life balance, some of the best fika (coffee breaks) in Sweden and a supportive environment in which to raise a family. But, as a city built across 14 islands surrounded by waterways, it is also a gateway to some of the country's most stunning hiking.
Despite its high cost of living, the Swedish capital is an excellent city in which to raise a family. Parents are allowed 480 days of parental leave between them when a child is born or adopted and can claim 80 per cent of their pay for 390 of those days. They also have the legal right to reduce their working hours by 25 per cent until their child turns eight.
Stockholm is a progressive city that leads on gender equality and it is common to see stay-at-home dads pushing prams round the city's 26 green parks on weekdays. Parents with prams travel for free on buses, and there is a monthly allowance to support the cost of raising children up to the age of 16, propertylistings reported.
Swedes are masters of work-life balance and nowhere is this clearer than in Stockholm. As Sweden's financial centre, the city is a hub of productivity responsible for a third of national GDP. Large employers include technology companies Ericsson, IBM and Electrolux, and the start-up scene has produced music-streaming company Spotify, online payment firm Klarna and games developer King.
But relaxation is also a priority. During the long summer months, many businesses simply close their doors and the city empties so that employees can take advantage of their five weeks of annual holiday allowance and the incredible 18 hours of daylight in June.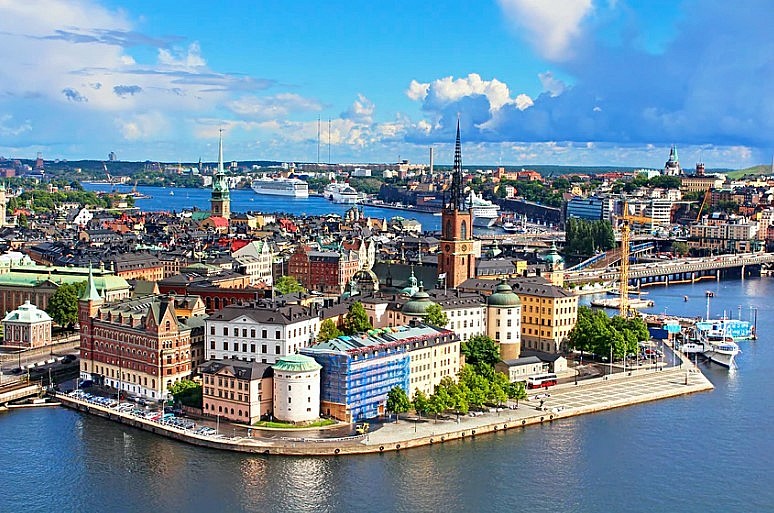 Photo: Getty.
Stockholm has a low crime rate compared to many other cities, but petty crime such as pickpocketing and bag snatching continues to increase, especially in tourist areas and during the summer months. Stockholm is a relatively safe city and is safer on many levels than other European or American cities. However, it is still a city, and you must take precautions for your own safety and security.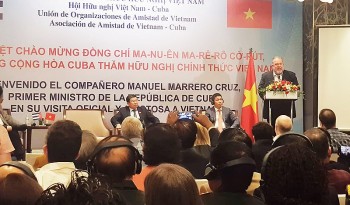 Friendship
Cuban Prime Minister Manuel Marrero Cruz met representatives from the Vietnam-Cuba Friendship Association in Hanoi on September 30, as part of his visit to Vietnam from September 28 to October 2.