Top 5 Delicious and Nutritious Delicacies of Nghe An
The following Nghe An dishes are rated by many diners as delicious, nutritious, and cheap
Rice flour rolls
When it comes to delicious and cheap Nghe An specialties, it is impossible not to mention the famous rice flour rolls (or Banh Muot) of the Dien Chau region. At first glance, it looks quite similar to the hot rice flour rolls in the North or wet cake in the South.
This dish is about the length of an index finger. It is white and soft. To make this dish properly, local people use sticky rice. They usually soak the rice for 3 hours and then grind it, then soak it for another 3-6 hours. After that, the cook will extract the juice of the soaked dough to coat the dish.
In Nghe An, Banh Muot is dipped in fish sauce and lemon or served with a source made from spinach or banana root. In some places, people serve the dish with duck, chicken, beef stew, or pork offal such as heart, liver, intestines, kidneys, stomach, and blood.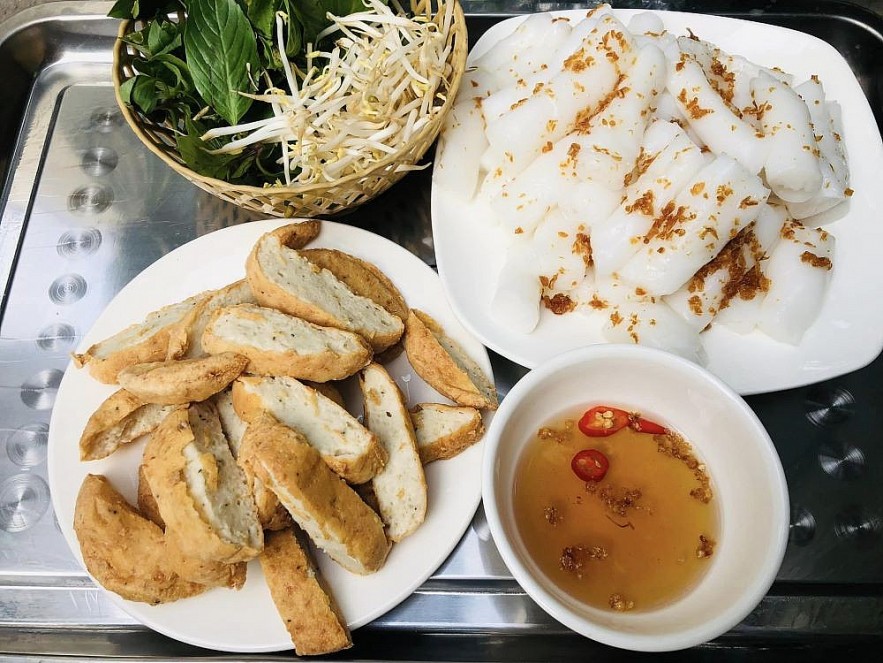 Photo: Vietnamnet.vn
Porridge soup
This is a famous delicacy of Nghe An. It is not a combination of soup and porridge as the name implies. The reason the dish has such a name is that the broth is cooked to a consistency like porridge.
To make soft noodles, people often use flour mixed with a little rice flour. The noodles after being cut are blanched and then drained. Before the customer eats, it will be cooked again.
The broth is cooked from pork bones and seasoned with spices. It is smooth and has a rich aroma that is said to be the "soul" of the dish. This dish is best when eaten hot. Diners can add some coriander leaves, scallions, and fried onions to help bring up the delicious flavor.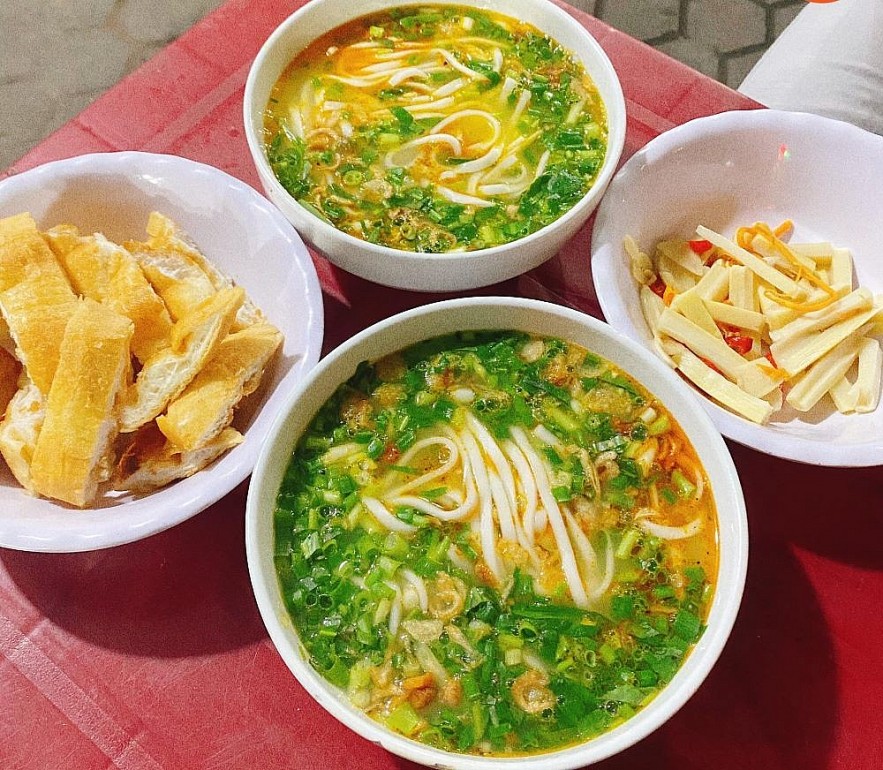 Photo: Vietnamnet.vn
Veal sausage
Veal sausage is an equally famous specialty in Nghe An. This dish often appears on anniversaries, Tet, or is used as a gift for friends and relatives.
Veal sausage consists of 3 layers. The outermost layer is the egg, followed by the thin veal skin, then the meat. The main ingredients of this dish are tamarind meat (veal), tamarind skin, chicken eggs, and other spices. To make delicious veal sausage, the cook needs to have a lot of experience to carry out the meticulous and elaborate process.
This dish attracts diners with eye-catching colors such as the pale yellow color of the egg, the slightly white color of the skin, and the rosy color of the meat. It is very soft, and fragrant but not dry and the skin is crispy and rich in flavor.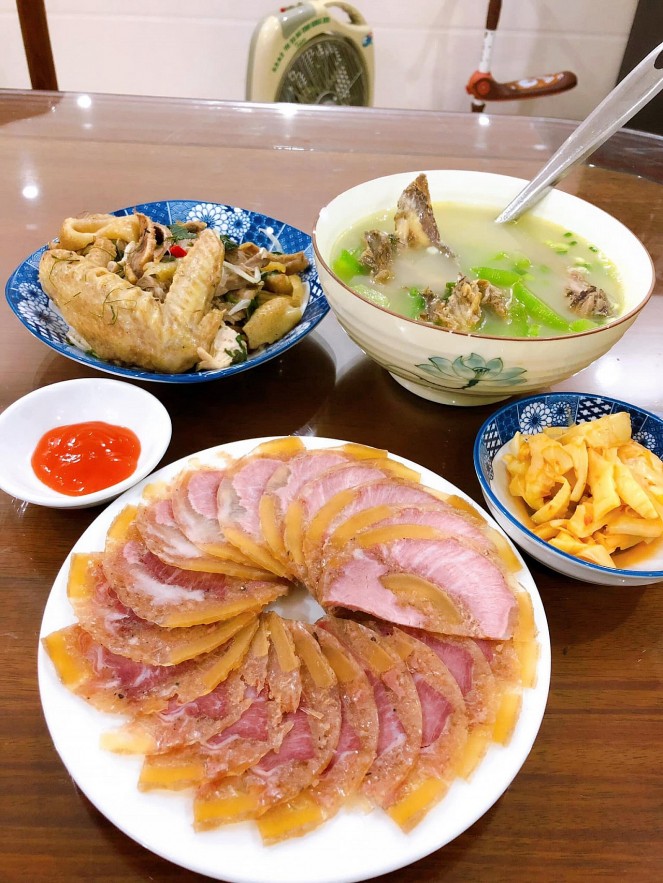 Photo: Vietnamnet.vn
Eel soup
For a long time, eel soup has been a famous specialty of Nghe An. It is loved by both adults and children for its delicious and rich taste. Diners can add a little pickled chili or fresh chili to the porridge to spice things up.
The small, slim, meaty eels are soaked in rice water for a few hours to clean the intestines. Then they are boiled, and the bones are removed. The meat is marinated with spices and then lightly sautéed with onions, turmeric, and chili peppers to get rid of the fishy smell and coat the dish in a beautiful golden color. The bones are crushed, filtered to extract the juice, and then simmered with the soup.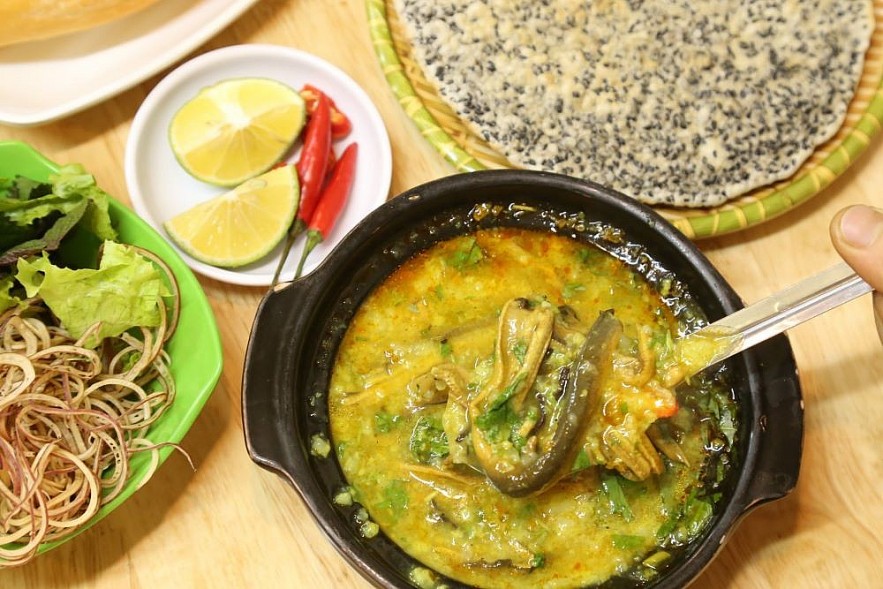 Photo: Vietnamnet.vn
Honey cake
Honey cake is a traditional dish of the Nghe An people. According to local people, the cake has such a name probably from the way it is made. Instead of stuffing like a drifting cake, it is covered with a layer of molasses which creates a sweet taste and beautiful golden color.
At first glance, Nghe An honey cake is quite similar to floating cake in the North, but this cake is made from glutinous rice flour and molasses. It looks like a cocoon and has no core. This dish is cooked with molasses instead of sugar. When diners eat, they can feel the sweet, chewy, fragrant aroma of glutinous rice and ginger.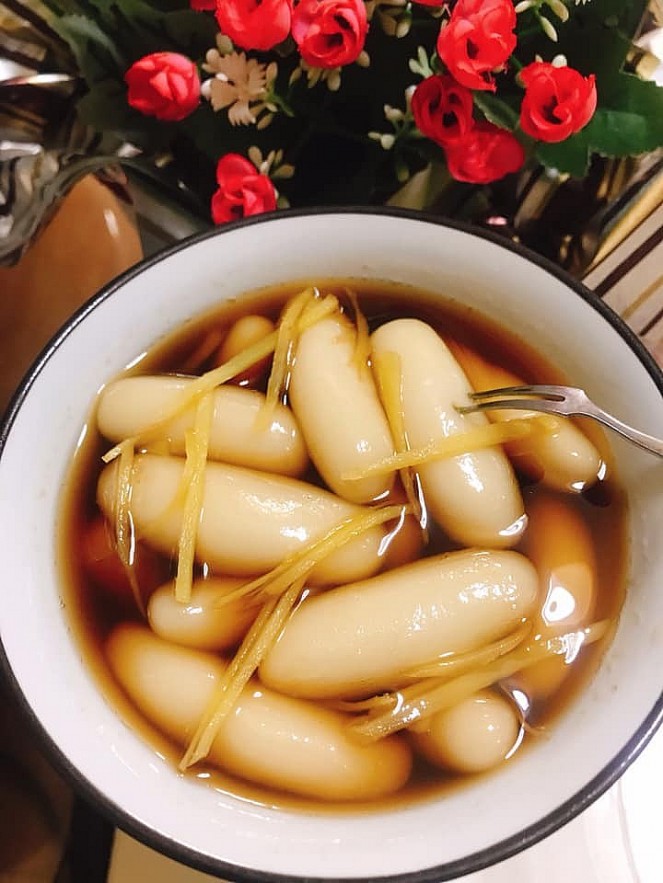 Photo: Vietnamnet.vn
In addition to the dishes mentioned above, visitors can buy some other Nghe An specialties as gifts for friends and relatives such as Nam Dan soy sauce, Doai commune orange, and Cua Lo mackerel.