Top 6 Richest Vietnamese Billionaires In Asia
In Forbes's list this year, Vietnam has made its name known with these six richest billionaires, with their successful business and a huge amount of net worth.
The annual Forbes list of the richest people in the world has the highest number of Vietnamese citizens in it, with six billionaires making the cut.
The five men and one woman have a total net worth of $16.7 billion. They include Vingroup Chairman Pham Nhat Vuong, Vietjet Air CEO Nguyen Thi Phuong Thao, Hoa Phat Chairman Tran Dinh Long, Techcombank Chairman Ho Hung Anh, Thaco Chairman Tran Ba Duong, and Masan Chairman Nguyen Dang Quang.
It is the year in which Vietnam has recorded the largest number of billionaires on the list.
The 6 richest Vietnamese billionaires in Asia
1. Pham Nhat Vuong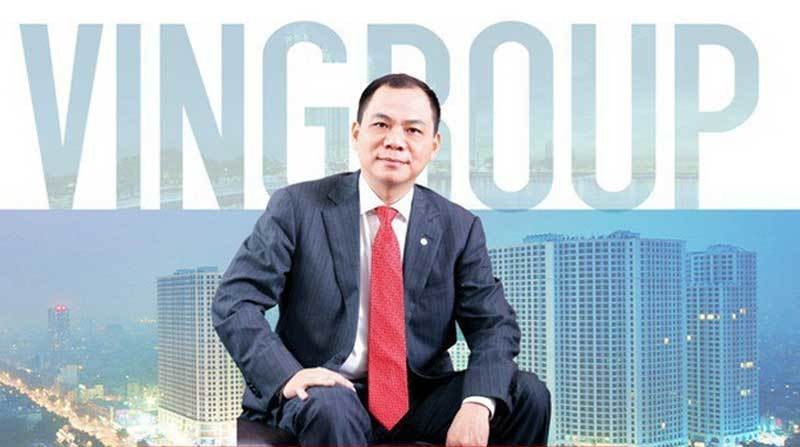 Photo: Vingroup
Vuong was born in 1968 in Hanoi while his paternal family has origin in Ha Tinh province in central Vietnam. He grew up in Hanoi and graduated from Kim Lien High School in 1985.
In 1987, he entered Hanoi University of Mining and Geology and was sent to Russia to study in the Moscow Geological Prospecting Institute, for which he was able to obtain a scholarship thanks to his profound mathematical aptitude. He graduated from this university in 1992.
In 1993, he developed Technocom, a market leader in culinary dehydrated products in Ukraine, which he sold to Nestle for $150 million in 2009, before returning to Vietnam. Vuong's first projects in Vietnam were Vinpearl Resort Nha Trang, which opened in 2003, and Vincom City Towers (later renamed Vincom Ba Trieu) in central Hanoi, which opened in 2004.
Vuong's first projects in Vietnam were Vinpearl Resort Nha Trang (opened in 2003) and Vincom City Towers (later renamed Vincom Ba Trieu) in central Hanoi (opened in 2004). Vincom went public in 2007. It merged with Vinpearl, Vuong's luxury resort business, to form VinGroup in 2007. VinGroup is headquartered in its Riverside township in Long Biên District in Eastern Hanoi.
Besides, in business, Pham Nhat Vuong also strongly believes in using female managers compared to other large companies.
In 2015, Vuong was listed as the richest person in Vietnam with assets totaling VNĐ 24.3 trillion (approximately US$1.1 billion), which more than quadrupled those of the second richest person, Tran Dinh Long of Hanoi Hoa Phat Corporation. His wife, Pham Thu Huong, and sister-in-law Pham Thuy Hang ranked third and fifth respectively. As of 12 April 2021, Forbes estimated his net worth to be US$9 Billion.
2. Nguyen Thi Phuong Thao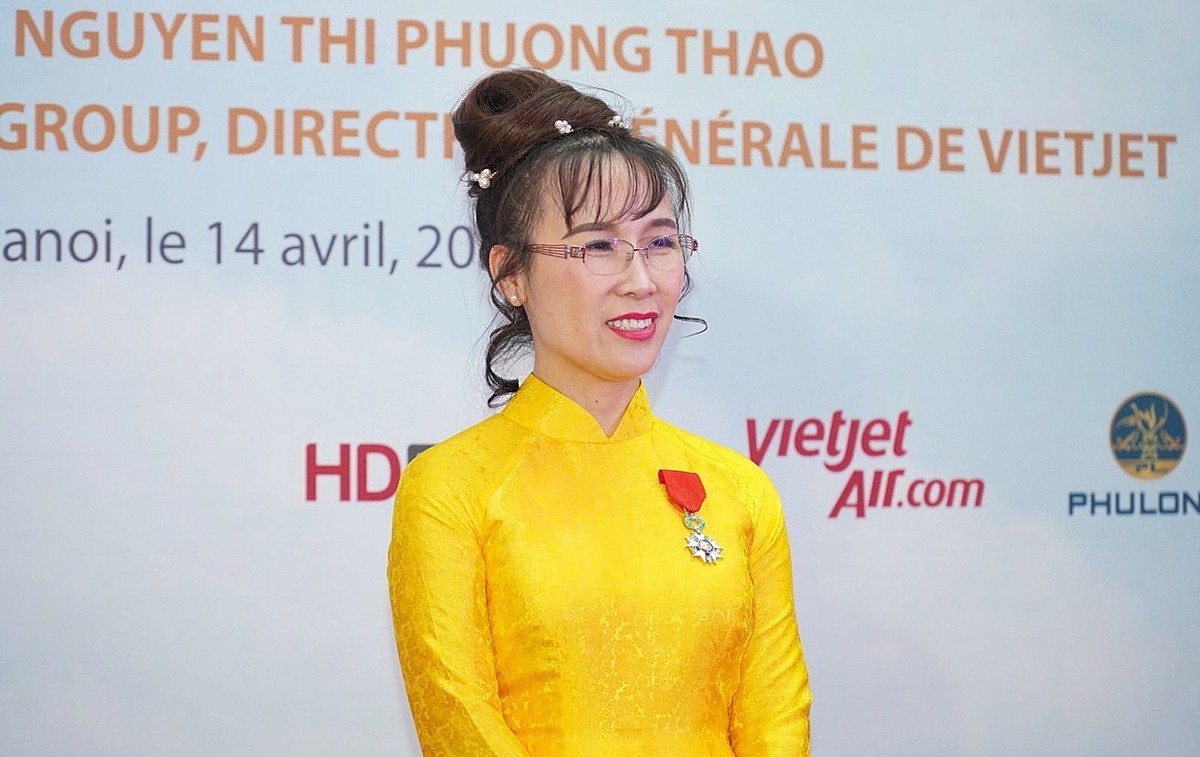 Photo: VJC
Nguyen Thi Phuong Thao (born June 7, 1970) is a Vietnamese businesswoman, and the President and CEO of VietJet Air, President of Sovico Group, and Vice President of HDBank.
Nguyen Thi Phuong Thao became a millionaire at age 21 while studying finance and economics in Moscow, where she began distributing fax machines, plastic, and rubber from Japan, Hong Kong, and South Korea in the then Soviet Union. Since then she has developed a portfolio of business interests, including VietJet and Sovico Holdings, that itself holds a 90 percent stake in Ho Chi Minh City's Dragon City development. She holds two bachelor's degrees in financial credit management and labor economics at the Plekhanov Russian University of Economics and a doctoral degree in economic management at the D. Mendeleev University of Chemical Technology of Russia.
She ranked 62nd in the list of Power Women 2016. She is listed in Asia's 50 Power Businesswomen 2016.
After she took VietJet Air public in February 2017, she became Vietnam's first self-made woman billionaire, second billionaire overall, and Southeast Asia's only female billionaire. In early 2021, her net worth was estimated at US$2.1 billion. She also has investments in HD Bank and real estate, including three beach resorts. In 2021 she signed a memorandum of understanding with the University of Oxford's Linacre College for a donation of GBP£155million. The college intends to petition the Privy Council to change its name to Thao College.
3. Tran Dinh Long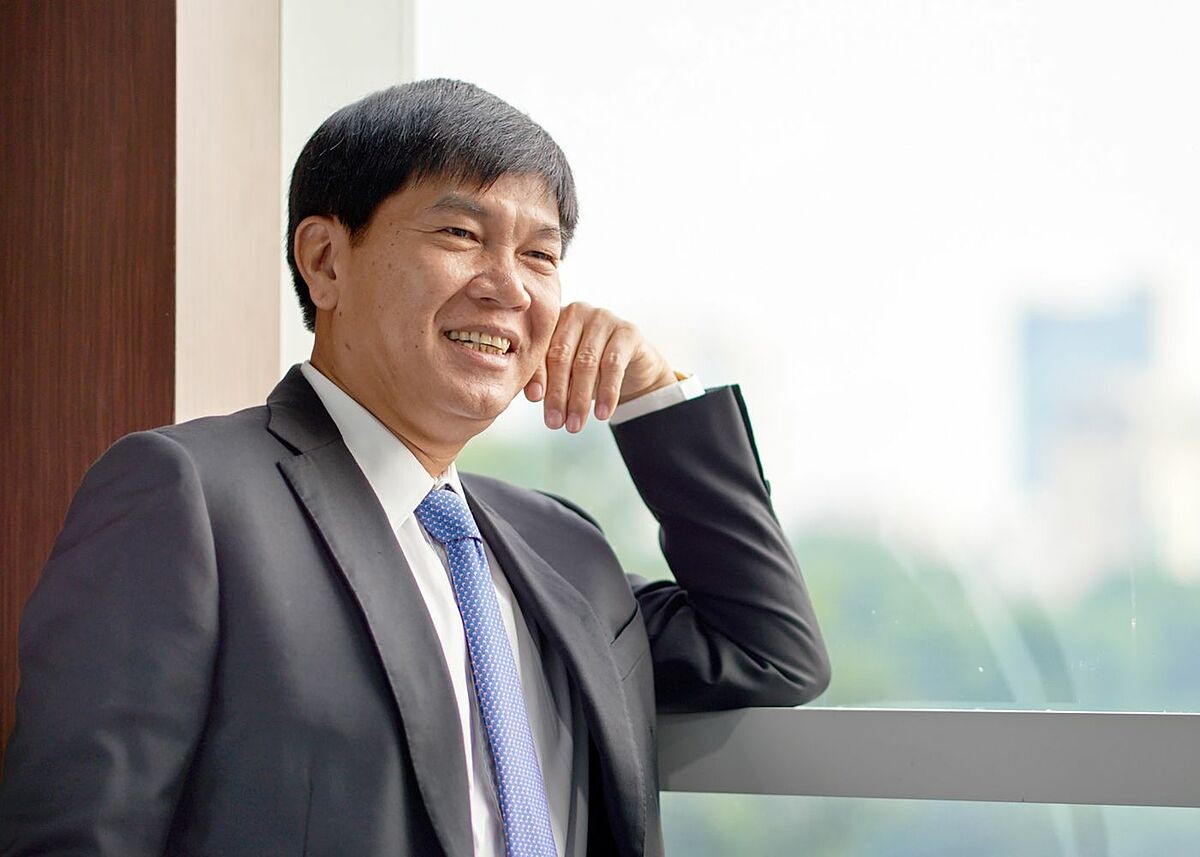 Photo: Trading View
Tran Dinh Long (born February 22, 1961) is a Vietnamese businessman and billionaire. He is the chair of Hoa Phat Group Joint Stock Company (HPG). He is considered among the most successful businessmen in Vietnam's steel industry. Tran Dinh Long was born on February 22, 1961. He was born and raised in Hai Duong. He currently resides in Hai Ba Trung District, Hanoi.
Long graduated from Vietnam's National Economics University with a bachelor's degree in economics in 1986.
Long became the Chairman of the Hoa Phat group in 1996.
In March 2019, Long was listed in the real-time list of billionaires by Forbes magazine – with a fortune of 1 billion USD, making him the 1756th richest man in the world at that time.
In 2021, he was listed in Forbes' list of billionaires as the 1444th richest man in the world, and the 3rd richest man in Vietnam – after Pham Nhat Vuong and Nguyen Thi Phuong Thao.
4. Ho Hung Anh
Photo: Danviet
Ho Hung Anh is chairman of Techcombank, a large commercial bank in Vietnam that went public in June 2018.
Ho and fellow billionaire Nguyen Dang Quang, whom he met while studying in Russia, are two close business partners whose interests are intertwined.
He started investing in Techcombank, in which Nguyen was already an investor, in 1995. They took control in 2006.
Together they control two big listed companies, Masan Group and Techcombank, a commercial bank, through Masan JSC, a holding company that they co-own. He has a net worth of US$1.6 billion.
5. Tran Ba Duong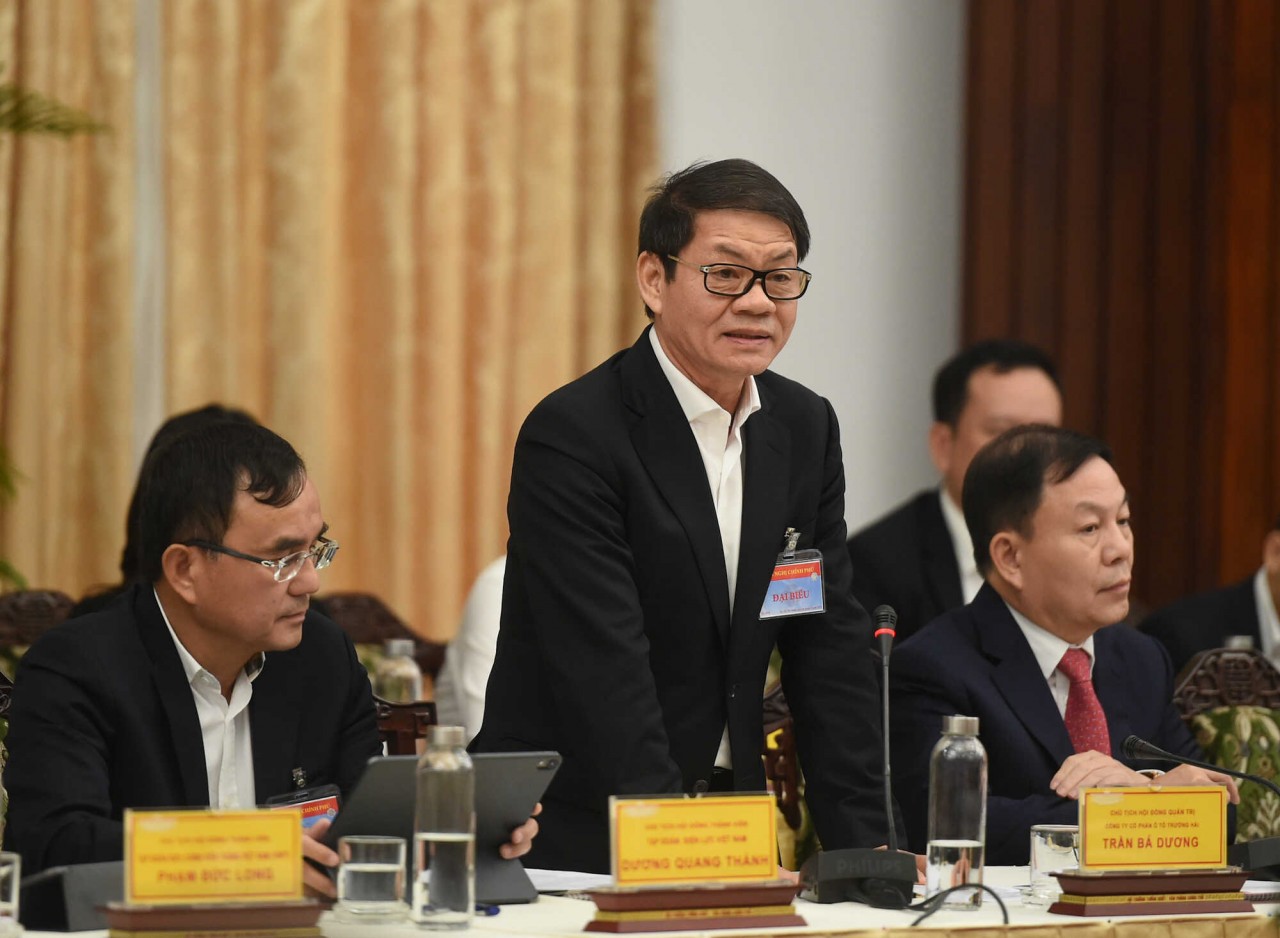 Photo: Danviet
Tran Ba Duong (born in 1960 in Hue) is a Vietnamese entrepreneur. He is the founder of Vietnamese automobile producer THACO. In addition, he is also known as the General Director of Dai Quang Minh Real Estate Investment Joint Stock Company.
Dương was born in 1960 in Huế. He graduated with a degree in mechanical engineering from the Ho Chi Minh City University of Technology in 1983.
He started his career by working as a repair technician at Dong Nai auto repair factory. He then gradually worked his way up to a managing position.
In 1997, he founded THACO, which has grown to become the largest automobile producer in Vietnam. In 2013, he stepped down as CEO of THACO but retained his position as the company's chairman.
Dương and his family hold a major share in THACO. As of March 2018, Dương was recognized by Forbes to own a total fortune of 1.76 billion USD. According to Forbes' documentation, by 2016, Thaco was the largest automobile company in Vietnam - with a market share of 32%.
6. Nguyen Dang Quang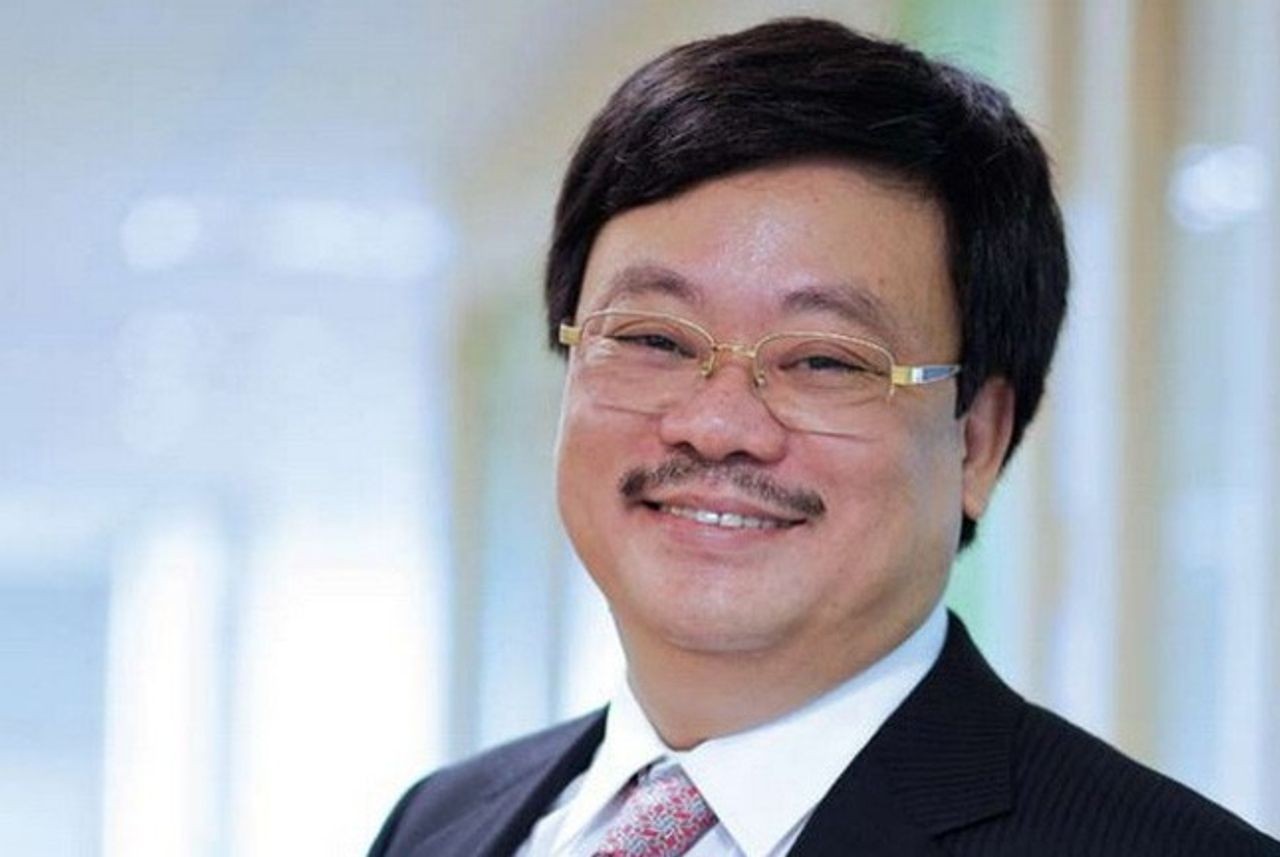 Photo: doisongphapluat
Nguyen Dang Quang (born 23 August 1963) is a Vietnamese billionaire businessman. Quang is the co-founder and chairman of Masan Group, a consumer goods company best known for selling fish sauce, instant noodles, chili sauce, sausages, and animal feed.
Quang earned an MBA from the Plekhanov Russian University of Economics in Moscow, followed by a doctorate in technical sciences from the National Academy of Sciences of Belarus. Quang founded Masan in the 1990s.
Quang and his wife own 49% of the company's share, and his co-founder Ho Hung Anh, the vice-chairman, owned 47.6% as of September 2015, although his holding as of January 2018 was not known.
Following a doubling of the share price in the six months to January 2018, Quang had a net worth of US$1.2 billion, according to Bloomberg L.P. He became Vietnam's third billionaire.