Top 7 Best Weekend Getaways for November in US
Weekends are for relaxation and getaway trips to enjoy your time away from the crowds and busy life. Check out these 7 best weekend getaways for November in the US and add them to your wishlist.
Weekends and holidays are for relaxing time and getaways from our normal busy life, and since it is November and Thankgivings is just around the corner, people are yearning for their annual escape. Even though the pandemic crisis is preventing everyone from travelling abroad for their getaways, they still can find the best spots around the United States, with beautiful parks, historical places, musical events or simply some awesome bars to hang out with friends. Take a look at these 7 best weekend getaways that you put into your wishlists and pack your suitcase then.
1. Savannah, Georgia
Photo: Explore Georgia
Established in 1733 on the Savannah River, the city of Savannah became the British colonial capital of the Province of Georgia and later the first state capital of Georgia. A strategic port city in the American Revolution and during the American Civil War, Savannah is today an industrial center and an important Atlantic seaport. It is Georgia's fifth-largest city, with a 2020 U.S. Census population of 147,780. The Savannah metropolitan area, Georgia's third-largest, had a 2020 population of 404,798.
The oldest city in Georgia, charming Savannah is the very picture of Southern hospitality. It's tempting to spend your trip just relaxing on wide verandas and sipping mint juleps, but there are plenty of historical sites, museums, and oak-lined streets to explore. Haunting (and possibly haunted) Bonaventure Cemetery is one of the hallmarks of the city, featuring beautiful obelisks, masses of flowers, and ivy-covered crypts. Refuel from your explorations with fresh seafood and creamy grits for a taste of Savannah home cooking.
Savannah, Georgia is a charming Southern escape where art, period architecture, trendy boutiques and ghost stories are all set under a veil of Spanish moss. Savannah is a place where cuisine comes straight from the coast and cocktails are served at every meal.
Consistently named one of the "world's friendliest cities" by Condé Nast Traveler readers, this coastal town has a world-class reputation for hospitality and grace. Discover all this city has to offer when you book your Savannah getaway.
2. Asheville, NC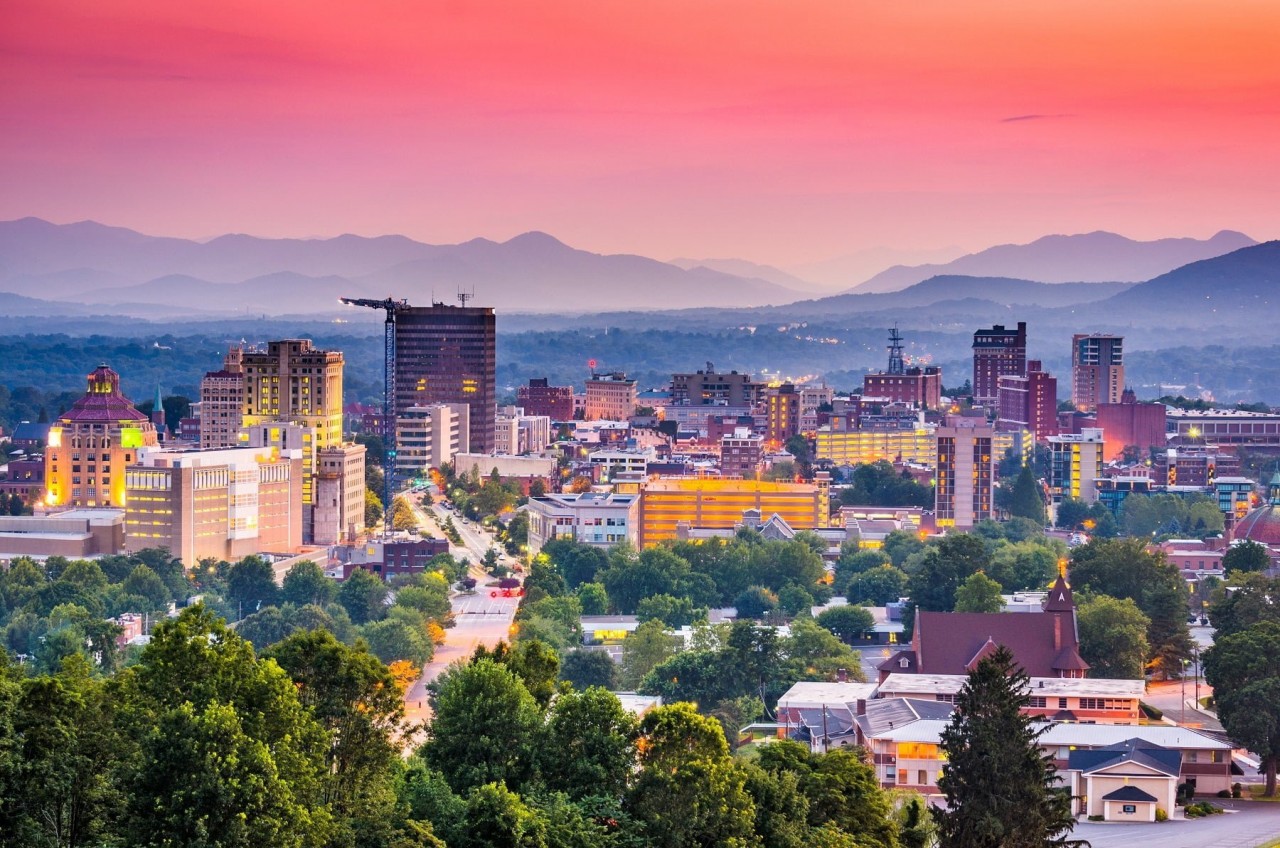 Photo: The Orchard Inn
Asheville is a city in, and the county seat of, Buncombe County, North Carolina, United States. Located at the confluence of the French Broad and Swannanoa rivers, it is the largest city in Western North Carolina, and the state's 12th-most populous city. According to the 2020 United States Census, the city's population was 94,589, up from 83,393 in the 2010 census. It is the principal city in the four-county Asheville metropolitan area, which had a population of 424,858 in 2010, and of 469,015 in 2020.
A hipster haven with a gorgeous mountain backdrop, Asheville has a rich history (a luxe Vanderbilt estate is the top attraction) as well as plenty of au courant enticements. Its thriving microbrewery and locavore scene lures the cultured traveler, and even quirky cultural offerings such as the Friday-night drum circle downtown, a weekly institution. Add miles of panoramic vistas of the Appalachian and Blue Ridge Mountains—including a stretch of the Appalachian Trail—and Asheville travel offers a multi-sensory experience.
Asheville does not have any unpleasant seasons, but there are some factors for planning your trip. The peak time to visit Asheville tends to be summer, in terms of crowds. Many people would also say that the prime time for travel to Asheville is in the autumn when the fall foliage explodes with color. (Another spike in crowds happens in October, so book early. Spring has pretty color, too, and lower prices. Winters—which light up during the holiday season—are mild.
Things Not to Miss in Asheville
• Explore the Biltmore
• Hike a piece of the Appalachian Trail
• Drive the Blue Ridge Parkway
• Enjoy some farm-to-table Southern cuisine
• Hear live music at local hot spot The Orange Peel
3. Scottsdale, Arizona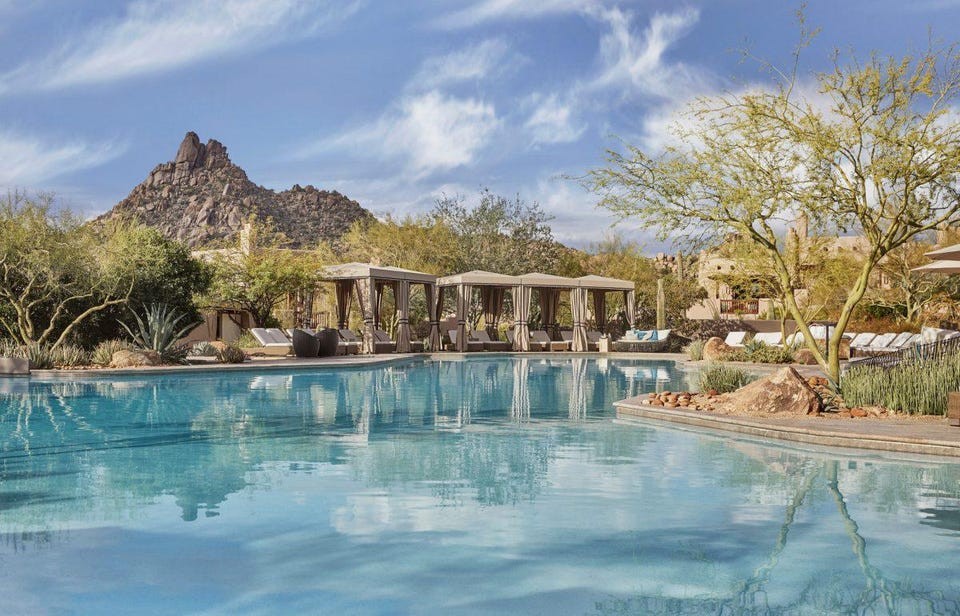 Photo: Forbes
Scottsdale, Arizona, is a city of contrasts as stark as the Sonoran Desert landscape it occupies. Founded adjacent to Phoenix as suburban ranchland, the city has become a sporty yet laid-back resort destination famed for its posh properties, lush golf courses, and indulgent spas. Visitors can choose from a wealth of activities and landscapes. Go for morning hikes along greenbelts and canals, take a horseback ride past Arizona's famous saguaro cacti in the foothills of the red rock mountains, spend the afternoons exploring art galleries and rustic Western outfitters in Old Town, and indulge in the city's stylish dining before an evening of club and barhopping in the nearby Entertainment District.
No travel to Scottsdale would be complete without some sort of extravagant pampering, considering the city has more spas per capita than anywhere else in the country. Many opt to spend the day lounging by some of the most lavish swimming pool complexes ever imagined. For those who crave relaxation, the resorts on the northern end of town will fit the bill, but to experience the full vibrancy of Scottsdale, head to Old Town, which is known for its architectural mix of Western frontier and Frank Lloyd Wright–influenced Midcentury Modern architecture. You'll also find the city's cultural institutions as well as its unique blend of cosmopolitan and cowboy charm there.
Most visitors arrive during high season—after New Year's and before Memorial Day—when baseball spring training is in full swing. As a result, hotel prices tend to skyrocket. In the sizzling summers, when the snowbird population heads back north, resort prices drop drastically and you'll rarely need reservations at some of the most popular eateries.
4. Park City, Utah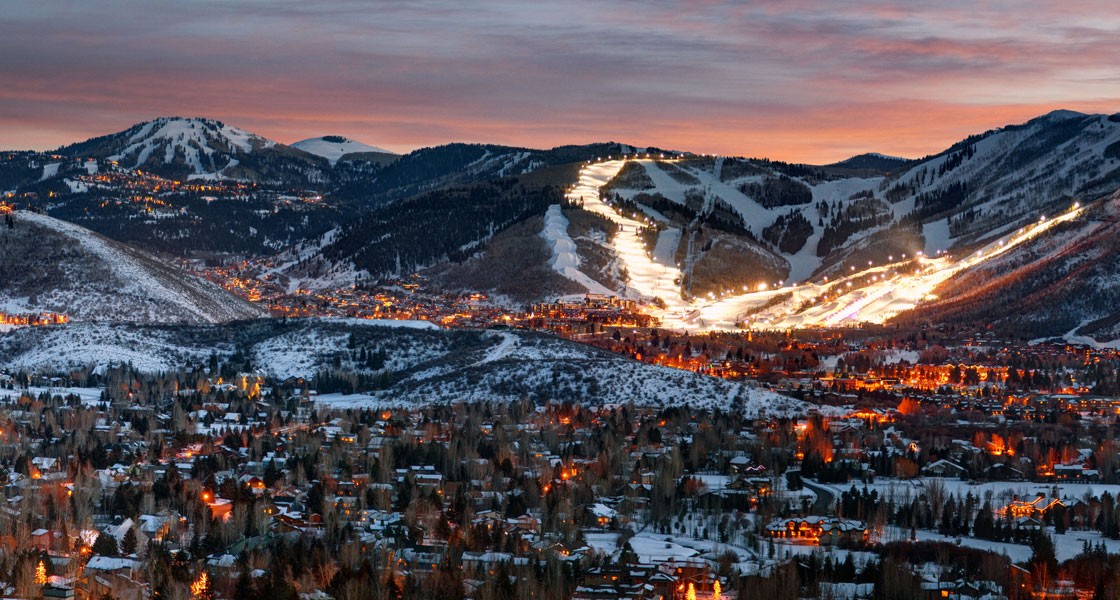 Photo: Wikipedia
Park City is known for three things: skiing, snowboarding and the Sundance Film Festival. Located 35 miles southeast of Salt Lake City, Park City is easily accessible and home to a wide range of accommodations that attract throngs of vacationers during the winter season. Sandwiched between two premier resorts, Deer Valley and Park City Mountain, this former mining town sits in the shadow of the rugged Wasatch Mountain Range. In 2002, both resorts hosted events during the Winter Olympics, and the Utah Olympic Park, which sits just north of the main street, is still a major training facility for winter athletes, including the United States Ski Team.
But you don't have to be an Olympian to experience all that Park City has to offer. Stroll down the city's charming Historic Park City area or visit the High West Distillery and Saloon. For family fun, grab your warmest winter gear for an afternoon of snow tubing at Gorgoza Park. And after a long day schussing the slopes (or lounging in the lodge), enjoy the city's bustling après-ski scene.
The best time to visit Park City is from December to March, if you're a winter sports enthusiast. Ski season generally runs from mid-November through mid-April, depending on the weather and snowfall totals. The winter months are the coldest, with temperatures averaging in the low 30s and dropping to single digits by nightfall. Park City sees an average of 300 to 400 inches of snowfall annually, and the city is the busiest in January, when in addition to skiers, thousands of film fans flock to attend the annual Sundance Film Festival. And while the ski season is the primary draw for this small mountain enclave, local Utah residents often visit for a cool break in the summer months, when Park City temperatures are typically 20 degrees lower than in other parts of the state.
5. Yellowstone National Park, Wyoming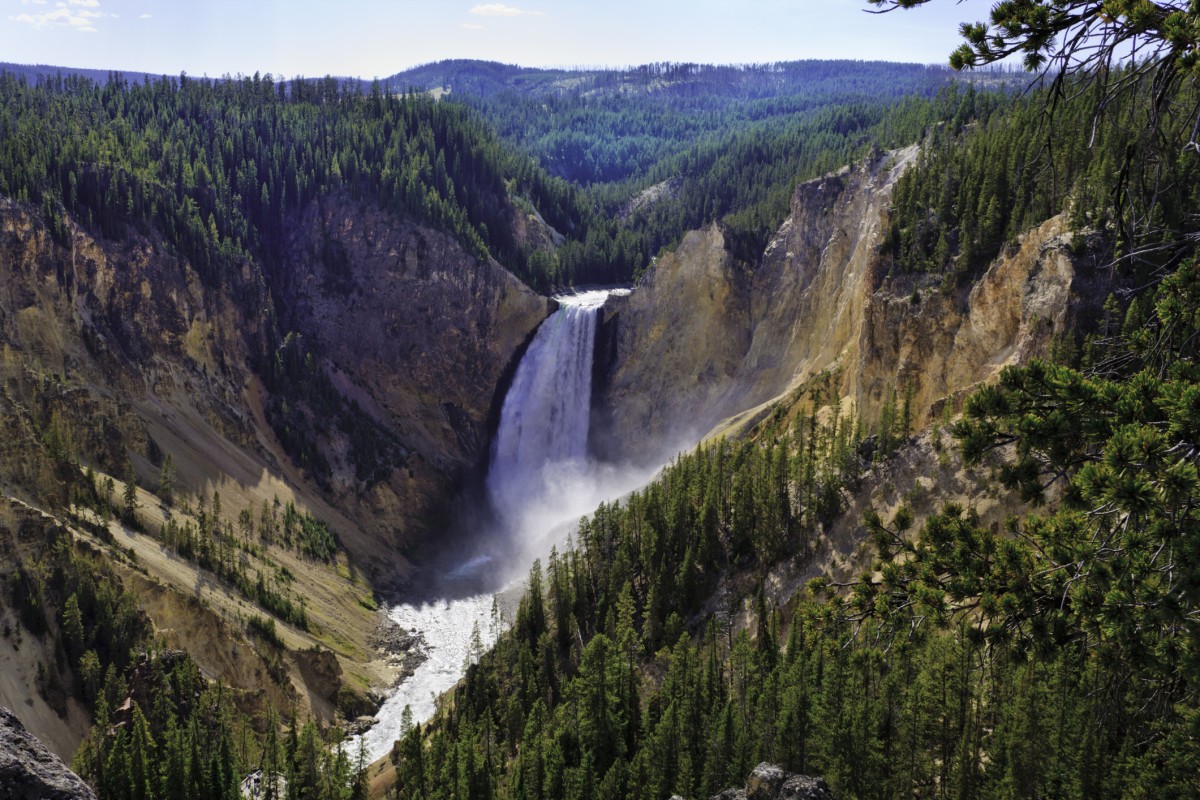 Photo: Getty Images
Yellowstone National Park is America's first and foremost National Park. Established in 1872 by the United States Congress for the preservation of its many wonders and for the enjoyment of the people. Yellowstone National Park – is located in the northwest corner of Wyoming, and includes small areas of Montana and Idaho as well. In addition to its superb Rocky Mountain scenery, the park is one of the world's principal wildlife preserves. It's also the site of America's greatest concentration of geysers and hot springs, which form a visible and spectacular link with the primeval forces of the Earth's creation. Yellowstone is also the oldest national park in the country. In fact, the original idea of setting aside natural resources like Yellowstone began here when some of the territory's first explorers began a unique campaign to preserve the beauty of these lands for generations to follow. Here more than two million acres of a high mountain-ringed plateau have been set aside for permanent protection as a natural preserve. It's been called America's finest and most diverse vacationland.
Yellowstone is a treasure that inspires awe in travelers from around the world, boasting more geysers than anywhere else on the globe. Yellowstone in its early days was known simply as "Wonderland." It is the destination of a lifetime for all ages. Yellowstone National Park and the larger Yellowstone region feature numerous hotel and other lodging facilities. Lodging inside Yellowstone is highly desirable but limited.
6. Great Smoky Mountains National Park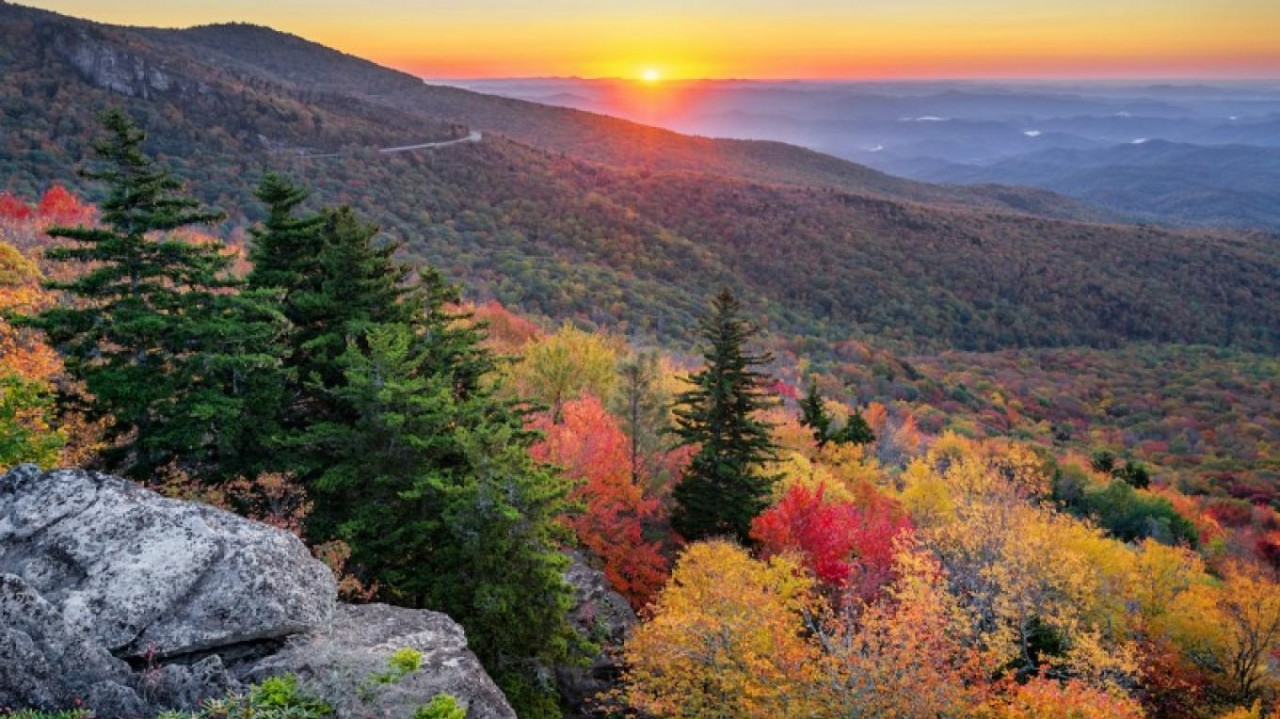 Photo: Tennessee River Valley
A truly living mountain range, the Great Smoky Mountains are constantly re-inventing themselves as wind, water, and erosion continuously shape these ageless mountains.
Established in 1926, Great Smoky Mountains National Park is comprised of ridge upon ridge of seemingly endless forest on the border between North Carolina and Tennessee. Called the Smokies due to the ever-present morning fog, this mountain range is world renowned for the diversity of its plant and animal life, the beauty of its ancient mountains, and its history of southern Appalachian mountain culture. With nearly 80 historic buildings, spectacular displays of wildflowers, and abundant wildlife, Great Smoky Mountains National Park offers myriad activities to enjoy.
The Great Smoky Mountains National Park region is divided down its length by the Tennessee – North Carolina border. Visitor centers—Sugarlands and Oconaluftee—mirror each other across the state line separated by many miles of deciduous forest. There are waterfalls throughout the park, with larger falls like Grotto, Laurel, Abrams, Rainbow, and Mingo drawing over 200,000 visitors per year.
7. San Diego, California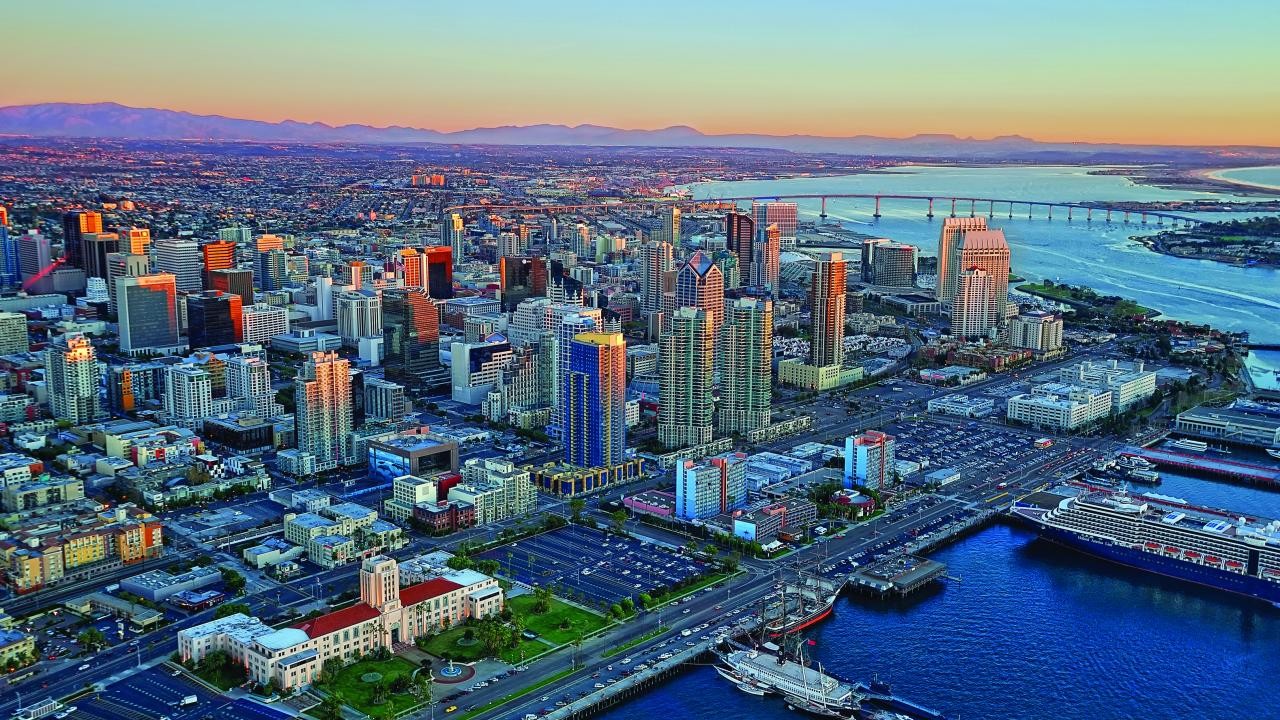 Photo: Visit The USA
Consistently sunny weather and 70 miles of magnificent coastline are what draw active types and sun seekers alike to San Diego throughout the year: that and the mouthwatering Mexican cuisine, thriving nightlife and one of the country's favorite zoos. And then there are the beaches: Retreat to Mission Beach to catch a wave, to La Jolla to soak up the sun and to Coronado for a leisurely seaside stroll. When you're ready to ditch your flip-flops and board shorts for more formal attire, you'll find pockets of vivacious nightlife throughout, especially near the historical Gaslamp Quarter.
The best times to visit San Diego are March through May and September through November. You can find some great deals on travel rates during the low seasons in comparison to the peak summer season. However, because of the warm weather, which averages about 60 to 70 degrees year-round, there's never really a terrible time to visit. But that doesn't necessarily mean sunny days abound as well. During the months of May and June, overcast days occur often, so much so that locals designate the months as "May Gray" and "June Gloom." And when it comes to rain, San Diego sees the most rainfall during the winter months, so a day at the beach is out of the question during this time (not to mention the ocean's waters are way too cold for swimming).
World
World Jewish Congress (WJC) has joined the Indian government to mourn the lives of 166 innocent victims who were killed in deadly Mumbai terrorist attacks on 26 November 2008. According to the World Jewish Congress, the terrorist attack shook the human conscience and drew widespread global condemnation and the Jewish community, equally became a target during the attacks.