Top 7 Spectacular Festivals in Vietnam
Aside from beautiful nature sites and historical places, Vietnam is also famous for some of its best, most colorful and spectacular festivals that amaze many first time tourists to this country.
Festivals in Vietnam offer visitors the best opportunity for getting up close and personal with the myths, customs and fun-loving spirit of this proud nation. Despite undergoing modern developments, Vietnam is still a predominantly traditional country, with thousands of pagodas and shrines dedicated to Buddha as well as various deities and iconic figures.
There are also plenty of cultural events that are only celebrated during certain times of the year (or years), so you'll never know when one decides to pop up during your travels. We've compiled a list of the best festivals in Vietnam, and while they're celebrated just about anywhere in the country, we've included some suggestions on the best places so that you can fully experience these one-of-a-kind events during your holiday.
1. Tet Holiday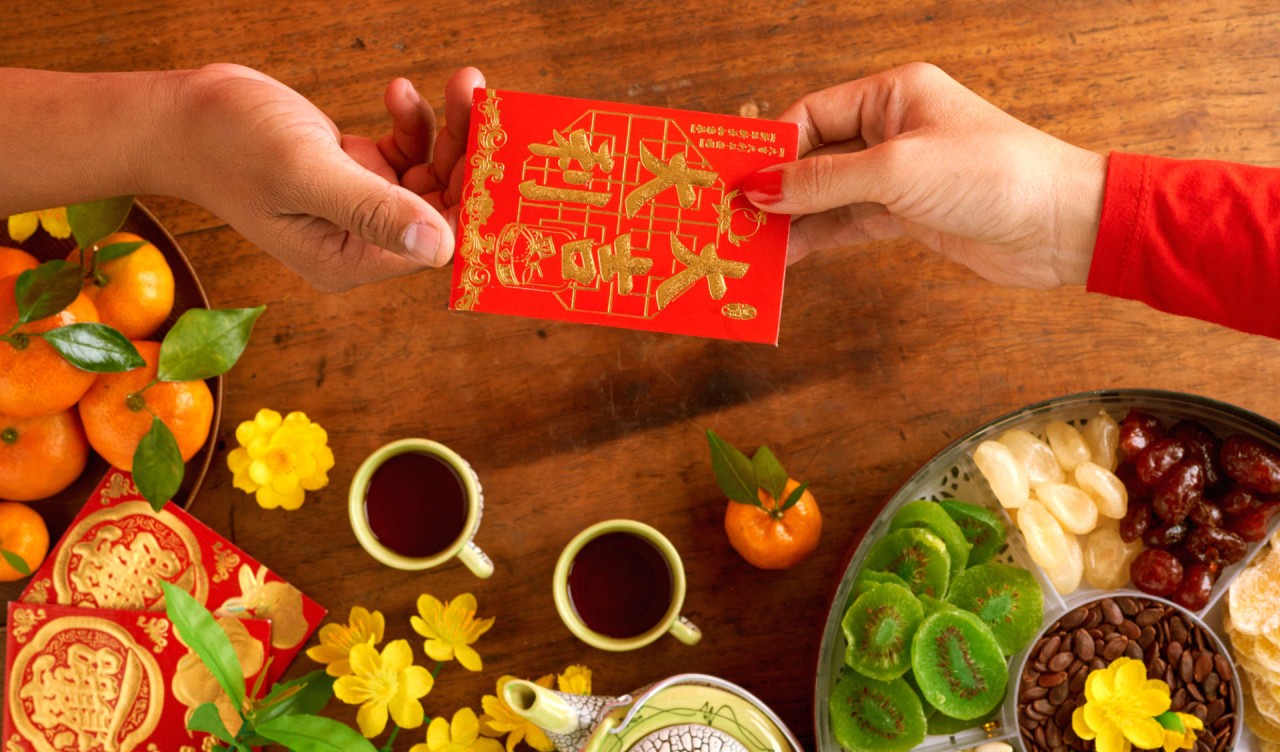 Photo: Exotic Voyages
Tet holiday – Vietnamese Lunar New Year or simply Tet Vietnam is the most significant festival in the S-shaped country. As a result of being calculated by the lunar calendar, the Tet festival often occurs at the end of January or the beginning of February, which is later than New Year's Day. As the longest Vietnam holiday, Tet Vietnam is the most wonderful occasion for all foreign tourists to spend their Vietnam vacation packages enjoying the festive atmosphere and exploring one of the oldest festivals in the world. Tet festival 2022 is on February 1st, 2022 (New Year Eve is the previous day).
Tet Vietnam is celebrated to welcome the Lunar New Year and summarize what they did in the old one. It is considered an important mark for changes, plans, and progress. In addition, Vietnamese people believe that what they do on the first day of the new year will affect their rest. Therefore, they pay great attention to every word they say and everything they do. Furthermore, Tet in Vietnam may be the only occasion for all family members to have happy moments together after a year of hard-working.
In the Vietnamese language, to celebrate Tet also means to eat, which affirmed the important role of Vietnam Lunar New Year's Food. One Vietnamese traditional proverb denotes that you can be hungry all year except three days of the Tet festival because dozens of delicious dishes and desserts will be prepared on Lunar New Year in Vietnam to feast on the ancestors as well as every family member.
2. Hoi An Lantern Festival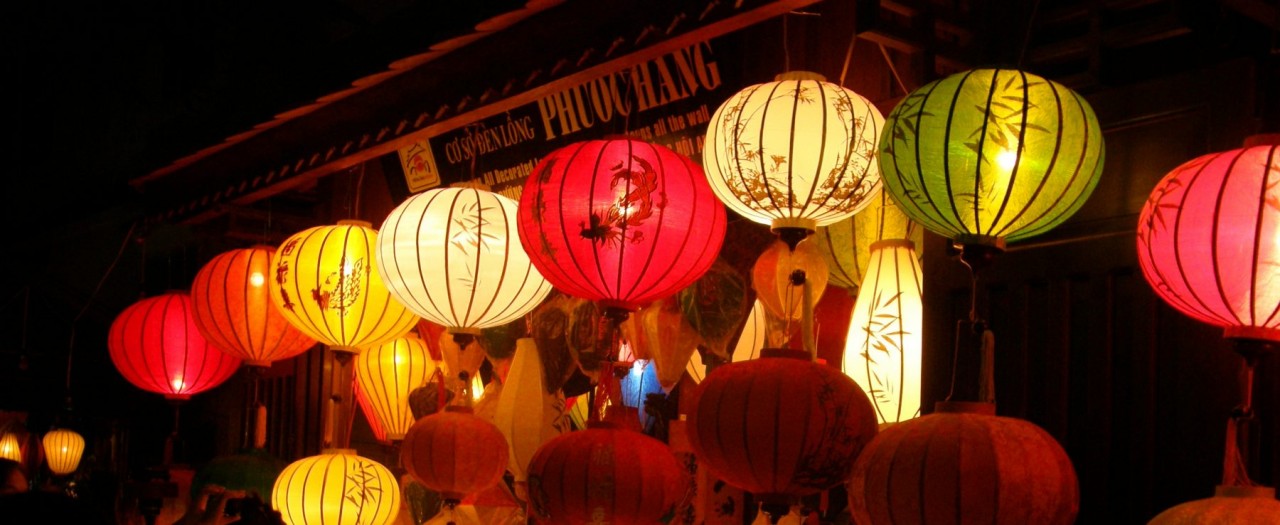 Photo: Links Travel & Tours
Having a strong tradition of Buddhism, Vietnamese always believe that the full moon is a significant time in the lunar month. In Vietnam, these traditions have morphed into many festivals including the popular Hoi An Lantern Festival which is held to celebrate the full moon. It is said that the full moon is one of the most sacred times in the Buddhist calendar because Buddha was not only born on a full moon but attained enlightenment on a full moon. Nowadays, people all over Asia view the full moon is a time to meditate, observe rituals, reflect on life, and worship their ancestors. This is done in many ways from offerings made at family shrines to the burning of incense and the lighting of candles.
During the 16th and 17th centuries, Hoi An was an important port of the country which bustled with merchants from around the world. At that time, many Japanese also came here and brought with them variously shaped lanterns that they would hang in front of their homes. Since then, the locals began to imitate this in similar hopes of bringing good luck to their households which was contributed to the development of the traditional lanterns. The diverse culture of the ancient town has been widely associated with lanterns. Understood that thing, the local authorities decided to combine lanterns with the monthly full moon celebrations in 1998. Since then, both Vietnamese and international tourists have flocked to Hoi An each month to participate in the celebrations.
As the name suggests, this festival is full of colorful lanterns that are lit with candles and placed on the Hoai River with a wish for happiness, luck, and love. On the festival day, all fluorescent lights are turned off at 8 pm so that the floating lanterns are all that illuminate Hoi An, creating a magical glow. All vehicles and bicycles are banned in the town, so tourists can wander around and soak up the atmosphere without fear of walking into the path of a motorist. Attending the celebration, you can enjoy many impressive performances that are held along the river with music and poetry readings. Strolling around the town, you will see locals playing board games outside their homes while others gather for Bai Choi – a musical version of bingo.
3. Chu Dong Tu Festival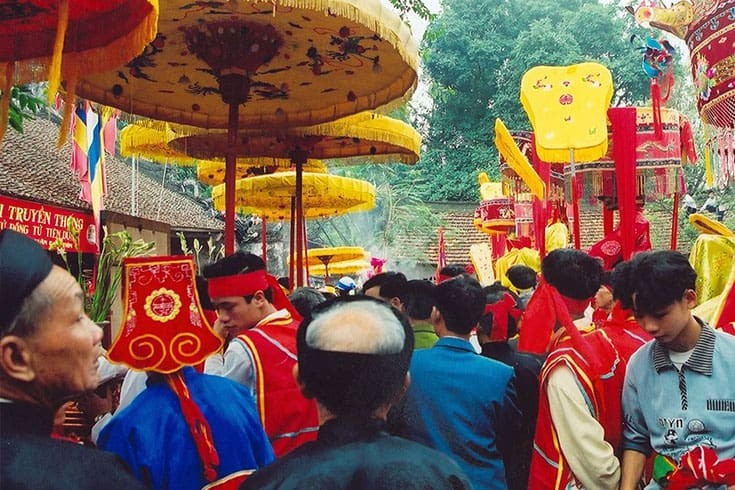 Photo: Vietnam Discovery Travel
Chu Dong Tu is one of the four immortals in traditional mythology of Vietnam, who is in charge of teaching people to do business, fishing and weaving in order to have a joyful and prosperous life.
Each year, Chu Dong Tu festival is organized within three days, from the 10th to the 12th day of the second lunar month. Main activities of the festival are procession on land among nine communes to Da Hoa temple and procession on water among eight other communes to Da Trach temple, Khoai Chau District, Hung Yen Province—two temples located on the opposite site to where Chu Dong Tu and his wife, Princess Tien Dung, first met.
The opening ceremony begins at 11:30 AM, when land and water palanquins reach the above temple. Local people put palanquins in form of gods in the county yard, and place offerings at a decided place. After that, processions' members as well as pilgrims from all over the country conduct an incense presenting ceremony at the courtyard.
The festival also consists of several traditional entertaining activities that last during day and night. At Da Hoa temple, there are human chess playing, dragon dancing, and singing; on the other hand, wrestling, human chess playing, and traditional religious dances are organized at Da Trach temple.
4. Thay Pagoda Festival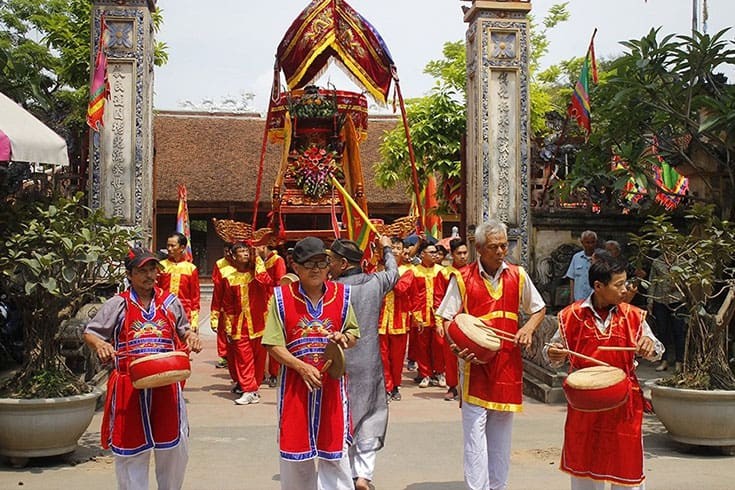 Photo: Vietnam Discovery Travel
Thay pagoda is located in Sai Son (Quoc Oai. Son Tay). The festival is celebrated on the 5th-7th days of the 3rd lunar month (with the 7th day being the main day) in honour of TO Dao Hanh (See Thay pagoda). At the pagoda, the ceremony is dedicated to Buddha (in particular, the rituals of circuiar movement performed by monks). Offerings are all vegetables, rice cakes in the form of a truncated cone (oan), bananas and other fruits, and flowers. After the ceremony, pilgrims climb up the mountain to visit different temples and grottoes. The Heaven Market at the summit is said to be a place where immortals used to play chess. Cac Co grotto attracts many boys and girls who come looking for good luck. Bones discovered here are probably the remains of soldiers of Lu Gia, the patriotic mandarin who fought against the Chinese Han aggressors in the 2nd century B.C. Well- known water puppetry is performed in the pond before the pagoda.
5. Hue Festival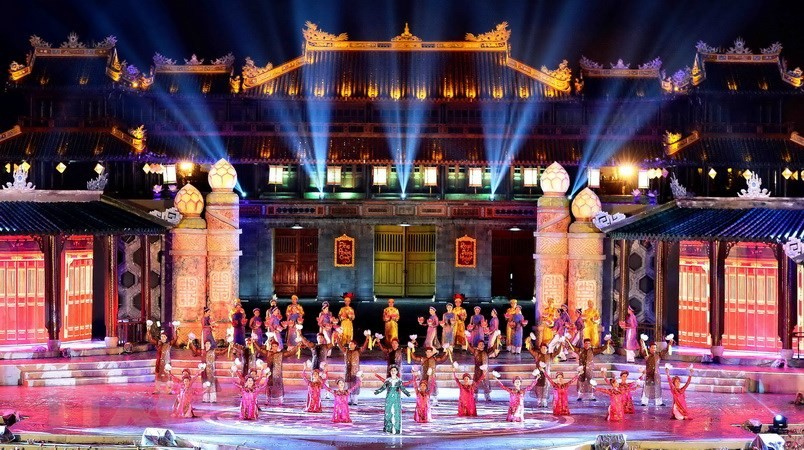 Photo: VietnamOnline
Hue Festival is a big cultural event of Hue City that is held every two years. There is a week (usually in April, May or June) for each festival season which is the occasion to honor cultural and historical values of that Vietnam's former capital city. The first Hue Festival took place in 2000.
At the beginning of Hue Festival, visitors can enjoy a colorful and grand opening ceremony with unique performances of several art groups from Vietnam and other countries. Hue Festival has become a space of cultural exchange between peoples all over the world. During the festival, there are variety of cultural events taking place such as Hue Poetry Festival, Massive Street Arts Performances, the Dialogue of drums and percussion instruments, Art Exhibitions, the Week of Vietnam's historical films. Otherwise, visitors can come and explore some traditional values of Vietnam at Gastronomy Quarters, Traditional Kite Flying Festival or watch "Ao dai" Grand Show, "Oriental night" Show, and sporting activities like boat race, human chess, etc. Especially, many ancient scenery of Nguyen Dynasty are also reproduced and provide tourists an insight into Vietnam's feudal era. Some typical events include Nam Giao Offering Ritual, Xa Tac Offering Ritual, the Royal Refined Music of Hue which was recognized as a Masterpiece of the Oral and Intangible Heritage of Humanity by UNESCO in 2003.
Hue Festival is well-known as an international festival where cultures of many countries converge together as well as where Vietnamese traditional and cultural values are widely presented to the world.
6. Vu Lan Festival
Photo: Vietnamnet
Vu Lan Festival (or Trung Nguyen Festival) is Buddhist festival that emerged long ago in Vietnam. Every year, the festival takes place on 15th day of the seventh lunar month, celebrates the seventh full moon in the year. In Vietnamese, it is so-called "Xa toi vong nhan" festival because this is the day for the death's souls.
In the thought of Vietnamese as well as people in many other countries sharing the same festival, on that day, gate of the hell opens and thus, souls of the dead can come back to their home and gather with family. Vietnamese considers that it's occasion for family gathering as well as expressing love and gratitude to ancestor and parents. This is reason Vu Lan Festival is known as Mother's day in Vietnam.
In the morning of that day, a lavish tray with various delicious dishes and votive as well is set on ancestral altar. The householder, as usual, will burn incense and invite ancestor to come back home and celebrate the festival with family. After that, all family's members will gather and enjoy lunch together. Vegetarian food is most popular on that day.
Pagodas are crowded during the festival day because Buddhists gather for monk's lecture. In the lecture, the monk will tell about responsibility of children to parents as well as pray for parents whether they are living or dead. Each Buddhist has a flower (usually rose) in front of their chest: red flower if their parents are living and white flower if their parents are dead.
In the evening, a tray filled with food is set in front of the house. The householder will incense, pray for homeless souls and wish they could rest in peace. It's a nice liturgy that shows spirit of humanitarianism of Vietnamese people.
At night, Vietnamese hold a ceremony of releasing lighted lanterns on the river. Lanterns will follow river stream and bring their wishes with it. Vietnamese people believe that by doing that, their wishes for parents will come true. The ceremony invites wonderful scenery in which the river is sparkling and the ambiance is so holy.
7. Mid-Autumn Festival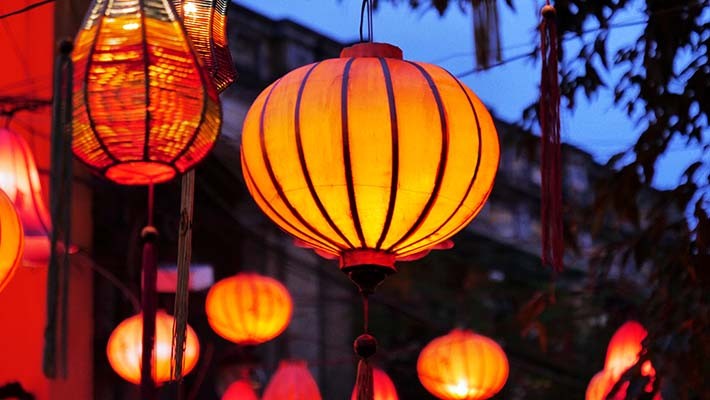 NCAB Group
While the Mid-autumn Festival originated in China and is celebrated in many Asian countries, the Vietnamese version has its own traditions and legends. Our best-known tale is about a man named Cuội who hung on to a magical banyan tree as it floated up to the moon. We say that if you look closely at the full moon, you can see the shadow of a man sitting under a tree. Children parade lanterns in the streets the night of Mid-autumn Festival to help light the way to earth for Cuội from the moon.
The celebration of the harvest is an important part of Tết Trung Thu, as many Vietnamese live in rural areas and work as farmers. Tết Trung Thu marks a joyous occasion when the work is finished and there's time to spend with loved ones.
In the weeks before Tết Trung Thu, you will see and hear groups of lion dancers practicing on the streets. Mooncake stalls appear on every other corner, pop-ups with elaborately decorated boxes filled with a variety of mystery cakes and fillings. City districts team up with preparations of toys, lanterns and colourful masks in anticipation. The most popular Trung Thu lantern is a star made with red cellophane. You'll see these lanterns for sale on streets all over Vietnam in the days leading up to the festival.
All across Vietnam, families welcome Tết Trung Thu by placing a five-fruit tray and cakes on our ancestral altar. We offer the food to our ancestors and worship, before feasting on mooncakes -- usually outside under the light of the moon. Round or square, these cakes are moulded with elaborate details of flowers, carp and geometric patterns.
The two most common types are bánh dẻo (soft, sticky cakes with a mochi-texture) and bánh nướng (baked cakes with a thick wheat crust). Mooncakes in Vietnam come in a seemingly infinite variety of flavours, both sweet and savoury. Feel free to buy a box of mooncakes to enjoy yourself, or to share with your Vietnamese friends and hosts.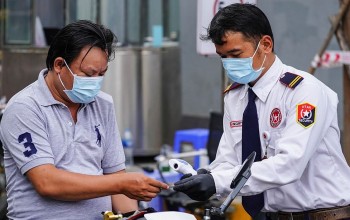 National
More than 1.12 million vaccine doses were administered in Vietnam on October 24. The country has now inoculated more than 74 million doses of vaccine to date, with over 21.46 million people fully vaccinated.