Top 8 Wealthiest Families In The World
In the elite world of billionaires, these wealthiest families in the world have an astonishing net worth, an abundance of wealth, and successful businesses.
According to Bloomberg, as the pandemic reshaped the way we live and work, the 25 wealthiest families on the planet added $312 billion to their collective fortunes, a 22 percent gain since last August 2021. In the elite world of billionaires, there are families with wealth and successful businesses that stand out from the rest. From branding stores to hotels, supermarkets, and more, their net worth will amaze you.
1. Walton Family—Walmart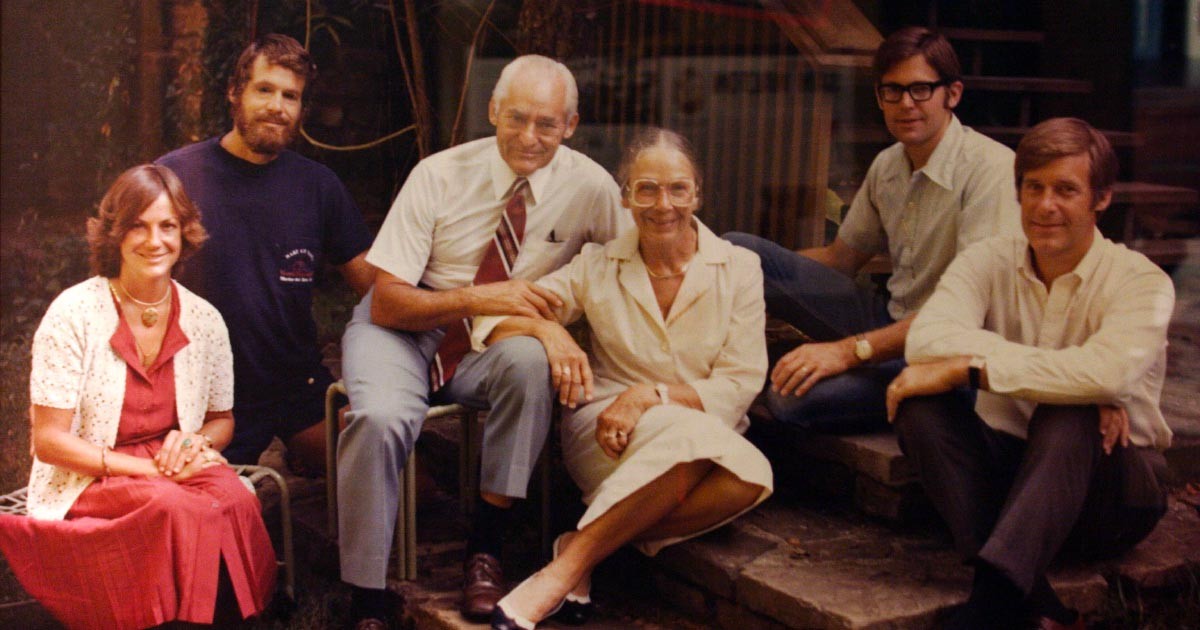 Photo: Bloomberg
Estimated Wealth: $215 billion
The Walton family is an American family whose collective fortune derived from Walmart makes them the richest family in the United States of America.
The three most prominent living members (Jim, Rob, and Alice Walton) have consistently been in the top twenty of the Forbes 400 list since 2001, as were John (d. 2005) and Helen (d. 2007) prior to their deaths. Christy Walton took her husband John's place in the ranking after his death. The majority of the family's wealth derives from the heritage of Bud and Sam Walton, who were the co-founders of Walmart. Walmart is the world's largest retailer, one of the world's largest business enterprises in terms of annual revenue, and, with just over 2.2 million employees, the world's largest private employer.
As of December 2014, the Waltons collectively owned 50.8 percent of Walmart. In 2018, the family sold some of their company's stock and now owns just under 50%. In July 2020, the annual Sunday Times Rich List reported that the Walton family's net worth was US$215 billion.
In 2016, Alice and Jim Walton put a $250 million grant towards building charter school facilities. The Walton Family Foundation created the Building Equity Initiative to provide charter schools with access to capital to create and expand their facilities. This initiative was established after the foundation announced in 2016 that it would spend $1 billion over the next five years to expand "educational opportunity" by partnering with charter school operators, researchers, and education reformers.
2. Mars Family—Mars
Photo: Business Insider
Estimated Wealth: $215 billion
The Mars family is an American family that owns the confectionery company Mars, Inc., bearing their name. The family once was ranked as the richest family in the United States of America by Fortune magazine, in 1988. It has since been surpassed by the Walton family and the Koch family and was ranked as the third richest family in America in 2016.
Upon the death of Forrest Mars Sr., he and his two sons were ranked No. 29, 30, and 31 by Forbes magazine's list of richest Americans, and they each had a worth of approximately $4 billion. In March 2010 the three children of Forrest Mars were tied for 52nd place amongst the world's richest people according to Forbes, with a net worth of US$11 billion each. One of these sons, Forrest Mars Jr., died in 2016, and his four daughters inherited his wealth, with three of them working for the company as of 2019. As of April 2020, the combined private fortune of the family members was estimated at around $126 billion, making them one of the richest families in the world.
The family is very protective of their privacy, rarely if ever giving press interviews or, with the exception of Jacqueline Mars and Victoria B. Mars, being photographed in public.
The Mars family was among 18 billionaire families who lobbied Congress to eliminate the estate tax.
3. Koch Family—Koch Industries
Photo: Celebrity Net Worth
Estimated Wealth: $109.7 billion
The Koch family is an American family engaged in business, best known for their political activities (active role in opposing climate change legislation, donating to libertarian, criminal justice reform, and Republican Party causes) and their control of Koch Industries, the largest privately-owned company in the United States (with 2019 revenues of $115 billion). The family business was started by Fred C. Koch, who developed a new cracking method for the refinement of heavy crude oil into gasoline. Fred's four sons litigated against each other over their interests in the business during the 1980s and 1990s.
By 2019, Charles Koch and David Koch, commonly referred to as the Koch brothers, were the only ones of Fred Koch's four sons still with Koch Industries. Charles and David Koch built a political network of libertarian and conservative donors and the brothers funneled financial revenue into television and multi-media advertising. David Koch died in August 2019.
The Koch family foundations are a related group of non-profit organizations that began with the establishment of the Fred and Mary Koch Foundation in 1953, and now includes the Charles Koch Foundation, the David H. Koch Charitable Foundation, and the Koch Cultural Trust. The organizations collectively have a stated goal of "advancing liberty and freedom" through the support of various causes which "further social progress and sustainable growth in prosperity." In addition to the direct action of the non-profits, the groups have also contributed financially to other organizations in the fields of research, libertarian solutions to public well-being, arts, and education, including contributions to think tanks through organizations like the Cato Institute (formerly the Charles Koch Foundation).
4. Al Saud—Saudi Royal Family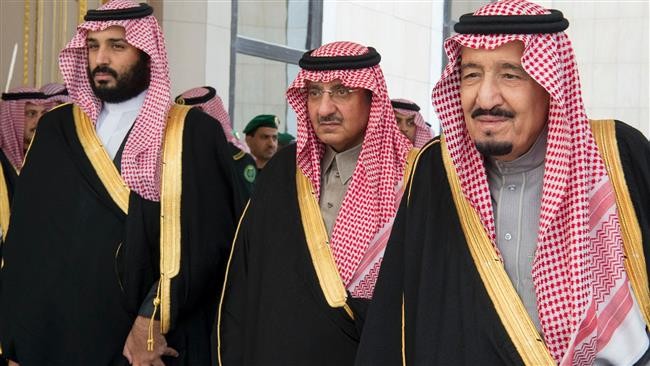 Photo: House Of Saud
Estimated Wealth: $95 billion
The House of Saud is the ruling royal family of Saudi Arabia. It is composed of the descendants of Muhammad bin Saud, founder of the Emirate of Diriyah, known as the First Saudi state (1744–1818), and his brothers, though the ruling faction of the family is primarily led by the descendants of Abdulaziz bin Abdul Rahman, the modern founder of Saudi Arabia. The most influential position of the royal family is the King of Saudi Arabia, an absolute monarch. The family in total is estimated to comprise some 15,000 members; however, the majority of power, influence, and wealth is possessed by a group of about 2,000 of them. Some estimates of the royal family's wealth measure their net worth at $1.4 trillion, this figure includes the market capitalization of Saudi Aramco, the state oil and gas company, and its vast assets in fossil fuel reserves.
The House of Saud has had three phases: the Emirate of Diriyah, the First Saudi State (1744–1818), marked by the expansion of Salafism; the Emirate of Nejd, the Second Saudi State (1824–1891), marked with continuous infighting; and the Third Saudi State (1902–present), which evolved into the Kingdom of Saudi Arabia in 1932 and now wields considerable influence in the Middle East. The family has had conflicts with the Ottoman Empire, the Sharif of Mecca, the Al Rashid family of Ha'il and their vassal houses in Najd, numerous Islamist groups both inside and outside Saudi Arabia, and Shia minority in Saudi Arabia.
5. Ambani Family—Reliance Industries
Photo: SCMP
Estimated Wealth: $81.3 billion
The Ambanis made international headlines in 2018 for throwing one of the most lavish wedding celebrations in recent memory, which included a private Beyoncé concert and celebrity guests including Priyanka Chopra and Nick Jonas, Hillary Clinton, and Arianna Huffington.
The Ambani family home in Mumbai is a 27-story skyscraper that cost an estimated $1 billion to build.
The family patriarch, Mukesh Ambani, has an estimated net worth of $66.1 billion, making him the ninth-richest person in the world, according to Bloomberg. He is also, as Fortune reported, the first Asian tycoon to number among the world's 10 richest people.
The Indian family's massive wealth began with Dhirubhai Ambani, who founded Reliance Industries to manufacture fabrics and textiles. Reliance Industries is now a Fortune 500 company worth $100 billion, and one of the most valuable companies in India.
Dhirubhai died in 2002 at age 69 without a will, leaving his company to be run by both of his sons: Mukesh and his younger brother, Anil. A bitter succession battle between the two brothers followed their father's death and resulted in a rivalrous relationship between Mukesh and Anil.
In 2005, the brothers split the company in a deal negotiated by their mother, and Mukesh was left with control of the oil, gas, petrochemicals, and refining operations of the business.
Today, 63-year-old Mukesh Ambani is worth an estimated $64.5 billion as the chairman and largest shareholder of Reliance Industries Limited.
6. Dumas Family—Hermès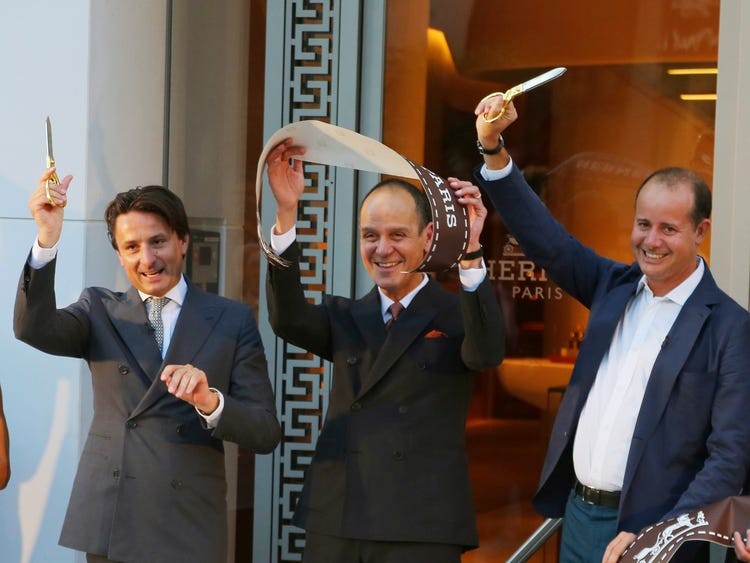 Photo: Business Insider
Estimated Wealth: $63.9 billion
Thierry Hermès, an orphan, was skilled with leather — so skilled, in fact, that his main clients in the 19th century were royal families.
Six generations later, the Hermès family — and brand — is now known for its exclusive Parisian fashion house and a $49.2 billion fortune.
At the head of Hermès, today are two cousins: Pierre-Alexis and Axel Dumas. Both are cochairmen of the brand. In addition, Axel is the CEO, and Pierre-Alexis is the company's creative director, whose father, Jean-Louis, revolutionized Hermès, growing it into an international luxury retailer.
In the fashion industry, Hermès is the ultimate status symbol: Its signature Birkin bag takes more than 25 hours to make, costs up to six figures, and can be seen on the arms of celebrities and princesses.
The fourth generation of Hermès was synonymous with the Dumas family. Robert Dumas took the head executive and artistic role in 1951 after the death of his grandfather, Émile-Maurice Hermès. It was Robert Dumas who introduced belts and bags to the brand. He kept these new accessories in line with the brand's tradition, though: Scarves, belts, and bags were all decorated with bridles, bits, and saddles.
In 2005, Jean-Louis Dumas announced he would be retiring after nearly 30 years as the company's chairman and CEO. By 2006, he had overseen the growth of Hermès sales to nearly $2 billion. In 2010, Jean-Louis Dumas died at the age of 72. A statement released by the company did not specify the cause of death, but it was known Dumas had Parkinson's disease.
In typical Hermès fashion, Jean-Louis Dumas handed off the reins of the luxury house to his son Pierre-Alexis Dumas, now 52, who was named artistic director in 2002.
7. Wertheimer Family—Chanel
Photo: Getty Images
Estimated Wealth: $54.4 billion
In 1924, Coco Chanel allied with Pierre Wertheimer, a businessman from a family of important merchants, to form Parfums Chanel with the aim of extending its Chanel N° 5 fragrance to a wider audience. The Chanel group therefore gradually became constituted of multiple activities, notably watchmaking or lingerie with brands Bell & Ross or Eres.
Since then, Chanel has been handed down from Wertheimer father to son and, since 1974, has been managed by Gerard and Alain, the grandsons of Pierre and sons of Jacques. And, apparently, it is they who have taken the best decision yet: hiring the best designer of the time, the late Karl Lagerfeld. While preserving the legacy of Coco Chanel, he introduced his particular avant-garde touch, knowing how to set the tone for international fashion right up to his last days. Another strategic point for the Wertheimers: Karl's comments were often controversial, all the more useful for keeping a low profile in the shadow of his brilliant and extremely mediatized character.
"To live happily, we live hidden," they say, and discretion is one of the maxims of the Wertheimer brothers - and for good reason. While it is no secret that one of the brothers lives in Switzerland and the other in the United States, their appearance in public is always extremely rare and well away from the spotlight. An attitude that is also encountered in the largest fortunes of luxury and fashion - for example, Hermes or Inditex. In the case of Amancio Ortega, at the head of the fast-fashion Spanish group (Zara, Bershka, etc.), he appears but very rarely in public and does not give interviews. The multimillionaire, however, did recently attend the wedding of his daughter Marta Ortega, appearing relaxed in front of the press. Using the same formula -"hidden" and in a luxury segment - Alain and Gérard Wertheimer have succeeded in positioning Chanel among the best brands in the world, according to Fashion United.
8. Johnson Family—Fidelity Investments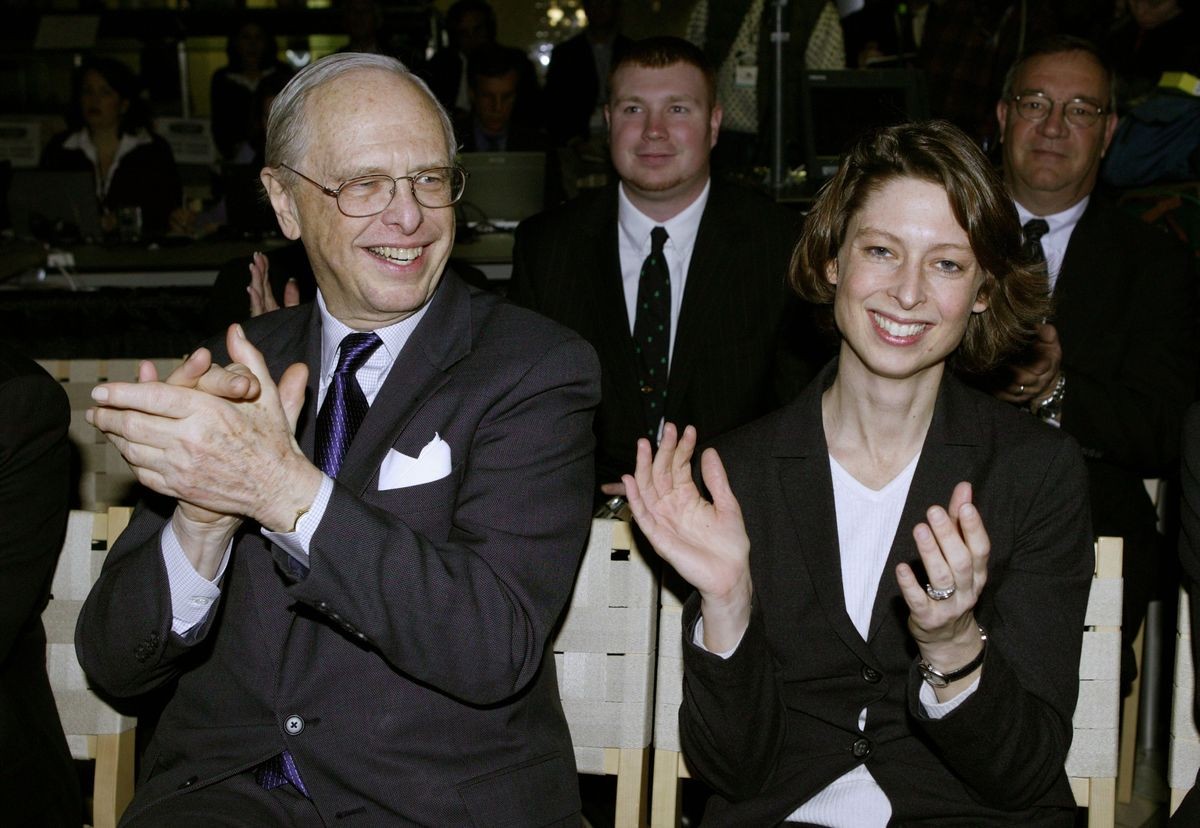 Photo: Bloomberg
Estimated Wealth: $46.3 billion
Abigail Pierrepont Johnson (born December 19, 1961) is an American billionaire businesswoman. Since 2014, Johnson has been president and chief executive officer of American investment firm Fidelity Investments (FMR) and chairman of its international sister company Fidelity International (FIL). Fidelity was founded by her grandfather Edward C. Johnson II. Her father, Edward C. "Ned" Johnson III, remains chairman emeritus of FMR. As of March 2013, the Johnson family owned a 49% stake in the company, with Johnson herself holding an estimated 24.5%.
In November 2016, Johnson was named chairman and remained CEO and president, giving her full control of Fidelity with 45,000 employees worldwide. Johnson's wealth is approximately $22.6 billion, making her one of the world's wealthiest women. She was named by Forbes as The Richest Person In America's 50 Largest Cities in 2016 and ranked #9 as Powerful Women in 2020. She was also the richest person in Massachusetts in 2020.
Upon graduating from Harvard Business School in 1988, Johnson joined Fidelity Investments, which her grandfather Edward Johnson II founded in 1946 – as an analyst and portfolio manager. In 2001, she was promoted to President of Fidelity Asset Management. In 2005, she became Head of Retail, Workplace, and Institutional Business. She was named president in 2012. In 2014, she became CEO, a role her father had held since 1977, and in 2016 she became chairman as well. In 2018, Johnson introduced cryptocurrency investment at Fidelity, making it possible for institutional investors to trade bitcoin and ethereum.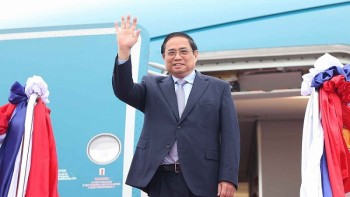 National
Vietnam News Today (Feb. 6): PM Chinh to pay official visits to Singapore, Brunei; Vietnam attends ASEAN+3 Tourism Ministers Meeting; Exports in 2023 and high demands from new generation FTAs; Digital technology to spearhead Vietnam's drive for Industry 4.0.