Top must-try dishes in Khanh Hoa cuisine
With these 9 savory dishes, your trip to Khanh Hoa is sure to become unforgettable.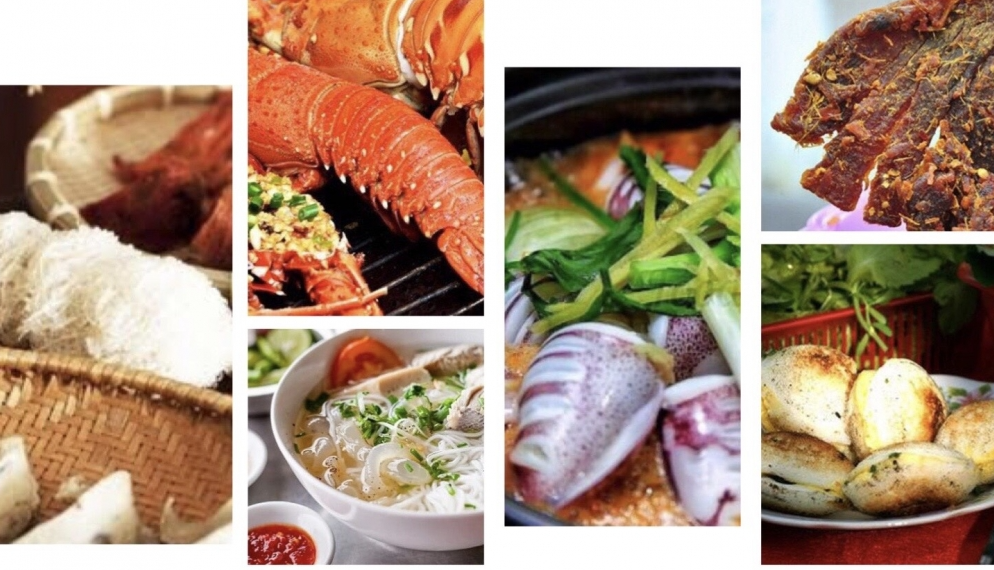 Hon Noi bird's nest
Hon Noi bird's nest
The top 1 position in the list of must-try dishes in Khanh Hoa belongs to bird's nest. Bird's nest is often considered as one of the most valuable gifts that nature grants to this province. Under feudalism, bird's nest was the noble gift that only King and Lord could use. In Khanh Hoa, swiftlets live naturally on more than 30 large and small islands. In which, the most famous are Hon Noi, Hon Ngoai islet, Hon Sam island.
Swiftlets often nest on high cliffs, therefore farmers often build bamboo scaffolding along the cliffs to get the nest.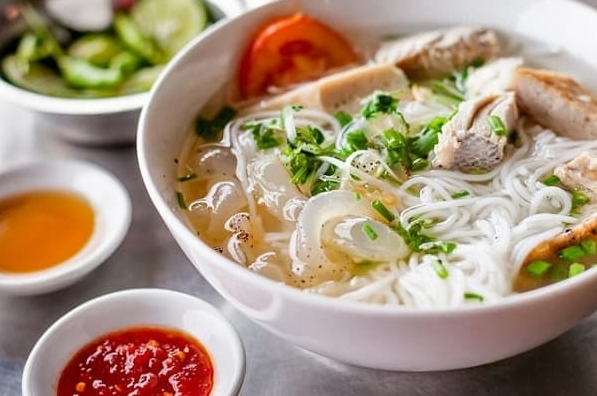 Jellyfish noodle
Jellyfish noodle
Jellyfish noodle is somewhat similar to fish noodle, but it has the main topping made from jellyfish, shrimp, crab, and meat. Jellyfish noodle is also served with steamed or fried fish balls and roasted peanuts for aroma.
Codfish is also an important ingredient. The fish flesh is divided into 2 parts, one is fried and the other is steamed with egg yolks on top. The broth is made from fish sauce and lean codfish.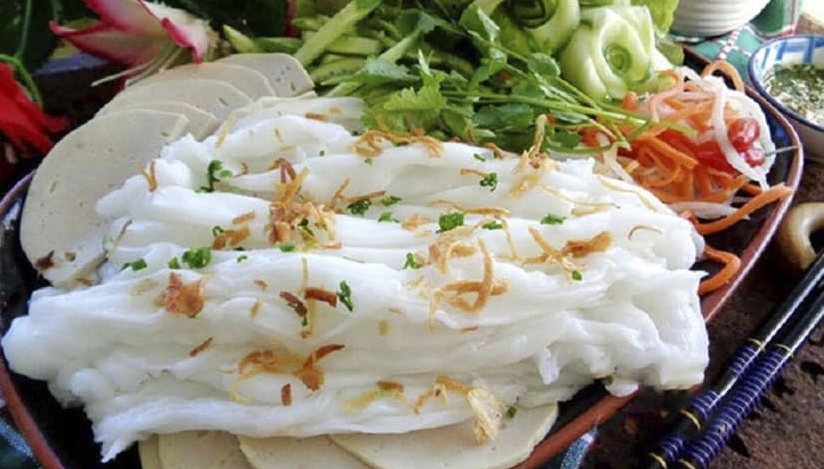 Diem Khanh's bánh ướt
Diem Khanh's bánh ướt
Dien Khanh's bánh ướt is a famous dish of Nha Trang. However, not many people know that this dish is quite easy to make. In order to make the dough, the cook has to choose the best rice, carefully wash and crash them until they become fine powder. When the cake is just rightly cooked, the cook has to gently use the bamboo chopstick to slip under the hot cake to take it out, neatly folded into the plate.
Dien Khanh's bánh ướt is a popular dish of Khanh Hoa people. To create its special flavor, it must be eaten with garlic sauce, or fish sauce made from fish intestines, combined with grilled meat, spring rolls.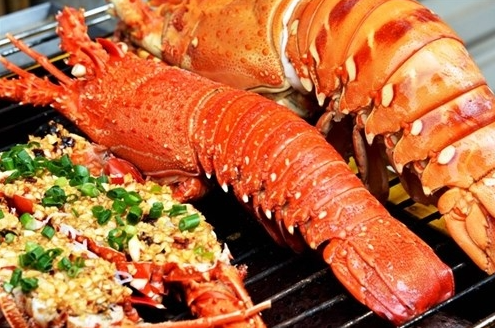 Binh Ba lobster
Binh Ba lobster
As a small island located on Cam Ranh Bay, Binh Ba is commonly known as the "lobster island". That name stems from the fact that Binh Ba is the capital of the country's lobster farming. Binh Ba lobster is famous throughout the country.
Lobster porridge is also a dish that you should try when arriving at the island in the windy afternoon. In addition, lobster blood soup is a unique dish that most visitors would love to try. This is a savory dish eaten with rice paper, fresh vegetables such as cilantro, lettuce, star fruit, banana.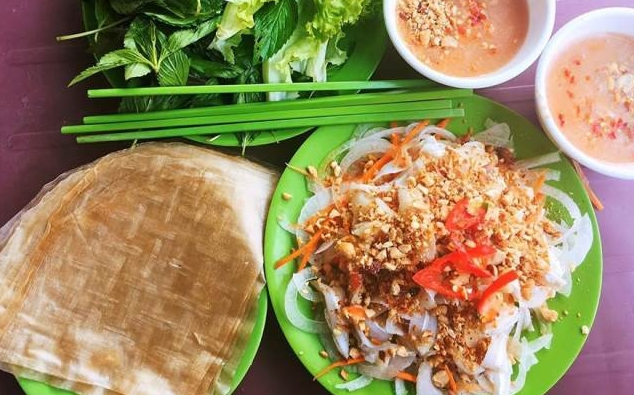 Fish salad
Fish salad
In Khanh Hoa, fish salad is a dish often chosen by local families when welcoming guests. The deep herring fish (cá mai) is about the size of a thumb, with a smooth, flat, and vertically striped body. The process of making fish salad is often time-consuming if you want to ensure quality and hygiene.
In order to become the ingredient of this dish, the fish must be freshly taken up from the ocean. It takes a lot of time to remove the bones and absorb water released from the fish with paper.
Cam Ranh's bánh căn
Cam Ranh's bánh căn
Bánh căn is a savory dessert made from rice powder, onion and a variety of fillings, including shrimp, squid, egg or minced meat. Besides the bánh căn' ingredients, the dipping sauce plays an irreplaceable role in creating special flavors of this dish.
This dish can be served with two different types of dipping sauce: sweetened fish sauce (mắm ngọt) or seasoned fish sauce (mắm nêm). Its side dishes include: fermented vegetables, mango, fresh chilli. Some bánh căn shops serve the dish with meat balls, mango sauce,...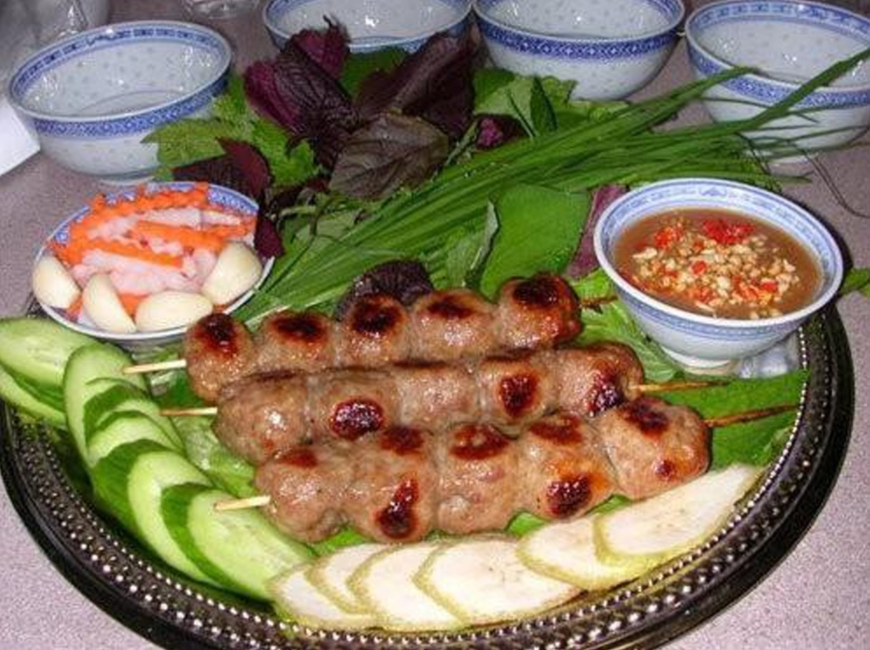 Ninh Hoa' nem
Ninh Hoa' nem
Nem is the most famous dish in Ninh Hoa - a district to the north of Nha Trang. On the first bite of this dish, tourists are sure to be impressed by the unique flavors, as well as the meticulousness that the cook put in the dish.
Ninh Hoa has two kinds of nem: the grilled nem made from minced meat and seasonings and the fermented nem made from meat and pig skin wrapped in banana leaves.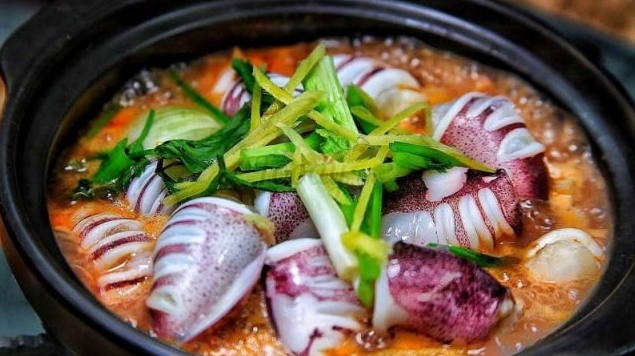 Dai Lanh's squid hotpot
Dai Lanh's squid hotpot
Squid hotpot is a popular dish in Dai Lanh. There are many kinds of squid here, but when processing Squid hotpot, restaurants only use fresh medium-sized squid to ensure a pure and delicious taste. Squid hotpot has a local feature of sweet cooking. Not only the squid but also fish such as mackerel, persimmon, alum fish, raft fish ... are served in the dish.
Dried venison in Dien Khanh
Dried venison in Dien Khanh
Besides seafood, Khanh Hoa cuisine is also famous for dried venison in Dien Khanh - a mountainous district in this province.
In order to make this special dish, venison is carefully cooked, seasoned, grilled and dried. If you ever have a chance to visit Khanh Hoa, don't forget to buy dried venison as a present for your family and friends as this dish is Khanh Hoa's "valuable" specialty!
Bac Lieu cuisine check-list

Bac Lieu is famous for its delicious dishes, however, only a few of which can be called "specialties". Below is the list of Bac Lieu ...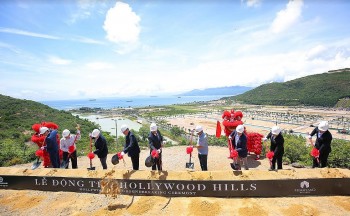 Economy
On October 2, at Hai Giang peninsula (Quy Nhon city, Binh Dinh), Hung Thinh Corporation held the groundbreaking ceremony of Hollywood Hills by YOO Inspired by Starck – a subdivision at MerryLand Quy Nhon. The event marks the first time that the world's No.1 ranked design and branded residence company YOO Inspired by Starck is officially present in Vietnam, with a collection of villas designed by creative director, Philippe Starck.