Touched business class ticket gifted a poor father to return to his daughter's funeral on time
A Nghe An father making living for his family in Binh Duong was busily going hometown due to his daughter's death of a traffic accident, but the flight was late. He was crying at Tan Son Nhat airport (Ho Chi Minh City) and was given a business class ticket by an unknown passenger to see off his daughter remain in time.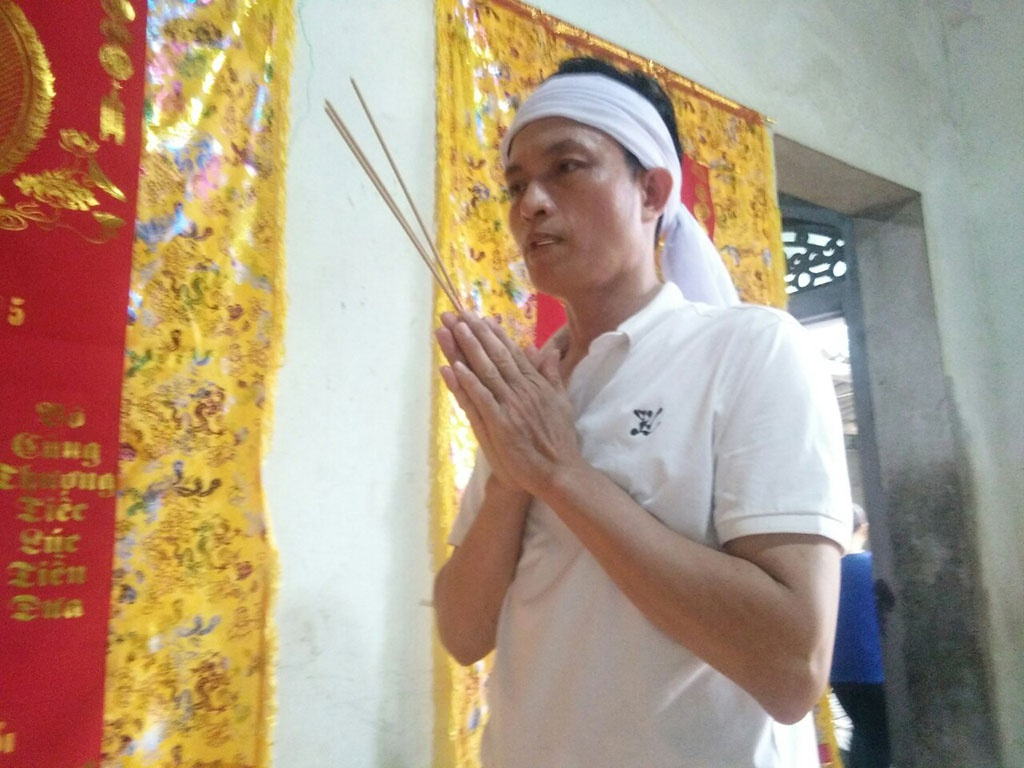 Father Tran Van Hai in front of his daughter's altar
Father's tears over daughter remain
This touching story of human love shared on Vietnamese social networks over the past few days has made the netizens' eyes dewed with tears.
The story "The painful tears of a father losing his daughter fading a Saturday's afternoon and a touched business ticket: please let me fly soon, my daughter has gone forever" shared by netizens:
"This is a business ticket of the airline that we welcomed him to the waiting room this afternoon. He told us this was his first time going by a plane, asking stewardesses for help. At 05:00 pm, he went to the waiting room reception again to ask us to show the boarding gate. I said his trip took off at over 08:00pm so please kept waiting. His eyes were brimming with tears: "My daughter has gone away, sir, please let me fly soon!".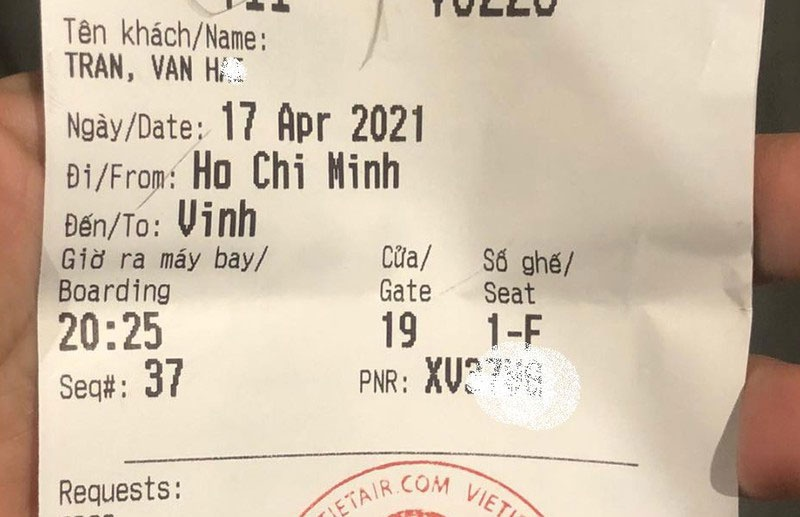 A business class ticket was given to Tran Van Hai by a kind person so that he could return to his hometown to see his daughter remain one last time
"I and my colleague both froze for a moment. He cried again. Everyone around the waiting room was very sad, felt sorry and looked puzzled to hi . My colleague and I were confounded and tried to calmly find ways to support his flight. If he wanted to fly earlier, he had to buy another tichket from other airlines.
At that moment, there was a female guest in the waiting room freely providing him a new business-class ticket so that he could fly as soon as possible. All have also provided the best possible support for him to return to his family ".
"He told everyone in tears: Nearly 20 years away from his hometown as a worker in Binh Duong with a purpose of earning money to send back home to raise his three children. The two oldest girls this year were preparing for college, one was in 4th grade. Today, two girls were going to school when they were hit by a car, one died on the spot, one broke his leg and in hospital. Now I have to go home quickly ..."
Then he cried again. He opened his wallet, of which there were only a few hundred thousand dong (he must have gathered all the money to buy ticket before).
I have instructed him how to change routes to take the plane back, but he told me to get in by cheap bus ... (because he thought going by flight would lose much money). He thanked everyone with teary eyes, greeted and boarded the plane. I look on the electronic board, his flight has taken off. The flight brought him back to his family and faced the pain of life… ".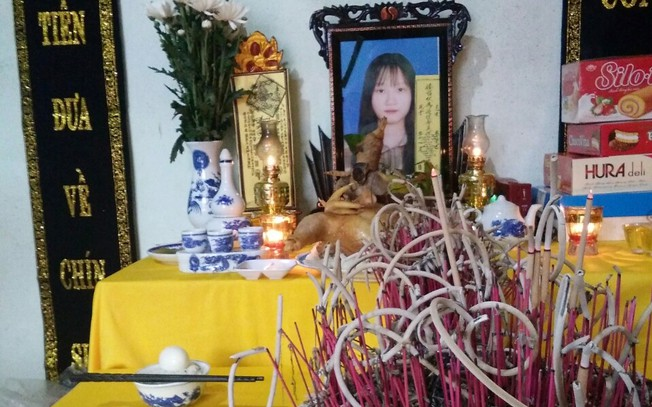 Altar with prayed photo of Tran Thi Huyen (daughter of Hai).
Pain shared is pain lessened
The above story is true, the father named Tran Van Hai (47 years old, from Nghi Lam commune, Nghi Loc district, Nghe An) - a worker in Binh Duong.
On Monday's morning, April 19, after doing a three-day worshiping ceremony for his second daughter, Hai was on duty to take care of his first daughter in emergency care at the General Friendship Hospital of Nghe An province.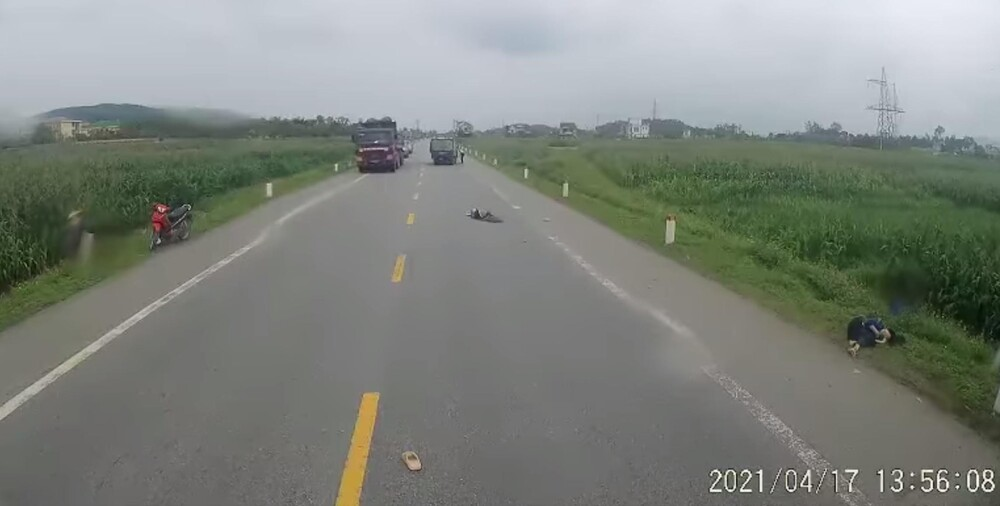 The scene of the accident
The tragic accident happened in the early afternoon of April 17, on the "death" road N5. Twins Tran Thi Thao and Tran Thi Huyen (18 years old, a 12th grader) walking from home to Nghi Loc 5 High School. When they were on N5 Road, they were hit by a truck. The strong hit caused the younger sister die on the spot. The older sister, seriously injured, was taken to the emergency room in a critical condition.
Sharing with reporters, Hai said that he moved to Binh Duong and has worked as a worker for nearly 20 years. On the afternoon of April 17, he was working when he received a phone call from his wife informing him that his daughter had had an accident. He immediately stopped working to return to his hometown.
Because he wanted to go back quickly to see his daughter's remain for the last time, he asked the carrier to go to Tan Son Nhat airport for a flight ticket to Nghe An as soon as possible. This was also his first time on a plane. At that time, the flight to Vinh airport (Nghe An) only left the class one cost VND 4.6 million (USD 200), Hai could not afford the ticket, so he had to buy a regular ticket, the flight took off at 20:25 for more than VND 2 million (USD 95).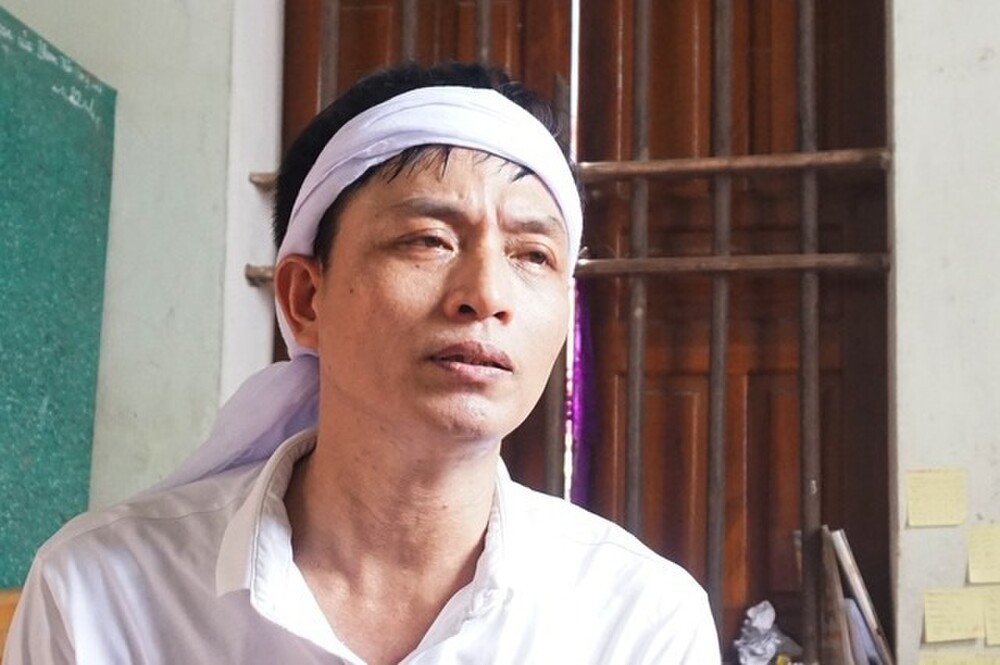 The poor father could not hold his tears to talk about saying goodbye forever to his little girl.
"Waiting at the airport, I was all over hurt and felt sorry for my child so I cried out loud. There was an uncle from Hanoi who cared me and many people knew my situation, so they gathered to encourage me. One of them bought me a business class ticket for the flight to Vinh taking off at 18:30,"said Hai.
When he arrived at Vinh airport at 9:00 pm, a person who was on the same flight helped Mr. Hai to take a taxi back home.
Hai's wife is not healthy enough to work for family's living, so his family's life only relys on Hai's wages. On April 19, after finishing the funeral for his second daughter, Hai had to rush to Nghe An General Hospital to be beside his first daughter, who is being treated here. Due to the surgical injury, he and his wife have to struggle for money to save their children. Hai is also contemplating returning home to find a job to compensate for his wife and two children.
During two days of taking care of the funeral for his child and his sick wife who fainted repeatedly, all the care and treatment for the first child in hospital had to rely on the doctor and his relations.
"The doctor said she had passed the critical episode, the external brain injury has been handled well. The broken knead is currently being monitored and treated. However, the treatment cost will be extremely high", Mr. Hai sighed.
Ms. Nguyen Thi Nhung, Secretary of the Union of Nghi Lam Commune, said that, in the face of painful and difficult circumstances, the Standing Committee of the Commune Youth Union is calling on members, people and benefactors to join hands to help Hai's family have enough money for the second daughter Thao's hospital fees.
Any help please send to Mr. Tran Van Hai at Agribank account number: 5590205183371. Phone number: 0923033159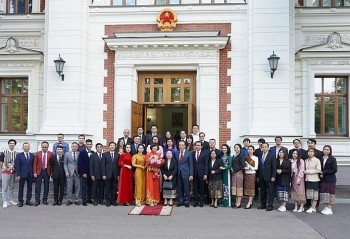 Friendship
The Vietnamese Embassy in Cuba will make efforts to consolidate and cultivate the special Vietnam-Laos relationship in the spirit of respect and support for mutual benefits.