Vietnamese father built wooden Bugatti Centodieci for his son
A Vietnamese crafter has built a car with the design inspired by the Bugatti Centodieci supercar, fitted with an electric motor so that it could move like an actual car.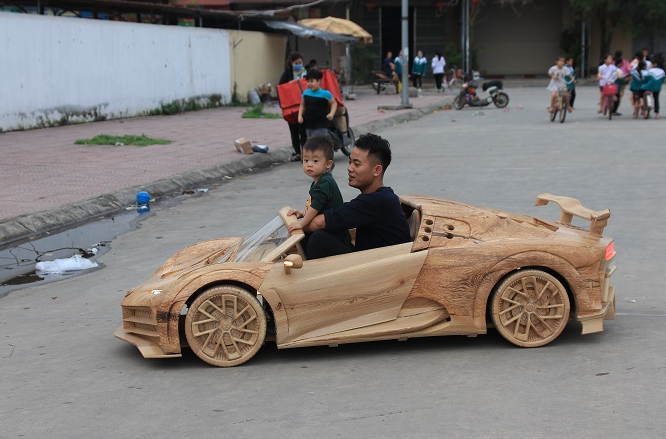 Truong Van Dao and his son on the wooden Bugatti Centodieci. (Photo: Ngoi Sao)
On international auto news channels, a video showing a Vietnamese father making a wooden car for his son attracted a lot of attention. Many big media channels such as Supercar Blondie also reposted this video. According to the video, the homemade car was inspired by the Bugatti Centodieci supercar, yet smaller, cheaper, and built entirely of wood.
The Bugatti Centodieci is a limited production mid-engine sports car produced by French automotive manufacturer Bugatti. The car is an homage to the Bugatti EB110 and a celebration of the Bugatti marque's 110th birthday. Production of the Centodieci is limited to 10 units priced at 8 million euros (~$8.9 million) each. The Centodieci is capable of accelerating from 0-100 km/h (62 mph) in 2.4 seconds, 0-200 km/h (124 mph) in 6.1 seconds and 0-300 km/h (186 mph) in 13.1 seconds with a top speed electronically limited to 380 km/h (240 mph). Its curb weight is 1,976 kg.
Truong Van Dao (30 years old, residing in Tu Son, Bac Ninh) said that he was a carpenter, then learned to do handicrafts to improve the family's income. In late 2019, his first son was born. The child shows his interest in all kinds of cars from a very young age, so Dao tried to make miniatures of different cars for his son as toys. However, since the miniatures cannot move, his son soon gets bored. That's when Dao decided to self-learn how to make a wooden car that can drive like an actual one.
To make the wooden car, 3 carpenters in Dao's wood workshop had to work in 40 days. Firstly, the Bugatti Centodieci supercar image was printed on large paper. Workers based on that sketch cut the wood into separate details. After the wood surface treatment process, the parts are joined together by glue and pin. Almost all the details are made of wood, from the chassis to small details such as mirrors and fake buttons. Parts like the wheel are also cleverly carved to ensure both aesthetics and operability.
In late 2019, Dao's first son was born. The child shows his interest in all kinds of cars from a very young age. (Photo: Ngoi Sao)
The outer surface is chiseled, engraved, and polished with a finishing touch. Some details such as front lights, taillights, and turn signals integrated on the mirror are also meticulously made with LED bulbs.
Meanwhile, the axle was made of metal. The chain-driven electric motor enables the vehicle to move forwards and backward. The wooden steering wheel is connected to the front axle so the driver can drive the car as he wishes. According to the posted video, this Vietnamese father took 45 days to complete this car for his son.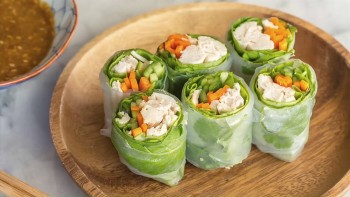 Travel
Rolls are a easy-to-make dish that is loved by many Vietnamese diners as well as Korean stars.