Towns in 2 central provinces apply social distancing amid rising Covid-19 threat
Several districts and towns in the north central provinces of Thua Thien Hue and Quang Tri will adopt social distancing measues in a bid to stem the spread of the novel coronavirus.
Lang Co, Phong Dien Towns, Phong Thu and Phong Hoa Communes in Thua Thien Hue Province will impose social distancing measures starting May 9, in a decision made by the provincial Chairman Phan Ngoc Tho.
Lang Co Town in Phu Loc District has reported several F1 cases linked to the outbreak in Da Nang. while Phong Thu, Phong Hoa Communes and Phong Dien Town have recorded cases related to Covid-19 patients in Quang Tri's Hai Lang District, VnExpress has reported.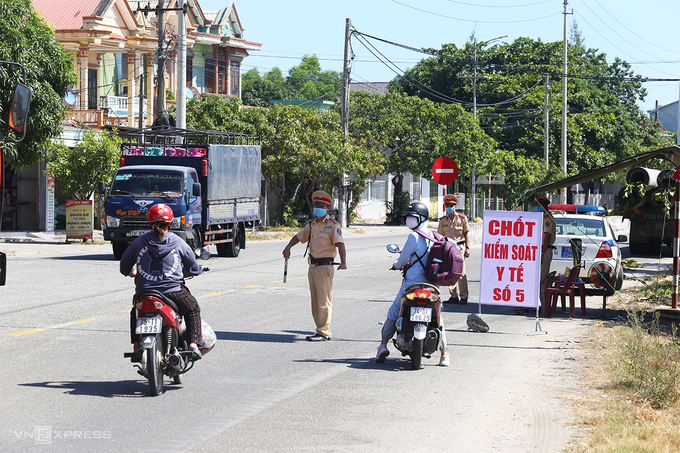 A medical checkpoint in Lang Co Town, Phu Loc District. Photo: VnExpress
Thua Thien Hue Steering Committee for Covid-19 Prevention and Control has also decided to increase the number of medical checkpoints on National Highways 1A and 49B to eight from five, to more closely monitor people and vehicles entering the province. Anyone entering the province must make online health declarations in advance .
Amid the rising Covid-19 threat, Thua Thien Hue has allowed students to stay at home from May 8. Residents have been required not to gather in groups of more than 20 people at meetings, ceremonies, religious sites and sporting events, while they must sit at least 2 meters apart.
Earlier, the province closed down venues including gyms, cinemas, discotheques bars, karaoke parlors and entertainment venues. Restaurants and cafes on National Highway 1A have also been ordered to cease operations.
Thua Thien Hue has not recorded any Covid-19 cases since the latest coronavirus outbreak hit the country on April 27. However, it has contact traced 35 F1 cases who had been in close contact with Covid-19 patients. All tested negative for the virus in a first test.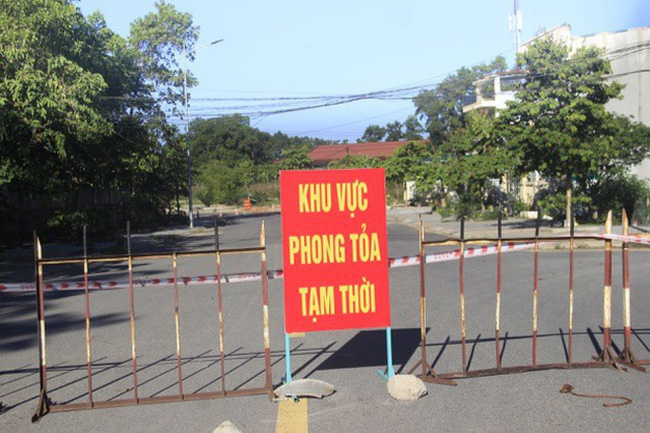 A locked-down area. Photo: Dan Tri
Meanwhile, Hai Chanh and Hai Son Communes in Hai Lang District of Quang Tri Province have implemented social distancing under a government directive, starting May 8. The decision was made after a Covid-19 case visited both communes.
Hai Lang District has planned to ensure food for 350 households in the blockaded areas. Students in the province have been required to stay at home until further notice since May 8.
The authorities have contact traced 31 F1 and 68 F2 cases.
Quang Tri has not documented any community transmissions in the latest Covid-19 outbreak so far.
The Ministry of Health has sent an official dispatch to chairpersons of provincial/municipal People's Committees, directors of provincial/municipal Departments of Health and heads of medical facilities nationwide, asking them to raise the alert against the Covid-19 pandemic to the highest level and actively conduct Covid-19 testing at hospitals, according to Vietnamplus.
The document highlights the serious development of the pandemic, with outbreaks seen in provinces and cities nationwide as well as patients and medical workers in a number of hospitals infected with the coronavirus, including the UK and Indian variants that have "super transmissibility."
The ministry has ordered the strict implementation of directions on Covid-19 prevention and control issued by the Prime Minister and the National Steering Committee for Covid-19 Prevention and Control.
With the alert raised to the highest level, plans to cope with any infections detected in hospitals must be in place, according to the dispatch.
Localities detecting domestic Covid-19 cases should conduct testing for all medical workers, patients and their caregivers.
Fifteen domestic cases of Covid-19 were recorded in the 12 hours up to 6 a.m. on May 9, according to the health ministry.
Of the cases, six were detected at the second facility of the National Hospital for Tropical Diseases in Dong Anh in Hanoi, five in Bac Giang Province, two in Lang Son Province, and one each in Dak Lak and Ha Nam provinces.
The national Covid count has risen to 3,245, with 256 cases recorded since the latest wave began on April 27.
Meanwhile, 2,602 patients have been given the all-clear. The death toll remains at 35.
Among patients still under treatment, 25 have tested negative for the coronavirus once, 22 twice and 17 three times.
A total of 42,293 people are under quarantine nationwide, with 685 at hospitals, 22,810 in concentrated facilities, and 18,998 in their place of residence.
On May 8, an additional 30,678 people received Covid-19 vaccine shots, bringing the total number of vaccinated people to 832,635, mostly medical workers and those who work on the frontline in the pandemic fight.