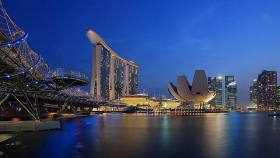 Illustrative photo.
According to the recent announcement from Embassy of Singapore to Vietnam, from 16 March 2020 late evening, all travelers (including Singapore Residents, Long Term Pass holders, and short-term visitors) entering Singapore with recent travel history to ASEAN countries (including Vietnam), Japan, Switzerland, or the United Kingdom within the last 14 days will be issued with a 14-day Stay-Home Notice (SHN). Those under an SHN will have to remain at a hotel booked for the entire period, or at a place of residence of theirs or their family members at all times during the 14 days.
These arrivals to Singapore must provide residential proof during isolation time in the country and maybe asked for Covid-19 testing if essential.
Besides, all short-term visitors who are nationals of any ASEAN country will have to submit requisite information on their health to the Singapore Overseas Mission in the country they are residents before their intended date of travel.
Vietnam Ministry of Foreign Affairs recommends Vietnamese citizens to avoid non-essential travel to Singapore or in other cases, people should update constantly requirements of host countries on necessary documents for traveling during the uncertainties of the respiratory disease.
Moreover, people are asked to follow strict warnings, instructions, and rules relating to Covid-19 prevention of host countries' authorities.