Trump's executive turns Christmas Eve into federal holiday stated that Federal agencies will be closed on Thursday, Dec. 24, 2020. (Photo: USA News)
Trump's executive turns Christmas Eve into federal holiday
The president made the announcement via an executive order, which he released Friday afternoon. Trump's order says, "All executive departments and agencies of the Federal Government shall be closed and their employees excused from duty on Thursday, December 24, 2020, the day before Christmas Day."
"The heads of executive departments and agencies may determine that certain offices and installations of their organizations, or parts thereof, must remain open and that certain employees must report for duty on Dec. 24, 2020, for reasons of national security, defense, or other public need," the order reads.
Trump has been a big advocate of celebrating the holiday proudly and maintained before taking office that politically correct Democrats were waging a "war on Christmas." At a Saturday rally in Georgia stumping for two Republican senators in runoff races, Trump warned that his political opponents still want to erase the holiday.
"Let me begin by wishing you all a very Merry Christmas. Remember the word?" Trump told the crowd. "Remember? We started five years ago, and I said, 'You're gonna be saying 'Christmas' again.' We say it proudly again. Although they'll be trying to take that word again out of the vocabulary." NY Times quoted the President.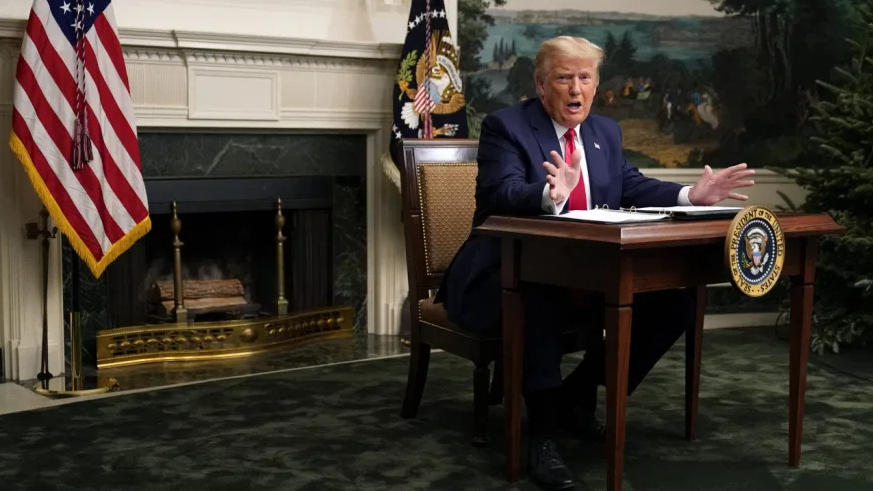 President Donald Trump speaks with reporters after participating in a video teleconference call with members of the military on Thanksgiving, Thursday, Nov. 26, 2020, at the White House in Washington. (Photo: AP)
Why the new executive special?
There is no guarantee that presidents will grant federal employees extra time off around Christmas. Christmas Day is a federal holiday, but Dec. 24 isn't. The decision rests with the president, and each has handled it differently.
Other presidents have offered federal workers a half-day in the past, but this executive order gives employees a fully-paid day off. There are exceptions to the order, of course, with some employees still having to report for duty for reasons of "national security, defense or other public need", said Fox News.
This is the third year in a row that Trump gave federal employees an extra day off before Christmas. He closed federal agencies last year, the first president since Franklin D. Roosevelt to grant the day off on Dec. 24 when Christmas Eve fell on a Tuesday. Obama allowed a half-day in 2015 and 2009. Clinton also allowed a half-day in 1998.
With Christmas Eve off, federal workers will have a four-day weekend to celebrate the holidays, according to Public Holiday News.
Valerie Mai