Two illustrated books by Vietnamese conservationist to be published globally
Macmillan Publishers will release worldwide two children's non-fiction books written by Vietnamese award-winning conservationist Nguyen Thi Thu Trang (Trang Nguyen).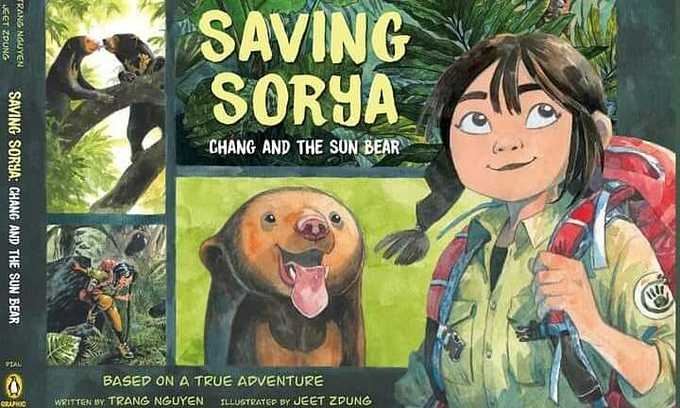 Book cover of 'Saving Sorya: Chang and the Sun Bear'. Photo courtesy of Trang Nguyen
The Bookseller, a business magazine for the publishing industry, reports that the global publishing rights for two non-fiction children's books by Trang Nguyen, the founder of WildAct and an award-winning conservationist, have been bought by Macmillan Children's Books.
The 31-year-old writer has mentioned this on her Facebook page and uploaded an article from The Bookseller.
This gives the publisher rights to all countries except for Vietnam, and all languages except Vietnamese, in an agreement with Kim Dong Publishing House.
Trang's books will be illustrated by Jeet Zdung, a Vietnamese artist who fuses traditional Vietnamese art and manga, and book rights have already been sold on in the United States, South Korea, China, Norway and Turkey.
The first book, 'Saving Sorya: Chang and the Sun Bear', has already been published in Vietnam and will be published in English this September.
'Saving Sorya: Chang and the Sun Bear' is based on Trang's own story about how she became a conservationist after witnessing a moon bear being tortured. According to Trang, Sorya was a tiny sun bear that was rescued by Free the Bear Fund when she was only eight weeks old. "Her mom probably was killed when they kidnapped her, or sent to a bear bile farm somewhere," she explained.
When endlessly curious and tenacious Chang discovers a bear bile farm near her home in Vietnam, she decides to do everything she can to save wild animals – by becoming a conservationist! After teaching herself survival skills, documenting every rainforest plant and animal she sees in her field notebook, and disproving the critics who think she isn't old or strong enough, Chang is finally accepted as a rescue centre volunteer. But her toughest challenge yet comes when she's tasked with returning Sorya – the sun bear she raised from infancy – back into the wild. Because despite being a different species, Sorya is Chang's best friend. And letting a friend go is never easy, even when it's the right thing to do.
'Saving H'non: Chang and the Elephants', to be published next year, has an older version of the character Chang saving an elephant that was forced to work in the logging and tourism industries for 50 years.
"The elephant story that we are making is based on a true story of H'non, a 60-year-old elephant who was kidnapped when she tiny, abused into carrying heavy items at construction sites, and then when she was old and weak, they forced her to carry tourists on her back. Her limbs and back were broken. I want to help these animals to tell their stories, for humans to listen, to understand, appreciate how unique and fascinating they are, and to help them," Trang said.

Pages from 'Saving Sorya: Chang and the Sun Bear'. Illustrations by Jeet Zdung
Trang told Saigoneer via WhatsApp that she hopes "readers, not just children, can learn more about our nature, and that, especially in a developing country like Vietnam, wildlife conservation is a real, legitimate career that is not a 'white man's job.'"
She added: "Human activities are pushing bears into extinction, not only from the horrible and cruel bear bile farming/consuming practice, but forest destruction and overpopulation too. I hope it inspires others to take action."
Trang also hopes that the decision to make Chang a young girl shows parents that they should encourage their daughters to pursue their own dreams. "Girls can be scientists, geologists, astronauts...they can be awesome if you empower them," she said.
The books are especially impactful given that they are based on real life, cited Urbanist Hanoi.
Russell McLean, publisher at Kingfisher, commented: "I am thrilled to have acquired these books by Trang Nguyen and Jeet Zdung. They promise to be Born Free for a new generation and I know that children of all ages will feel empowered by Nguyen's life. The books are heart-tugging animal stories with real facts and a truly inspiring and determined lead character. With breath-taking art and STEM facts galore, Chang's daring story is for any young reader, animal lover, and intrepid explorer who's ready for adventure."
Trang Nguyen is a Vietnamese wildlife conservationist, environmental activist, and writer, known for tackling the illegal wildlife trade in Africa and Asia. She graduated with her PhD in Biodiversity Management at the University of Kent, England. In 2018, Trang was featured in the documentary film 'Stroop: Journey into the Rhino Horn War alongside Jane Goodall'.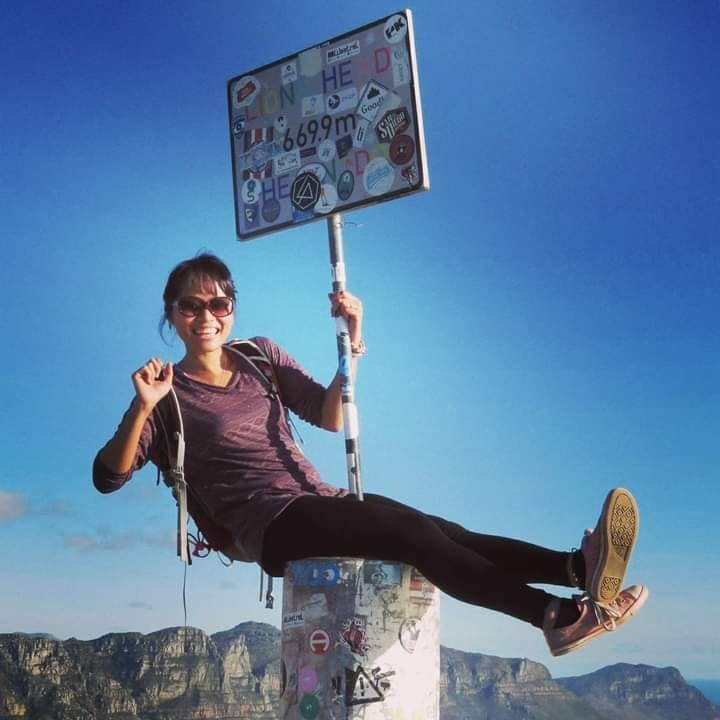 Photo Courtesy of Trang Nguyen
According to Amazon, she was selected for BBC's 100 Women of 2019 list and for the 2020 Forbes 30 Under 30 Asia list. Trang is the founder and executive director of WildAct, an NGO that monitors the illegal wildlife trade markets and provides conservation education programs for Vietnamese youth. She is also a member of the IUCN SSC Bear Specialist Group, which promotes the conservation of bears living in their natural habitats around the world. Saving Sorya: Chang and the Sun Bear is her first children's book.
Jeet Zdung is an illustrator who fuses traditional Vietnamese art with manga, using pencils, watercolors, ink, and other digital means to create works of beauty and innovation. He has won several awards, including a Silent Manga Audition Excellence Award for his manga Stand Up and Fly, Saving Sorya: Chang and the Sun Bear is his first children's book published in the US. He lives in Hanoi, Vietnam.
Pan Macmillan, one of the largest publishers in the U.K., has bought global rights excluding Vietnam and in all languages excluding Vietnamese from Kim Dong Publishing House.
Macmillan has already sold rights in the U.S., South Korea, China, Norway and Turkey.
Book on Cham fairytales published

The first book of Cham fairytales collected and translated into Vietnamese by teacher Kinh Duy Trinh of Binh Thuan Province has been released.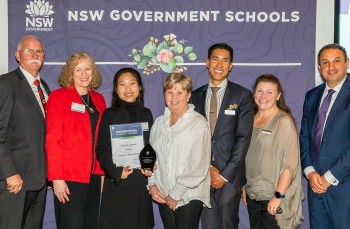 Overseas Vietnamese
The award for international students studying at New South Wales state schools (Australia) honors excellent ones from many countries, including a Vietnamese female student.