Typhoon Vamco in Philippines causes 42 people dead, 400,000 evacuated
The strong typhoon Vamco in Philippines has left at least 42 people dead, 20 missing and 400,000 evacuated.
Thick mud and debris coated many villages around the Philippine capital on Friday after a typhoon killed at least 42 people and caused extensive flooding that sent people fleeing to their roofs, officials said.
Troops, police, coast guard and disaster-response teams rescued tens of thousands of people, including many who flooded radio and TV networks and social media with desperate pleas for help, AP News reported.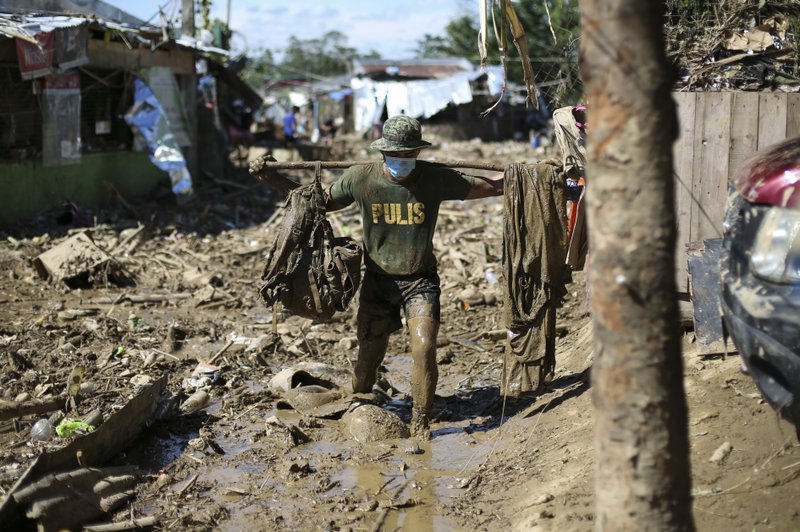 A policeman carries his belongings across debris and muds at the typhoon-damaged Kasiglahan village in Rodriguez, Rizal province, Philippines on Friday, Nov. 13, 2020. Photo: AP/Aaron Favila
Floodwaters receded and the weather cleared in many areas after Typhoon Vamco blew out into the Bien Dong Sea (South China Sea) on Friday, but the military said it was still rescuing people trapped in some flooded communities.
Amphibious assault vehicles usually used in counter-insurgency operations were deployed for the rescue work, military chief of staff Gen. Gilbert Gapay said in a meeting with disaster-response officials.
"We'll continue to look for the missing, help in damage assessment," Gapay said.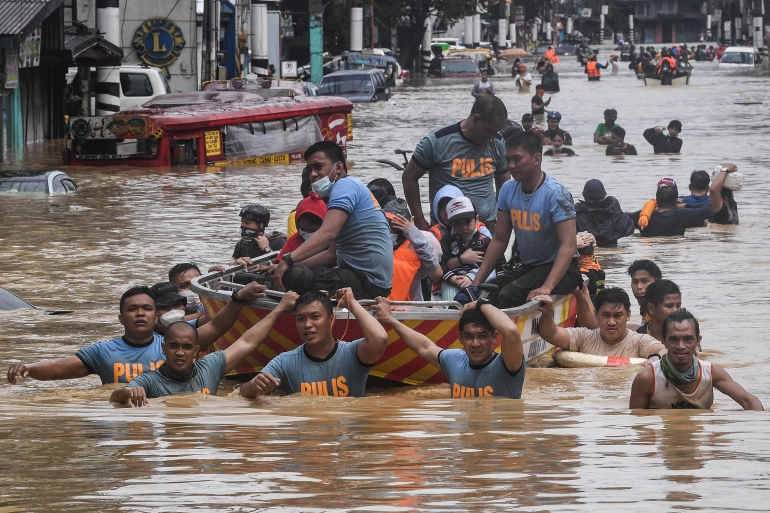 Rescuers used boats to save people in the worst affected areas around Manila, including suburban Marikina City Photo: Ted Aljibe/AFP
The national police reported that the death toll had risen to at least 42 with 20 missing. The government's main disaster-response agency, which waits for provincial reports and follows a laborious process of verifying casualties, reported a much lower death count, causing confusion.
Among the dead were at least 12 villagers who were dug out from mud and rockslides in the northern provinces of Cagayan and Nueva Vizcaya, police said.
After slamming into northeastern Quezon province, Vamco gained strength with sustained winds of 155 kilometers (96 miles) per hour and gusts of up to 255 kph (158 mph). It blew north of metropolitan Manila overnight Wednesday, toppling trees and power poles, swelling rivers, flooding residential communities and setting off landslides and storm surges.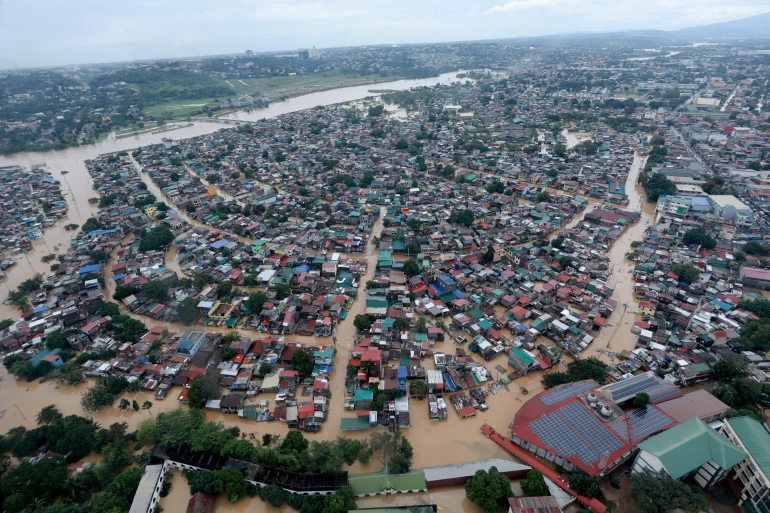 Vamco submerged parts of suburban Manila. Photo:
Photo: Ace Morandante/Presidential Photographers' Division via EPA
In hard-hit Marikina city in the capital region and the towns of Rodriguez and Cainta in nearby Rizal province, several villages were inundated by water that reached the second and third floors of many houses, prompting hundreds of residents to flee to their roofs and call TV and radio networks or post desperate messages on social media. The panic was exacerbated by widespread power outages and loss of internet access.
More than 400,000 people were evacuated to higher ground before the typhoon hit, mainly residents of vulnerable coastal and low-lying areas.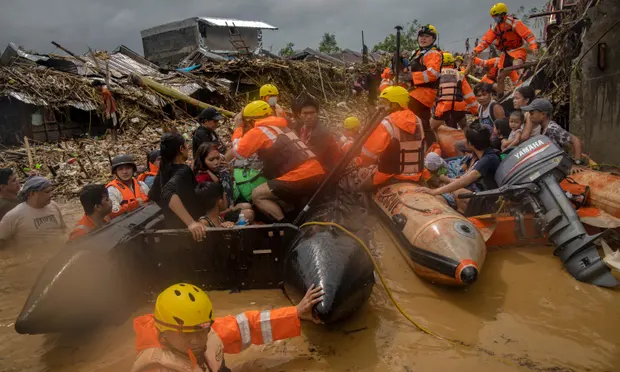 Rescuers and residents ride in rubber boats amid rising floodwaters in a submerged village, as Typhoon Vamco hits the Philippines Photo: Ezra Acayan/Getty Images
At least 3.8 million households lost power in the capital and outlying provinces, but crews later restored electricity in many areas. Government offices were closed and most classes were suspended Friday.
Vamco hit the Philippines on the heels of Typhoon Goni, one of the strongest typhoons in the world this year, which left more than 30 people dead or missing and damaged or destroyed 270,000 houses. Tens of thousands of people were still displaced when Vamco hit.

The Philippines is hit by about 20 typhoons and tropical storms each year and also has active seismic faults and volcanoes, making it one of the world's most disaster-prone countries.
Typhoon Vamco strengthens, to hit Vietnam's central coast early Nov. 15
Typhoon Vamco gained strength early on November 14 on its way towards Vietnam's central coast and is forecast to batter the region early on November 15, according to the National Centre of Hydro-meteorological Forecasting.
At 06.00 am November 14, Vamco was located 370km off the Da Nang coast, packing winds of between 135 and 165kph with a gust of nearly 200kph, VOV reported.
In the next 12 to 24 hours, Vamco is expected to move west and north-west at a speed of 20kph and to be downgraded a little before making landfall along central coastal provinces from Quang Binh to Quang Ngai early on November 15.
The typhoon will cause rough seas and heavy rain in the central region as of the afternoon on November 14. The area will experience heavy downpours with common rainfall of 250 mm or even more than 350 mm in several places.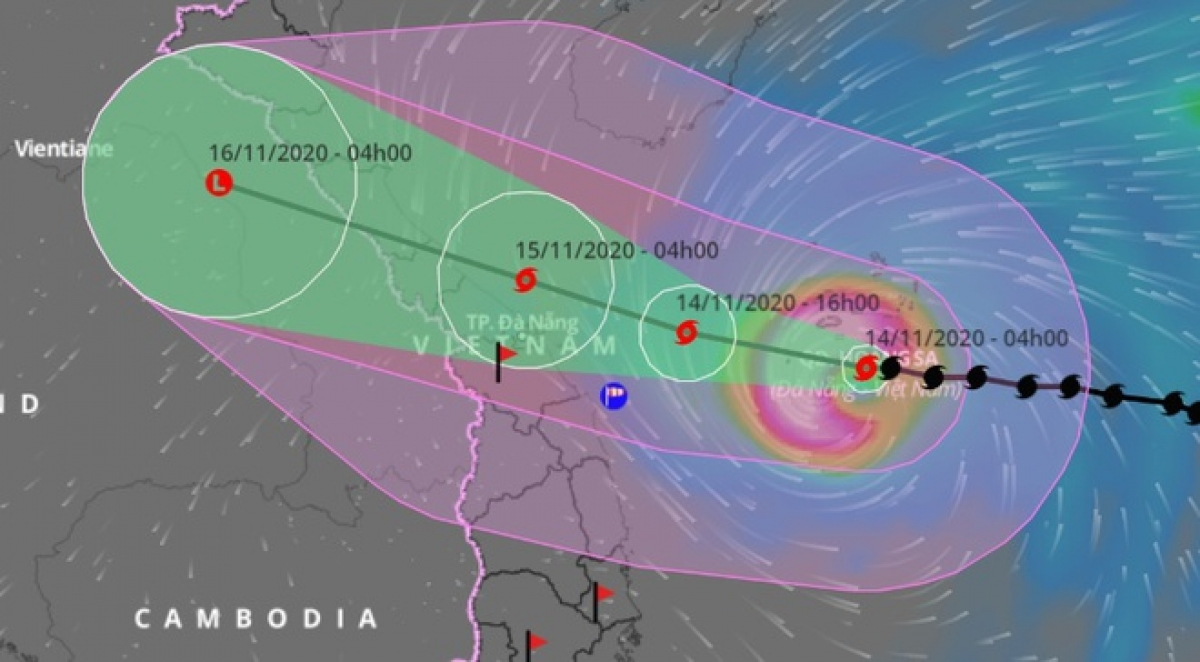 Typhoon Vamco is forecast to slam into the central region of Vietnam early on November 15. Photo: VOV
The Ministry of Agriculture and Rural Development (MARD) said Vamco, the 13th of its kind hitting the Bien Dong Sea (South China Sea ) this year, is a "powerful and dangerous" storm which is likely to devastate a large area from Quang Binh to Quang Ngai provinces.
"It would cause huge damage if we are not well prepared," warned MARD Minister Nguyen Xuan Cuong.
The Prime Minister issued a telegram, advising local residents to stay indoors during the height of the storm to avoid injury. He asked localities to be affected to evacuate people from low-lying areas and reinforce residents' houses and public works to mitigate the consequences of the storm.
Hoang Phuc Lam, deputy director of the National Center for Hydro-Meteorology Forecasting, warned fishermen absolutely not to set sail or move into Vamco-affected areas.
Vamco is the ninth storm that has hit the central region of Vietnam over more than a month.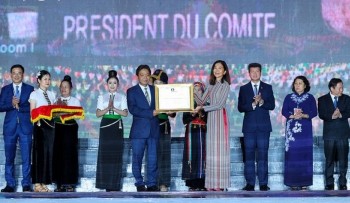 Viet's Home
UNESCO presented Vietnam a certificate recognizing Xoe Thai dance as an Intangible Cultural Heritage of Humanity at a ceremony held in Yen Bai province on September 24.