UK and Europe daily weather forecast latest, February 23: Wind, heavy rain across the North and West with local flooding in the UK
The UK is forecasted to cope with wind and heavy rain moving from the Atlantic on Tuesday after a fairly quiet start to the week. Meanwhile, a ridge of high pressure brings dry and fine conditions to much of Europe.
UK's weather forecast
Some rural parts of the clearer north will turn chilly, with patches of frost and fog at first while southern and eastern areas will start the day on a mild note, Sky News reported.
Western Scotland, Ireland and Northern Ireland will be mainly dry and sunny this morning, apart from the odd blustery shower in the far west. Much of southeast England will be fine too.
Elsewhere, there will be some rain which will spread steadily eastwards. It will be mild, very mild in the South East again, where 16C (61F) is possible.
During the afternoon, more of England and Wales will turn drier and brighter from the west as the rain eases into East Anglia. The far southeast should stay dry.
Tonight will turn misty with some fog in parts of the east, while western areas are set to turn increasingly wet and windy with gales by morning.
Tuesday will be windy with outbreaks of heavy rain across the North and West, with local flooding possible. In contrast, the South East of Britain will be mainly fine and very mild.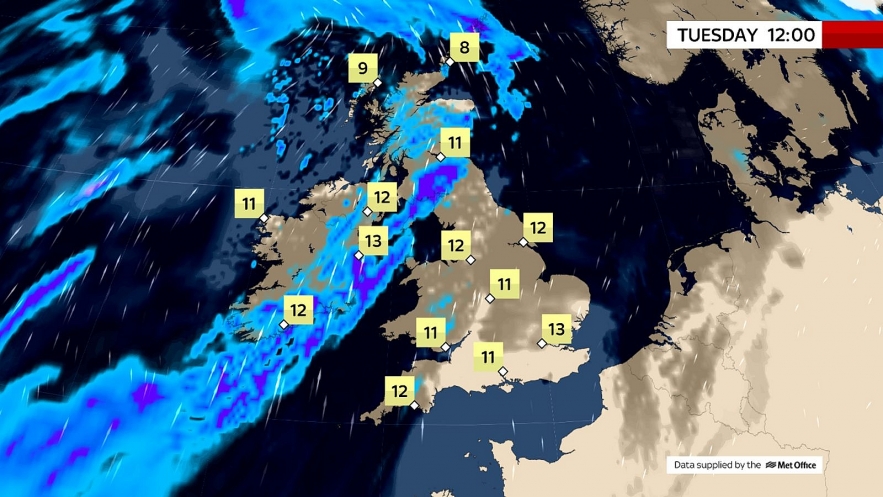 Photo: Sky News
According to The Weather Outlook, on Tuesday heavy outbreaks of rain affect Scotland and Northern Ireland. Elsewhere it should be mainly dry, but at times the area of rain could extend into parts of western England and Wales. The brightest conditions are likely to be in southern England. Very mild, but windy with gales in the west.
Britain has seen temperatures rise to the mid-teens this week as settled conditions moved in allowing the mercury to soar. But the mild weather isn't set to last, with forecasters expecting another 48-hours of snow to strike much of the UK next month, with the mercury expected to plunge well below freezing, Express reported.
Weather charts begin to forecast snow from the evening of Thursday March 4, as the whole of the UK turns blue and white to indicate a moderate chance of snowfall.
The map, by WXCharts, shows Scotland and the north of England have a higher chance of snowfall, up to 30 percent, while southern parts have up to a 20 percent risk of wintry showers.
The chance of snow intensifies through the weekend, with up to a 50 percent probability of snow falling in northern parts.
Forecasters expect the snow risk to continue through Monday, with the weather map still show the whole of the UK covered in blue and purple colourings - indicating the probability of snow.
Maps by Netweather also forecast snow for the first weekend in March. Their snow risk chart shows snow is forecast in the Scottish highlands from the early hours of Thursday morning before moving further south on Saturday.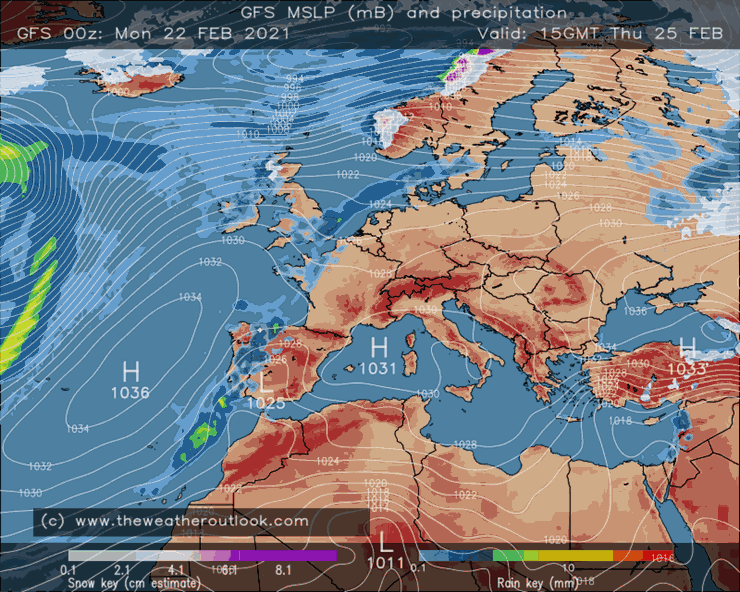 GFS, surface pressure and precipitation, 15:00 GMT Thu 25th February. Photo: The Weather Outlook
The map shows the widespread snow is forecast over the weekend and is set to last 48hours. At 6pm on Saturday March 6 Scotland is covered with a 100 percent snow risk, while parts of northern England are covered by a more moderate risk of between 50-85 percent.
Overnight the snow risk moves further south still and by 12pm on Sunday parts of the Midlands, Wales and the south of England turn red, indicating a high chance of snow.
By 3pm parts of the east of England is covered by an 85 percent snow risk, including the capital and parts of Kent and Sussex. As 6pm hits the snow risk intensifies further, with up to a 100 percent chance of snow covering East Anglia and the south east.
Scotland continues to be covered by a 100 percent snow risk. The snow risk no longer covers any part of the UK by Monday morning. The wintry conditions look set to coincide with a marked drop in temperatures.
Netweather charts show the mercury will start to fall from Saturday March 6, with lows of -5C forecast at 9pm in Scotland. Other parts of the UK will remain warmer, with temperatures ranging from 2-7C. But overnight the mercury looks set to plunge further, with -10C forecast in Scotland from 9am.
The chart, valid for 12noon on Sunday, shows much of the UK turn icy blue, with Scotland and the north of England seeing the worst of the cold weather. Wales and parts of England could drop to lows of -2C, while the south east and west is expected to see the mercury rise just above freezing.
BBC forecasters warn a "sharp cold" spell looks set to develop towards the end of the first week in March. They also state unsettled conditions look set to characterise the start of the month.
Netweather forecasters state snow is possible in the first week of the month. They state: "Turning increasingly unsettled, breezy and feeling cold in the wind. Some rain or showers before probably turning much colder from the North with snow possible especially over hills in the North and East."
On February 23
According to Weather Online, a wet and windy day for much of Ireland, Northern Ireland and Scotland. Gales affect exposed areas. Rain spreads into northwestern parts of England, parts of the West Country and across much of Wales during the afternoon. A drier and generally brighter day to the southeast, but some low cloud and drizzle possible along southern coasts and hills. Breezy here too. High temperatures at 9 to 13C.
Outbreaks of rain, heavy and persistent at times across the north. Drier and brighter in the southeast. Windy, with severe gales across Scotland. Mild everywhere, Met Office reported.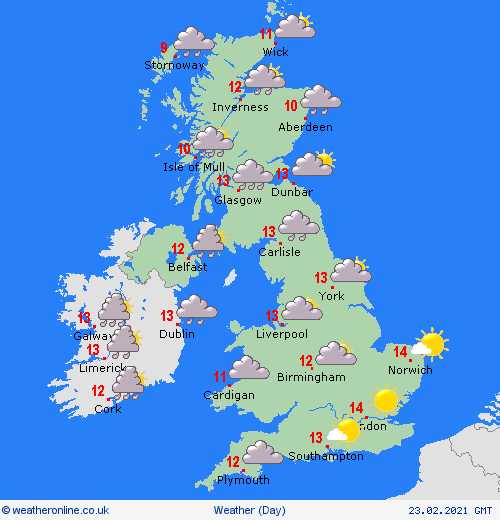 Photo: Weather Online
Outlook for Wednesday to Friday
Windy with rain in the north and west on Wednesday. Showers following for northern and western areas. Dry and sunny in the south and east. Mild, especially in the southeast.
Wednesday will see the rain start to ease across the North West while the South East will feel very mild with some sun, The Weather Outlook reported.
During Wednesday further spells of rain affect much of the north and west. The south and east have a good deal of dry weather. It will be mild or very mild with temperatures reaching the teens Celsius in the south and east of England.
Thursday looks showery in the north west. There could also be patchy spells of rain in the south eastern corner. Other parts of the UK probably remain dry and it stays mild.
Through Friday and the weekend patchy outbreaks of rain slowly spread southeastwards. There should be a good deal of dry weather both ahead of and behind them as high pressure builds. It remains quite mild.
Europe's weather forecast
Heavy outbreaks of rain affect northeast Spain on Monday while the rest of Spain and Portugal see a largely dry and sunny day. Rather cloudy with scattered showers for the Balearic Islands, Corsica and Sardinia. Dry and bright for the rest of Italy, the Balkans, Greece and Turkey.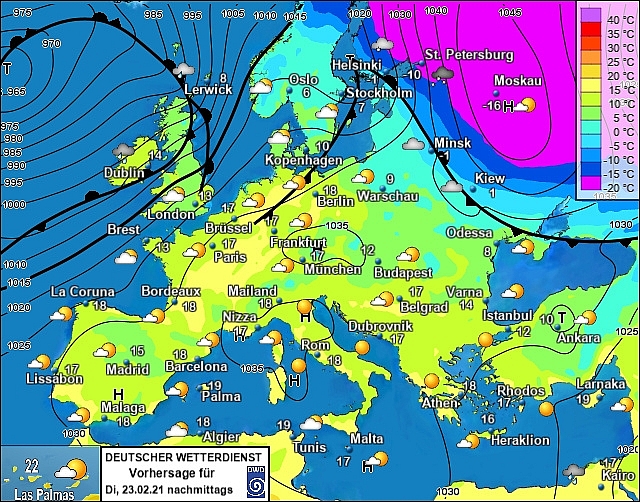 Photo: Stirimeteo
Rather cloudy for France with patchy outbreaks of rain - these mainly to the west and south where they may be locally heavy. Some cloud for the Low Countries but staying mostly dry here. Dry and fine for much of central Europe including Switzerland, Austria, Germany, the Czech Republic, Poland, Slovakia and Hungary.
Dry and fine conditions extend into Denmark, southern Sweden and the Baltic States too on Monday. Cloudy for Norway with outbreaks of rain, sleet and snow spreading into most parts of the country and across central and northern parts of Sweden too by the end of the day. Early snow showers fade from Finland to leave a mostly dry but overcast day here.
On February 23
According to Weather Online, a mostly dry and fine day for the Iberian peninsula with some cloud and patchy rain for the far northeast of Spain and west coast of Portugal. Early showers fade from the Balearic Islands to leave a dry and fine day here. Dry and bright conditions extend through the central and western Mediterranean. Sunshine and warmth for Italy, the Balkans, Greece, Turkey and Cyprus.
Some cloud and patchy rain linger over southern France but otherwise it's a dry and fine day for the rest of the country. High pressure brings dry and sunny conditions to much of Europe including for Germany, Poland, Switzerland, Austria, the Czech Republic, Slovakia and Hungary.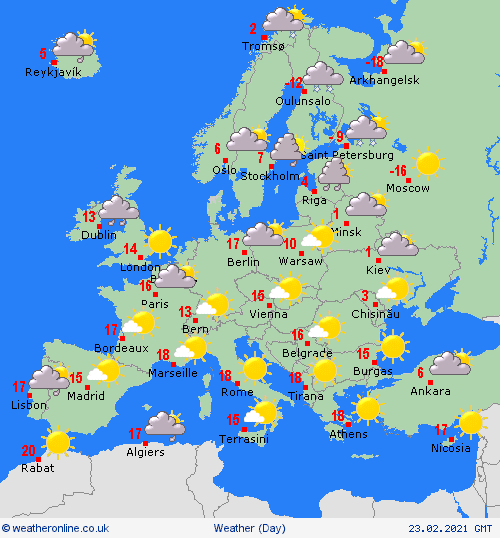 Photo: Weather Online
Increasingly cloudy and windy for Denmark but staying mostly dry. Cloud and winds also increase across the Baltic States with rain and sleet arriving over Estonia and Latvia later. A band of rain, sleet and snow spreads across central and northern Sweden and Finland through the morning before another band of precipitation arrives over southern Norway later. Staying dry for the far south of Sweden.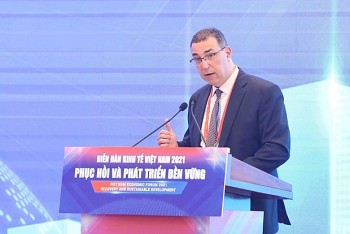 National
Vietnam News Today (December 6): Vietnam records 14,312 new Covid cases; Vietnam-Lao special relations continue to be nurtured; Vietnam's economy showing signs of recovery; Hanoi changes face-to-face learning plan at last minute.