UK and Europe daily weather forecast latest, February 20: Heavy rain threatens weekend while temperatures expected to rise
The UK is forecasted to cope with "concerning" heavy rain across the country while temperatures could rise to as high as 17C. Meanwhile, fine and warm conditions set to cover central and southern Europe, wind and rain are expected in the west.
UK's weather forecast
BBC Weather has warned of "concerning" heavy rain across the UK is threatening Britain's first weekend of warmer temperatures after the snowfall last week.
BBC Weather's Matt Taylor said southeast England can expect to see milder conditions but the west coast will receive heavy downpours. Some of the biggest swings could be in Norwich, where temperatures could rise to around 13C having dropped below freezing last week. Mr Taylor said: "It will be a weekend where we see temperatures in the teens but it's a fairly mixed picture as we go into the weekend because while it will be very mild and some will see the sunshine, lots of heavy rain to come for some of you and that's a bit of a concern.
"We've got that rain at the moment just piling in across the western half of the country. A wet night across Northern Ireland, now pushing into Scotland, Wales and western fringes of England."
"In the east, it's drier, a little bit of morning brightness. A bit cooler than it has been in the past few mornings. Some in the far east of England will stay dry throughout but just notice the rain is there throughout all day long for some."
He added: "One thing to note is the strength of the winds across these western regions today. We'll see gusts of up to 60mph at times."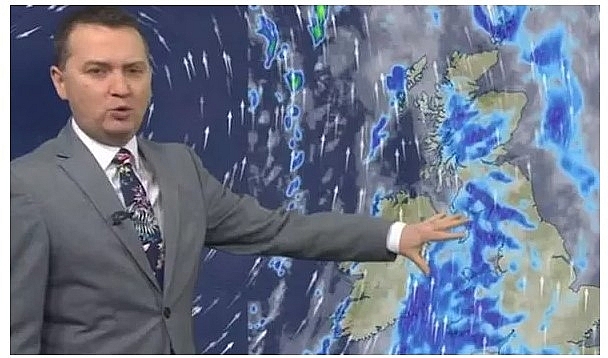 BBC Weather has warned of "concerning" heavy rain across the UK (Image: BBC)
Parts of the UK could see above-average seasonal temperatures of up to 15C (59F), days after the country endured freezing conditions, snow and record lows.
The highest temperatures are expected in the South East but other parts of the UK could be much warmer than the average maximum for the UK in February, which is 6.64C (43.9F), according to the Met Office.
Oli Claydon, Met Office spokesman, said: "In terms of the big temperature swings, you are probably looking at areas predominantly on the east coast where we saw lying snow last week and the temperatures were kept very low."
"It depends a little bit on what happens if that air does get drawn up from the South and also timings of the clouds, if they clear at the right time and you get a little bit of sunshine through to help those temperatures out a little bit."
Such changes in temperature are common at this time of year. Mr Claydon said: "Obviously, we are an island nation on the outskirts of the continent of Europe, so we are subject to very variable weather conditions and those changes can happen quite quickly."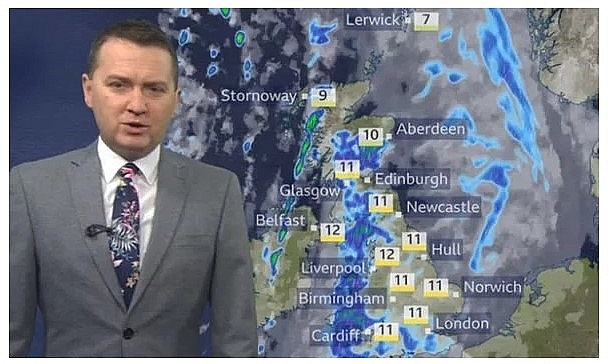 Parts of the UK could see above-average seasonal temperatures of up to 15C (Image: BBC)
Heat is arriving from the Azores this weekend, driving temperatures up to the high teens, and ending an extended period of freezing weather. The mild conditions look set to last for several days, before a chilly front moves in next weekend, Express reported according to the latest weather charts.
Weather forecasters predict temperatures could rise to as high as 17C on Sunday for the south east of England, while northern areas are expected to see the mercury rise to the low teens.
New charts from Netweather show the country turn green and yellow as the warm air moves in. At 6pm on Saturday, the chart shows the south east can expect highs of 13C, while other parts of the country see an average of 10C.
Temperature maps by WXCharts also show the mercury is expected to rise to 13C by Saturday evening. Similar temperatures are forecast for Sunday afternoon, with highs of 14C forecast for the east of England at 3pm.
Met Office meteorologist Aidan McGivern said temperatures could peak at 17C this weekend, as a warm breeze moves in from the south west.
He said the forecast for Saturday is: "A mild day with a strong or even gale force south westerly breeze. 12 to as high as 16C in the south east."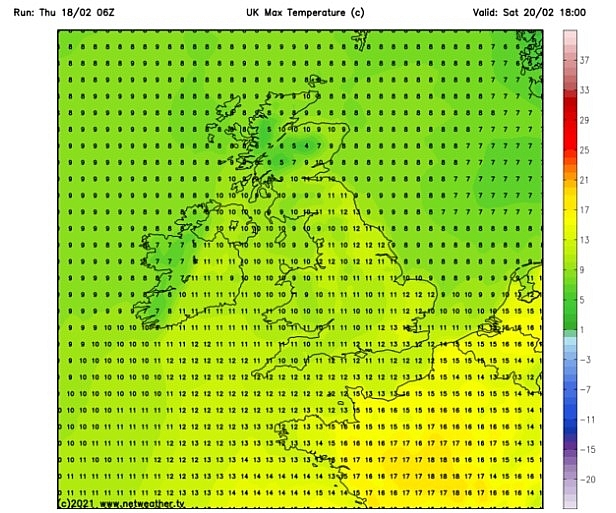 UK weather: At 6pm on Saturday, the chart shows the south east can expect highs of 13C (Image: Netweather)
By Sunday the forecaster said there is a better chance of sunshine, with the milder temperatures expected to persist. He said: "A very mild day, 13-16C, perhaps 17C somewhere like London. A little bit colder further north, 8 or 9C."
Mr McGivern expects the mild conditions to persist through the beginning of the week. He said: "Monday is looking largely fine, certainly at first. Sunny spells and another mild day."
According to the Met Office long-range weather forecast, mild weather conditions should remain for the rest of the month, with snow possible next month.
Mr Claydon said: "The whole of the UK is now in a mild air mass which has brought quite a significant change in temperatures and also in terms of weather hazards, so the focus moves to wind and rain.
"There will be periods of brightness at times as well, but everywhere pretty much will be seeing that wet and windy weather through the week."
Any snow will be limited to the Scottish mountains and is unlikely to reach other parts of the UK.
On February 20
According to Weather Online, Saturday sees fronts moving northwards bringing more rain across central and southern England and Wales as well as southern Ireland. This is going to quickly spread northwards and become heavier through the day. Wet through the afternoon across much of Scotland, Northwest England, Wales and Southwest England as well as Ireland. There is a risk of some localised flooding in more western areas. It may stay dry across East Anglia and Southeast England with some bright or sunny spells here leading to very mild weather. Highs at 15C in the southeast, more generally 9 to 13C.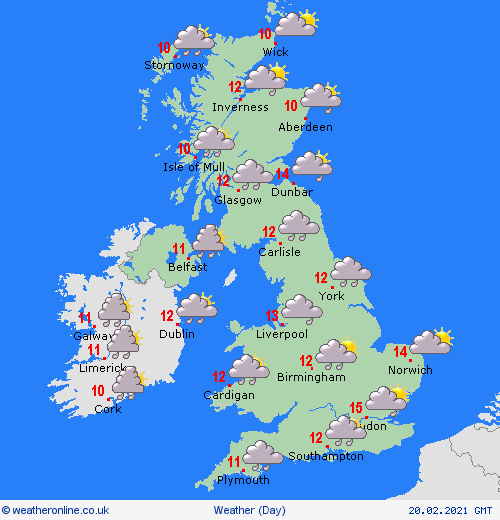 Photo: Weather Online
Rain in southwest spreading north into Scotland and Northern Ireland, this heavy and persistent again over western upslopes with strong winds. Drier, brighter and milder in many eastern areas, Met Office reported.
Outlook for Sunday to Tuesday
Rain across parts of England dying out Sunday, blustery showers in the northwest. Rain in the southeast Monday, mostly dry and bright elsewhere. Heavy rain spreading to western areas Tuesday.
Europe's weather forecast
Rain will affect Northwest Spain through Friday as well as parts of northern Portugal. Most of the rest of Spain will be dry with some good spells of sunshine. Staying warm and sunny across the central Mediterranean including Italy. Greece will be dry to although there may be a few showers in the Aegean Sea. Fair for the west of Turkey but some rain in the east.
Wet and windy for the north-west of France. Most of the rest of the country will be fair with good spells of sunshine, although a scattering of showers could affect the south. The Netherlands will be dry as well Germany and they will be mild to with some sunshine. Western Poland will be dry and bright but there will be rain in the east. The Czech republic should be dry. Rain affecting hungry but dry in Austria and Switzerland as well as being mild.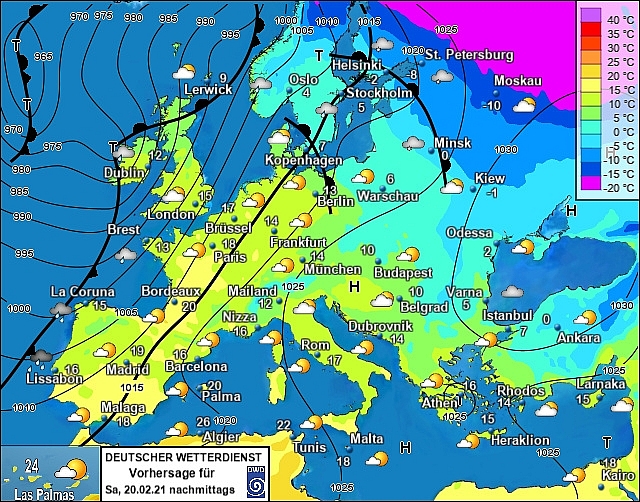 Photo: Stirimeteo
Another mild day in Denmark. Rain affects much of central and southern Sweden. There will be some snow and sleet later in the Baltic states, with sleet and snow to in Finland. No way will have broken cloud and there will be some showers in the west although it should be mostly dry in the north.
On February 20
According to Weather Online, windy weather across France and mostly dry here with good sunny spells. Some heavy showers affecting Northwest France. Windy through the low countries and fair. Staying fit and dry as well as very mild across Germany and Poland. Hungary will be dry and warm with good spells of sunshine. The fair weather continues through Austria and Switzerland with more sunshine here.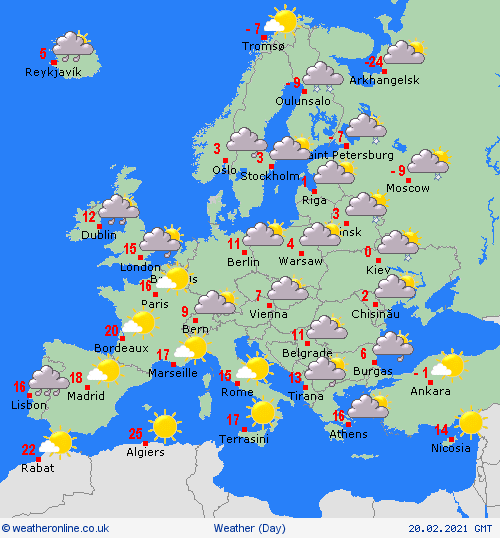 Photo: Weather Online
Cloudy skies for Denmark with some drizzle and this will be affecting much of southern Sweden. A rather dull day in the Baltic states as well with cloud and some drizzle here. Finland will have more persistent rain and sleet, with some heavy rain and sleet affecting northern Sweden. Norway will be rather dull and cloudy with drizzle over western and southern coast rain and sleet in central areas.