UK and Europe daily weather forecast latest, February 22: Milder conditions with wet weather and Saharan dust warning across the UK
The UK is forecasted to cope with pretty wet weather for the beginning of the week while temperatures continue to soar. Meanwhile, an area of low pressure brings heavy rain to Portugal and Spain.
UK's weather forecast
Temperatures are predicted to soar to 18C for parts of the UK this week as warm southerly winds sweep in from Spain, Express reported.
A hot air plume is set to arrive from the Canaries islands this week, pushing temperatures up to the high teens in parts, predominately in the south-east, though some other regions, mainly in the West of Scotland, will face heavy rainfall as a new wet weather front moves in, according to the latest BBC weather forecast. It comes as the UK experiences "extremes" of weather with some of the warmest conditions seen in several months coming as other areas, including southern Wales, saw two month's worth of rain within just 24 hours.
BBC meteorologist Tomasz Schafernaker told BBC Breakfast viewers: "The good news is that the rain is easing. It is a very stubborn weather front, it is still with us over the course of today. You can see it is not a very large area of rain but it is sort of caught in this southerly wind and it is sort of running along the southerly wind. So it is roughly stuck in the same place but so many other parts of the country are actually enjoying some fine weather."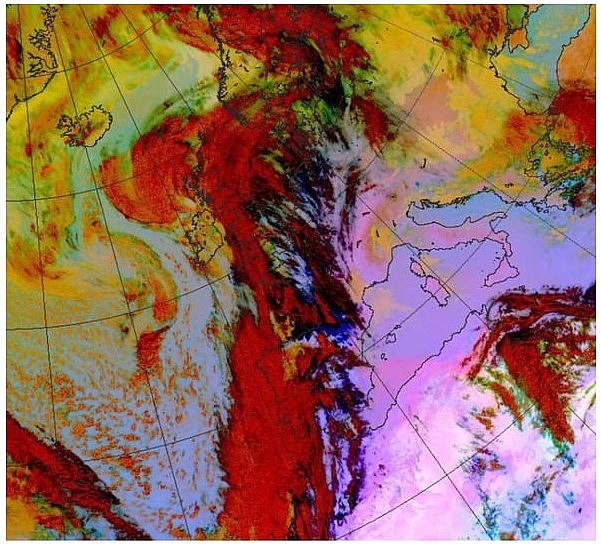 Met Office forecast: This Met Office satellite shows the Saharan air in red as it hits the UK (Image: MET OFFICE)
He continued: "And yes it is going to be getting milder of the coming days because we are going to keep these southerly winds. But we are stuck with the weather front through the night and into tomorrow and you can see part of the West Country, just about Wales, the midlands, maybe into the Peak District and Yorkshire we have some rain in the forecast through tonight."
"So Monday starts of pretty wet across some of these western, central and northern areas but there is also going to be plenty of fine weather. The milder conditions will be in the south-east of the country."
The BBC weather presenter added: "There is nasty weather front with heavy rain and strong winds coming our way for Tuesday. But notice a totally different story there for folks in Hull, Norwich, London, Southampton as well. I think some sunshine on the way, 15, 16, 17 degrees."
"So yes I think it will be warming up over the next few days, we have got some very warm air sitting close to the Azores also of the coast of Portugal."
"You can see a nice southerly wind pushing in but it is not for everybody, it is going to be very confined to southern and south-eastern areas. We could still get up to around 17 or 18 degrees."
It comes as Met Office forecasters have warned an area of low pressure to the North West will bring dust from the Sahara across to the UK in the coming days. The low pressure is "feeding" winds "into the UK from the Canaries". This could lead to brightly coloured sunrises and sunsets, and Britons could notice some dust settings on cars.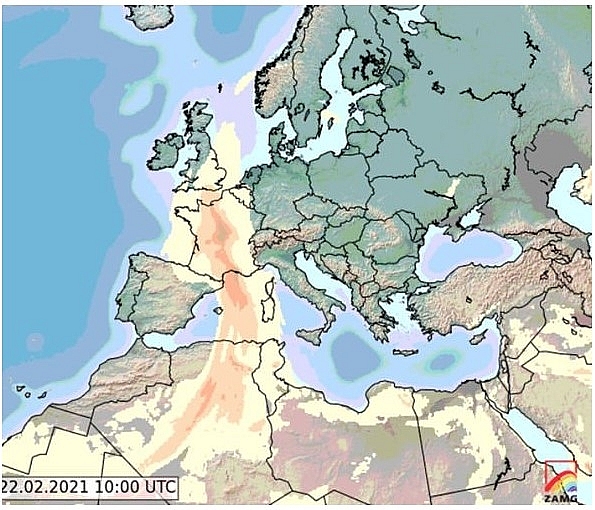 Met Office forecast: Images show the Saharan plume heading to the UK from France (Image: ZAMG)
The Met Office has warned an area of low pressure is "feeding" winds from the Canaries which will bring Saharan dust to the UK.
Met Office forecasters have warned an area of low pressure to the North West will bring dust from the Sahara across to the UK in the coming days. The low pressure is "feeding" winds "into the UK from the Canaries". This could lead to brightly coloured sunrises and sunsets, and Britons could notice some dust settings on cars.
The Saharan dust warning comes after a spell of warmer weather across the UK this weekend, with temperatures lifting away from the Baltic winter lows of the past few weeks.
The Met Office tweeted: "Low pressure to our NW is feeding S'ly winds into the UK from the Canaries, allowing #Saharandust to be drawn N too. The recent satellite image below shows this in red. You may notice dust deposits on cars & colourful sunrises/sets next few days."
Maps show the dust cloud spreading across from the Sahara through France and on to the UK. Some areas have seen mild temperatures this weekend, with the mercury lingering around 10C to 13C for much of the country.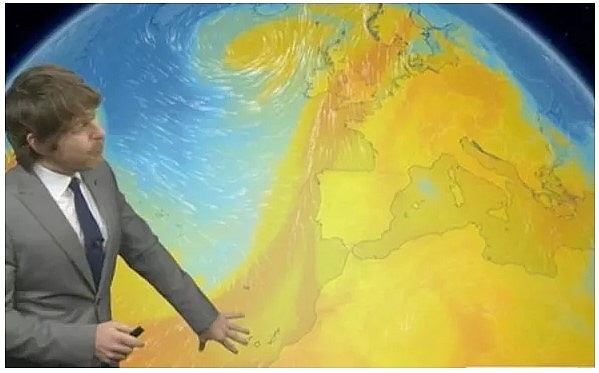 The milder air is to a Sub-tropical heat blast arriving in a 'front of warm air from Azores' (Image: BBC)
On February 22
According to Weather Online, a wet morning for some as a band of rain extends from northeast to south-central England. Rain could linger into the afternoon but gradually clears from the south. Drier elsewhere with bright and sunny skies for many though showers affect northwestern coasts and hills of Scotland and western parts of Ireland. Increasing winds across Ireland will bring rain here into the evening. Highs at 8 to 14C.
Rain in southern UK edging east and fading. Brighter in north after any fog clears, though the northwest stays showery and breezy. Mild for most, especially in southeast corner, Met Office reported.
Outlook for Tuesday to Thursday
Windy with rain then showers in the north and west. Drier with some sunshine in the south and east. Mild, especially so in the southeast.
Photo: Weather Online
Europe's weather forecast
Heavy rain clearing Portugal through the morning to allow for sunny spells but also some showers. The rain will push across Spain although the far northeast should remain dry throughout. Breezy along southern coasts. Dry through the Balearics but winds will strengthen and cloud amount will increase. Dry and fine across Italy but rather windy across Corsica and Sardinia. An improving day across Greece as showers clear from the north. Dry for much of Turkey.
A mostly dry and fine day across central Europe, although rain and cloud will still affect northwest France as well as western coasts here. Localised gales will also affect coastal areas of southern France. Less windy for the Low Countries on Sunday.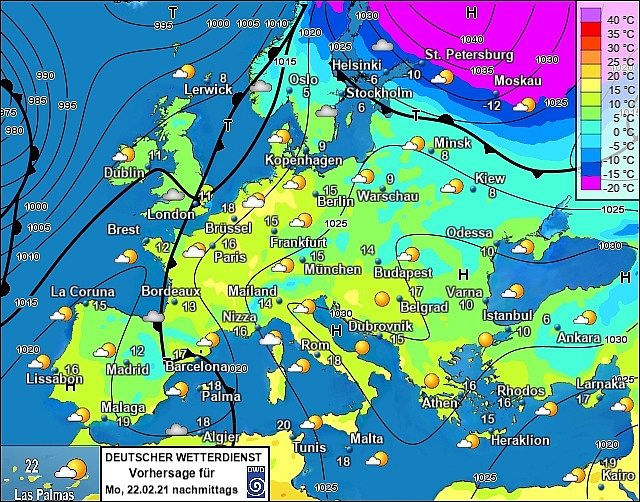 Photo: Stirimeteo
Rain, sleet and snow affecting much of Norway as well as northern Sweden while Finland will see largely cloudy skies with a mix of rain, sleet and snow too. A largely cloudy but dry day for the Baltic States. Denmark too will be dry but sunny spells are expected.
On February 22
According to Weather Online, heavy outbreaks of rain, sleet and snow affect northeast Spain on Monday while the rest of Spain and Portugal see a largely dry and sunny day. Rather cloudy with scattered showers for the Balearic Islands, Corsica and Sardinia. Dry and bright for the rest of Italy, the Balkans, Greece and Turkey.
Rather cloudy for France with patchy outbreaks of rain - these mainly to the west and south where they may be locally heavy. Some cloudy for the Low Countries but staying dry here. Dry and fine for much of central Europe including Switzerland, Austria, Germany, the Czech Republic, Poland, Slovakia and Hungary.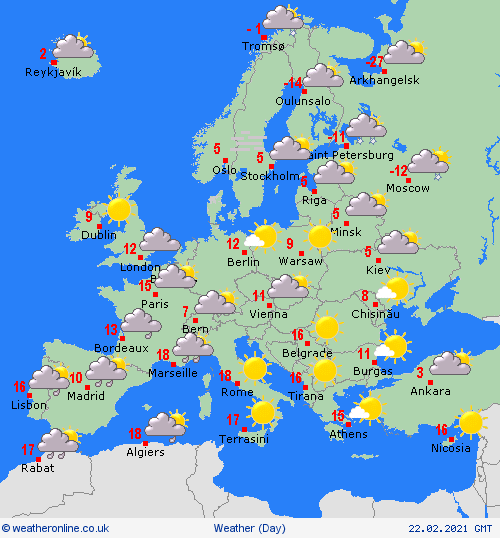 Photo: Weather Online
Dry and fine conditions extend into Denmark, southern Sweden and the Baltic States too on Monday. Cloudy for Norway with outbreaks of rain, sleet and snow spreading into most parts of the country and across central and northern parts of Sweden too by the end of the day. Early snow showers fade from Finland to leave a mostly dry but overcast day here.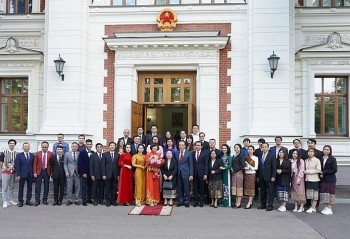 Friendship
The Vietnamese Embassy in Cuba will make efforts to consolidate and cultivate the special Vietnam-Laos relationship in the spirit of respect and support for mutual benefits.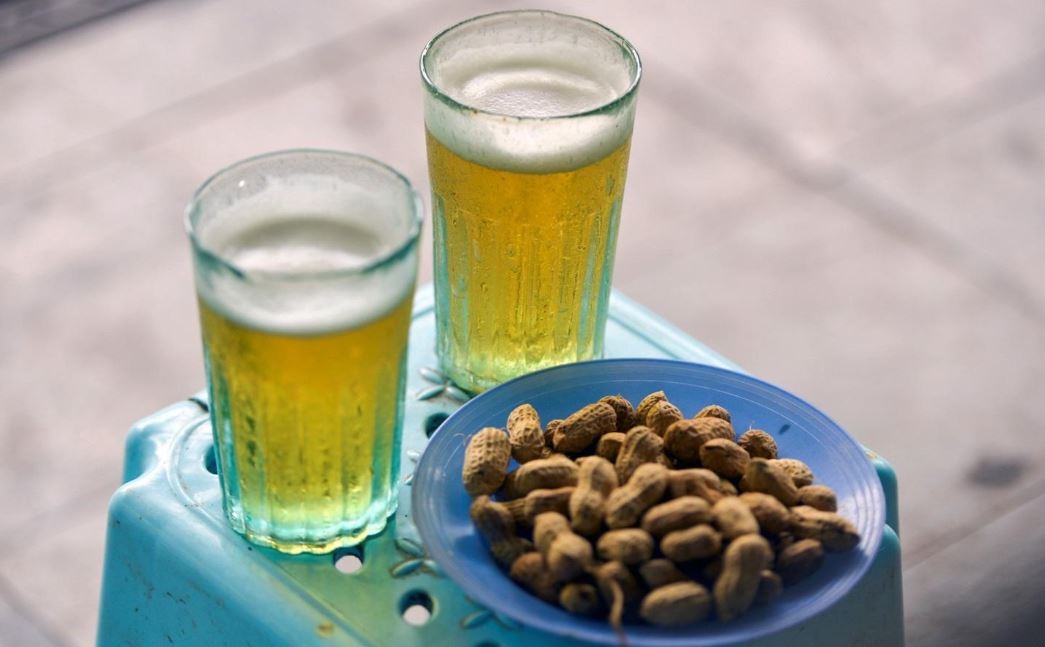 World
Among Vietnamese best beer destinations voted by foreign travelers, Hanoi is followed by Ho Chi Minh City, Hoi An, Nha Trang, and Da Nang.
August 06, 2022 | 14:54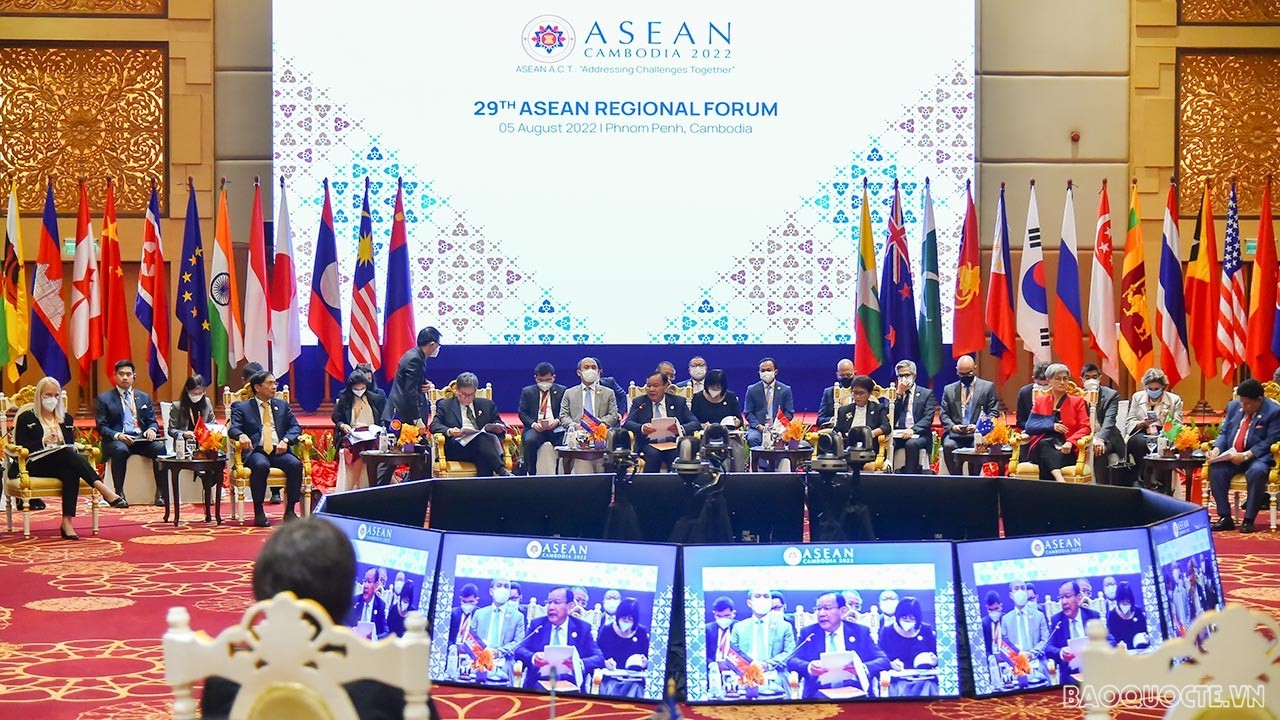 World
Foreign Minister Bui Thanh Son attended the 29th ASEAN Regional Forum (ARF) that took place in Phnom Penh, Cambodia on August 5 within the framework of the 55th ASEAN Foreign Ministers' Meeting (AMM-55), and held several bilateral meetings on the sidelines of the event.
August 06, 2022 | 09:12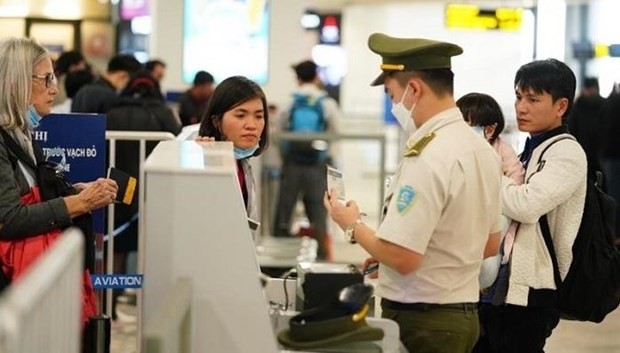 World
The Ministry of Health has asked localities nationwide to monitor foreign arrivals from countries with monkeypox as an early response after infections were spotted in the region.
August 05, 2022 | 16:11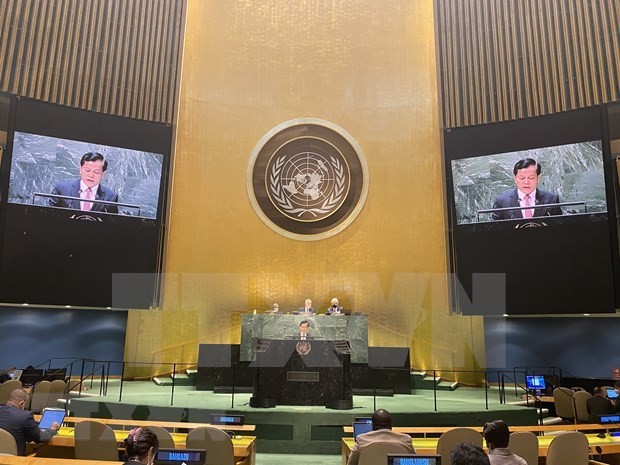 World
Deputy Foreign Minister Ha Kim Ngoc had a meeting on August 3 with United Nations (UN) Secretary-General Antonio Guterres who highly valued Vietnam's active and responsible contributions to the common work of the organisation, especially the country's strong commitments in the fight against climate change, and promised to continue supporting Vietnam in this work.
August 04, 2022 | 16:57