UK and Europe daily weather forecast latest, February 18: Freezing temperature warnings in Britain after weeks of warm weather
The UK is forecasted to cope with a new sub-zero blast to return after weeks of warm weather. Meanwhile, the long-range outlook warns of a "very cold easterly blast" during the first week of March in Europe.
UK's weather forecast
New weather charts warn a new polar system will slam into Britain causing temperatures to fall across the UK. A light band of snow will fall from northern Scotland to as far south as the Peak District, a distance of roughly 400 miles, on Thursday, March 4.
WXCharts snow depth models predict 6cm (2.5 inches) of snow will fall in the north of England - with much heavier snow forecast in Scotland.
Up to 13cm (5 inches) of snow will fall across Northern Scotland as colder conditions blast in from the northeast. And temperatures will also plummet to as low as -3 across northern England on March 4, WXCharts minimum temperature charts reveal.
Minimum lows of -1 and 0 will also hit every section of England and Wales on the same day whilst the mercury will be as low as -5 across the Scottish Highlands.
A Met Office spokesperson said temperatures in early March would be "lower than average."
They added: "In early March there is a signal for higher than average pressure to sit close to or over the UK, with dry and settled conditions most likely."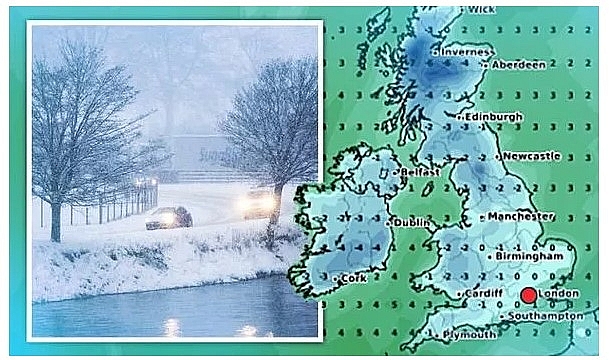 Weather forecast: Maps show that the colder weather is not yet over (Image: WXCHARTS)
"Temperatures are predicted to be a little below average at the start of the period, slightly increasing the chances of cold spells occurring. During this time there looks to be an increased likelihood of overnight frosts and a risk of wintry hazards, such as snow and ice."
Going into tomorrow, MeteoGroup says a band of rain will move northwards across northern England, Northern Ireland, southern Scotland and Wales.
It will be dry with clear spells for the rest of England and northern Scotland with temperatures averaging 9C. The rain will be mainly confined to northern and western parts with moderate southerly winds.
On Thursday, February 18, there will be rain in parts of the west and south of England in the early morning which will be heavy at times.
It will turn brighter in the south-west later on but rain will re-curve in Scotland, falling as snow at times over high ground. Temperatures are expected to peak between 10 and 13C with temperatures as low as 4C, MeteoGroup said.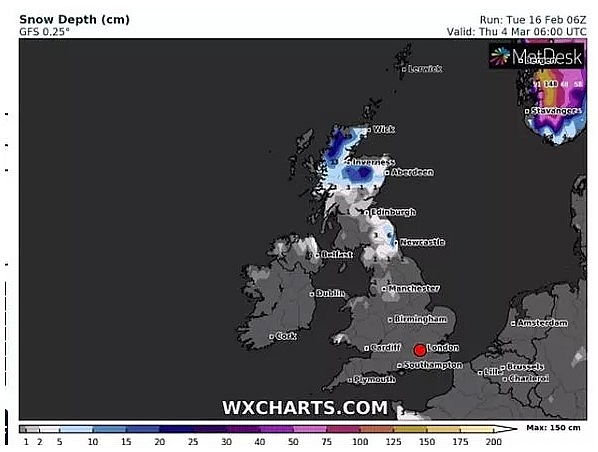 Snow forecast: Another snow fall will hit Scotland in the early days of March (Image: WXCHARTS)
Commenting on the current conditions this week, Met Office spokesman Oli Claydon said: "The whole of the UK is now in a mild air mass which has brought quite a significant change in temperatures and also in terms of weather hazards, so the focus moves to wind and rain."
"There will be periods of brightness at times as well, but everywhere pretty much will be seeing that wet and windy weather through the week. Any snow will be limited to the Scottish mountains and is unlikely to reach other parts of the UK."
On February 18
According to Weather Online, low pressure west of Scotland brings rain across most of Scotland, England and Wales on Thursday morning. The rain may be heavy at times. Brighter but showery weather crosses Ireland and reaches western Wales and Southwest England through the morning. The afternoon eventually sees rain clearing eastern coast with brighter weather and heavy showers following from the west. The showers may be most persistent in western Scotland and could be heavy here. A tendency for the showers to fade in Ireland. Turning cooler from the west as the brighter weather arrives. Breezy. Highs at 7 to 10C.
Band of rain moving east, then colder with sunshine and showers, these wintry on hills in the north and west. Windy with rain and hill snow in the north-west, Met Office reported.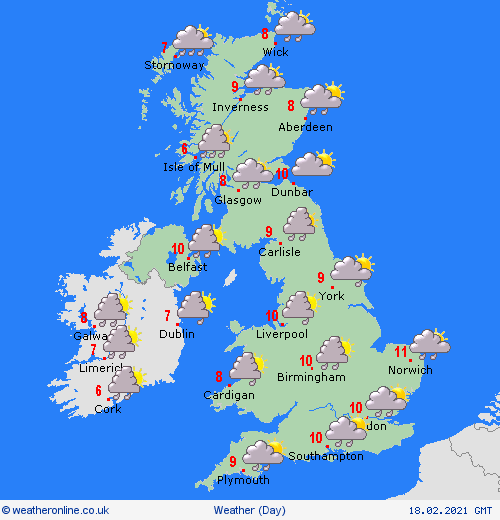 Photo: Weather Online
Outlook for Friday to Sunday
Rain, locally heavy, developing across some western areas through Friday, clearing into Saturday. Further rain or showers for some, Sunday. Breezy, with coastal gales. Mild; very mild for eastern areas.
Europe's weather forecast
Some rain in central Portugal and Spain on Thursday. Fair for the north of Portugal and northwest Spain. Fair too in the east and south of Spain. Warm and sunny through the Balearics and across Corsica and Sardinia. Italy remains warm to with plenty of sunshine here and these conditions continue into Greece. Turkey should be mostly fair although there will be some snow affecting northern coasts.
Heavy rain central parts of France maybe heavy although brighter weather with some showers follows into the west. Cloudy with further rain across the low countries and the far west of Germany. Eastern parts of Germany and Poland will be dry but cool. Dry and cold across Hungary and Austria, brighter in Switzerland.
Windy in Denmark with some rain later. Staying windy across southern Sweden. Cold for the Baltic states but dry with some sunshine. Remaining dry and cold in Finland. Northern parts of Sweden will also be staying cold but dry. Some rain and strong winds in south-western Norway, but dry in the north.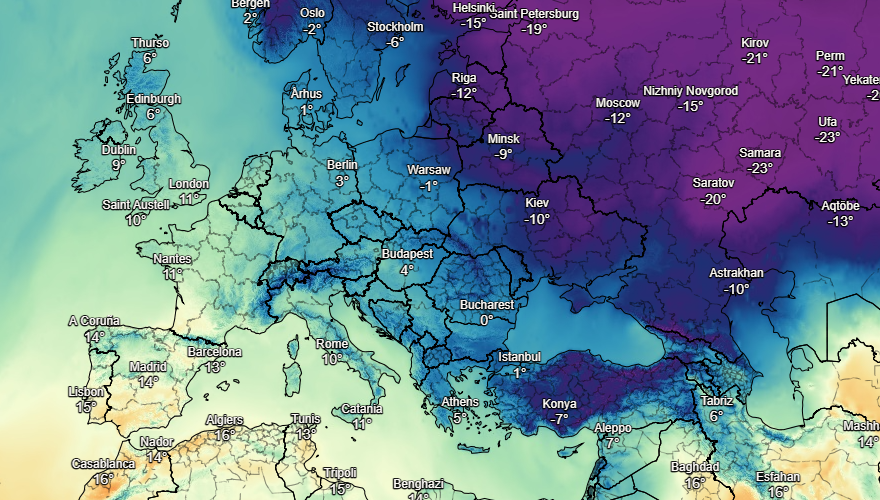 Photo: Stirimeteo
BBC Weather has warned that parts of Europe are "bitterly cold" after very strong winds pushed cold air across the continent.
Stav Danaos stated that the cold air has been pushed towards the eastern Mediterranean. The BBC Weather meteorologist added that bands of rain across the northeast of Europe will turn to snow.
Mr Danaos said: "We have seen a lot of snow across Greece and the Balkans into Turkey, very strong winds have made it feel bitterly cold.
That cold air has been pushing its way eastwards towards the eastern Mediterranean."
"We have seen a drop in temperature in Cyprus as well after some heavy showers and storms today. Bands of rain pushing in from the west will be turning into snow across the northeast of Europe, where it will stay very cold."
"But it is much milder towards the British isles, those temperatures will be a little bit above the seasonal average. There will be quite a lot of wind and rain affecting the northwest of Europe. But with that southwest wind comes the mild air."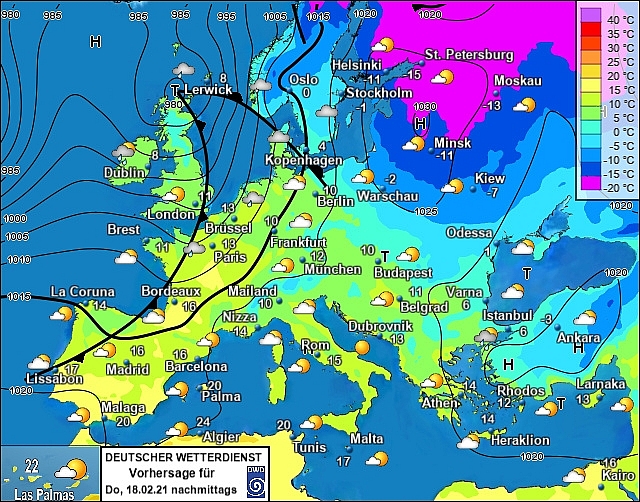 Photo: Stirimeteo
On Tuesday morning, BBC Weather's Carol Kirkwood that rain will clear across the UK through the evening and overnight.
Ms Kirkwood said: "Through this evening and overnight, we eventually see the tail end of that rain clear, the showers pushed over towards the east."
"Then there's a dry spell before the next weather front comes in from the west bringing in yet more rain and, again, this will be heavy and it will still be windy."
"Not a particularly cold night but a little bit colder than it is now. As we head through tomorrow, that band of rain moves over from the west towards the east."
"There's a curl coming into southern England and the Channel Islands, that will move a little bit further north through the course of the day.
"Showers in the west but, elsewhere, it should be largely dry but still very windy, especially across the northwest."
BBC Weather's long-range outlook warns of a "very cold easterly blast" during the first week of March.
The BBC outlook from March 1 states: "We expect the colder, more blocked weather pattern with abundant high pressure to stick around for at least the first week of March."
On February 18
Photo: Weather Online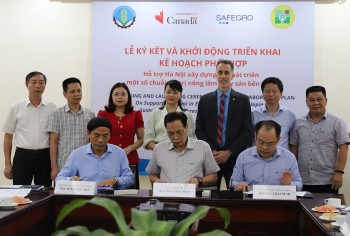 Make in Vietnam
As Vietnam furthers its international intergration, building agro-forestry-fishery high value chains is crucial for the sustainable development of the agriculture sector.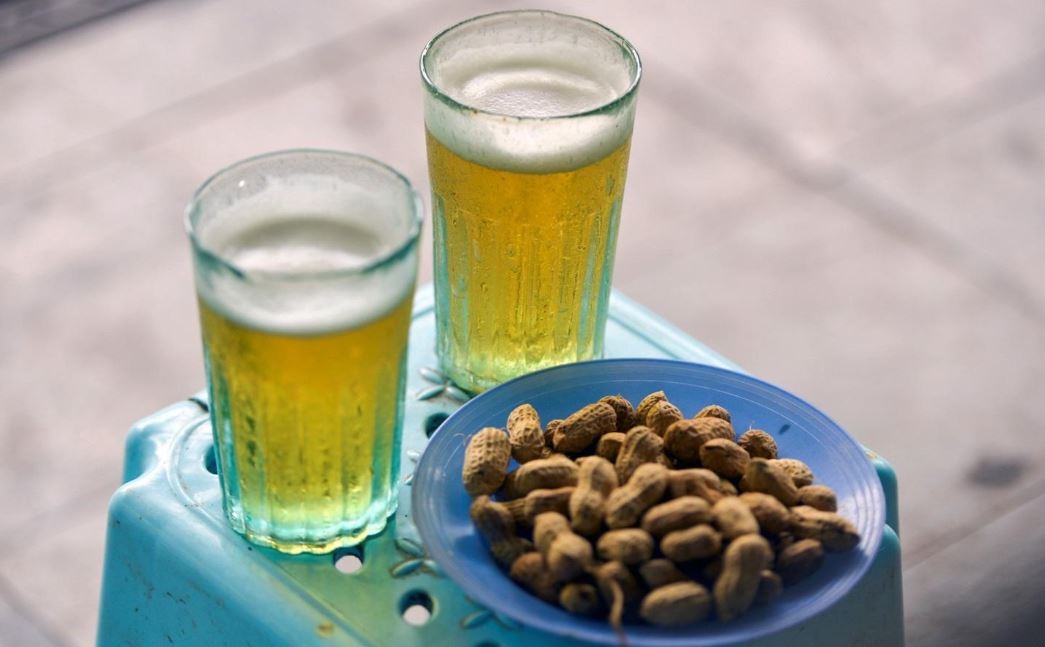 World
Among Vietnamese best beer destinations voted by foreign travelers, Hanoi is followed by Ho Chi Minh City, Hoi An, Nha Trang, and Da Nang.
August 06, 2022 | 14:54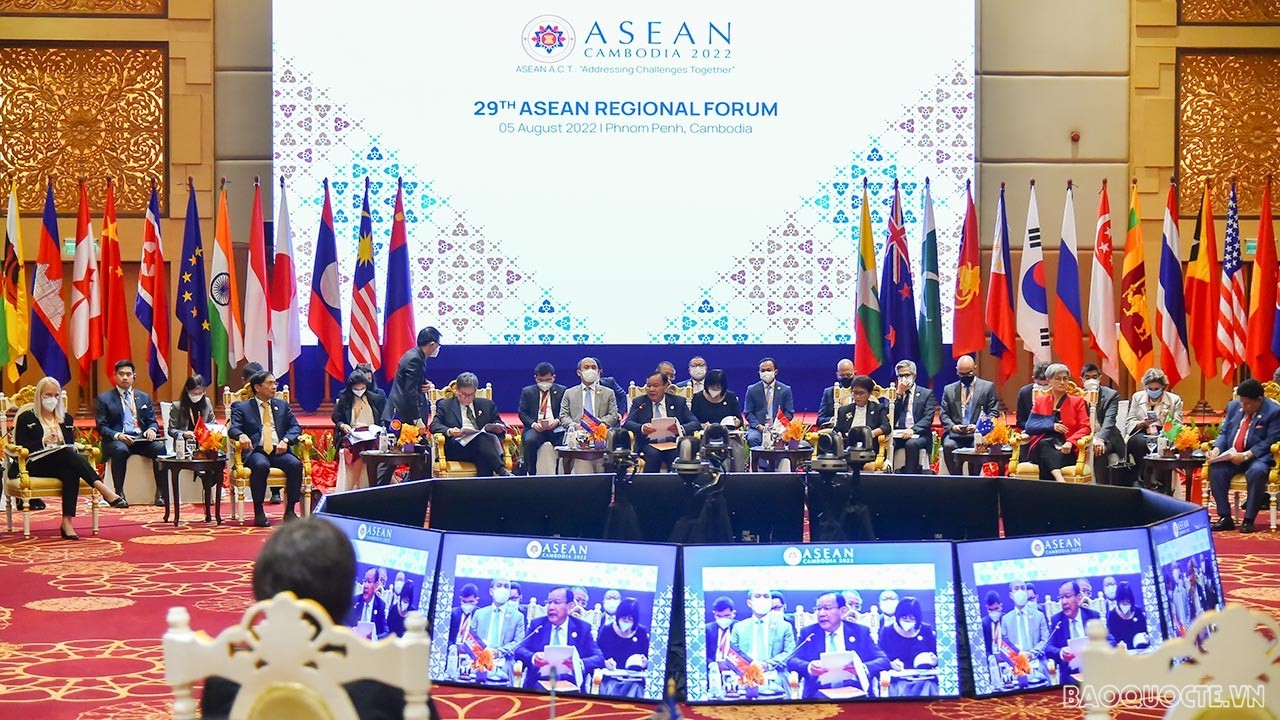 World
Foreign Minister Bui Thanh Son attended the 29th ASEAN Regional Forum (ARF) that took place in Phnom Penh, Cambodia on August 5 within the framework of the 55th ASEAN Foreign Ministers' Meeting (AMM-55), and held several bilateral meetings on the sidelines of the event.
August 06, 2022 | 09:12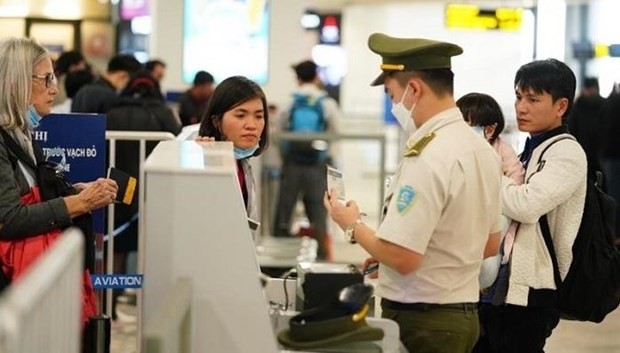 World
The Ministry of Health has asked localities nationwide to monitor foreign arrivals from countries with monkeypox as an early response after infections were spotted in the region.
August 05, 2022 | 16:11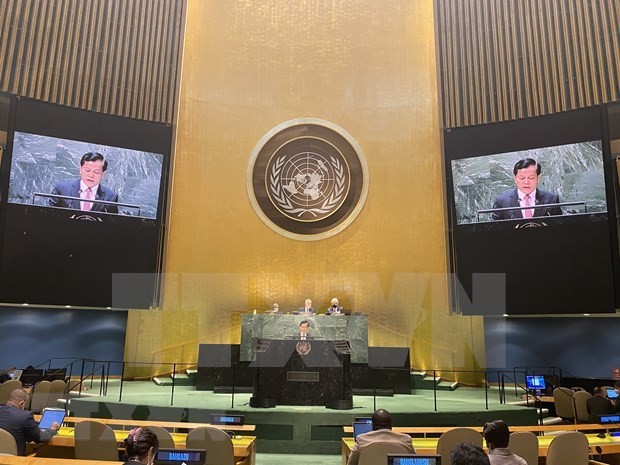 World
Deputy Foreign Minister Ha Kim Ngoc had a meeting on August 3 with United Nations (UN) Secretary-General Antonio Guterres who highly valued Vietnam's active and responsible contributions to the common work of the organisation, especially the country's strong commitments in the fight against climate change, and promised to continue supporting Vietnam in this work.
August 04, 2022 | 16:57