UK and Europe daily weather forecast latest, February 24: Further rain with showers continue across the far northwest in the UK
Central and southern Scotland, northern England and Wales will have further rain tomorrow with showers continuing across the far northwest again. Most other places will be dry. Meanwhile, fine and sunny conditions are expected for much of Europe, some rain and sleet in Scandinavia.
UK's weather forecast
According to Sky News, northern and western parts will be very wet and windy with some flooding. High pressure will bring a drier, more settled, outlook.
The Met Office have issued amber warnings for heavy rain over parts of Scotland and yellow warnings for much of the North. There are amber and yellow warnings for Ireland too.
It is a chillier start across some central areas this morning but for most it is mild with western areas experiencing strong and gusty southerly winds.
Cumbria, Scotland, Northern Ireland and Ireland will see heavy rain during the morning, while Wales and southwest England can expect some lighter, more patchy and sporadic outbreaks.
Central and eastern England meanwhile will be dry with sunny spells, best in the South East. It will be mild but windy, with gales in the North and West, severe over parts of Scotland. The west of Ireland and far north of Scotland should dry up during the afternoon, but there will be little change elsewhere.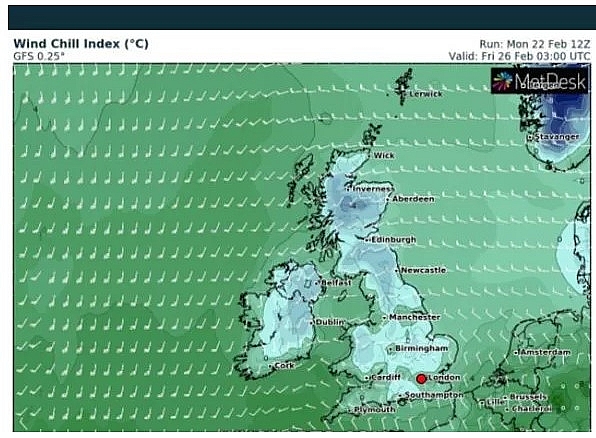 UK weather warning: Temperatures will plummet by the end of the week (Image: WXCHARTS)
Tonight will see heavy showers spread into northwestern parts of both Ireland and Scotland. The swathe of heavy rain will only slowly ease away from southern Ireland but will persist across most of southern and central Scotland, northern England and Wales. It will be a mild night, temperatures in southeast England may hold up around 11 or 12 Celsius.
Central and southern Scotland, northern England and Wales will have further rain tomorrow with showers continuing across the far northwest again. Most other places will be dry. It will be very mild, but it will stay windy.
TORRENTIAL rain and gale-force winds are set to smash the UK over the next 48 hours before a deep-freeze sends temperatures spiralling, Express reported according to the latest weather maps.
A band of heavy rain and strong winds will head towards the UK from this evening and will last until at least Wednesday, before the wet-weather system is replaced by sub-zero temperatures. The Met Office has warned parts of the UK could see up to 120mm of rain over the next 36 hours and winds gusting up to 70mph.
The Met Office has issued five weather warnings for wind and rain over the next 24 hours, with the North West and Scotland likely to see the worst of the conditions.
They include two "danger to life" amber alerts for central and eastern areas of Scotland, with the Met Office warning homes and businesses are likely to be flooded.
NetWeather.TV forecaster Paul Michealwaite said "pulses of heavier more persistent rain" will become more prominent from Monday evening, before another wet-weather front closes in from the Atlantic.
He said: "Late Monday and into the start of Tuesday, the next Atlantic system will approach, with rain and strong winds arriving in from the west. Ireland, along with the north and especially northwest of the UK, will see some heavy rain at times, along with gales, even severe gales in exposed places. It stays mild to the southeast of all of that, mostly dry and bright with sunny spells, although even here, it'll be windy."
"The rain will try to move southeast during Wednesday, but it'll be a struggle, and it will fizzle out quite quickly the closer to the southeast that it gets."
Photo: Sky News
WXcharts show a band of heavy rain moving across western areas of the UK overnight. The Met Office has issued an amber warning across southwestern parts of Scotland and just north of Glasgow, from 12pm on Tuesday.
It warns: "A spell of persistent and often heavy rain will affect much of Scotland during Tuesday and Wednesday. Rainfall accumulations of 40 to 60 mm are expected quite widely across the warning area with a few places possibly seeing 80-120mm in a 24 to 36 hour period."
A yellow alert, warning of gusts of up to 70mph, is in force across the whole of Scotland, large areas of the north of England and Northern Ireland from 2am on Tuesday.
Two additional yellow rain alerts, warning of up to 60mm of rainfall, is in place across the far northwest of England and the northeastern coast of Northern Ireland from 11am on Tuesday.
Met Office Chief Meteorologist Andy Page, said: "An area of low pressure to the northwest of the UK will bring very wet and windy conditions to parts of Scotland, Northern Ireland and northwest England through the start of the week. Up to 120mm of rain could fall in a relatively short time, bringing the risk of flooding."
"An amber weather warning is in force for parts of Scotland as well as further yellow warnings for rain and wind."
From Wednesday, the heavy rain will begin to clear, with isolated showers across Wales and the southwest of England. As the wet-weather system drifts away, temperatures will remain fairly-mild with highs of 15C in the south of England. Thursday is set to be dry and bright, but temperatures will begin drop with highs of 11C in the South East, 9C in the north and 7C in Scotland.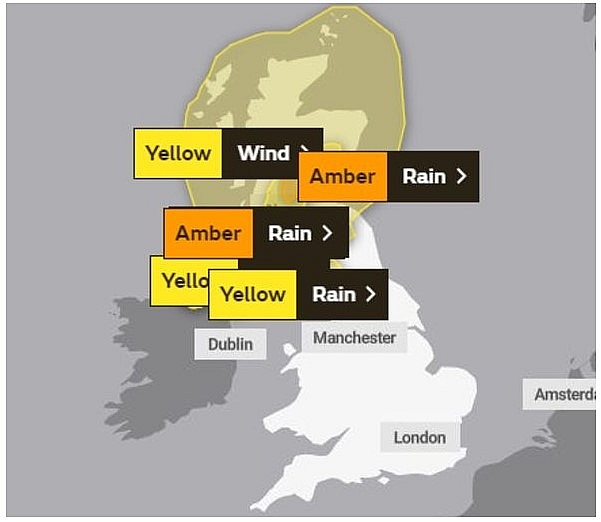 UK weather warning: The Met Office has issued five alerts (Image: MET OFFICE)
On February 24
According to Weather Online, another damp day to come across much of central and southern Scotland, northwest England, wales and southwest England. Periods of rain here, heavy in the morning but tending to mease into the afternoon. Rain too in the east of Ireland, again this tending to ease. Drier in central and eastern areas of England, although some low cloud and drizzle affects southern coasts. Becoming brighter and drier in western Ireland. Highs at 10 to 16C.
Band of rain moving slowly southeast across central and western areas. Dry elsewhere with scattered showers in far northwest, Met Office reported.
Outlook for Thursday to Saturday
Rain clearing the southeast on Thursday with sunny spells and a few showers elsewhere. Some rain in the northwest, otherwise turning increasingly settled from Friday. Mild though overnight frosts likely.
The latest weather maps show a deep-chill will begin to move eastwards from the Atlantic from Thursday evening, Express reported.
Temperatures maps produced by WXcharts show an area of dark-blue engulfing the whole of the UK during the early hours of Friday morning, with lows of -1C in Scotland.
Widespread frost is expected across large areas of the country before sunrise on Friday, with mercury reaching highs of just 1C in Scotland, 1C in the north of England and 2C in the South by 9am.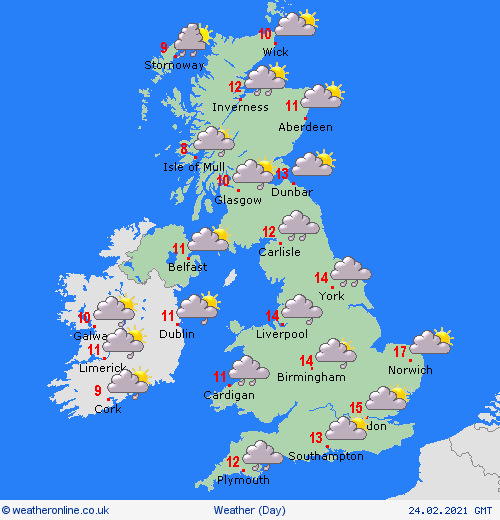 Photo: Weather Online
Europe's weather forecast
A mostly dry and fine day for the Iberian peninsula with some cloud and patchy rain for the far northeast of Spain and west coast of Portugal. Early showers fade from the Balearic Islands to leave a dry and fine day here. Dry and bright conditions extend through the central and western Mediterranean. Sunshine and warmth for Italy, the Balkans, Greece, Turkey and Cyprus, Weather Online reported.
Some cloud and patchy rain linger over southern France but otherwise it's a dry and fine day for the rest of the country. High pressure brings dry and sunny conditions to much of Europe including for Germany, Poland, Switzerland, Austria, the Czech Republic, Slovakia and Hungary.
Increasingly cloudy and windy for Denmark but staying mostly dry. Cloud and winds also increase across the Baltic States with rain and sleet arriving over Estonia and Latvia later. A band of rain, sleet and snow spreads across central and northern Sweden and Finland through the morning before another band of precipitation arrives over southern Norway later. Staying dry for the far south of Sweden.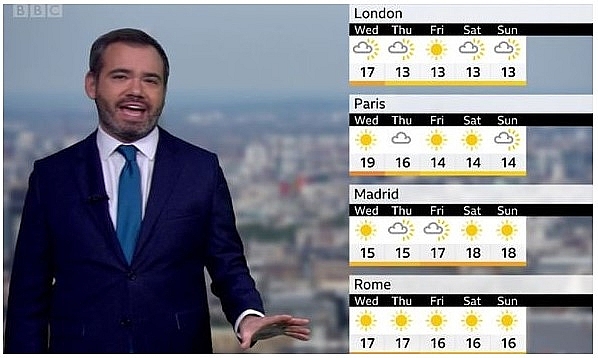 BBC Weather: Temperatures in European cities over the next few days (Image: BBC)
BBC Weather forecaster Ben Rich said that temperatures would spike in Europe as warm air moves in this week. This could result in temperatures as high as 20C in Berlin as central and western Europe benefit most from the warm conditions. He noted that there will be some patches of rain but much of Europe will remain dry and sunny.
Mr Rich said: "There is real warmth spreading across western and central parts of Europe over the next couple of days. It is going to feel like spring, we have got high pressure centred right across the heart of the continent. It will be pulling warm air across Iberia and France towards the southeast of the UK and parts of Germany as well. Looking at the temperatures across Tuesday afternoon and we are getting up to the high teens."
"We have got Paris and even Berlin up to 17C on Tuesday, that is way warmer than it should be for this time of the year."
The BBC Weather forecaster noted that there will be some rain and fog in parts of Europe but this will be few and far between. Despite this, it will likely give way to sunshine and sunny spells are expected throughout the continent. He continued: "As we move from Tuesday to Wednesday we will see some patchy fog in central Europe, some of that could be dense. We will see plenty of sunshine through much of the continent. There will be some cloud drifting into parts of Turkey, it will be just 9C in Istanbul as well. On the other side, you can see it is fine in Madrid with 15C and Lisbon getting up to 18C."
The BBC Weather forecaster noted a change in wind direction will cause a slight dip in temperatures but won't impact most places in central Europe.
He said: "This frontal system may feed some rain into the far northwestern system and certainly some rain into the western side of the UK. As we look further ahead a slight shift in wind direction will chill things down. This will apply mostly to London and Paris but temperatures still well above where they should be for this time of year. Berlin could touch 20C on Wednesday and will be cooling off as we head to the end of the week."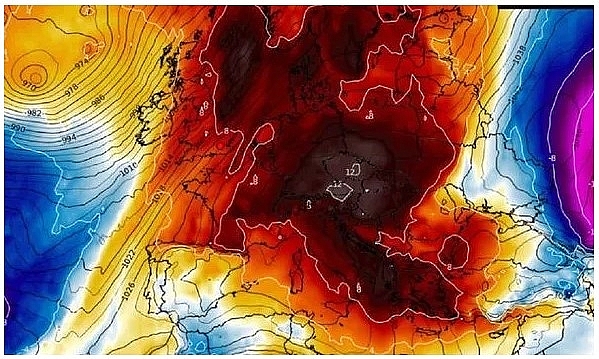 BBC Weather: Temperature spike to 20C in Europe as continent 'hotter than it should be' (Image: BBC )
On February 24
According to Weather Online, heavy periods of rain affecting western parts of Spain and the west of Portugal. Fare across much of the rest of Spain and Portugal with lots of sunshine. Remaining fine through the central Mediterranean area, so Majorca, Corsica, Sardinia and most of Italy will have lots of sunshine and be dry too. Fine across Greece with more sunshine, but feeling quite chilly in the east. A cold, strong wind will be blowing through turkey.
cloud in the far north west of France with some outbreaks of rain here. Mostly dry and sunny across the rest of France. The Netherlands and Germany will be dry and sunny to, as will be Poland. Hungary, Switzerland and Austria will all be dry with lots of sunshine.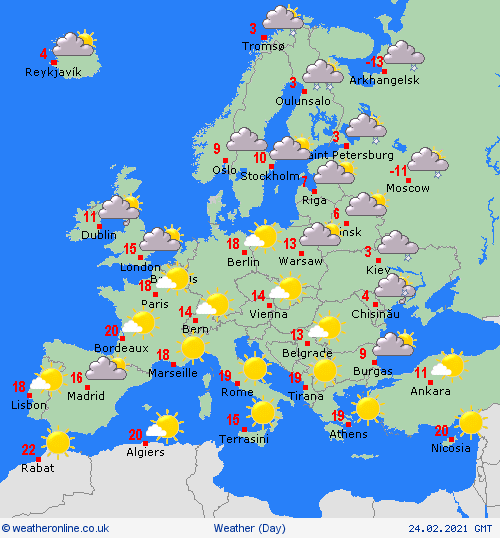 Photo: Weather Online
Dry and fed through Denmark and much of central and southern Sweden with sunshine here. Broken cloud in the Baltic states. Some outbreaks of rain and drizzle as well as stronger winds in Finland. Mild and rather wet over much of Norway.