UK and Europe daily weather forecast latest, March 7: A mainly dry day with a good deal of sunshine across England, Wales and Ireland
The UK is forecasted to have a mainly dry day with a good deal of sunshine across England, Wales and Ireland. Meanwhile, showers are still expected through the Med. Largely dry conditions set to cover centrally and cold with some snow across parts of Scandinavia.
UK's weather forecast
Tomorrow most of England and Wales and the southeast of Ireland will be mainly dry with bright or sunny spells, but again it will become cloudier through the afternoon, Sky News reported.
On the other hand, the rest of Ireland as well as Northern Ireland and Scotland will be cloudy and breezy with spells of rain, mainly across the north and west of Scotland.
Wintry conditions could be set to return to Britain as an Atlantic blast brings sub-zero temperatures, long-range charts indicate, Express reported.
New weather charts and experts have predicted unsettled conditions later this month, which will subsequently cause temperatures to fall across Britain. These conditions are expected to boost the likeliness of snow falling across the UK.
In new long-range charts for the UK between Friday, March 19 and Sunday, March 21, large parts of the country are shown turning blue - indicating a growing chance of snow.
WXCharts snow prediction models suggest there is a likelihood of up to 50 percent of snow falling across northern Scotland on March 21.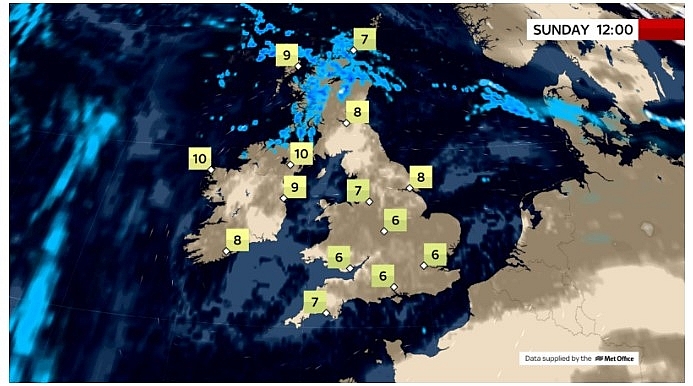 Photo: Sky News
Lower predictions across the rest of the UK are forecasted with a 15-25 percent chance of snow falling across northern England and Wales. There is little chance across the South - despite chilly temperatures.
Temperatures across parts of the country could be as low as -4C, WXCharts minimum temperature charts reveal.
Across the north of England and Scotland, the charts show temperatures will average -1 across the majority of the UK with temperatures peaking at 2C across the South East on March 19.
However, by March 21, most temperatures will sit just above freezing across the UK, averaging 2C. The Met Office said snow in March "was possible" adding: "In fact, it's more likely we will get snow in March than in December."
Going into this evening, MeteoGroup says it will be a mostly dry but dull evening with cloudy skies. Spots of drizzle across the far north of Scotland will turn increasingly patchy. Overnight will then be dry with clear spells and variable amounts of cloud cover. Temperatures will peak between 5-8C with light north-easterly winds, the group said.
Going into tomorrow (March 7), it will be dry for most with early spells of sunshine but thick cloud cover will build during the day.
Outbreaks of rain will spread across northern Scotland with temperatures peaking between 6 and 9C. Going into next week, the Met Office long-range forecast added there would be "some snow possible on high ground in northern parts of the country."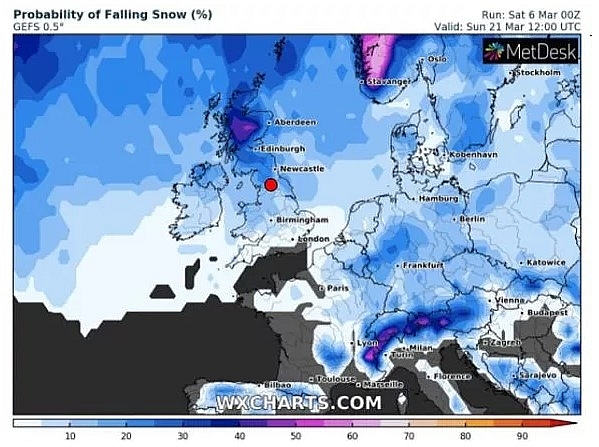 Snow probability is as high as 50 percent in Scotland (Image: WXCHARTS)
It added: "Outbreaks of heavy rain and strong winds, potentially very strong in the south, will continue to make their way in from the west on Wednesday."
"Temperatures are expected to trend close to average, although some overnight frosts are still possible, mainly in northern parts of the country."
Commenting on the current conditions this week, Met Office forecaster Marco Petagna said cold temperatures this weekend could spark a return of "wintry hazards".
He added: "We'll see a return of wintry hazards as cold air sweeps across the UK from the north. Wintry showers and widespread frost are possible."
On March 7
According to Weather Online, by Sunday, high pressure will have sunk down over southern England. It will continue to be a mainly dry day with a good deal of sunshine across England, Wales and Ireland, however, Northern Ireland and much of Scotland will see more cloud cover and rain will push across northern Scotland. Highs of 6 to 11C.
England and Wales dry with a mixture of cloud and sunny spells. Northern Ireland and Scotland, meanwhile, cloudier with some rain and drizzle, mainly in the north and west, Met Office reported.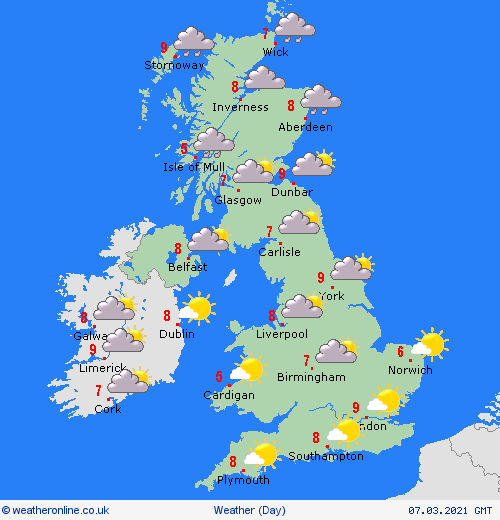 Photo: Weather Online
Outlook for Monday to Wednesday
Settled initially albeit often rather cloudy, with light winds and some patchy rain for some. Rather cold with pockets of overnight frost. Turning unsettled Wednesday with rain and strengthening winds.
Europe's weather forecast
A slightly better day for Spain and Portugal although southern areas and eastern areas could still see some showery outbreaks of rain at times. A few showers through the Balearic Islands but sunny spells too. Sunny spells and showers for Italy and the surrounding islands, some of the showers could merge into longer spells of rain. Showery outbreaks fo rain for Greece with a spell of heavy rain pushing across north Turkey.
A largely dry and fine day for France, the Low Countries and Germany. Scattered showers but also sunny spells for Switzerland and Austria. One or two showers down the Balkan States but largely dry here. Dry but breezy and chilly for Poland, windy along coasts.
A mix of rain, sleet and snow is expected across Norway with a brisk northerly wind. A cold day here. Cold too for Sweden but largely dry, just with some rain, sleet and snow in the west. A wet day for Finland with sleet and snow for many places. Windy through the Baltic States and feeling cold although it should stay mainly dry. A breezy yet largely dry day across Denmark.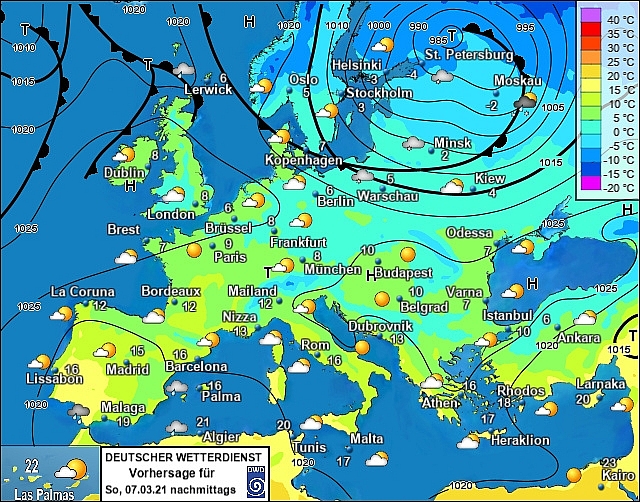 Photo: Stirimeteo
On March 7
According to Weather Online, Portugal should see a mainly dry day but Spain will hang on to the showery rain across central and eastern areas into Sunday. Western areas drier. Showers, some heavy and thundery, through the Balearic Islands and on over Corsica and Sardinia. Largely dry across mainland Italy but showers moving in to western areas later in the day. Mainly dry for Sicily. Showery rain again for Greece but a drier day for Turkey.
Largely dry and fine again for France although some showery rain affecting southern areas. Mainly dry and fine but mist and low cloud should be expected in places for the Low Countries and Germany. Mainly dry for Switzerland and Austria but a few showers developing later in the day here. Dry for the Balkans and much of eastern Europe although a band of rain will push into northern Poland in the afternoon.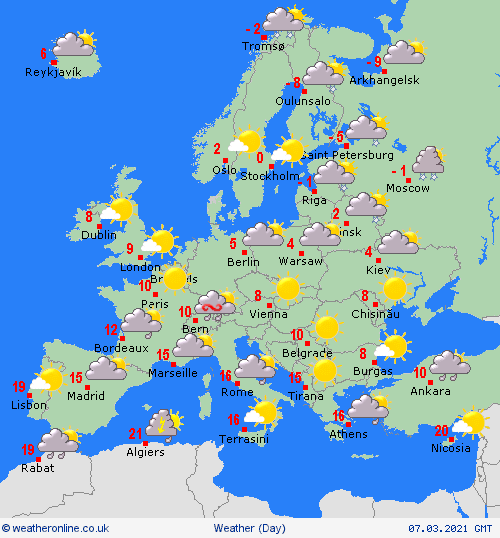 Photo: Weather Online
Chilly across Scandinavia but drier than of late. Norway will see some snow showers into central areas but mainly dry conditions elsewhere. Largely dry and fine for Sweden. Rain, sleet and snow will clear southwards across Finland allowing for drier and brighter conditions from the north. Breezy through the Baltics and feeling bitterly cold dragging across a few snow flurries but it will be mostly dry here. Cloudy across Denmark for a time with some patchy light rain but an improving scene from the north.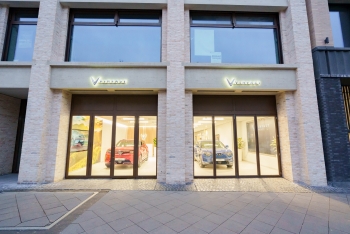 Economy
VinFast has officially opened its first two VinFast Stores in Cologne, Germany, and Paris, France.