UK's weather forecast
BBC Weather's Owain Wyn Evans explained the UK will generally see bright sunny spells with clear skies over the weekend. While day temperatures remain around 10-12C, the UK will turn cold at night and in some parts below freezing. While parts of the country are enjoying blue skies, mist and fog are expected to come on Monday which will drop the temperature once more.
Mr Wyn Evans said: "We're opening the curtains this morning and we're seeing plenty blue sky overhead and not wall to wall blue sky, however. Variable amounts of cloud bubbling up, bit breezy across western parts of Scotland, much of England and Wales and the northeast of Scotland. Dry and bright but thanks to that weather front, some patchy rain and clouds into Northern Ireland or western parts of Scotland. 11 or 12 Celsius our top temperatures today everyone."
Now as we look ahead through towards this evening, it's a very similar story quite similar to last night.
"Clear skies overhead for many of us, I think we'll tend to see more in the way of mist and fog patches forming, very difficult to pinpoint exactly where they'll be but I think southeastern parts of England rural parts potentially seeing these as well.
"And temperatures dip in close to, if not below freezing once more, probably not quite as chilly as last night but still quite cool up there tomorrow morning. So the mist and fog patches quite reluctant to clear many places I think today and tomorrow."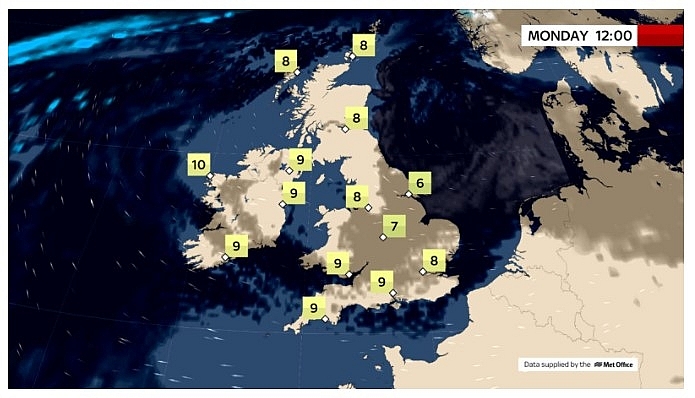 Photo: Sky News
"Much of England and Wales and Scotland dry, we may see the odd shower across Northern Ireland, northwestern parts of England and into the south of Scotland as well."
"Breezier along southwestern coastal parts of England and Wales and the northwest of Scotland as well. But the air is spinning around the high pressure which is on top of it so for most of us those winds will be dry."
"And temperatures tomorrow I think quite similar to today, reaching between seven and 11C. Now on Sunday night and into Monday, we see the return of those dense mist and fog patches becoming more of a feature in fact, as we look a bit deeper into the crystal ball if you like."
"Over the next couple of days, you can see the map turning grey. And I think our temperatures falling close to freezing looking a bit foggy first thing on Monday morning. But the high pressure is nearby staying there through towards the middle of next week."
Central and eastern England will be rather grey on Monday, with early mist, fog and low cloud slow to lift, and lingering all day on some eastern coasts. Most other places can expect long spells of sunshine. It will be fairly mild in the sunny west, after a frosty start, chilly near the North Sea, Sky News reported.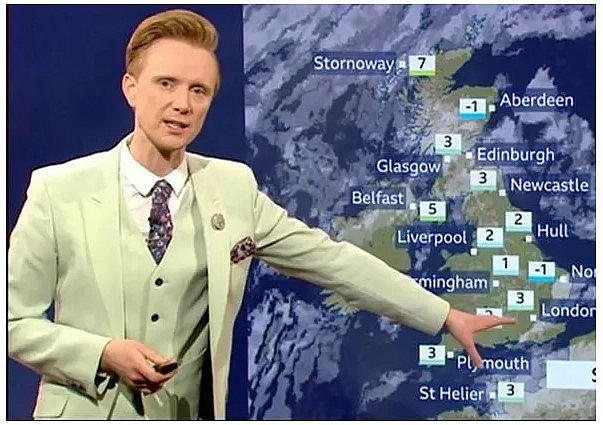 Temperatures over night will drop below freezing in some areas with mist and fog (Image: BBC)
On March 1
According to Weather Online, high pressure is centred to the east of the UK on Monday. A patchy frost is possible first thing over central Scotland and Northern Ireland in particular. Any early mist and fog patches should burn off quickly. Always more cloud for the far north of Scotland with thicker cloud pushing into northern England and southeast Scotland later in the day. Generally a dry and sunny day for most. Feeling warm too. Highs at 8 to 13C.
Cloudier than Sunday for many central and northeastern parts of England though still some sunny spells. Elsewhere good sunshine though still breezy in the south, Met Office reported.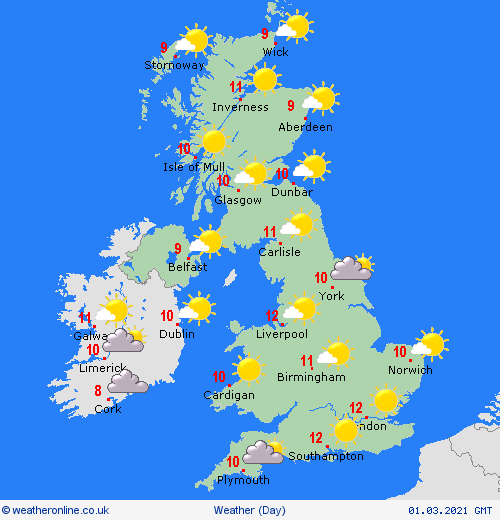 Photo: Weather Online
Outlook for Tuesday to Thursday
Mainly settled with light winds, although often rather cloudy with some overnight mist and fog. Showery rain, especially in the south, possible Wednesday. Rather cold in north, mild in south.
Europe's weather forecast
Some showers for eastern and southern parts of Spain as well as southern Portugal but elsewhere in Iberia it will be dry and bright. Some cloud for the Balearic Islands but staying dry. Mostly dry and bright for much of Italy, the Balkans and Greece with scattered showers to the south. Patchy rain for northern Turkey but elsewhere dry and fair, Weather Online reported.
Early showers clear from southern France to leave a dry and bright day across the country. Dry and bright too for Switzerland, Austria, southern Germany, the Czech Republic, Slovakia and Hungary. Cloudier for northern Germany, Poland and the Low Countries but staying mostly dry here.
Mostly dry and bright conditions extend to Denmark, the Baltic States and Finland as well as to southern parts of Sweden and Norway. Cloudier over northern parts of Norway and Sweden with some outbreaks of rain here.
BBC Weather forecaster Helen Willetts warned that temperatures would be falling across Europe. She added that some parts of Scandinavia and south eastern Europe will see snow over the weekend and into the new week. Much of central Europe will see temperatures fall to the low teens or single digits but remain dry.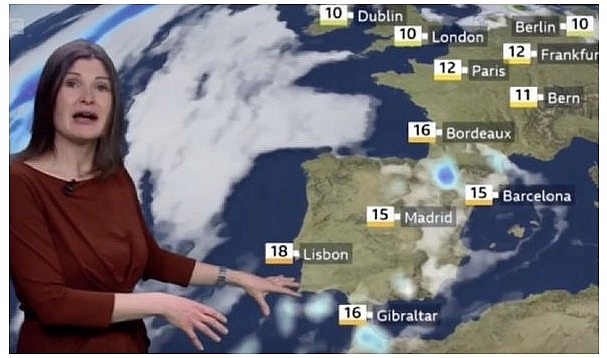 BBC Weather: South western Europe will also experience some rainfall over the next few days in addition to the temperature fall. (Image: BBC)
Ms Willetts said: "February temperature records have been tumbling across Europe this week. This is particularly true around the Balkans and the eastern areas. We have still got some warmth but we will be dragging in some cooler air across the Balkans down towards Greece. Temperatures won't be as high as they have been but with high pressure around there will be a lot of settled weather."
"In fact, there is a red warning out for Saturday through parts of the Balkans for that strong and gusty wind."
The BBC Weather forecaster noted this cold weather will result in snow in the far south east of Europe. Despite this, there will be some relative warmth for some regions in the area. Ms Willetts said: "We do have this weather front working its way southwards to give some snow around the Black Sea."
"There will also be some rain at lower levels as well. There is still relative warmth across Turkey and Greece but it won't be as warm as it has been. We won't see any more record-breaking temperatures as they are tumbling away."
South western Europe will also experience some rainfall over the next few days in addition to the temperature fall. The rest of central Europe is expected to remain dry and settled. Parts of Scandinavia will see some snow by Monday and stronger winds as they move deeper into the continent. The strong winds will push further into Europe in the new week making it feel cooler.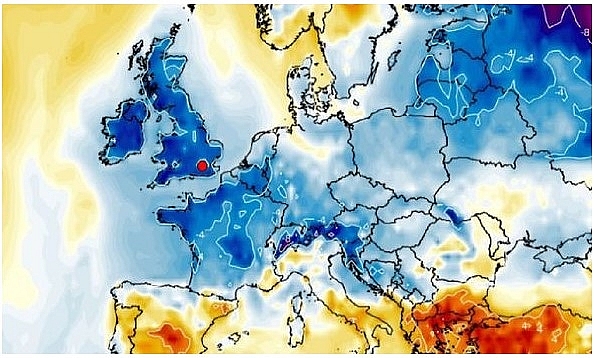 BBC Weather: The BBC Weather forecaster noted that this cold weather will result in snow in the far south east of Europe. (Image: WXCHART)
On March 1
According to Weather Online, with low pressure to the northwest of Spain expect cloudy skies along with outbreaks of rain to northern Spain and across Portugal. Sunny spells but also some showers elsewhere across Spain. Largely dry but breezy through the Balearic Islands. Mostly dry and fine for Italy but with a few showers across Sicily. Scattered showers across Greece. Cloud and patchy rain moving in to north Turkey later.
Dry and fine, although with some morning mist and fog patches, across northern and central Europe. East Europe too will be largely dry and sunny although southern parts of Poland first thing will see cloud and rain. This will soon clear.
Windy and wet with a mix of rain, sleet and snow for northern and western parts of Norway. Largely dry across Sweden but with a steady westerly wind and a mix of rain, sleet and snow affecting far western areas here. Some patchy rain, sleet and snow too across northern and central Finland. Dry with sunny spells further south here. Dry and fine through the Baltic States and Denmark.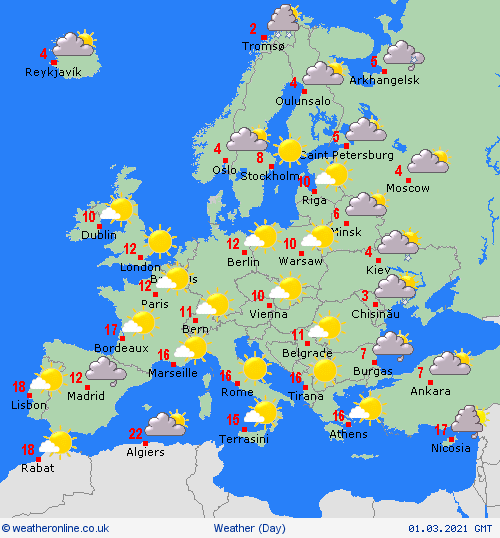 Photo: Weather Online
Ruby Lee