UK and Europe daily weather forecast latest, March 2: Fog and low cloud linger through the morning, persist all day in some places in the UK
The UK is forecasted to have fog and low cloud lingering through the morning and persist all day in some places. Meanwhile, high pressure and dry conditions set to dominant although some showers expected through the Mediterranean.
UK's weather forecast
According to Sky News, tomorrow will be another mostly fine day with bright or sunny spells, once the early murky conditions slowly clear.
However, central and eastern parts of England and Wales as well as eastern Scotland are likely to see fog and low cloud linger, and therefore it'll be another cold day across these areas. Elsewhere will be fairly mild again. It'll be another mainly dry day too, but later some showers may spread to the far south-west of England.
Tomorrow, any fog and low cloud will linger through the morning and persist all day in some places. Another largely dull day, but staying dry except for the odd patch of local drizzle, BBC weather reported.
BBC Weather's forecaster Carol Kirkwood said conditions will become unsettled for most of country due to widespread cloud causing temperatures to drop ahead as a heavy rain front heads for the UK.
The BBC Weather forecaster said the week will start off dry but the low cloud will cause some frost to return in the early mornings. Carol Kirkwood noted most regions will experience a fair bit of sunshine once the cloud lifts but noted temperatures will have fallen compared to the weekend. Ms Kirkwood said: "First thing this morning, here's the low cloud, the mist and the fog. Through the morning it could well extend as far west as eastern parts of Wales but should break up its southern boundary and the sun will come out."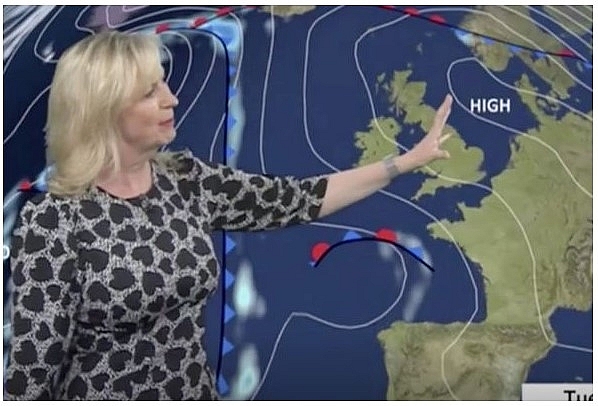 BBC Weather: Kirkwood said a rainy front will be moving in from Tuesday (Image: BBC WEATHER)
"There will be a lot of dry weather, a fair bit of sunshine, there's cloud across northern Scotland pushing north into the Northern Isles. Temperatures between 7C and 11C. And those are the temperatures if you're stuck under the low cloud, mist and fog for much of the day."
"Through this evening and overnight, if anything, the low cloud, mist and fog become more extensive. Over towards the west, there'll be some breaks in the cloud and that means temperatures will fall here to the lowest values."
Ms Kirkwood continued: "It looks like there's going to be some frost around as well but whichever way you look at it, if you're stepping out first thing in the morning, it is going to feel a bit chilly."
"Through tomorrow, high pressure is still with us, drifting into the North Sea a bit more, still breezy along the south coast and then we have this little frontal system approaching, which will introduce some showers."
"We start off with all this low cloud, mist and fog. Towards the west, this is where we'll see the best of the breaks, later in the day we could see some of those across southern areas as well and the sunshine will come out."
The BBC Weather meteorologist added: "The cloud sticking to parts of northern Scotland and sticking to parts of eastern England as well. Some of those showers coming in across the southwest will extend into South Wales, we could see one or two across the Midlands. They can also be heavy and thundery."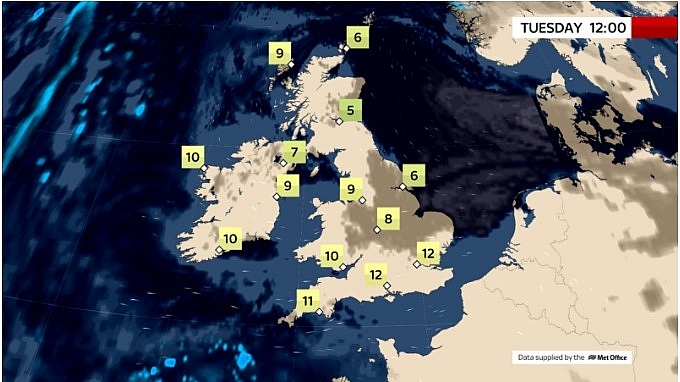 Photo: Sky News
It will once again be cloudy on Wednesday after a widespread misty and foggy start. Light showers should move eastwards into Wales and south-west England during the morning and they move across to south-east England in the afternoon, Express reported.
Cloudy, with patchy rain in the south-east of England and east of Scotland on Thursday. Brian Gaze at Weather Outlook warned winter could return to the UK from next week, with an "increasing Atlantic influence" hitting by the middle of March.
Mr Gaze said: "The meteorological winter ends tomorrow but the second half of next week could see it turn colder as high pressure builds northwards. High pressure looks set to remain in charge of the weather across the UK during the coming days. We're at the time of year when frost can readily develop at night, but the strong sun can lead to mild or even relatively warm afternoons."
"A big diurnal (day to night) variation in temperature is very possible. The London GEFS 06z plot illustrates things well. The bottom part of the plot shows the precipitation forecast and it is looking dry during the first third of March. The number of rain spikes begins to increase towards the middle of the month perhaps suggesting an increasing Atlantic influence."
On March 2
According to Weather Online, high pressure stays to the east on Tuesday. A weak area of low pressure pushes northwards towards southwest England allowing for cloud cover to thicken here and outbreaks of showery rain to push in later in the day across the southwest of England and south Wales. Elsewhere should remain dry and fine with a good amount of sunshine although the far north of Scotland and the Northern Isles will again see more cloud. Another mild day for all with highs between at 9 to 13C and reaching 14 or 15C in the southeast corner of England.
Low cloud and fog probably retreating to some eastern and northeastern areas, where it will feel cold. In contrast, many southern and western areas sunny and pleasantly mild by afternoon, Met Office reported.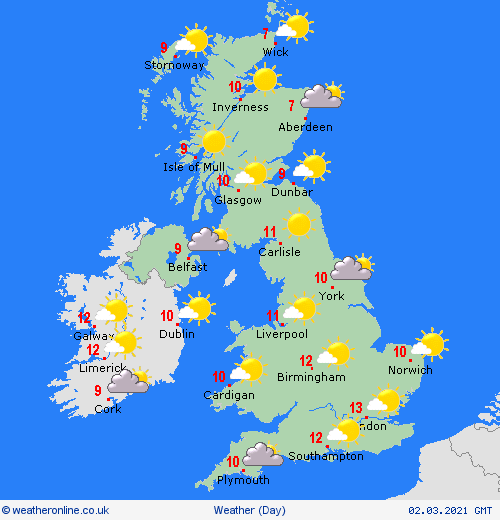 Photo: Weather Online
Outlook for Wednesday to Friday
Cloudy with showery rain for southern areas Wednesday, this clearing Thursday. Much colder, clearer weather already across the north, then follows southwest late Thursday. Frosts becoming widespread.
Wednesday will be a cloudy day, and a weak system will bring showers or spells of rain from the south-west in the afternoon and evening. These showers will diminish Thursday morning, but it will remain cloudy through the day. Turning colder. Friday will see patchy cloud, with some brighter spells possible earlier in the day, BBC Weather reported.
Europe's weather forecast
According to Weather Online, with low pressure to the northwest of Spain expect cloudy skies along with outbreaks of rain to northern Spain and across Portugal. Sunny spells but also some showers elsewhere across Spain. Largely dry but breezy through the Balearic Islands. Mostly dry and fine for Italy but with a few showers across Sicily. Scattered showers across Greece. Cloud and patchy rain moving in to north Turkey later.
Dry and fine, although with some morning mist and fog patches, across northern and central Europe. East Europe too will be largely dry and sunny although southern parts of Poland first thing will see cloud and rain. This will soon clear.
Windy and wet with a mix of rain, sleet and snow for northern and western parts of Norway. Largely dry across Sweden but with a steady westerly wind and a mix of rain, sleet and snow affecting far western areas here. Some patchy rain, sleet and snow too across northern and central Finland. Dry with sunny spells further south here. Dry and fine through the Baltic States and Denmark.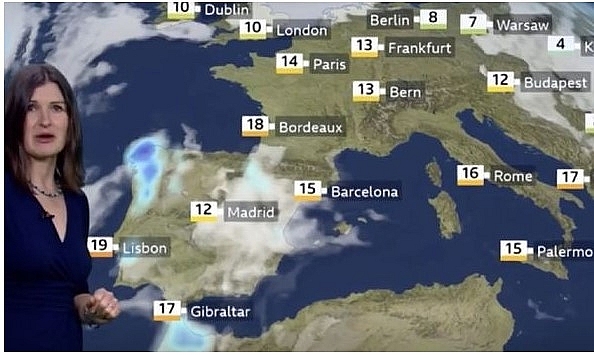 BBC Weather: The BBC Weather forecaster noted that temperatures across central Europe will remain in the mid-teens. (Image: BBC)
BBC Weather forecaster Helen Willetts noted there is a wind weather warning for Sweden in effect. These powerful gales will spread through Europe and cause temperatures to fall slightly. Despite this, it will remain dry and temperatures will be in the mid-teens for most of next week.
Ms Willetts said: "There are orange wind warnings out for Sweden. It is going to remain quite windy for Scandinavia and you can see those tightly packed isobars pushing in rain and some snow here. We are also seeing the cool northwesterly breeze bring the temperature down in the Balkans into Greece and Turkey. The weather system will be bringing some mountain snow here as well."
The BBC Weather forecaster noted temperatures across central Europe will remain in the mid-teens. Much of this area will also see sunshine and dry spells in the new week. However, mornings will likely be icy and frosty. Ms Willetts continued: "Temperatures still remain a bit above average, it just isn't as warm as it was before."
"Things are feeling a little bit warmer across Iberia but you can see there are some showers around as well. There will be one or two showers around the Cyprus region and in Turkey as well. Perhaps, for the Balkans, there will be one or two showers, especially for Greece. There is also some strong and gusty winds across the Balkans and around that area of high pressure."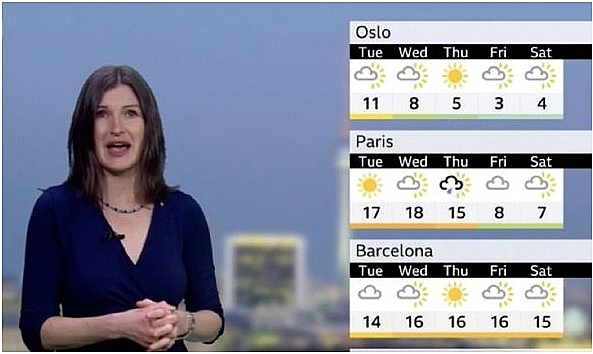 BBC Weather: Much of Europe will remain dry with the strong wind and drop in temperature (Image: BBC)
Ms Willetts noted despite the showers, there will also be sunshine in parts of south-west Europe.
She continued: "The wind direction will warm things up later in the week across Iberia. You can see some showers here and showers into the north-west of Africa and will be pushing northwards. For many parts of Europe, we will have morning frost and fog. That is going to be an issue because it takes time to clear at this time of the year though the sun is getting stronger."
On March 2
According to Weather Online, Spain and Portugal will see sunny spells but also scattered showers. A brisk wind down the southeastern coast of Spain and through ther Balearic islands where it should stay mainly dry and fine although one or two showers are possible. Mainly dry and sunny through Italy although again the odd isolated shower cannot be ruled out in the far south. Sunshine and morning showers across Greece then a drier afternoon. Cloudier skies and patchy rain for Turkey.
Another dry and fine day across much of Europe, away from mist and fog patches as winds remain light. Possible thicker cloud and some light rain for the far northwest tip of France however.
Rain, sleet and snow to the north of Norway continues on Tuesday but winds will be lighter. Largely dry across Sweden and Finland with mist and fog likely towards more southern locations. A dry and fine day through the Baltic States and Denmark but again mist and fog patches are likely.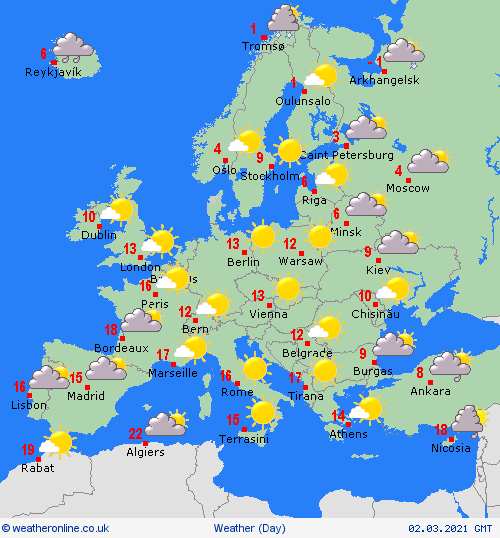 Photo: Weather Online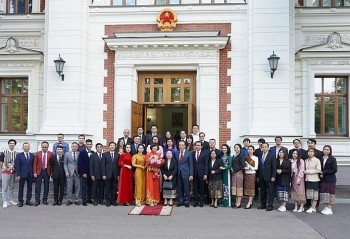 Friendship
The Vietnamese Embassy in Cuba will make efforts to consolidate and cultivate the special Vietnam-Laos relationship in the spirit of respect and support for mutual benefits.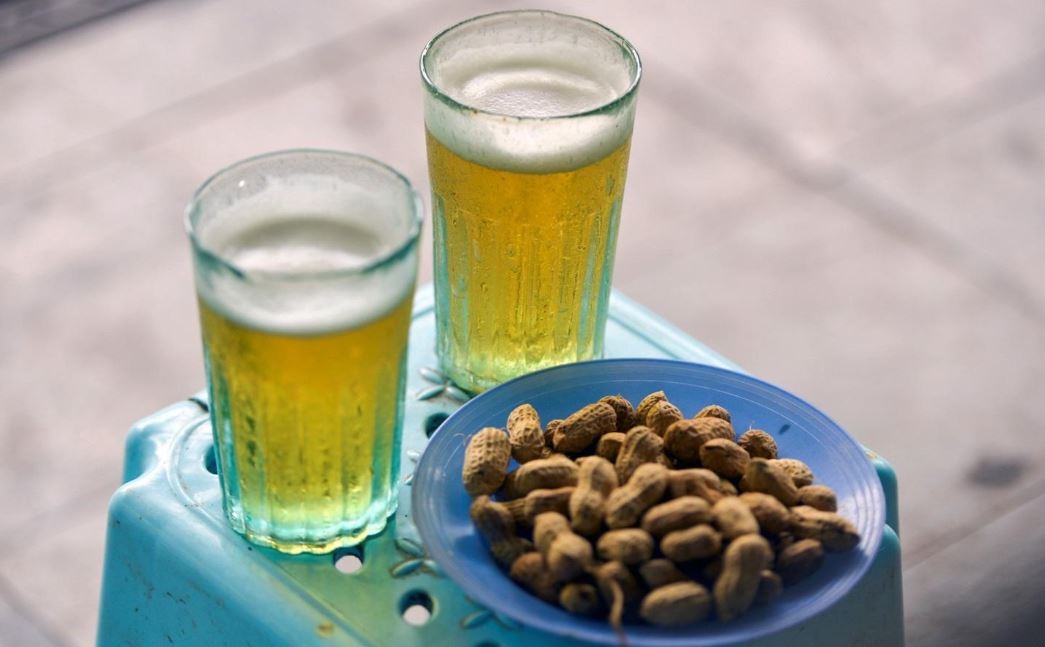 World
Among Vietnamese best beer destinations voted by foreign travelers, Hanoi is followed by Ho Chi Minh City, Hoi An, Nha Trang, and Da Nang.
August 06, 2022 | 14:54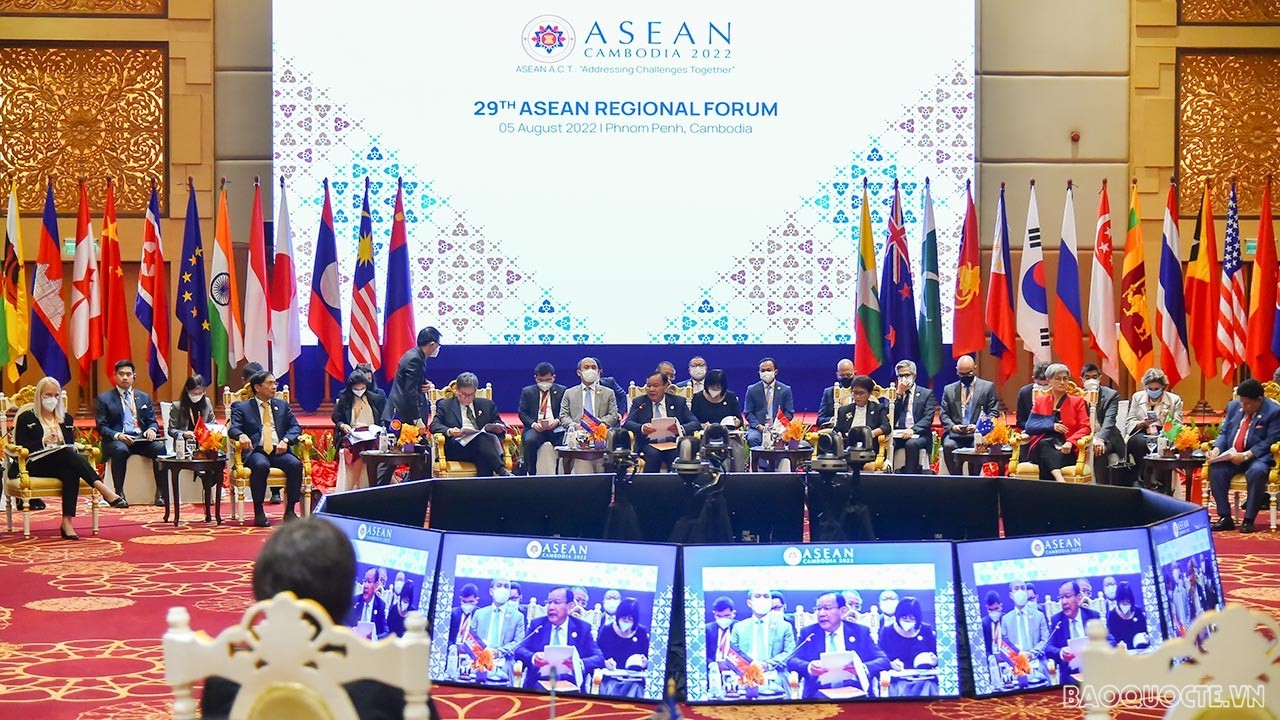 World
Foreign Minister Bui Thanh Son attended the 29th ASEAN Regional Forum (ARF) that took place in Phnom Penh, Cambodia on August 5 within the framework of the 55th ASEAN Foreign Ministers' Meeting (AMM-55), and held several bilateral meetings on the sidelines of the event.
August 06, 2022 | 09:12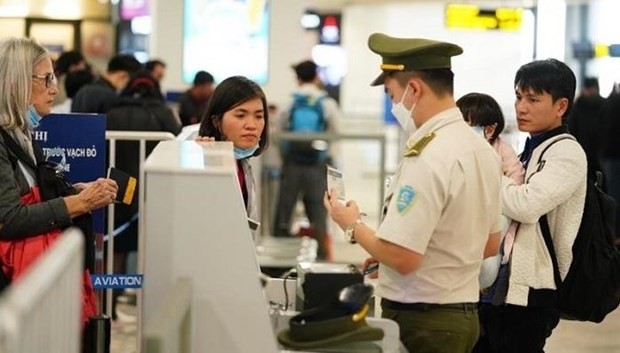 World
The Ministry of Health has asked localities nationwide to monitor foreign arrivals from countries with monkeypox as an early response after infections were spotted in the region.
August 05, 2022 | 16:11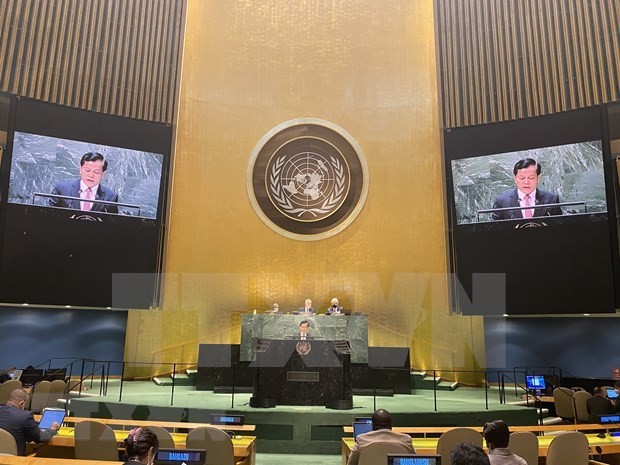 World
Deputy Foreign Minister Ha Kim Ngoc had a meeting on August 3 with United Nations (UN) Secretary-General Antonio Guterres who highly valued Vietnam's active and responsible contributions to the common work of the organisation, especially the country's strong commitments in the fight against climate change, and promised to continue supporting Vietnam in this work.
August 04, 2022 | 16:57