UK and Europe daily weather forecast latest, March 3: Fairly cloudy with a scattering of showers in Southern Britain
Areas in Southern Britain are forecasted to cope with fairly cloudy with a scattering of showers. Meanwhile, fine conditions set to cover much of central and southern Europe. Breezy with some sleet and snow are expected in Scandinavia.
UK's weather forecast
Southern Britain will be fairly cloudy with a scattering of showers on Wednesday. Elsewhere, most places will be dry with lengthy sunny spells, but it will be rather grey near eastern coasts. It will be chilly in the North East, Sky News reported.
It will be cloudy on Wednesday after a widespread misty and foggy start. Light showers should move eastwards into Wales and south-west England during the morning and they move across to south-east England in the afternoon.
Cloudy, with patchy rain in the south-east of England and east of Scotland on Thursday. Brian Gaze at Weather Outlook warned winter could return to the UK from next week, with an "increasing Atlantic influence" hitting by the middle of March.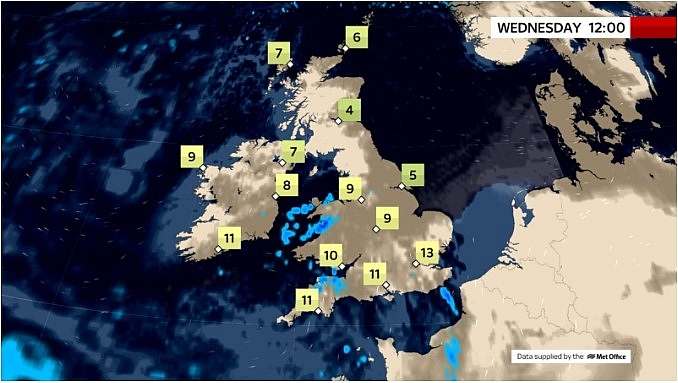 Photo: Sky News
Mr Gaze said: "The meteorological winter ends tomorrow but the second half of next week could see it turn colder as high pressure builds northwards. High pressure looks set to remain in charge of the weather across the UK during the coming days. We're at the time of year when frost can readily develop at night, but the strong sun can lead to mild or even relatively warm afternoons."
"A big diurnal (day to night) variation in temperature is very possible. The London GEFS 06z plot illustrates things well. The bottom part of the plot shows the precipitation forecast and it is looking dry during the first third of March."
"The number of rain spikes begins to increase towards the middle of the month perhaps suggesting an increasing Atlantic influence."
According to Express, the early spring sunshine and mild temperatures seen over the past few days are set to come to an abrupt end this week, as a cold trough of air moves in from the north, followed by a second bout of low pressure. The latest weather charts forecast the mercury is set to plunge to lows of -5C from late Thursday. The chilly conditions also brings an increased risk of snow, with parts of the UK forecast for some wintry showers.
Jim Dale, from the British Weather Services, told Express.co.uk the cold spell is due to the loss of high pressure and a northerly breeze moving in.
He said: "The reason for it is we lose the high pressure. We start to pull in a northerly air stream. That has got potential for some sleety or snow showers, especially over the high ground in the north."
The weather expert said he doesn't expect a repeat of the conditions seen in early February but said there is "potential for ice and snow warnings as the week goes on, towards the weekend".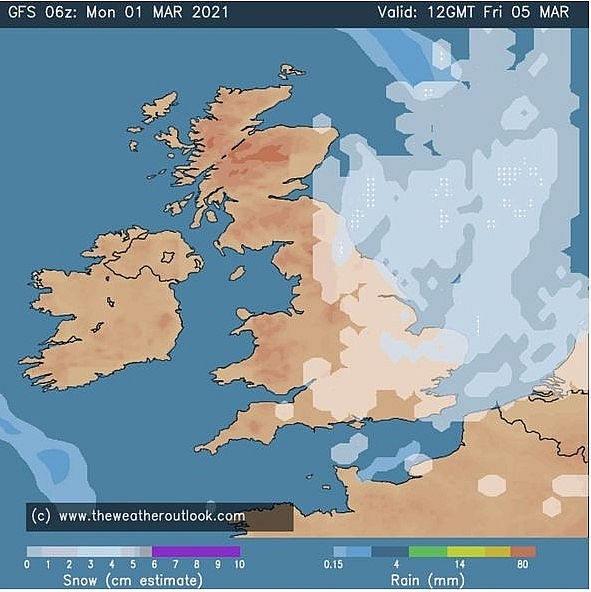 UK snow radar: Charts show snow sweeping from the north (Image: WEATHER OUTLOOK)
Weather charts show the mercury will dip to lows of -5C in Scotland, with northern England and parts of Wales falling to lows of -2C at midnight on Friday.
Further south temperatures are not expected to rise about 4C. By 6am on Saturday the chilly conditions have become more widespread, with a weather map showing the whole of the UK turn an icy blue.
Scotland will see the coldest temperatures with lows of -4C forecast, with -2C averaging across the rest of Britain.
The chart, by forecasters Netweather, show the mercury is not expected to rise above freezing, except for the capital.
The freezing conditions are expected to continue throughout much of the day and into Sunday, with a second chart valid for 12 noon on Sunday showing temperatures of between -4C and 1C.
On March 3
According to Weather Online, a shallow area of low pressure is expected to be crossing central and southern areas of England on Wednesday. This brings some showery periods of rain across much of southern and eastern Wales as well as central and southern England. These showery bursts of rain are likely to be continuing into the afternoon. Drier in other areas of England, Wales, Scotland and Ireland, some low cloud and a few spot of drizzle drifting onto eastern coasts of England and Scotland. The best of sny sunshine in western Scotland and parts of Ireland. Highs at 8 to 12C for most areas, but 5C on cloudier coasts of northeast England.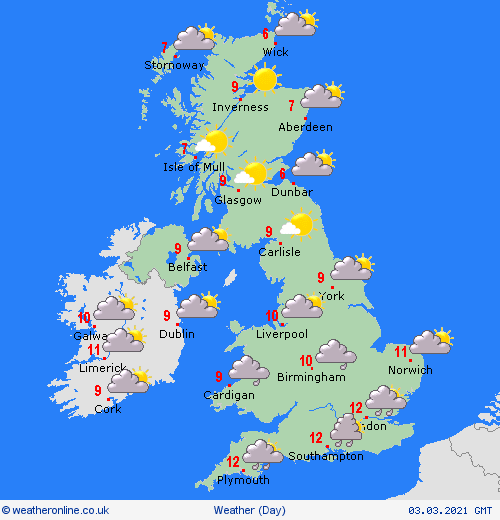 Photo: Weather Online
Showers in south-west moving further north-east into Wales and central and south-east England, some heavy towards the west. Low cloud and fog slow to lift across central and eastern areas, Met Office reported.
Outlook for Thursday to Saturday
Cloudy with showery rain for southern areas Thursday morning, clearing south-eastwards. Elsewhere a band of light rain moves south bringing colder, clearer weather for all by Friday. Frosts becoming widespread.
Europe's weather forecast
Spain and Portugal will see sunny spells but also scattered showers. A brisk wind down the southeastern coast of Spain and through ther Balearic islands where it should stay mainly dry and fine although one or two showers are possible. Mainly dry and sunny through Italy although again the odd isolated shower cannot be ruled out in the far south. Sunshine and morning showers across Greece then a drier afternoon. Cloudier skies and patchy rain for Turkey.
Another dry and fine day across much of Europe, away from mist and fog patches as winds remain light. Possible thicker cloud and some light rain for the far northwest tip of France however.
Rain, sleet and snow to the north of Norway continues on Tuesday but winds will be lighter. Largely dry across Sweden and Finland with mist and fog likely towards more southern locations. A dry and fine day through the Baltic States and Denmark but again mist and fog patches are likely.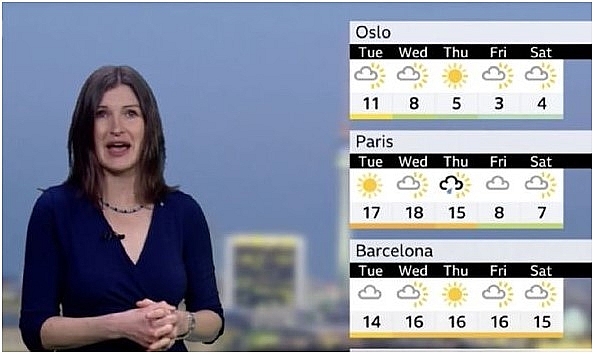 BBC Weather: Much of Europe will remain dry with the strong wind and drop in temperature (Image: BBC)
On March 3
According to Weather Online, a scattering of showers in central parts of Spain on Wednesday. Fair for much of Portugal and for the east of Spain. Italy, Corsica and Sardinia are likely to be dry too with plenty of sunshine. Fair for Greece, more sunshine here. Breezy and sunny in the west of Turkey but some showers and rain in eastern Turkey, this extending into Cyprus too.
Showers across northern and northwestern France. Fair in the south and east of France. Dry with sunny spells in the Low Countries. Germany and Poland should be fair with more sunshine to come here. Staying fair in Hungary, Austria and Switzerland with morning fog slowly clearing.
Denmark will have some good spells of sunshine. Breezy with sunny spells across the Baltic States and southern Sweden too. Breezy with rain and sleet in Finland. Breezy with some snow showers in northern Sweden. Rain, sleet and snow in central and northern Norway. Fair in the south.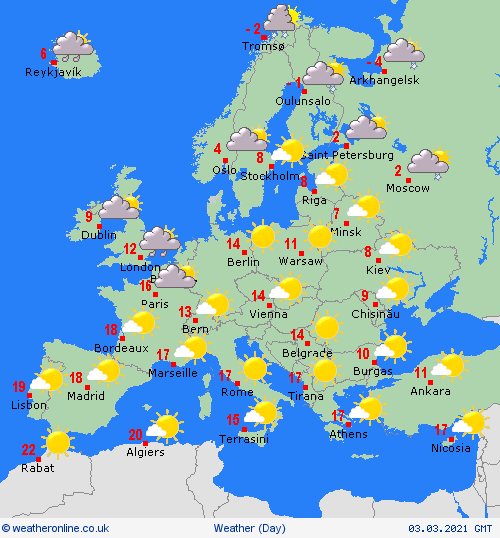 Photo: Weather Online