UK and Europe weather forecast latest, August 16: Temperature plummets as severe weather formed in Atlantic
Temperature in the UK is forecasted to plummet as severe weather formed in Atlantic is to battle this country. Meanwhile, Europe is preparing for scorching days before thunderstorms strike across the continent.
UK's weather forecast
UK weather maps show a system of strong winds currently over the Atlantic, and the maps indicate strong winds could hit the UK next week. Here are the latest weather forecasts, maps and charts, Express reported.
For the last week the UK has been in the midst of a scorching heatwave. The mercury has soared above 30C for multiple days in a row, but recently many regions have witnessed a dip in temperature.
But for the next few days the Met Office has issued a number of widespread weather warnings. Much of England and Wales is included under a yellow thunderstorm warning on Saturday, Sunday and Monday.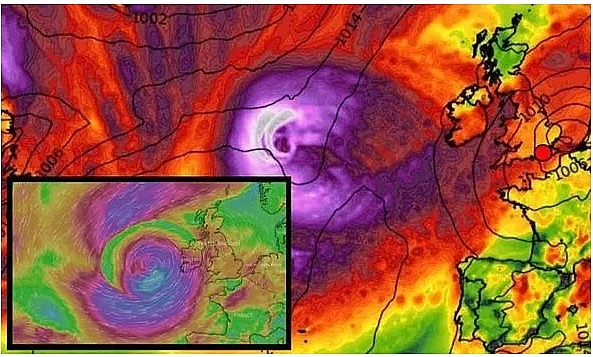 UK weather MAP: Severe weather system brewing in Atlantic to smash into UK - Charts (Image: WXCHARTS - WINDY)
The Met Office state in their Saturday weather warning for England and Wales that "the warm, humid airmass across the southern half of the UK will lead to further heavy showers and thunderstorms" with some thunderstorms "persisting into the night".
The Met Office are also warning of lightning and heavy rainfall, with 40-50mm of rain potentially falling in two to three hours on Saturday.
Outlook for next week
Later next week, weather maps indicate the UK could see some strong winds as a result of a tropical storm currently near the US coast. While the storm is not expected to hit the UK, maps show its remnants could bring some windier weather than usual to the UK.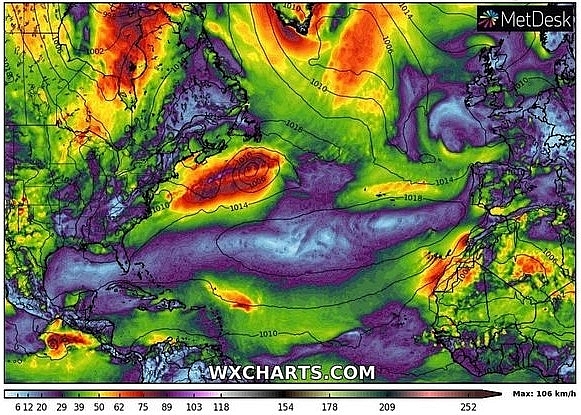 UK weather MAP: Tropical Storm Kyle is currently near the US coast (Image: WXCHARTS)
The National Hurricane Center (NHC) is currently monitoring the system off its eastern coast. Tropical Storm Kyle had maximum sustained winds of 45mph as of Saturday morning.
The system is moving in a east-northeast direction across the Atlantic, and although some strengthening is expected over the weekend, it is expected to become "post-tropical" by Sunday night.
On its current path, weather maps indicate the UK will experience some strong winds next week as the system dissipates over the Atlantic.
WXCHARTS maps, which use data from MetDesk, show peak wind speeds as high as 45mph (75km/h) over the UK in some areas on Friday, August 21.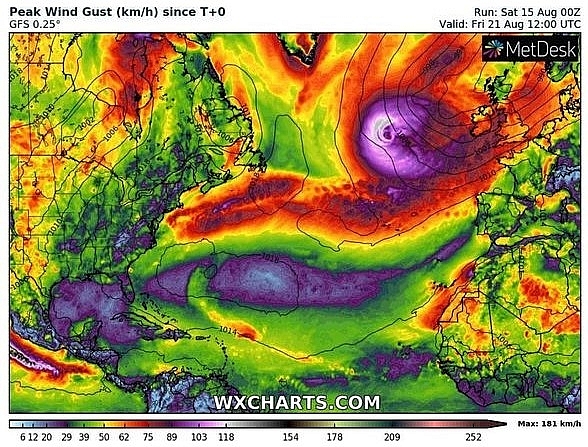 UK weather MAP: While the storm is not expected to hit the UK, maps show its remnants could bring some windier weather (Image: WXCHARTS)
On this date the Met Office is predicting the weather to be "windier than of late" in their long-range weather forecast.
The forecast for Wednesday, August 19 until Friday, August 28 reads: "The beginning of this period is likely to be generally unsettled with showers and longer spells of rain at times, potentially becoming heavy in places.
"There is also a chance that there could be some further thundery weather, although this would most likely be confined towards the east and southeast of the UK. It is likely to be windier than of late, especially in the south and west where there is also a risk of gales."
"Temperatures should start rather warm for many, despite the spells of unsettled weather. However, temperatures may cool slightly by the end of this period with freshening winds from the northwest likely to create a more widespread risk of gales."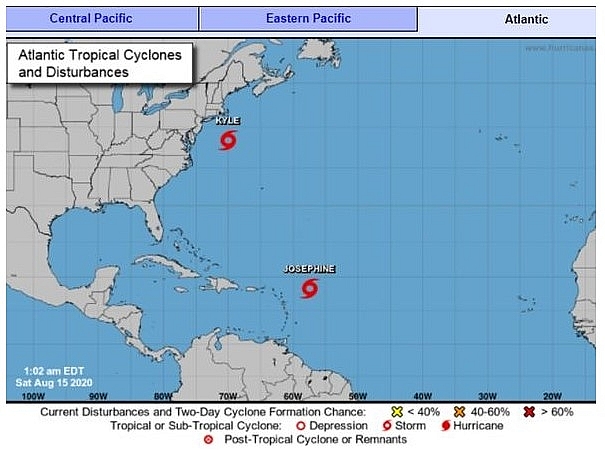 UK weather MAP: The National Hurricane Center (NHC)'s active tropical cyclones map as of Saturday (Image: NATIONAL HURRICANE CENTER (NHC))
Europe's weather forecast
According to BBC Weather, meteorologist Helen Willetts has said there is an amber warning in place for intense heat for some parts of the continent as thunderstorms sweep across Europe.
BBC Weather forecaster, Ms Willetts, said there is an amber warning in place across Denmark for "intense heat". It comes as thunderstorms are forecast to hit parts of Europe this weekend. The BBC Weather meteorologist added low pressure will move across the Balkans in the coming days, resulting in thunderstorms and heavy showers.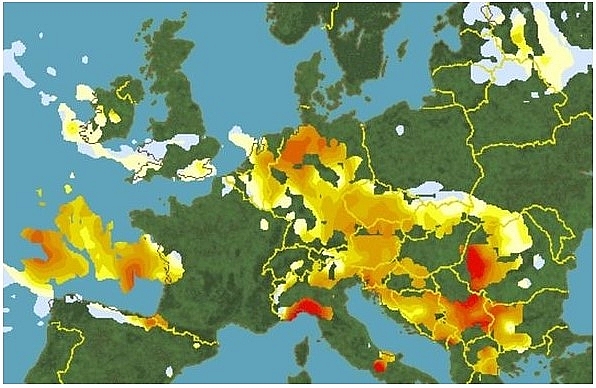 Europe lightning map: Central Europe has seen the most lightning (Image: METEOX)
Ms Willetts said: "We have seen some intense thunderstorms across northern and western Europe and some flash flooding in recent days. As the heat gradually breaks down those thunderstorms are gradually migrating their way eastwards."
"So there are still some severe thunderstorms around as that heat breaks and it is taking a while to lose that humidity. With high pressure in the north, it is still warm and dry for southern parts of Scandinavia."
"There are still amber warnings out in Denmark for the intense heat. In the south and east, we will start to see that heat diminish a little bit."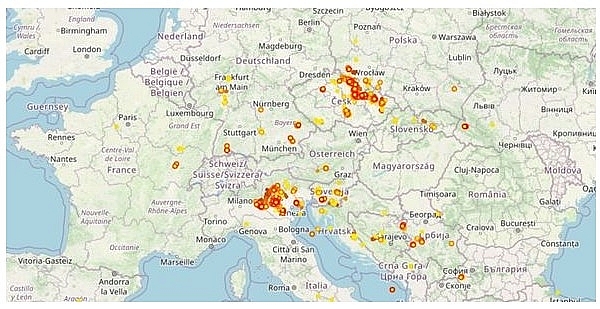 Europe lightning map: Lightning has struck in several spots over Europe (Image: lightningmaps.org)
She continued: "There is lots of dry and settled weather around, but it is advancing further southwards. It will move across the Balkans at the weekend and give some bigger showers and thunderstorms."
"Still some showers further eastwards but equally settled weather in between. You can see the showers continue as there is low pressure in the west as well. We have still got that humidity working its way up through the air so still potential for some big showers and thunderstorms."
"Equally a lot of dry and settled weather to come as well."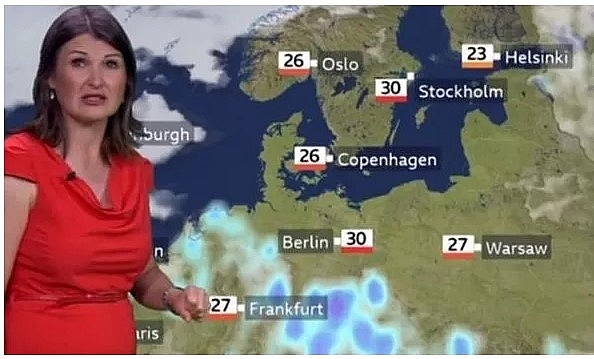 BBC Weather: Forecaster said an amber warning was in place in Denmark (Image: BBC)
The BBC meteorologist added: "Temperatures are still into the high-20s in Paris and the mid-20s in London even by the time we get to the weekend."
"But they are tailing off and the humidity will ease off a little bit as well. We keep the heat and the sunshine for Madrid and for Rome and Athens as well.
"Fewer showers will be around for Moscow, but perhaps a few more with those thunderstorms in Berlin."
It comes as the UK has been hit by a week-long heatwave with temperatures soaring into the high 30s.
Although thermometers are starting to tumble, thunderstorms are still likely to spark up across parts of Britain over the coming days.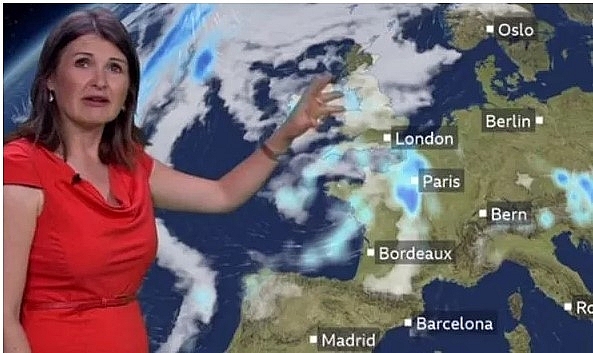 Temperatures are forecast to be in the high 20s across London this weekend (Image: BBC)
On August 16
According to Weather Online, fair through Spain and Portugal with plenty of sunshine and a few showers over northern coasts and hills. The Balearics will have more sunshine and fine conditions whilst Italy also will have sunshine. Greece will be dry and sunny with more sunshine but breezy conditions in Turkey.
Sunny spells and scattered showers in France. Further scattered showers for the Low Countries and Germany. Heavy thunderstorms in Austria and Hungary as well as Switzerland.
Fine with plenty of sunshine in Denmark and the Baltic States. Sunshine too in Finland as well as across Sweden. Norway will have further sunshine and dry conditions, but some rain and wind affecting northern Norway.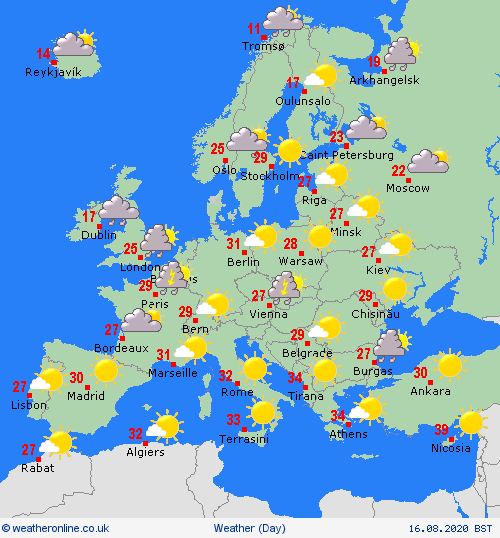 Photo: Weather Online.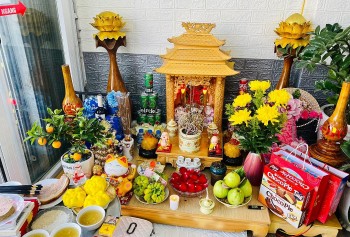 Handbook
Learn more about an ancient Vietnamese tradition that may bring you good fortune!