UK and Europe weather forecast latest, November 22: Maximum temperature at 13C with cloud and drizzle at times
The UK is forecasted to cope with cloud and drizzle at times as maximum temperature reaches 13C. Meanwhile, unsettled conditions will cover across the Europe.
UK's weather forecast
According to Express, after a chilly start for the south and east, the weather is expected to turn as the cloudy, breezy weather with outbreaks of rain in the west moves gradually to the east.
The Met Office forecast it will become drier to the east of high ground by evening, and tonight is forecast to be "mild with drier spells" for many places, but some heavy rain and gales are also predicted.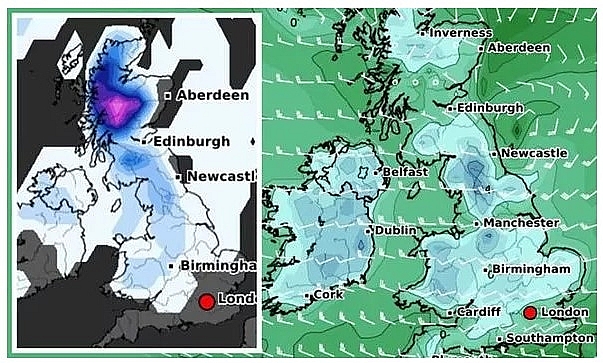 UK snow forecast: Britain will be blasted by wintry conditions (Image: WXCHARTS)
The Met Office forecast for Friday night reads: "Rain in east clearing, then mild with drier spells, but rain in the north-west moving south-east to be over southern Scotland later. Heavy showers and gales following across far north."
On Saturday, "severe gales" and "squally showers" are forecast for the far north. Showers and sunny spells are expected in the northern parts of the UK, and a "band of rain" will move south across central areas. A "mainly dry and bright" day is forecast for the south on Saturday.
Freezing air is predicted to sweep over the UK from a north-westerly direction at the end of November, the latest weather models suggest. The latest snow probability maps from WXCHARTS show a 10-30 percent chance of snow falling as far south as Birmingham, as the charts turn blue. But higher up in Scotland, the charts turn a shade of purple, suggesting there is a 50 percent of snow hitting at the end of next week.
UK snow forecast: Wintry conditions could blast Britain next week (Image: WEATHER OUTLOOK)
Brian Gaze at Weather Outlook expected low pressure to sweep further down the UK away from Scotland on Friday, November 27, potentially bringing snow with it. He said: "GFS 6z again shows lower pressure areas tracking a little further south with higher heights to the north of the UK.
"It is worth keeping an eye on and could produce a 'surprise' snow event, especially in the northern half of the UK."
Temperatures are also forecast to plummet to sub-zero temperatures of -1C on Wednesday in Aberdeen. There could also be lows of 0C in central Scotland next Friday, according to WXCHARTS.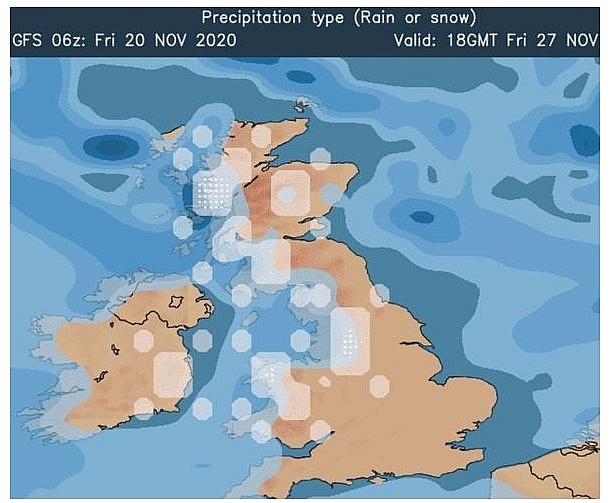 UK snow forecast: Charts show potential snow falling in the UK (Image: WEATHER OUTLOOK)
Southern regions including London and Surrey will not escape the chill as these areas could see lows of 2C next week. The BBC's long-range forecast between Monday, November 23 and Sunday, November 29, warned of a cold snap being expected to hit northern and eastern parts of the UK.
The forecast said: "A low pressure track near or overhead the UK is very likely during the final week of November, so we can all expect some more rain coupled with blustery winds.
On November 22
Closing out the weekend, the Met Office forecast's most recent forecast predicts slightly brighter weather. The forecast said conditions would be "often on the cloudy side through this period, with some brighter spells but also some rain nearby to the south, perhaps returning north on Monday. Mainly mild but remaining breezy."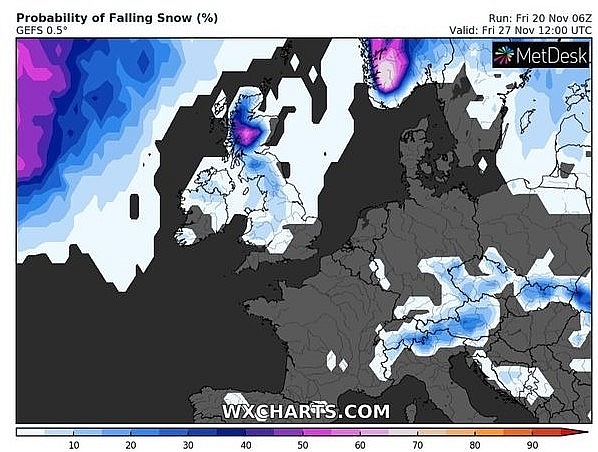 UK snow forecast: Wintry conditions could sweep as low as Birmingham (Image: WXCHARTS)
According to Weather Online, a bright start for many but cloud will soon thicken. Largely dry too but with showers across western areas of Northern Ireland, Ireland and Scotland. Winds will ease in the north. Thicker cloud along with some patchy light rain for southern and southeastern coasts through the morning before a ridge of higher pressure builds in across southern Britain drying things up here for a time. More rain is then expected to push across southern parts of Ireland, Wales and southwest England through the evening. Highs at 7 to 9C for most, 10 to 12C for southern counties of England.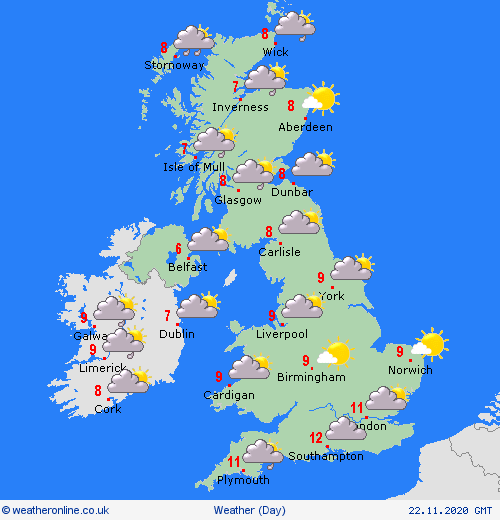 Photo: Weather Online
Europe's weather forecast
Another largely dry and fine day across Portugal and Spain, although do expect cloudier skies and some patchy light rain in the far south and southeast of Spain. Some morning showers across the Balearic Islands but it is an improving day here. Rain will clear to the south of Italy through the day although Siciliy and the far south of mainland Italy will remain cloudy and wet throughout. Largely dry across Greece and Turkey.
A dry and fine day across France with mainly dry conditions over the Low Countries and Germany although there will be more cloud and some patchy light rain towards coasts. Dry and bright for the Alpine countries as well as the Balkan States and eastern areas of Europe.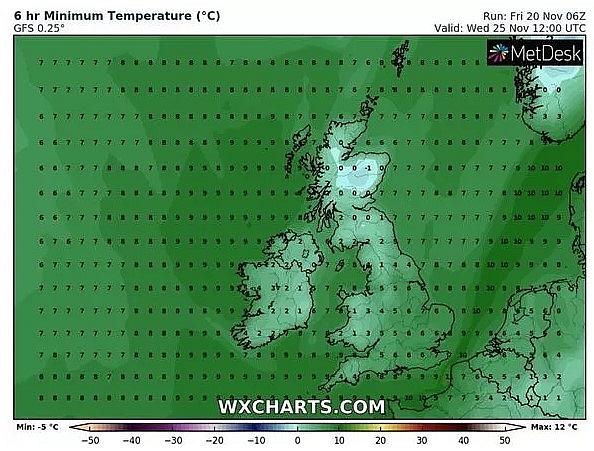 UK snow forecast: Temperatures could fall as low as -1C (Image: WXCHARTS)
Unsettled across Norway and Sweden as an area of low pressure moves towards western Norway. Expect high winds along coasts and breezy conditions inland. Heavy and peristent rainfall, particularly so across western areas, snowfall over the higher ground. A dry morning is forecast across Finland but rain will soon spread into western and central areas during the afternoon. Similar for the Baltics whereby it will be a dry morning but rain will affect all areas by the end of the day. Turning windy here too.
On November 22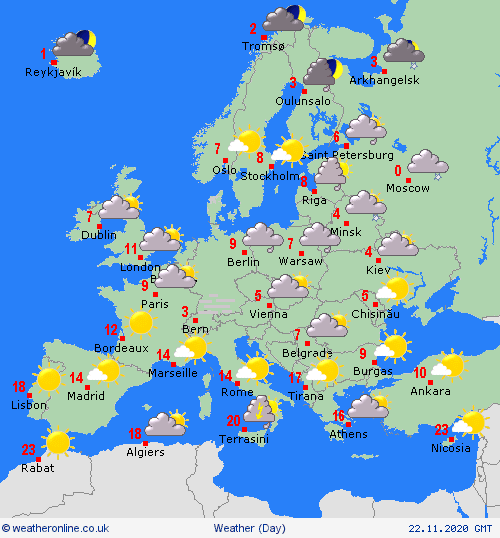 Photo: Weather Online