UK and Europe weather forecast latest, November 24: Milder air to cover the UK after frosty conditions
The UK is forecasted to have milder air after frosty conditions on Monday with temperatures fall below freezing. Besides, outbreaks of rain set to batter Northern Ireland and Scotland.
UK's weather forecast
Temperatures will drop to freezing in the cities, and even a few degrees below zero in the countryside. BBC meteorologist Chris Fawkes warned about the freezing blast, before warmer air dominates the country later in the week.
Mr Fawkes told BBC Breakfast viewers: "We are looking at brighter weather today. There will more sunshine around today, but it will also feel colder. We have a little weather front across the far south today, bringing some cloud and light rain."
"But, cooler air has worked in across most of the UK, with sunshine expected in those areas. That cloud in the far south could also bring with it some fog conditions, and could later spread to Wales before those brighter conditions work in."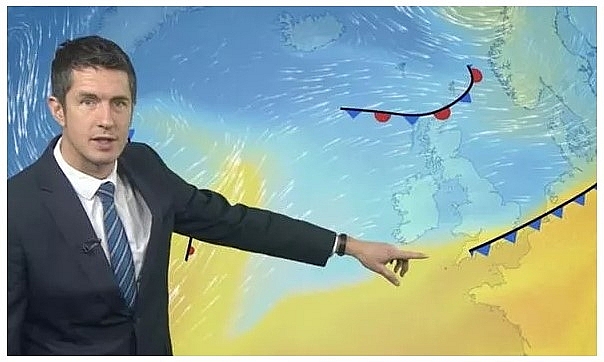 The UK is set for freezing conditions by tonight, according to the latest BBC weather forecast (Image: BBC)
"Overnight it is largely dry, with clear spells and light winds, which is a combination for it being cold tonight."
He continued: "Temperatures will be dropping down to freezing even in the cities. The countryside could get a degree or two below freezing so there will be frost to start the day on Monday. It will be a cold start to the day on Monday, however, the milder air will win out for most of the UK as we get into Tuesday."
"At the same time we have a slow moving weather front that will be bringing some wet weather across Northern Ireland, and Scotland. Western Scotland and Cumbria could see some fairly large rainfall totals, with some localised flooding on Tuesday afternoon."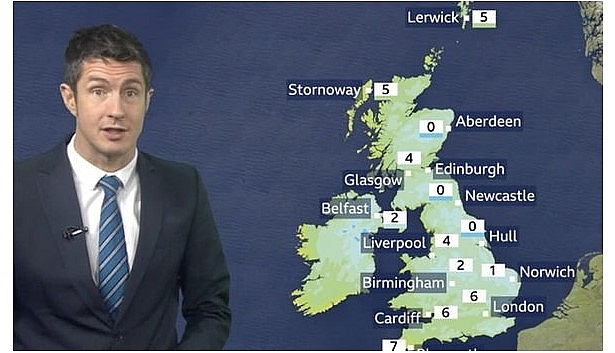 Temperatures will drop to freezing in the cities, and even a few degrees below zero in the countryside (Image: BBC)
Despite this, Mr Fawkes predicted milder temperatures of 12C to 13C across much of England and Wales. He added: "That rain front will begin to ease away on Wednesday and it will be fairly dry on Thursday as the high-pressure builds in. It is set to be dry and bright into the next weekend."
This comes amid forecasts that this season will be the coldest winter since 2012. Leon Brown, head of meteorological operations at The Weather Company, said: "People will get a shock after recent mild winters. It looks like a close call for this winter to be 0.3C below average, which would make it the coldest winter since the early 2010s."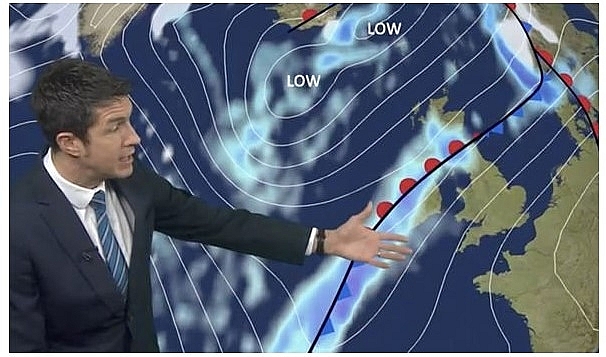 The Arctic blast hitting the UK overnight will make temperatures feel colder (Image: BBC)
"A colder-than-average December is favoured, with Arctic influxes from the north-west due to the jet stream's position."
"-10C in Scotland and -5C in England is expected, with snow in the north including to lower levels at times, and a risk in the south, with some travel disruption."
"January and February temperatures look more average, with an Atlantic influence - but also cold spells and not the extreme mild temperatures of last winter."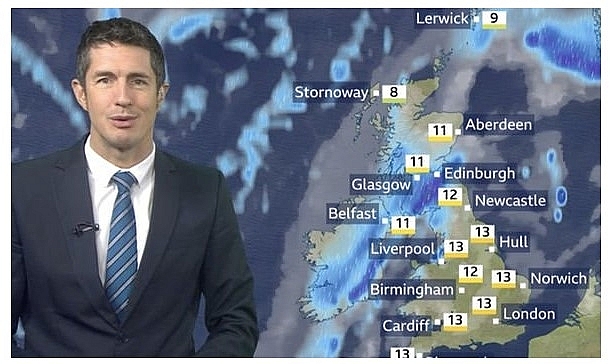 Fawkes predicted milder temperatures of 12C to 13C across much of England and Wales (Image: BBC)
On November 24
According to Weather Online, a cold front moves across Ireland and lingers over Northern Ireland and Scotland on Tuesday bringing outbreaks or rain here and later into northern and western parts of England and Wales. East Wales and much of central and eastern England stay dry with variable amounts of cloud and a few spells of sunshine. Behind the front, across western parts of Ireland, brighter conditions will come about but also some scattered showers. Breezy to start but winds should ease from the west through the day. Highs at 8 to 12C.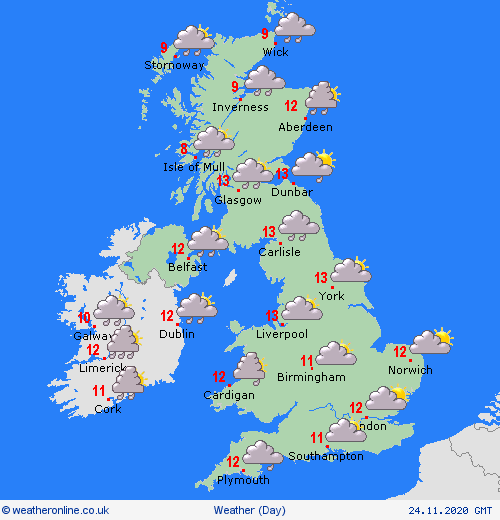 Photo: Weather Online
Europe's weather forecast
Dry and sunny for Portugal, Spain, the Balearic Islands, Corsica, Sardinia and much of Italy. Some heavy bursts of rain linger to the far south here and for Sicily. Dry and bright conditions extend over much of Greece and Turkey too.
Cloudy with patchy light rain over northern France, the Low Countries and Germany. This clears east through the morning. Dry and bright for southern France and Switzerland. Cloudy for Poland with patchy rain to the north and south. Rather cloudy too for the Czech Republic, Slovakia, Austria and Hungary with isolated outbreaks of light rain.
Photo: Stirimeteo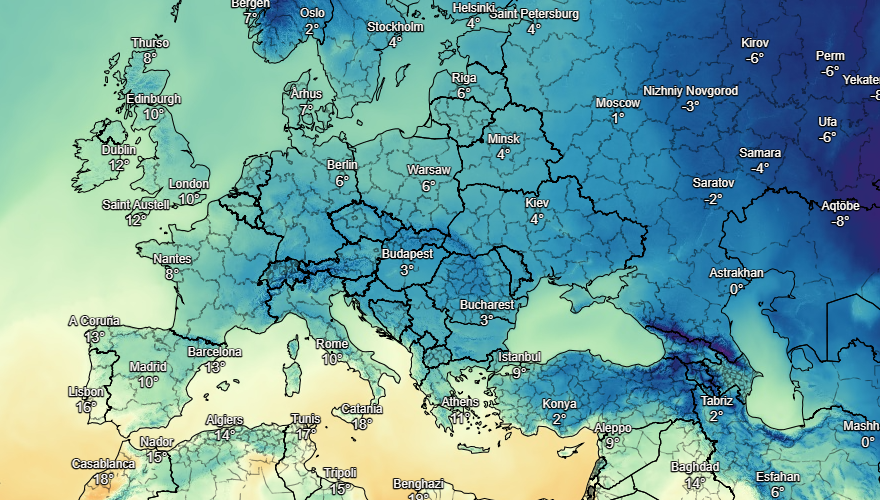 Photo: Stirimeteo
Low pressure starts to fill up over Scandinavia allowing winds to ease here. Mostly bright for Sweden and Norway though frequent wintry showers persist over western coasts. Early showers fade for Denmark to leave a mostly dry and fair day here. Mixed conditions for Finland and the Baltic States with sunny spells and scattered showers. These increasingly wintry to the north.
On November 24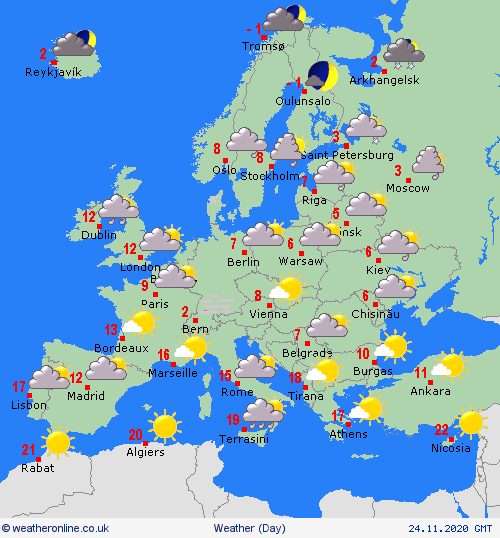 Photo: Weather Online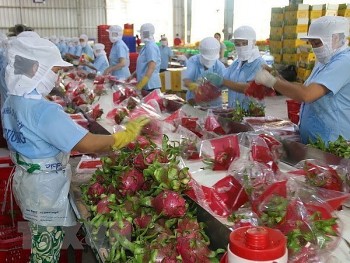 Make in Vietnam
Denmark and Vietnam strengthen cooperation in production, certification and management of organic products