UK and Europe weather forecast latest, October 14: Freezing air and frost cover across Britain
Britain sets to face with freezing air and frost across the country while heavy rainfall and thunderstorms are forecasted to batter Europe over the next few days.
UK's weather forecast
Carol Kirkwood forecast a blisteringly cold week ahead for much of the UK as many look set for wet days while others will be subjected to a huge drop in temperatures coupled with "brisk winds".
According to Express, much of the UK is looking at quite a cloudy day with some rain, showers and brisk winds, according to BBC meteorologist Carol Kirkwood. The weather presenter also warned BBC Breakfast that from tomorrow onwards, it is going to turn that bit drier and remain chilly. She said there is going to be some drizzle coming out of the thicker cloud.
Ms Kirkwood told viewers: "Today low pressure is still dominating our weather, it's sinking south."
"The great big arc weather front is producing rain at each end in the south and the north. The northern end is sinking south, the southern end is moving west. It has been producing some rain through the course of the night, nothing too heavy."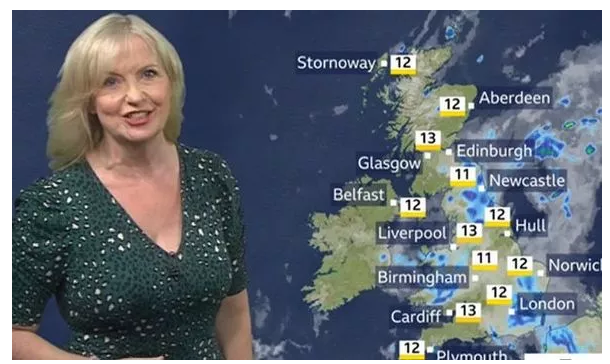 BBC Weather: Carol Kirkwood warns of freezing plunge for UK as frost ices over country (Image: BBC)
She continued: "As we go through the course of the day we see we hang onto a fair bit of cloud. Some of us will see some sunshine while the rain in Scotland will sink further south across northern England. The rain in East Anglia and Kent, which has been heavy in Kent, is going to be drifting a bit further west."
"But the showers we currently have are pushing down towards the Channel Islands so it will brighten up later across southwest England."
The BBC presenter added: "For Northern Ireland, after a cold start, we're looking at some sunshine. The cold start will be getting down to freezing in many parts this morning. Though temperatures will pick up, we're looking at highs between 10 and 13."
Ms Kirkwood said: "When you add on a brisk wind, it will feel a bit chillier than those temperatures suggest. Through this evening and overnight, we'll still have some rain coming across the north of the country. There'll be some showers in the south but equally some clear skies around."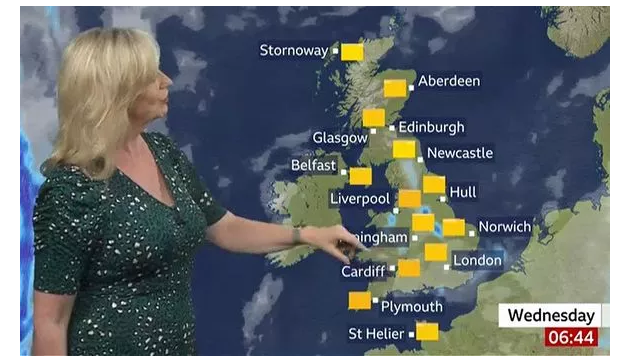 BBC Weather: Kirkwood said, 'The cold start will be getting down to freezing in many parts.' (Image: BBC)
"In the shelter in Scotland and Northern Ireland, we could well see temperatures dip low enough for a touch of frost. Eventually, by the end of the week, we will say goodbye to our low pressure and things will become more settled."
On October 14
According to Weather Online, the northeast flow remains on Wednesday, although the day is likely to be a little less cool. There will be sunshine and dry conditions in western Scotland, western England and the west of Wales. A few showers developing in central parts of Ireland, most of these light. Cloud and some showery spots of rain blowing into eastern areas of England and into the eastern Midlands too. Tending to be bright with sunny spells in much of the Midlands, southwest England and northwest England as well as Wales. Tops at 11 to 15C.
Photo: Weather Online
Europe's weather forecast
BBC Weather forecaster Louise Lear said there would be weather warnings in place across Europe due to heavy rain and thunderstorms. A wall of rain is expecting to cause unsettled weather across much of eastern Europe. Central and western Europe can also expect windy and chilly weather with shower outbursts.
Ms Lear said: "We are seeing some stormy weather across the south east of Europe. There will be a deep area of low pressure bringing some heavy rain, weather warnings remain in force. It will be moving out of Italy up into the Balkans and you can see a mass of cloud."
"This mass will continue to track its way steadily north and east out of Austria up through the Czech Republic towards Poland and into the Ukraine."
The BBC Weather forecast explained there would be pockets of showers elsewhere in Europe as well. She noted the heaviest rain would be in countries impact by the large wall of rain in the east of Europe. She continued: "You can see where the tail end of that front is still going to produce some wet weather into Turkey."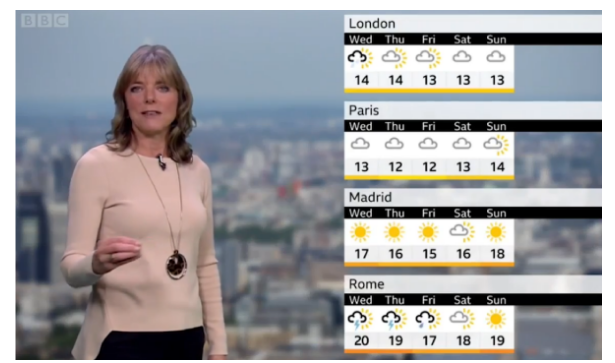 BBC Weather: For much of central Europe temperatures will remain in the mid teens with Italy seeing the hottest temperature over the next few days of 20c. (Image: BBC)
"There will be an improving picture across Greece into Italy with a few showers remaining. Not looking so bad through Iberia, Portugal and Spain, even the south of France will be fine. However through the north of France we will see quite a lot of cloud, there will be a coolish feel with the northerly wind."
The wall of rain in the east is expected to push itself more northwards as we go through the week. Ms Lear said: "That system still continues to push itself north and east on Wednesday.
On October 14
According to Weather Online, heavy showers affecting the northern coasts of Spain today. Fair, dry and chilly in central and southern areas as wel as through most of Portugal. Heavy showers in the Balearics. Rain some of it heavy and thundery affecting Corsica and Sardinia. Further rain in central and northern Italy, fair to the south. Greece will be fair with plenty of sunshine here. Staying fair across Turkey.
Photo: Weather Online
Cold in France. There will be showers in the far south. Rain in northern France, heavy in the northeast. Windy and cold across much of the Low Countries and Germany with periods of showery rain. Further rai and wind in northern Poland, fair central and eastern Poland. Hungary should be fair with sunny spells as well be Austria. Switzerland will have some showers in the west.
Windy through Denmark but fair with sunny spells. Windy too across the south of Sweden. Showers in the Baltic States and staying windy. Fair for Norway with sunny spells. Staying fair in Norway with sunshine for many areas but some showers in northern Norway.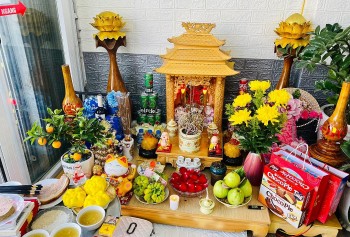 Handbook
Learn more about an ancient Vietnamese tradition that may bring you good fortune!