UK and Europe weather forecast latest, October 26: Thunderstorms and hail set to batter the UK with wet and windy weather continue next week
Thunderstorms and hail set to batter the UK as wet and windy weather is forecasted to continue next week. Meanwhile, bands of rain push from west to east across Europe, turning heavy across parts of Spain and France as well as the Alpine Countries.
UK's weather forecast
Thunderstorms and hail are due to hit the UK today, the Met Office has warned, as the weekend's wet and windy weather looks set to continue into next week.
In addition an active flood warning and multiple flood alerts have been issued by the Environment Agency. The flood warning was issued for the River Stort at Clavering and Manuden, situated north of London, in the early hours of this morning, with residents "strongly urged" to take immediate action.
The Environment Agency said: "Heavy rain has been falling in the Stort catchment and further showers may follow on Sunday. This is causing River Stort to rise quickly."
"Properties and low lying areas around Clavering may start to flood first from 02:30am on Sunday. River levels are not currently rising further but could do so later if we see more heavy rainfall."
It follows a wet and windy Saturday as an area of low pressure drives wind and rain from the west which is then blowing north up the country.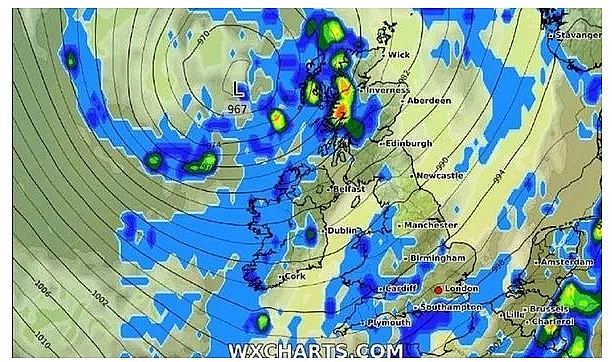 Maps show showers across the country on Sunday afternoon (Image: WX Charts)
The BBC has warned there could be wind gusts today with speeds up to 50 mph in the country's most exposed areas in western Scotland.
Temperatures during Sunday afternoon will be between 10 and 14 degrees Celsius with northern areas of Scotland feeling the coolest.
There will also be scattered showers across the whole of the country with sunny intervals possible in between.
For today, the Met Office said: "A mix of sunny intervals and showers, some of these heavy with possible hail or thunder almost anywhere but particularly in the west and south. Showers fewest in some eastern areas. Windy especially in the northwest. Less mild."
BBC meteorologist Ben Rich said: "Saturday brought some extremely wet and rather blustery weather for many parts of the UK. It was a particularly soggy end to the day in eastern and south-eastern parts of England."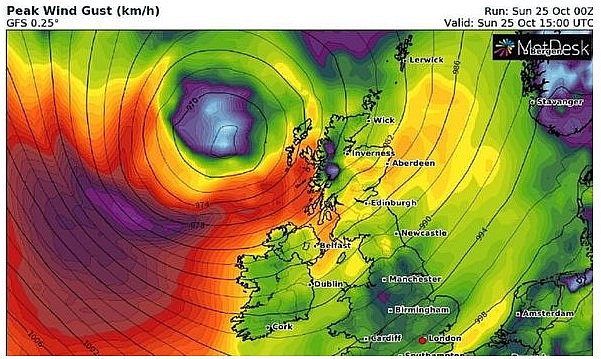 The BBC has warned of wind speeds of up to 50mph in some parts of Scotland today (Image: WX Charts)
He warned today would not be "quite as wet" as yesterday was, but the blustery winds and heavy showers may continue in parts of the country.
For next week, Britons should expect "a very unsettled autumnal week on the way," Mr Rich added.
He said: "It stays rather cool and blustery as we head through Sunday and into the early hours of Monday. It does stay unsettled though, through the coming week; low pressure taking up residence to the north west."
"A deep low out in the Atlantic, so that will drive strong winds and showers across the UK, some longer spells of rain at times. It may well be that for the end of the week, this weather system brings some more persistent wet weather."
The Met Office notes heavier rain may be pushing from the west on Tuesday.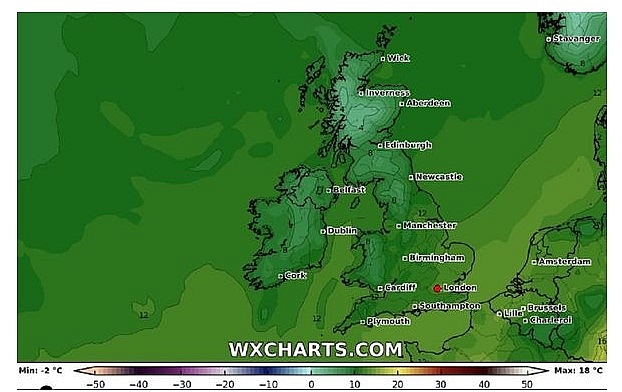 Temperatures should be mild across the country on Sunday afternoon with highs of around 14C (Image: WX Charts)
On October 26
According to Weather Online, low pressure tracks from west to east across northern parts of the UK on Monday. This will bring rain to southern parts of Scotland, Northern Ireland as well as northern and central areas of England and Wales. Drier elsewhere. Meanwhile, a brief ridge of high pressure builds in the west pushing the low offshore and allowing for a largely dry evening. Breezy for a time for most but winds slacken off through the day. Highs at 9 to 12C.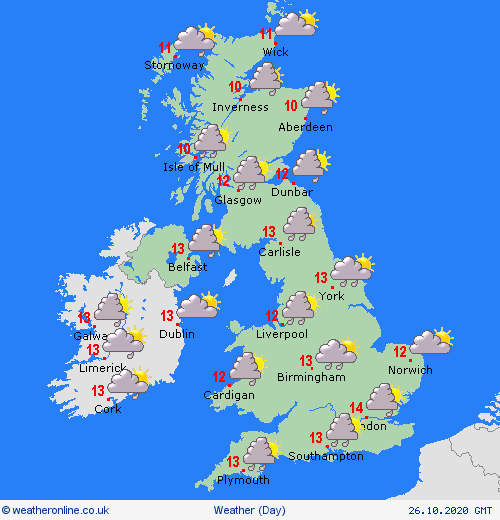 Photo: Weather Online
Europe's weather forecast
Rain spreads from northwest to southeast across Spain and Portugal on Sunday, the heaviest rain expected in the west. The far southeast should remain dry throughout the day until overnight when patchy rain moves in. Dry and fine across the Balearic Islands. Rain clearing eastern areas of Italy first thing with sunny spells and mainly dry conditions across the country but a few scattered showers cannot be rruled out. Cloud and rain moving in to Greece. Staying dry across Turkey but cloud may increase here.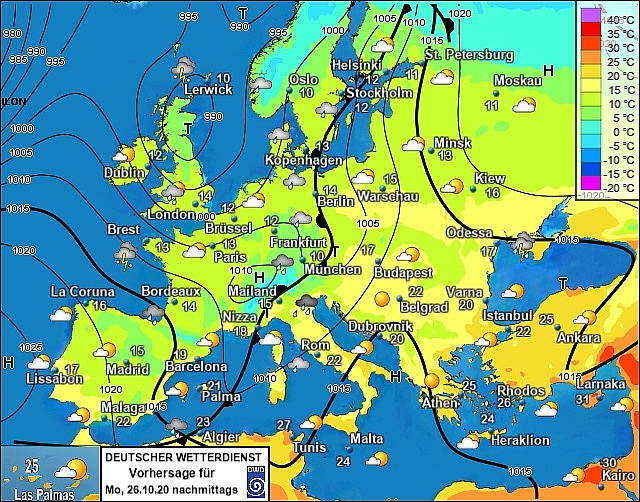 Photo: Stirimeteo
A cloudy and soggy start across northern and western France. The band of rain will slide southeastwards through the day with showers pushing in behind. The south eastern part of France should remain dry throughout the day but become cloudy.
Rain spreading across the Low Countries in the morning with showers and sunny spells developing behind, Germany will see rain affect western areas but will stay dry in the east. Dry through the day across the Alpine countries but cloud and rain will push in to Switzerland later on in the evening. Sunny spells and some showers for the Balkan States. Largely dry across eastern Europe.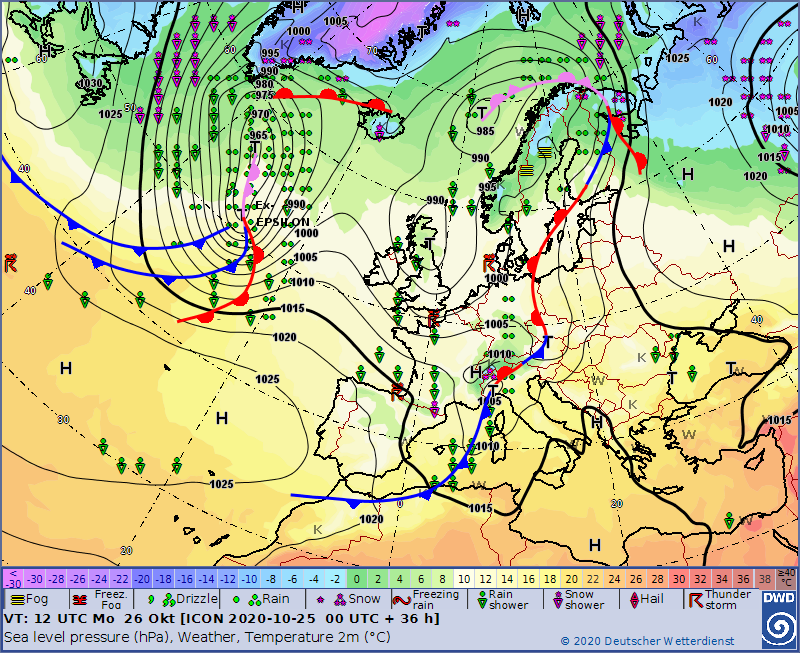 Photo: Stirimeteo
A breezy but mild day for Denmark. A band of rain will sweep from west to east here. Norway too will see rain push into its southern regions and spread north through the day. Western parts of Sweden will be affected by rain and it will spread into parts of the east later on in the day. Finland should remain dry throughout but rain will affect the west in the evening. Breezy but dry across the Baltic States.
On October 26
According to Weather Online, patchy rain across southern and eastern areas of Spain first thing before clearing to allow drier conditions develop behind. Showers affecting northern coasts of Spain as well as western coasts of Portugal. The band of rain will push across the Balearics through the morning before clearing to allow sunshine to develop behind. The band of rain will then push across Corsica and Sardinia in the afternoon before reaching northern and western areas of Italy by early evening. Dry with sunshine across southern Italy, Greece and Turkey.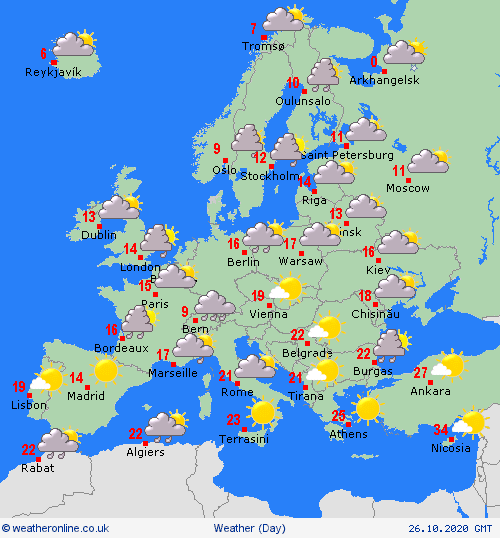 Photo: Weather Online
A cloudy day with showers or longer spells of rain across much of France. Rain affecting the Belgium and Netherlands coasts. Drier further inland here though. A band of rain will pass from west to east across Germany. Heavy spells of rain will affect Switzerland and western parts of Austria with rain affecting parts of Slovenia and Croatia. Largely dry across eastern Europe.
A cloudy and wet day for much of Denmark. Largely dry across Norway and Sweden but southern areas will see spells of rain. Wet with rain across Northern Finland but drier towards the south. Largely dry and fine across the Baltic region although expect showers by evening.