UK and Europe weather forecast latest, October 25: Intense rainfall and gusts associated with bad weather heading to north east of the UK
The UK is forecasted to cope with heavy winds and rainfall accompanied by colder temperature. Meanwhile, unsettled conditions smash in the north and west of Europe as rain spreads eastwards and winds strengthen.
UK's weather forecast
According to Express, Britain is due to be whipped by gale-force winds and "sharp bursts" of rain today as wet weather makes its way across the country from the west.
In addition, Sunday could even bring hail and thunder as showers are set to continue. The BBC's Ben Rich warned the weekend's weather "may have an impact" on people's plans.
He said Britons should be prepared for short bursts of "really intense" rainfall and heavy winds associated with a band of bad weather heading north-east.
Early Saturday morning will see the UK positioned between two separate weather systems, meaning clear skies and cold temperatures.
Met Office meteorologist Luke Miall added: "As the cloud and rain pushes in from the west and these winds whip up - we'll see gales around western coasts - it does mean those temperatures will start to rise."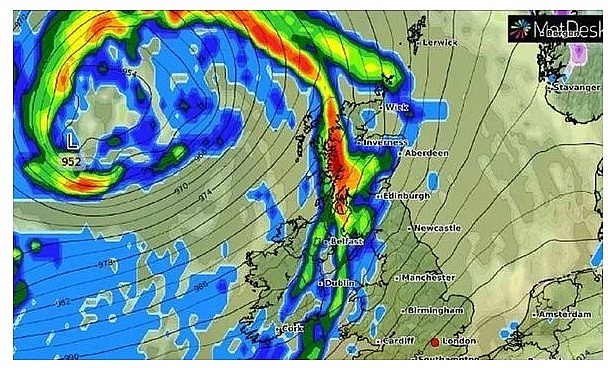 Weather maps show wind and rain coming from the west on Saturday morning (Image: WX Charts)
He said strong winds and gales are due to move northwards through the Irish Sea on Saturday morning. These will hit western parts of Scotland and leave other western areas with a wet start to the day. The band of wet and windy weather is due to move eastwards cross the country as the afternoon goes on.
Mr Miall warned: "We are going to see a short, sharp burst of quite heavy rain amongst that – some really gusty winds as well."
The far south-east of England, however, may remain largely dry. By late afternoon south-eastern areas could see temperatures as high as 17 degrees Celsius.
However, Met Office maps show northern areas and Scotland in particular are set to be colder – between 10 and 13 degrees. While the south-east is set to remain dry during the day, the Met Office warned of a band of rain there throughout the evening.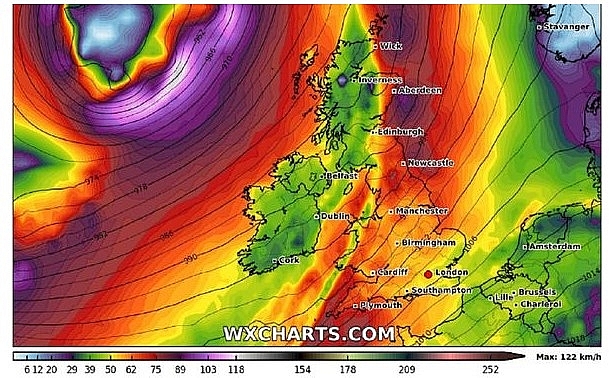 A band of high wind can be seen across the UK on Saturday morning (Image: WX Charts)
For Sunday, the Met Office warned: "A mix of sunny intervals and showers, some of these heavy with possible hail or thunder. Showers fewest in some eastern areas. Windy especially in the northwest. Less mild."
Early Sunday morning should bring temperatures in the low double figures around southern parts of England, and around 8 degrees in Scotland.
Western areas are likely to be the most showery during Sunday afternoon, while some eastern regions may see some sunshine from the north to the south. Mr Miall said the weather this weekend would be "fairly typical autumn" but "unsettled" nonetheless.
The unsettled skies will continue on into next week as well, with Monday likely to be breezy and showery with some sunshine, according to the BBC.
It is likely this will continue through Tuesday and Wednesday as well, perhaps with longer periods of rain. Coinciding with the rain, clocks are also due to go back an hour at 2am on Sunday morning.
This marks the end of British Summer Time, and the UK will begin observing Greenwich Mean Time instead.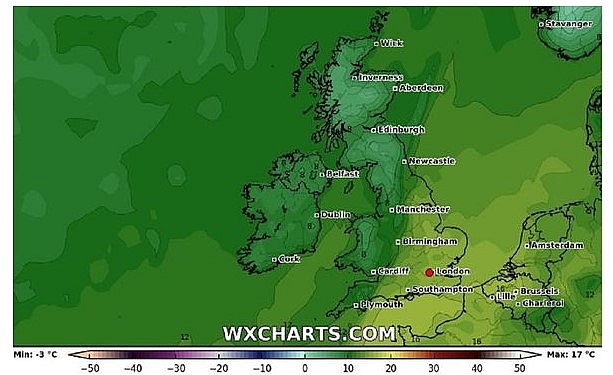 South-eastern areas are set to be warmest on Saturday afternoon, this map shows (Image: WX Charts)
On October 25
Low pressure is centred just to the west of Scotland on Sunday. The heaviest rain will have just about cleared the far southeast tip of England first thing. It is looking like a mixed day generally with sunny spells and showers, these heaviest and most frequent in the west and showers turning into longer spells of rain in the northwest. Blustery winds expected too, particularly across the northwest. Highs range form 9C in the north to 13C in the south.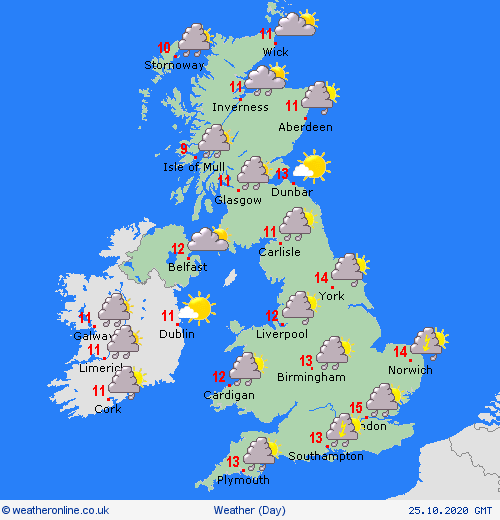 Photo: Weather Online
Europe's weather forecast
Mostly dry and fine across Portugal, Spain and the Balearic Islands though a few showers develop later over northwest Iberia. Showers clear east from Corsica and Sardinia while patchy outbreaks of rain spread southward over Italy and Sicily. This locally heavy. Increasingly cloudy over Greece but staying dry here. Dry and sunny for Turkey.
Cloudy with patchy outbreaks of rain over northwest France and the Low Countries. Dry and bright over southeast France. Early showers and patchy rain ease over Switzerland, Austria, Germany and the Czech Republic to leave a dry and fine afternoon. Patchy rain takes a little longer to fade over Poland, Slovakia and Hungary but the day ends dry and fine here.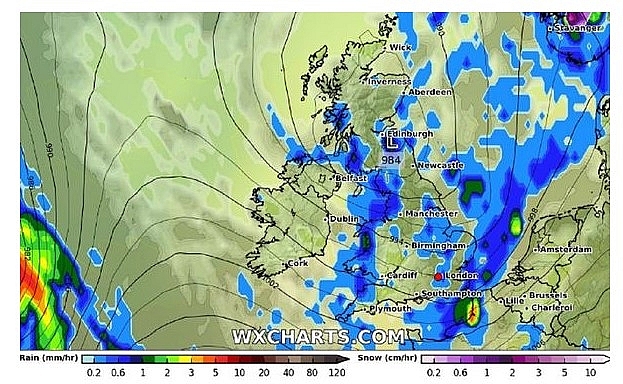 Monday afternoon will see scattered showers too (Image: WX Charts)
Increasingly cloudy for Denmark with isolated showers. A dry start for the Baltic States though rain arrives from the west later. Showery outbreaks of rain first thing for southern parts of Norway and Sweden though these fade to leave a mostly dry and fine day across the countries. Mostly dry for Finland too and fair here.
On October 25
According to Weather Online, rain spreads from northwest to southeast across Spain and Portugal on Sunday, the heaviest rain expected in the west. The far southeast should remain dry throughout the day until overnight when patchy rain moves in. Dry and fine across the Balearic Islands. Rain clearing eastern areas of Italy first thing with sunny spells and mainly dry conditions across the country but a few scattered showers cannot be rruled out. Cloud and rain moving in to Greece. Staying dry across Turkey but cloud may increase here.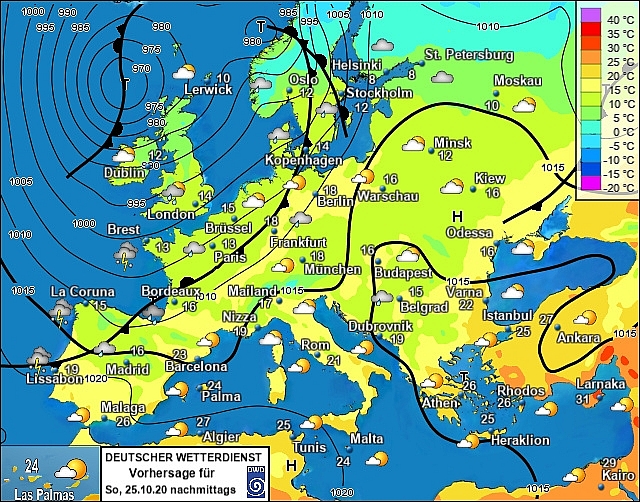 Photo: Stirimeteo
A cloudy and soggy start across northern and western France. The band of rain will slide southeastwards through the day with showers pushing in behind. The south eastern part of France should remain dry throughout the day but become cloudy. Rain spreading across the Low Countries in the morning with showers and sunny spells developing behind, Germany will see rain affect western areas but will stay dry in the east. Dry through the day across the Alpine countries but cloud and rain will push in to Switzerland later on in the evening. Sunny spells and some showers for the Balkan States. Largely dry across eastern Europe.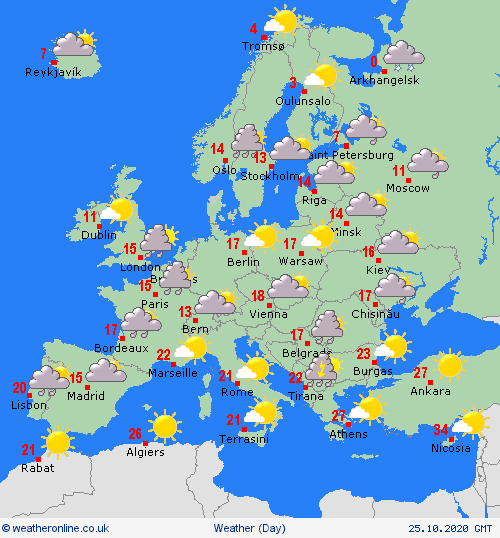 Photo: Weather Online
A breezy but mild day for Denmark. A band of rain will sweep from west to east here. Norway too will see rain push into its southern regions and spread north through the day. Western parts of Sweden will be affected by rain and it will spread into parts of the east later on in the day. Finland should remain dry throughout but rain will affect the west in the evening. Breezy but dry across the Baltic States.