UK and Europe weather forecast latest, October 24: Hurricane Epsilon set to hit the UK and the rest of Europe
Hurricane Epsilon is forecasted to hit the UK and the rest of Europe at the start of next week. Besides, outbreaks of rain and showers spread eastward over Europe this weekend.
UK's weather forecast
According to Express, the remnants of Hurricane Epsilon look set to hit the UK and the rest of Europe at the start of next week. The storm narrowly missed Bermuda late Thursday night after what the National Hurricane Centre described as a "wobbly" turn toward the northwest.
Meteorologists were stunned when the storm intensified suddenly this week so late in the season. Currently a Category 3 Hurricane, Epsilon is the second major hurricane to form in the Atlantic this month. It is the 10th hurricane of a remarkably active Atlantic hurricane season in 2020.
The storm is not currently expected to make landfall in the USA but maps show the system looks like to pass over the pond directly for Europe.
Charts are now showing high wind speeds hitting the UK next week, expected to come up to around 50 to 60mph if the weather system pulls through on its journey across the Atlantic.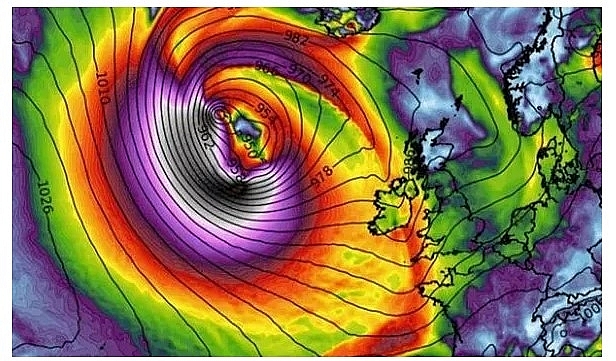 Uk weather map: Hurricane Epsilon tracking in from the Atlantic (Image: WXCHARTS)
It seems likely that the stormy conditions will hit Ireland on Wednesday morning, and cross over much of the UK later in the day.
The Met Office report for next week reads: "Unsettled conditions are expected to dominate during the period, with most parts of the UK seeing plenty of cloud and outbreaks of rain and showers. It will often be windy, with a risk of gales or even severe gales, especially in coastal areas."
"The wettest and windiest weather is likely to be found in the west and north-west of the country."
"However, some brief bright and dry spells are still likely at times in all parts of the UK, with the most settled conditions probably found across eastern and south-eastern areas."
"Overall, temperatures are generally looking to be close to normal for the time of year. Conditions may turn more settled close to the end of the period, particularly in the south."
This year's Atlantic hurricane season is one of the most active on record, meteorologists said. So far, there have been 26 named storms, of which 10 were hurricanes.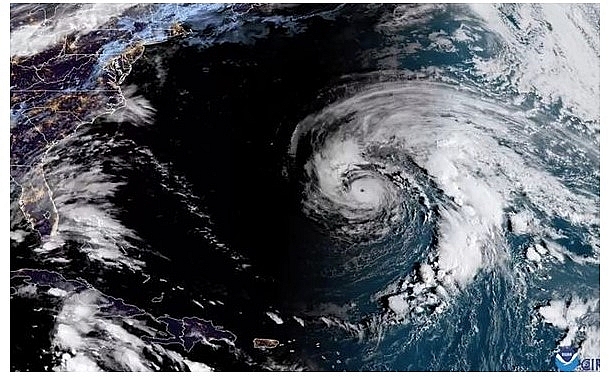 Hurricane Epsilon (Image: NOAA)
The total is near the record set in 2005, when 28 storms grew strong enough to have names. 14 of these were hurricanes, according to the National Oceanic and Atmospheric Administration.
This year's season has had so many storms that the hurricane center has turned to the Greek alphabet after running out of official names.
Epsilon is the 26th named storm to form in the 2020 season compared to a normal season of just over a dozen named storms in the Atlantic.
Hurricanes are the most powerful weather systems on Earth - during its life cycle, one hurricane can release as much energy as 10,000 nuclear bombs.
Hurricanes always form over tropical waters in areas of high humidity, light winds, and warm sea surfaces, typically a temperature of 26C or higher.
This year, forecasters from the NOAA predicted that anywhere from 13 to 19 major storms will occur by the end of the season - which has already been beaten. Hurricane season lasts from June 1 until the end of November.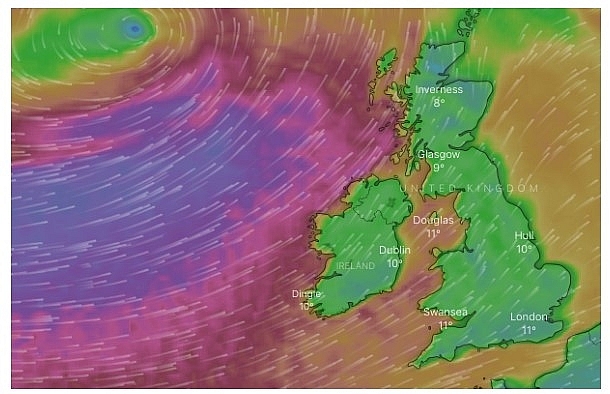 Hurricane Epsilon (Image: WINDY)
On October 24
According to Weather Online, a deep area of low pressure is centred west of Scotland on Saturday. This brings windy weather with a risk of widespread gales. Outbreaks of rain over western coasts and hills but tending to be drier further southeast until evening. Rain across Ireland, some of it heavy, with this moving into the west of England, Wales and Scotland, the rain heavy in central and western Scotland. Sunny spells in western Ireland and the far west of Scotland later as drier weather arrives. A warm day at 13 to 16C for much of England and Wales, becoming cooler at 9 to 10C in Ireland and Scotland.
Photo: Weather Online
Europe's weather forecast
A mostly fair day in Spain and Portugal although there will be a few showers. Fair for Sardinia but a few showers in Corsica. Italy will be fair with lots of sunshine and there will be some showers in the far north of Italy. Greece will be dry with sunshine and it should be staying dry in Turkey too with more sunshine here.
Showers and cloud in northwest France. Further rain and showers in the southeast of France but fair in central areas. Rain in the Low Countries. Germany should be mainly fair with sunny spells but some showers in the east. Further showers in western Poland but fair in the east. Hungary should have a fair amount of sunshine. Austria will be fair in the east but rain in the west. Switzerland will have heavy periods of rain and a risk of thunderstorms.
Breezy with some showers in Denmark. Windy too through the Baltic States with rain clearing east through the day. Showers in Finland but some sunny spells here too. Further spells of sunshine in much of Sweden. Rain in southern Norway but fair in central and northern Norway.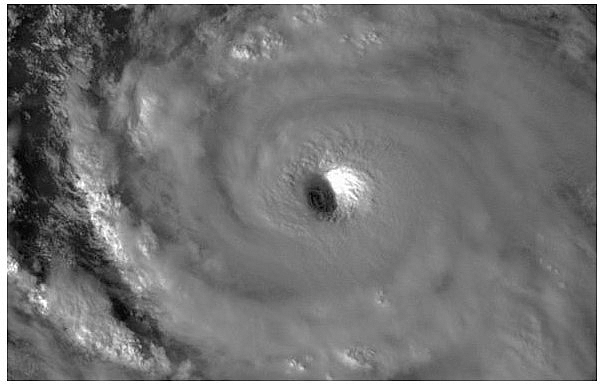 Hurricane Epsilon (Image: NOAA)
On October 24
Mostly dry and fine across Portugal, Spain and the Balearic Islands though a few showers develop later over northwest Iberia. Showers clear east from Corsica and Sardinia while patchy outbreaks of rain spread southward over Italy and Sicily. This locally heavy. Increasingly cloudy over Greece but staying dry here. Dry and sunny for Turkey.
Cloudy with patchy outbreaks of rain over northwest France and the Low Countries. Dry and bright over southeast France. Early showers and patchy rain ease over Switzerland, Austria, Germany and the Czech Republic to leave a dry and fine afternoon. Patchy rain takes a little longer to fade over Poland, Slovakia and Hungary but the day ends dry and fine here.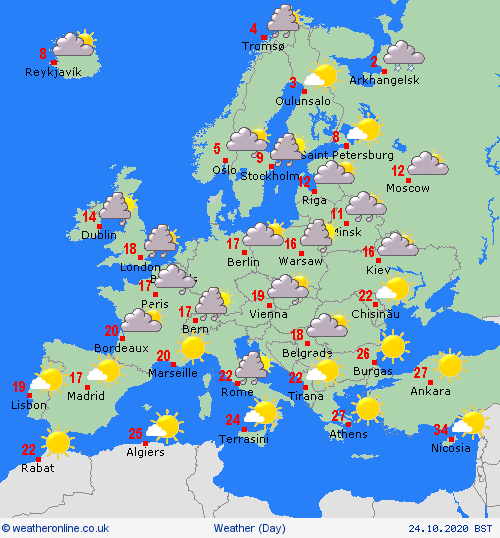 Photo: Weather Online
Increasingly cloudy for Denmark with isolated showers. A dry start for the Baltic States though rain arrives from the west later. Showery outbreaks of rain first thing for southern parts of Norway and Sweden though these fade to leave a mostly dry and fine day across the countries. Mostly dry for Finland too and fair here.