UK and Europe weather forecast latest, September 13: 31C heatwave to bake Britain final time
The UK is forecasted to experience scorching temperatures with 31C heatwave in a couple of days. Meanwhile, some parts of Europe will be battered by heavy downpours.
UK's weather forecast
According to Express, the UK will bake in extreme heat one final time as temperatures are expected to top 30C next week.
A so-called Indian summer is on the agenda as forecasters say Britain can expect "one last blast of summer" in a couple of days. Temperatures are predicted to reach 31C on Tuesday in southern parts of the country after first climbing to mid 20s on Sunday.
The warm weather is a result of "tropical continental air" arriving from a southerly direction. Met Office weather forecaster Bonnie Diamond said high temperatures could continue through Wednesday.
Ms Diamond said: "It definitely feels like one last blast of summer even though we are, meteorologically speaking, in autumn."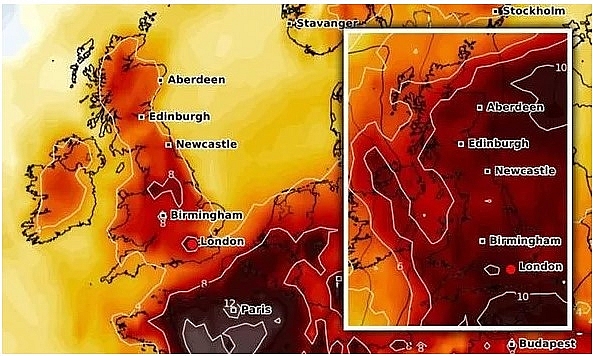 UK weather latest: Temperatures will soar to 31C next week (Image: WXCHARTS)
She added: "Certainly it looks like with the higher temperatures and sunshine it will feel summery for many from the latter part of the weekend onwards."
The weather outlook for Monday to Wednesday will, according to the Met Office, be "very warm".
The forecaster said: "Very warm across many areas Monday and Tuesday, and hot for parts of the south. Rain or showers for some western and northern areas. Becoming cooler from the north Wednesday."
Commenting on the return of high temperatures later in the weekend, Deputy Chief Meteorologist, Nick Silkstone, said: "Along with the dry and sunny weather, southern areas of the UK will see temperatures rise due to a combination of high pressure and warm air from the continent."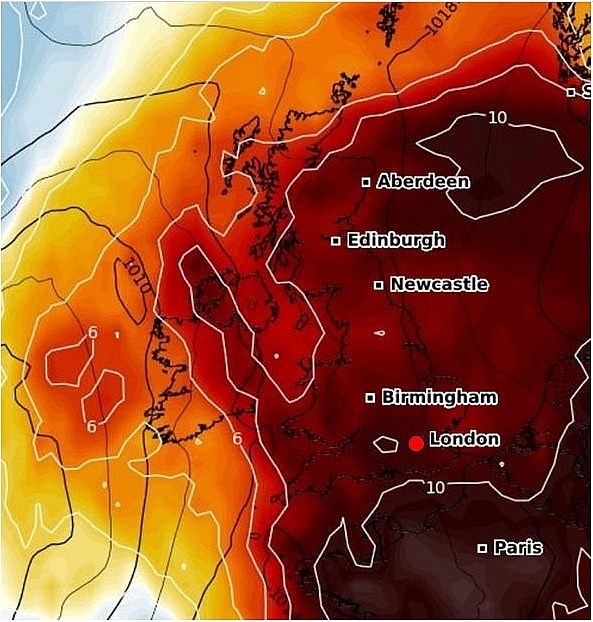 UK weather latest: The warm weather is a result of 'tropical continental air' (Image: WXCHARTS)
"On Sunday temperatures across central and southern England will reach into the low to mid 20's Celsius and it'll turn warmer still as we start the new week, with temperatures possibly reaching around 29 or 30 Celsius in the south east early next week."
However, before the September heatwave arrives, parts of northern UK must contend a weekend of weather warnings. The Met Office has issued a yellow warning for rain for western Scotland, where rainfall totals on hills and mountains could exceed 150mm over the weekend.
Chief Meteorologist Steve Ramsdale said: "There's a bit of a north-south split in the weather for the UK this weekend, with wet and windy weather across the north and largely fine, dry conditions in the south."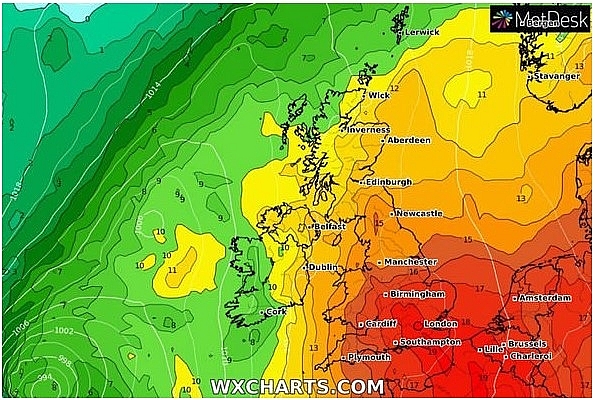 UK weather latest: The south of Britain will see the warmest temperatures (Image: WXCHARTS)
"At the moment our focus is on parts of western Scotland. Although Saturday will start bright and breezy with a few showers, heavy and persistent rain and strong winds will arrive later in the day and continue through Sunday, before finally clearing on Monday."
"It'll be a largely fine and dry weekend elsewhere though, with long spells of autumn sunshine."
The weather warning for rain is in effect for Central, Tayside and Fife, Highlands and Eilean Siar and Strathclyde. People in these areas can expect strong southwesterly winds and heavy and persistent rain on Saturday and Sunday. The conditions may make travelling conditions more challenging in places.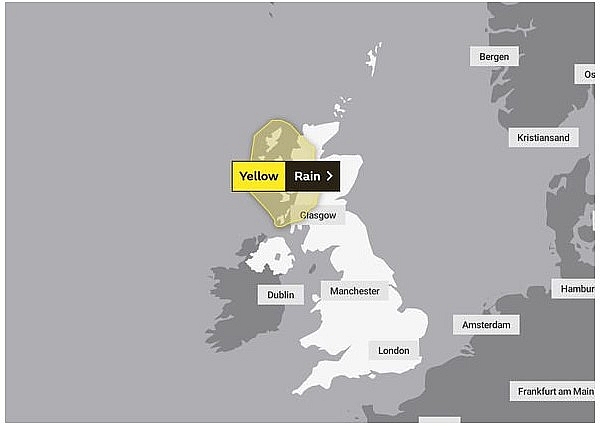 UK weather latest: The Met Office has issued weather warnings for rain this weekend (Image: MET OFFICE)
On September 13
An area of low pressure will track east across Scotland on Sunday. This brings the risk of some heavier periods of rain here, together with stronger winds. Further rain may affect northern and western Ireland though this eases through the afternoon, Weather Online reported.
Rain becomes confined to the far north of Scotland later. High pressure will bring dry and fine conditions in the south including eastern Ireland, most of England and Wales. Warm temperatures for most; highs at 24C in southern England, 23C in southern Ireland, 22C in eastern Scotland, 16C in northwest Scotland.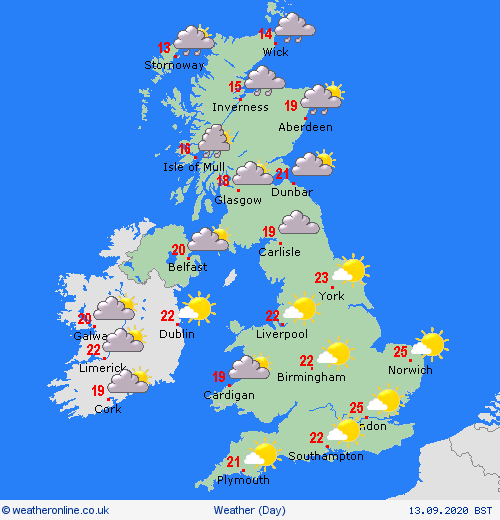 Photo: Weather Online
Europe's weather forecast
BBC weather forecast an unsettled picture for Europe as some parts continue to experience heavy downpours while others are forecast for dry and sunny conditions.
The risk of some heavy thundery showers in Europe will continue, according to BBC meteorologist Chris Fawkes. The weather presenter pointed to an area of low pressure that has been in the Mediterranean for a few days as the cause. These storms will be particularly into Corsica and Sardinia, but a few at times will affect parts of Italy, more especially Sicily.
Mr Fawkes told viewers: "With these downpours we could see some localised flooding. Otherwise much of central and southern Europe will be dry, sunny and warm for the time of year."
"In the north of Europe, there'll be quite windy weather with cloud and the risk of some rain. For Turkey and Greece, we've got plenty of sunshine."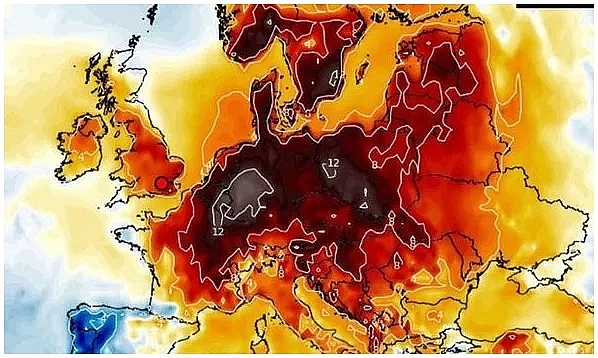 BBC Weather: Scorching 30C highs boil Europe as thundery downpours ebb away (Image: WXCHARTS)
He continued: "It is on the warm side with temperatures well into the 30s in places. The fine weather will last into the heart of central Europe."
"29 degrees will be the top temperature in Budapest. Further northwards though, quite windy weather will be developing this weekend in Denmark."
The BBC presenter added: "Gusts of wind will be around 50 to 60kmph. It will be cloudy with some rain, which will also affect the Baltic states and into Finland as well. The outlook through Sunday is that it will stay unsettled across northern Europe."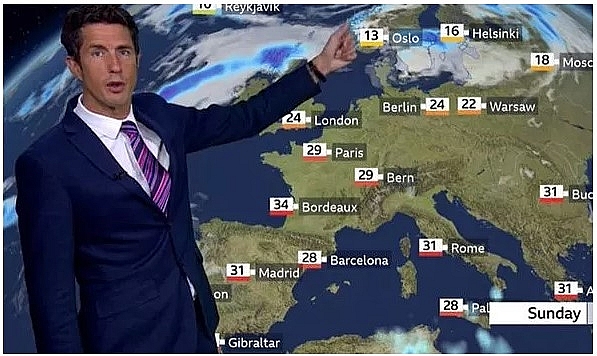 The risk of some heavy thundery showers in Europe will continue. (Image: BBC)
Mr Fawkes said: "There'll be a risk of some further showers or lengthier outbreaks of rain, and it stays quite windy as well. Meanwhile for central and southern Europe, it is a largely dry picture with further sunshine. Although there will be a few storms in Sicily."
"In London, it's forecast to get warmer and sunnier over the next few days. Highs reaching 29 degrees for a time on Tuesday."
"In Moscow, it will be cooling down with highs at only 14 on Monday, but then temperatures pick up after that."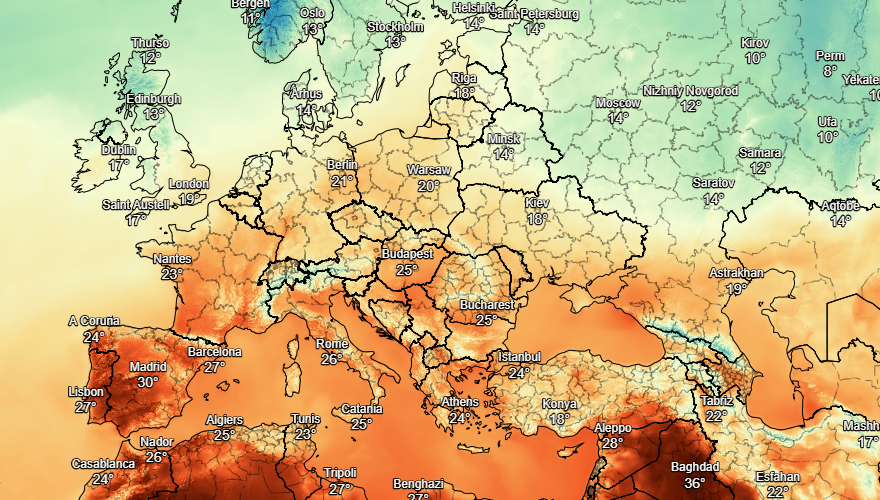 Photo: Stirimeteo
On September 13
Cloud builds from the southwest over Portugal and Spain on Sunday bringing isolated showers here. Staying dry and fine for northeastern Spain and the Balearic Islands. Isolated thundery showers may affect Sardinia, Sicily and southern portions of Italy but staying sunny and dry for Corsica and northern Italy. Sunny, warm and dry for much of Greece and Turkey though isolated thunderstorms may develop over western parts of Turkey later.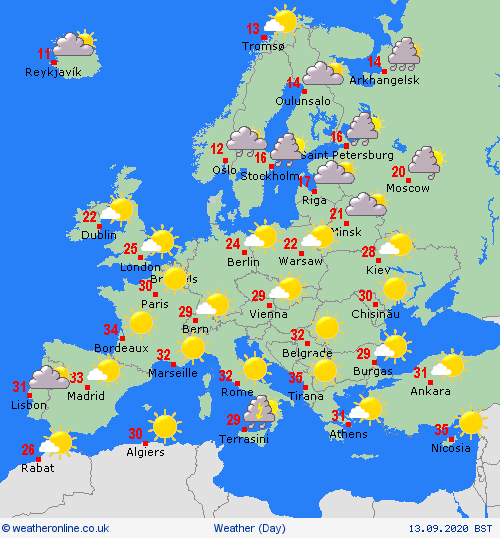 Photo: Weather Online
A largely sunny and dry day for much of central Europe as high pressure spreads across the continent. A few showers develop over Alpine regions of Switzerland, Austria and Germany while the Low Countries and northern parts of Germany and Poland may see more in the way of cloud around.
Breezy and cloudy with outbreaks of rain for southern parts of Norway and Sweden as well as for Denmark on Sunday. Wet and windy for southern parts of Finland too as well as for Estonia. Cloudy but drier for Latvia and Lithuania. Bright and breezy for northern parts of Sweden and Finland.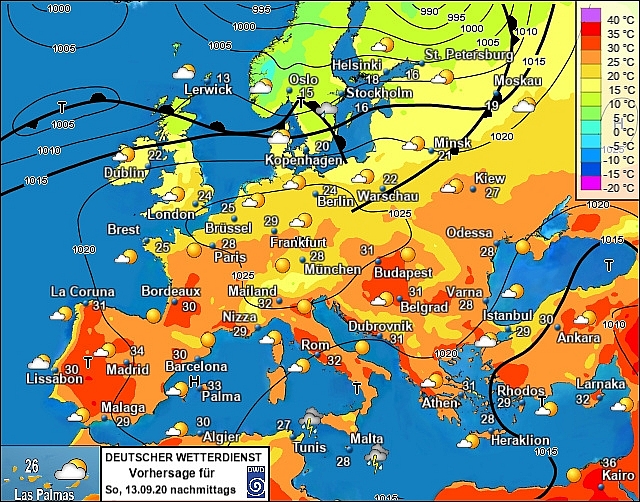 Photo: Stirimeteo