UK's weather forecast
According to Express, temperatures will be humid in the mid-20C as a weather front moves in from the west. After a cloudy Tuesday, sun is expected to break out across parts of the UK today. A hot air plume is forecast to sweep in from the tropical Azores bringing with it a 24C heatwave before it is replaced by a chilly frost on Thursday.
The high pressure stretches across the Atlantic from the Azores Islands, off the coast of Portugal, promising clearer skies and sunshine.
Alex Deakin, Met Office Meteorologist, said: "It will be warm once more on Wednesday across the southeast. But for most places you'll notice a fresher feel."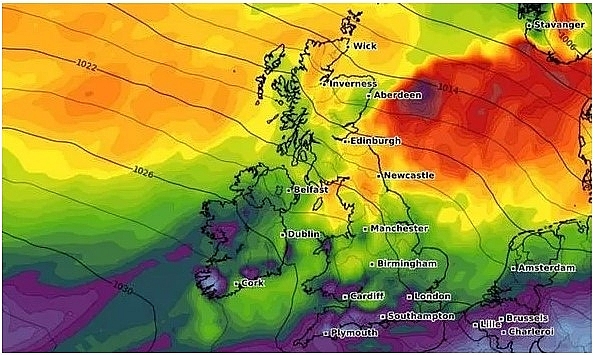 Britain will be blasted with a mini-heatwave on Wednesday as subtropical air moves in (Image: WXCHARTS)
"Why the change? Well it's all to do with a cold front steadily slipping its way southwards across the country during Tuesday night and then through Wednesday introducing cooler air behind it."
"Meanwhile the warm air will hang on across the southeast for most of Wednesday."
Mr Deakin added: "We should start with plenty of sunshine over southern Scotland and Northern Ireland to start Wednesday."
Britons may need to cover up and apply sunscreen as the sun makes its return on Wednesday.
The Met Office's solar UV index for Wednesday's midday hours is moderate. It warns Britons to "seek shade during midday hours, cover up and wear sunscreen". Temperatures will feel muggy in areas with some cloud.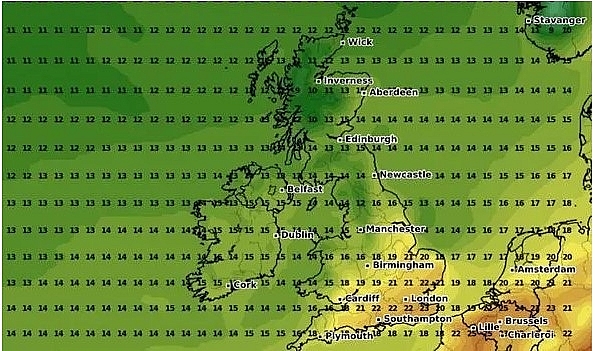 Temperatures will be humid in the mid-20C as a weather front moves in from the west (Image: WXCHARTS)
Netweather forecaster, Nick Finnis, said: "Feeling muggy under the cloud in the South, temperatures reaching 21-23C, in the North a cooler 16-18C."
There will be clear skies through Wednesday evening for most parts of the country. Thursday will bring a chillier day for many parts of Britain after the mini-heatwave. But there will still be outbreaks of sun in eastern parts of England.
Mr Finnis said: "A cooler and fresher feel for all on Thursday, as the cold front clears south over the near continent while a ridge of high pressure builds in from the southwest, keeping much of England and Wales dry."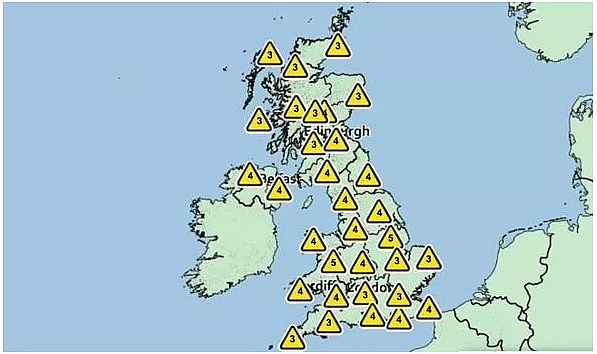 The Met Office's solar UV index for Wednesday's midday hours is moderate (Image: MET OFFICE)
"Sunny in the morning for most, sunshine perhaps becoming confined towards eastern England in the afternoon as cloud thickens in the west."
"Cloudier and breezier day for Scotland and Northern Ireland, with patchy rain developing from the west across western Scotland into the afternoon."
The fresher temperatures come as a relief after Tuesday's tropical humid weather. All parts of the UK reported temperatures above 20C on Tuesday. In some areas, the mercury rocketed up to the mid-20Cs.
On September 10
A ridge of high-pressure extends through much of southern Ireland, England and Wales on Thursday. This brings a fair day with good spells of sunshine to many areas, although western coasts may always see more low cloud, although even here there will be some sunny spells, Weather Online reported.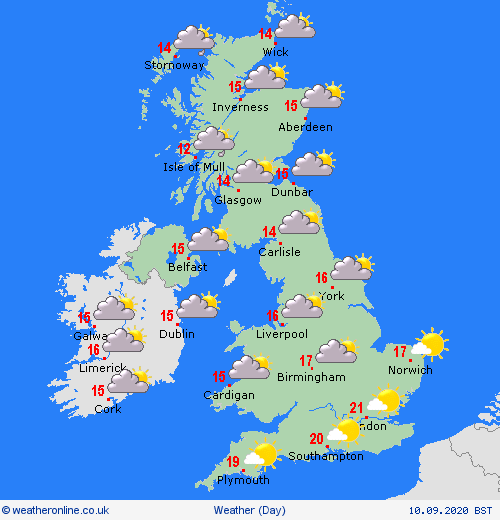 Photo: Weather Online
Thicker cloud in western Scotland and the northwest of Ireland where there is a risk of drizzle. Eastern and southern Scotland should be brighter with sunny spells. Highs at 20C in southern England, 13C in northern Scotland, 15 to 18C for most.
Europe's weather forecast
BBC WEATHER forecast some "very unsettled" conditions ahead for Europe this week as temperatures even in the southern countries plunge low and thunderstorms bring cloud and torrential downpours.
Severe storms have lashed Europe incessantly this year, regularly tearing across several countries on the continent. The extreme weather has come following a record-breaking summer, where wall-to-wall sunshine baked the ground and whipped up a frenzy of lightning and thunder. The heat has now created a new and slightly more unusual threat in tornadoes, according to forecasters.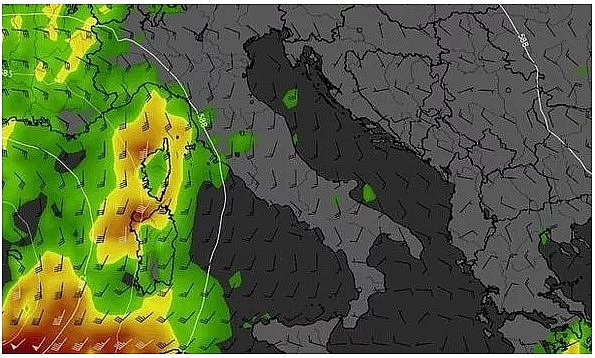 Europe weather: Severe storms to hammer Europe as tornadoes threaten continent (Image: WXCHARTS)
Earlier this week, Severe Weather Europe predicted storms would form on Monday and track across the continent.
Meteorologists said the storms would pass over the southwestern Mediterranean in an outlook which started on September 7 and lasts until today.
The organisation issued both "enhanced" (ENH) and "slight" (SLGT) risks would apply to the region.
They added a range of potentially severe systems could make themselves known.
The warning reads: "ENH/SLGT risks have been issued for the southwestern Mediterranean into northern Algeria and Tunisia with a threat for severe storms, capable of producing severe winds, tornadoes, torrential rainfall, and large hail."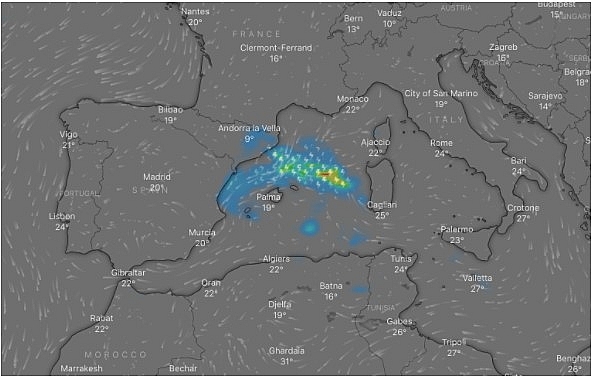 Europe weather: The recent thunderstorms come as a result of extreme heat (Image: WINDY)
"Scattered to widespread organised storms are expected to form beneath a strengthening upper low."
"A moderate instability coupled with quite a strong shear should allow supercells to form from around Mallorca towards south-southeast."
"Enhanced low-level shear and helicity could support tornadic events along the leading surface convergence moving south."
"While the main threat with supercells and storm clusters will be severe winds, torrential/excessive rainfall, and large hail."
"The threat will be gradually moving southeast with time, towards Algeria, Tunisia, and Sicily, and should extend into Monday night."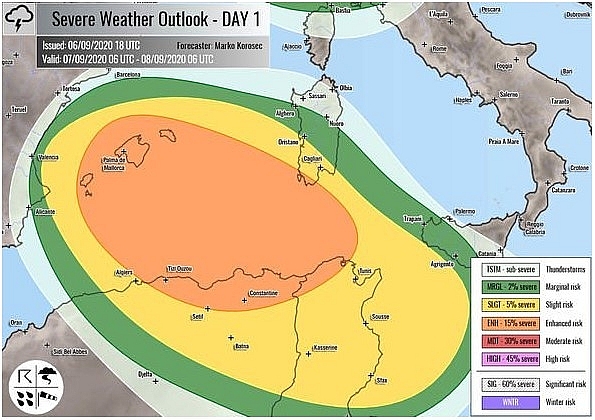 Europe weather: The forecast has predicted a run of severe weather across Europe (Image: SEVERE WEATHER EUROPE)
While the latest conditions will sweep mostly over the Mediterranean, the UK won't get off entirely scot-free.
According to the Met Office, mid-September will see a mostly "settled" UK, but with some adverse weather.
The long-range weather forecast, which covers September 13 to 22, states sunshine and clear skies could give way to "thundery activity" following a warm spell. The forecast added the end of the month might see a return to "changeable" conditions for the country.
The Met Office long-range forecast reads: "The start of the period is likely to bring change to the weather seen in recent weeks, with conditions expected to become more settled in the upcoming days ahead."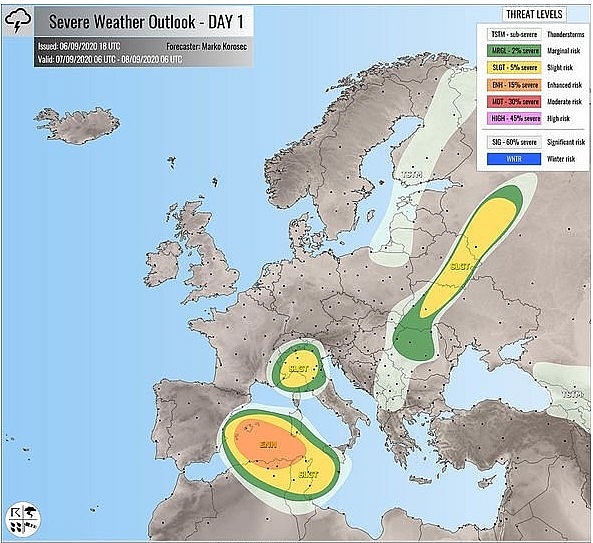 Europe weather: The severe weather will move across the continent, bringing tornadoes (Image: SEVERE WEATHER EUROPE)
"This settled weather looks set to bring temperatures to near normal for most, but the South could see warm or very warm temperature at times."
"Elsewhere, clear skies and light winds at night may see widespread mist or fog develop."
"The warm weather in the south could also harbour some thundery activity, particularly for the South West after a prolonged warm spell."
"Uncertainty lies in the duration of the settled weather, with a potential of a return to more changeable, unsettled weather by the end of the period."
The more distant forecast - which is less uncertain - signalled a return to "fluctuating" temperatures and weather typical of the autumn.
On September 10
Sunshine in Portugal and Spain and staying dry here. Showers in the Mediterranean affecting Majorca and Menorca as well as Corsica and Sardinia where some of the showers will be heavy. Fair for Italy with more sunshine to come here. Staying sunny in Greece and Turkey, Weather Online reported.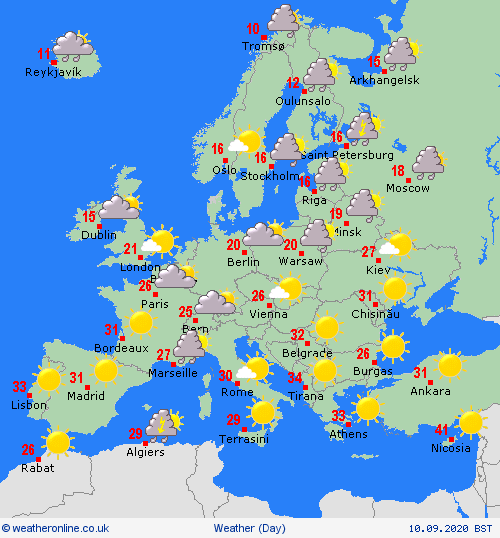 Photo: Weather Online
Some thundery showers in the south of France. A scattering of showers in the far north of France. Elsewhere it should be dry with some sunshine. Scattered showers in the Low Countries and northern Germany. Some rain or showers in southern Poland and these affect the south of Germany too. Austria and Hungary as well as Switzerland will be dry with lots of sunshine.
Breezy in Denmark with some bright or sunny spells. Sunshine across Sweden and staying dry. Breezy with rain in the Baltic States as well as Finland. Norway will be cool and breezy, fair to the southeast but rain and showers affecting northern and western coasts.
Ruby Lee