UK and Europe weather forecast latest, September 8: Subtropical heatwave to hit UK with 26C
Britain will face up with subtropical heatwave with 26C while warning for thunderstorms and flooding battering across Europe are issued.
UK's weather forecast
According to Express, Britain will see a swift return to scorching weather as a subtropical heatwave is forecast to hit the country this week.
September temperatures will rocket into the high twenties due to a 600-mile subtropical swell. The hot Atlantic air is set to sweep over the UK towards the beginning of this week.
Brian Gaze, The Weather Outlook forecaster, said the south east of the country may experience temperatures of 26C. But before the heatwave strikes the UK, rain is forecast across Scotland and Northern Ireland.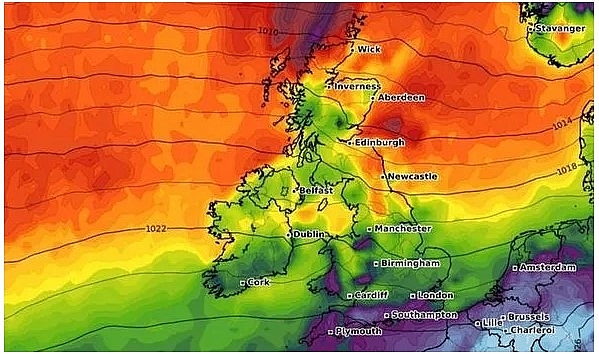 Britain will see a swift return to scorching weather as a subtropical heatwave is forecast (Image: WXCHARTS)
Alex Burkill, Met Office Meteorologist, said: "The weather is going to be quite changeable this coming week with the rain at times."
"Though we should see something a little bit warmer during the middle part of the week before things turn unsettled by the weekend."
Monday morning will bring cooler temperatures before warmer weather starts on Tuesday.
Mr Burkill said: "Clear skies towards the south will allow it to turn quite chilly perhaps with some patches of mist and fog first thing on Monday morning."
"Monday then getting off to a fine start across many parts of England and Wales. However, the cloud and rain across parts of Scotland and Northern Ireland will be heavy at times and push further south eastwards with some strong winds as well in the southeast."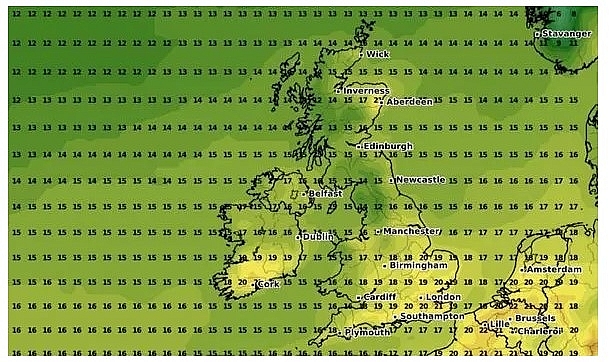 UK weather forecast: The hot Atlantic air is set to sweep over the UK (Image: WXCHARTS)
The south east of Britain will start to see some of the promising warmer weather as temperatures start to increase on Monday.
Mr Burkill added: "That's where it's likely to stay driest and sunniest for the longest and so temperatures could reach highs of 23C possibly even 24C here. However, as we go through Monday evening the cloud is going to spread here."
"Elsewhere the rain should break up a little bit and become a little lighter perhaps with some late sunshine across parts of Scotland."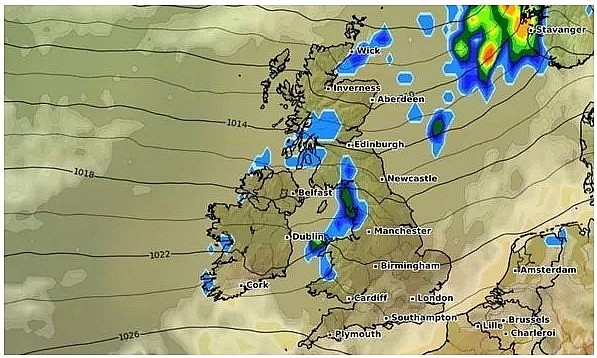 UK weather forecast: Rain is forecast for northern parts of the UK on Monday (Image: WXCHARTS)
The signs of a return to hot weather are a drastic change to last month's blustery weather.
August saw two named storms hit Britain in quick succession which brought strong winds and heavy rain. Storms Ellen and Francis brought 70mph winds in some exposed coastal areas.
According to the Met Office, June, July and August have been wetter than average for Britain. But September could bring some hopes for an Indian summer.
On September 8
A rather cloudy day on Tuesday with outbreaks of rain affecting western parts of Scotland and Ireland, northwest England and coastal regions of Wales. Through the afternoon this rain becomes heavy and more persistent over northwest Ireland and much of Scotland with the exception of the far north and far south. Brisk winds for the far north and west of Scotland too, Weather Online reported.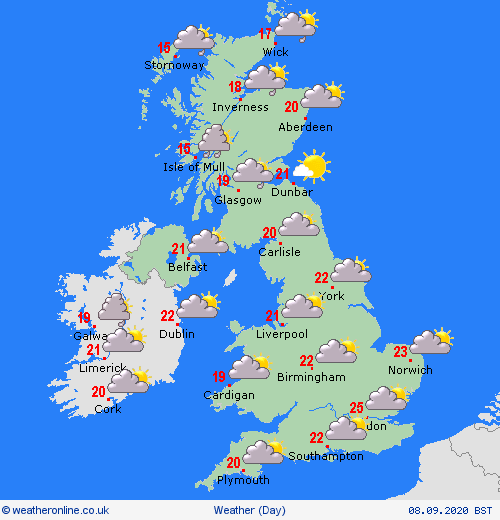 Photo: Weather Online
Staying dry for much of central and eastern England with the best of the sunshine here later in the day. A mild day for most with highs at 24 or 25C in southern England, highs ranging from 17 to 21C widely with exception to northern Scotland where highs reach just 13 or 14C.
Europe's weather forecast
BBC Weather has warned of potentially severe thunderstorms and flash flooding across Europe in the coming days.
BBC Weather meteorologist Chris Fawkes warned that Russia, Belarus and the Balearic Islands are expected to expereince thunderstorms at the start of the coming week. He added that the storm is capable of bringing flash flooding to the region, particularly in Mallorca and Ibiza.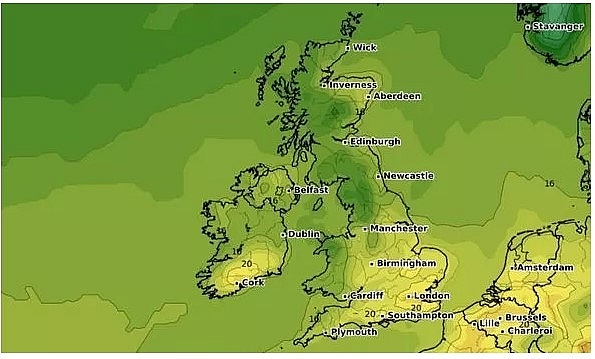 UK weather forecast: September could bring some hopes for an Indian summer (Image: WXCHARTS)
Mr Fawkes said: "North western areas of Europe will have heavy breezy if not windy weather as we go through Monday."
"A weather system moving across the UK may bring with it some rain in Northern Ireland and parts of Wales, that rain will push on into Norway as well. There are also some thunderstorms for west Russia and Belarus."
"There is an area of pressure that is going to be bringing some potentially severe thunderstorms for the Balearic Islands, particularly in Mallorca and Ibiza."
"Over the next couple of days, the storm is capable of bringing some flash flooding so we will have to watch out for those."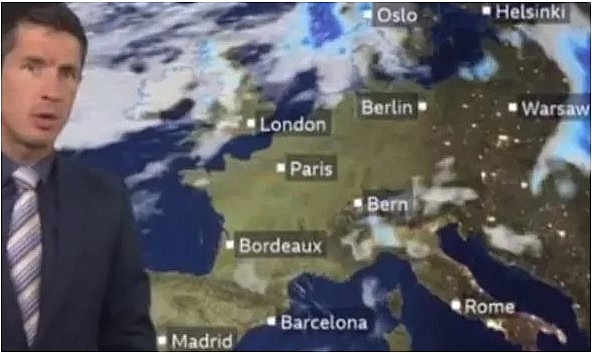 Chris Fawkes warned of areas of pressure around the Balearic Islands (Image: BBC)
He continued: "Otherwise across southern France and into Italy the weather becomes drier and increasingly sunny as we head on into Tuesday."
"There is lots of sunshine to for Greece and Turkey with temperatures well up into the low to mid 30s. There will still be severe thunderstorms still hanging around the Balearic Islands on Tuesday."
The weather in Britain at the start of this week is expected to be dry before becoming increasingly wet and windy towards the weekend.
Although temperatures will remain mixed, forecasters are predicting warmer conditions in the south.
Commenting on the forecast between September 7-13, the BBC said: "After a potentially dry and settled start to the week, low pressure will become the dominating feature of our weather from midweek onwards.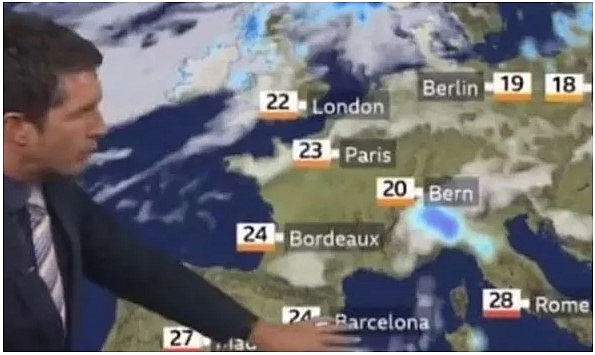 BBC Weather Europe highlighted potential thunderstorms in Russia and Belarus (Image: BBC)
"The second half of the week will often be wet and windy, and with temperatures likely to close to or below where they should be for this time of year."
"In fact, there is the potential for a deep area of low pressure to move right across the UK, bringing strong winds and heavy rain."
"If this were to pan out, further damage and disruption could be expected, following on from recent storms, Storm Ellen and Storm Francis."
"That being said, there is a slight chance that low pressure remains away to the west of the British Isles and over the Atlantic."
"In this scenario, it would be a much drier and calmer week, and also much warmer, with a plume of warm air pushing up from the south."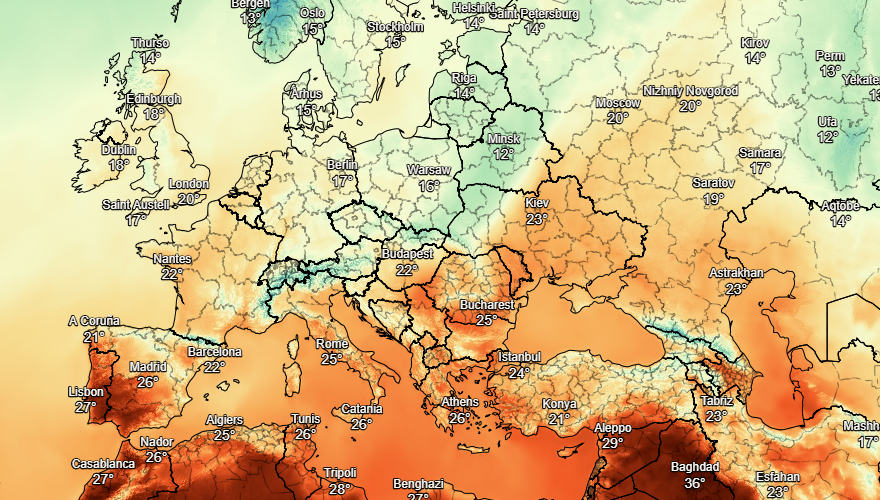 Photo: Stirimeteo
On September 8
According to Weather Online, warm, sunny and mostly dry across Portugal and Spain with just isolated thunderstorms over eastern coasts of Spain. Thunderstorms continue to affect the Balearic Islands, Corsica and Sardinia. Isolated showers, some thundery, affect central and southern parts of Italy while northern areas stay dry and fine. Dry, hot and sunny for Greece and Turkey.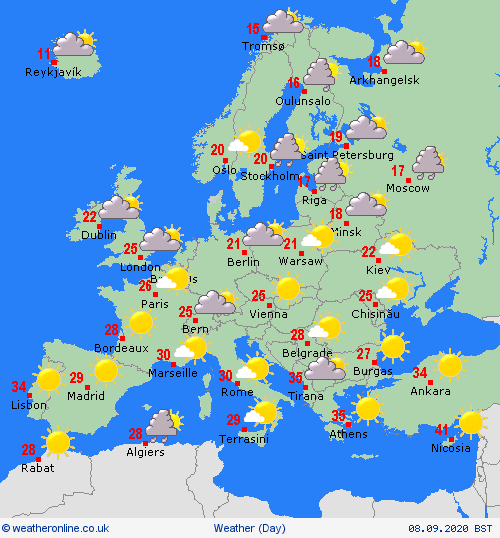 Photo: Weather Online
High pressure over central Europe brings a mostly dry and sunny day here. Some cloud and patchy light showers affect the Low Countries as well as northern portions of Germany and Poland. Otherwise it will be a dry and bright day for France, Switzerland, Austria, the Czech Republic, Slovakia and Hungary as well as southern parts of Germany and Poland.
Low pressure over the Norwegian Sea brings unsettled conditions to northern Europe. Breezy with showers clearing east from Denmark. Outbreaks of rain affect Finland, Latvia and Estonia while Lithunia stays drier but cloudy. Rain eases over Sweden leaving a dry and bright end ot the day for much of the country while western parts of Norway see persistent outbreaks of rain which may turn to snow over higher ground. Drier and brighter for southeast Norway.